[Thread] Statement from Executive Director
@BulldogShadow
: As last week's news makes clear, the threats of violence by paramilitary groups are very real and serious. Elected officials, law enforcement agencies, and business leaders must treat them as such.
thedailybeast.com/oregon-stateho…
Thursday, Oregon Senate Republicans fled the state to block the passage of a climate law. As Gov. Brown sent state police to find them, paramilitary group Three Percenters vowed to "provide security, transportation & refuge for those Senators in need."
rightwingwatch.org/post/paramilit…
Saturday, the Oregon legislature had to cancel its legislative session over concerns of paramilitary activity, with state police warning that "the safety of legislators, staff and citizen visitors could be compromised," should lawmakers show up to work.
cnn.com/2019/06/22/pol…
This is hardly the first time that Three Percenters have taken aim at our democratic institutions. Days ahead of the 2018 election, Georgia III%ers threatened violence if
@staceyabrams
succeeded in becoming the first black female governor in the country.
rightwingwatch.org/post/guns-up-g…
After Washingtonians approved a gun safety law, III%ers threatened state AG
@BobFergusonAG
, calling on followers to make a citizen's arrest.
"We WILL fight you. We WILL win… or we will die. We are willing to give our lives for this cause. Bring it on!"
medium.com/@westernstates…
And in Portland, the local GOP has allowed III%ers and Oath Keepers to serve as their private security. Members of the same paramilitary groups were in the "Unite The Right" rally in Charlottesville, where Heather Heyer was murdered by a white nationalist.
wweek.com/news/2017/06/3…
These anti-immigrant and anti-government paramilitary groups are very serious, and so are their threats. A quick look at the history of such groups in the Pacific Northwest and Intermountain West states makes this abundantly clear:
Fifty years ago saw the emergence of Sheriff's Posse Comitatus, an anti-government, anti-Semitic, and white nationalist group in Oregon. It agitates against a supposed Jewish conspiracy, opposes taxation, and uses violence and threats to achieve its goals.
books.google.com/books?id=boadd…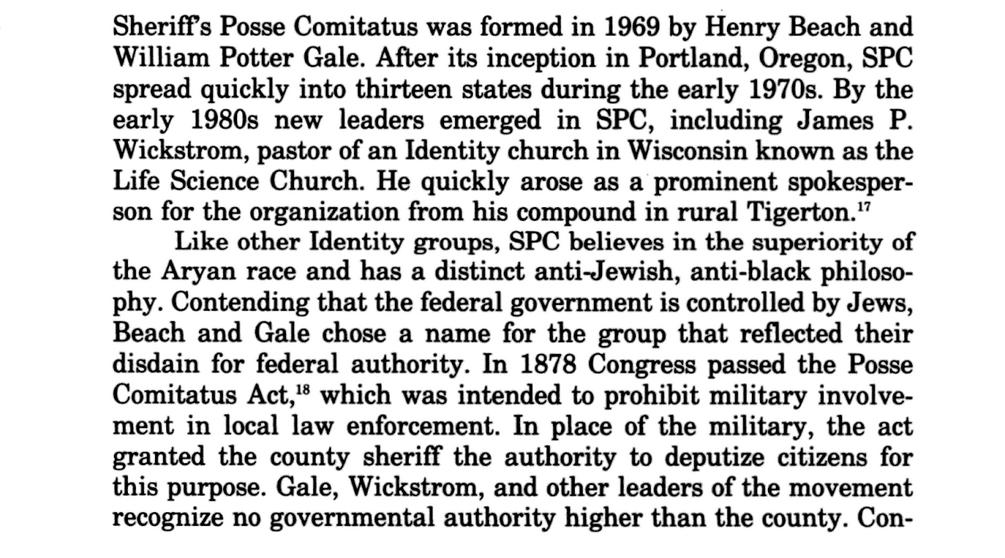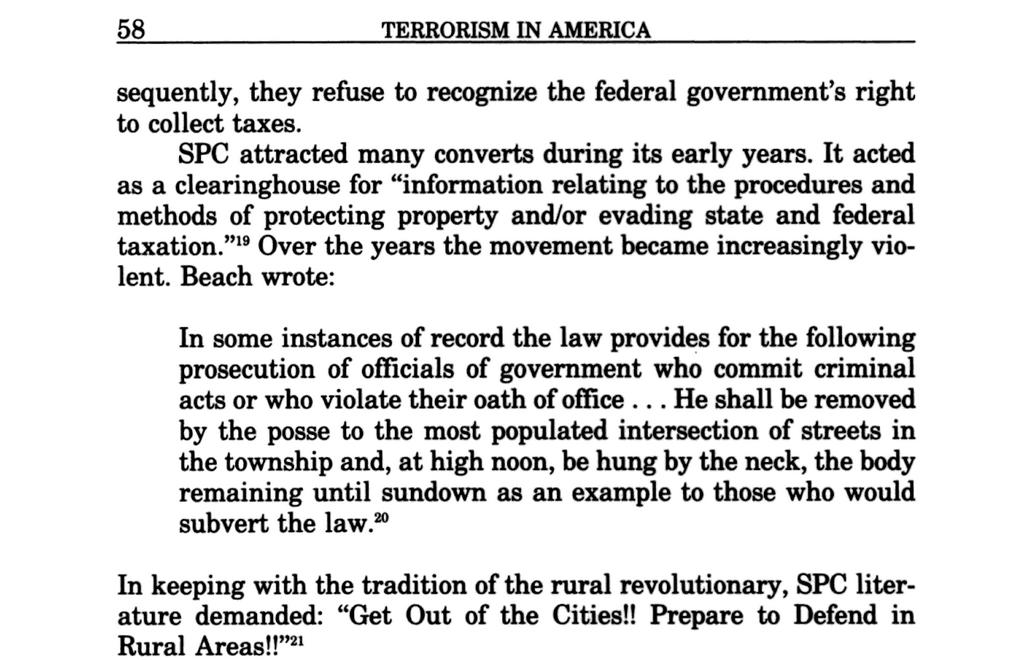 As Posse Comitatus leader Gordon Kahl showed in 1983, its threats were not empty. After refusing to pay taxes (which he called "tithes to the Synagogue of Satan under the 2nd plank of the Communist Manifesto"), he killed two marshalls trying to arrest him.
books.google.com/books?id=cfGID…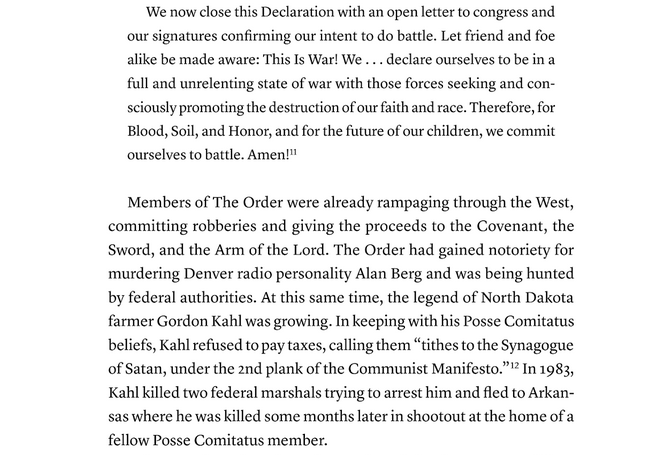 This group's violence and intimidation against elected officials and law enforcement continues to this decade. In 2012, gunmen with ties to Posse Comitatus killed two sheriff's deputies in a Louisiana trailer park.
nola.com/crime/2012/08/…
The men behind the 1995 Oklahoma City bombing, which killed at least 168 people and injured hundreds more, also belonged to this movement of Posse-influenced activists. Timothy McVeigh had established communications with white nationalist organizations.
politicalresearch.org/2018/04/19/sta…
Since the Oklahoma City bombing, at least 45 law enforcement officers have been killed by far-right extremists and anti-government paramilitary groups, according to
@splcenter
.
splcenter.org/what-we-do/fig…
Paramilitary groups influenced by the anti-Semitic Posse Comitatus have a long history of utilizing threats of violence and intimidation to undermine local government institutions and the principles of representative democracy.
As these threats of political violence continue to escalate, officials must treat them seriously and act accordingly. Law enforcement agencies must exhibit leadership and learn the lessons of Ruby Ridge and the Malheur National Wildlife Refuge and Paiute Tribal lands stand-off.
One example of a successful response can be found in the 1996 stand-off with the paramilitary group Montana Freemen, whose members robbed a news crew and made numerous threats to government officials, including by issuing a writ of execution for a judge.
billingsgazette.com/news/state-and…
In 1996, after Montana Freemen refused to abide by a government eviction order, a stand-off began at the group's compound near Jordan, Montana, where about a dozen armed militia members were surrounded by 100 federal agents.
smithsonianmag.com/smart-news/twe…
With the disastrous sieges of Waco and Ruby Ridge in recent memory, authorities responsibly avoided an armed confrontation. After isolating the group and engaging in firm negotiations, the 81-day stand-off ended peacefully.
nytimes.com/1996/06/14/us/…
That same year saw another successful response to anti-government paramilitary violence, this time in the Pacific Northwest, when members of the group Washington State Militia were arrested without bloodshed for plotting bomb attacks on FBI officials.
nytimes.com/1996/07/30/us/…
As today's Three Percenters follow in the footsteps of the Posse Comitatus in using violence and intimidation for political ends, it's critical we provide our support to local residents and those most directly affected. We cannot allow rural states like Oregon to be isolated.
It is the obligation of the State of Oregon to resolve the ongoing usurping of representative democracy and ensure our elected representatives resume their work without interference from unelected, anti-democratic warlords and their threats of intimidation. Oregon depends on it.