Yesterday, 9/2, at least 74,700 protesters took part in dozens of protests around
#HK
: secondary & university student strike rallies, general strike rally, medical workers at several hospitals, students at dozens of schools, Mong Kok police station. Not bad for a rainy day.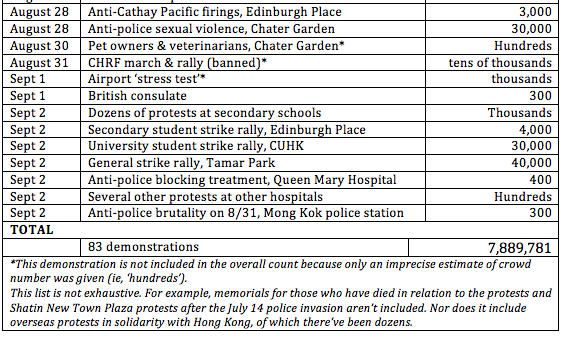 In all now, 7,889,781 demonstrators have taken part in at least 83 demonstrations in the
#HK
freedom movement of the summer of 2019.
medium.com/@KongTsungGan/…
That's a conservative estimate, given that there are no precise head counts for 19 of those protests & they're therefore not included in that total of 7,889,781. Just since last Thursday, hundreds of thousands of
#HK
people have participated in 7 major protests.
So-called 'violent' protests get a lot of media attention.
@FT
gave an otherwise good piece the unfortunate title 'Why HK's 'water revolution' is spiraling out of control'. Huh? That's the perception when media exclude nonviolent protests from their view
ft.com/video/a78ca0ab…
After a weekend of confrontational protests (8/31, the airport 'stress test'), yesterday 75,000 protested nonviolently. Even in the case of the confrontational protests, such as 8/31, the vast majority do nothing that could be considered 'violent'.
I say this as a lifelong proponent of nonviolent struggle. These protests have made me re-evaluate my ideas, my philosophy, my strategy. If you allow that violence is justifiable in fighting dictatorial oppression, then the question is whether the violence is proportionate.
To the extent that some protesters have been 'violent', has their violence in fighting dictatorial oppression been proportionate/discriminate? W a few deplorable exceptions, they've primarily attacked police & govt buildings. There's been no looting or damaging private property.
The vandalism of MTR stations & the airport does represent an escalation, as these can be considered 'public goods' (many ppl use them) in a way that police stations & govt buildings (few ppl use them) can't.
If police attack protesters, do protesters have a right to fight back? In a liberal democracy under rule of law, perhaps not. But what about in a non-democracy under dictatorial rule when the police are put in the position of defending the unjust regime, as here in
#HK
?
Again, I say all this as a lifelong proponent of nonviolent struggle & I don't have this all entirely figured out for myself yet. I just hope media might be a little bit more nuanced, balanced & contextual (ie, most protest is nonviolent) in their coverage of 'violence' in
#HK
.