#Thread
1.
It is unfortunate & very stupid of people like Dele Momodu & Davido to blame the attacks of Nigerians in SA on PMB & Nigerians. No country in the world has it all. Every country have their fair share of criminals constituting nuisance globally. Even Americans are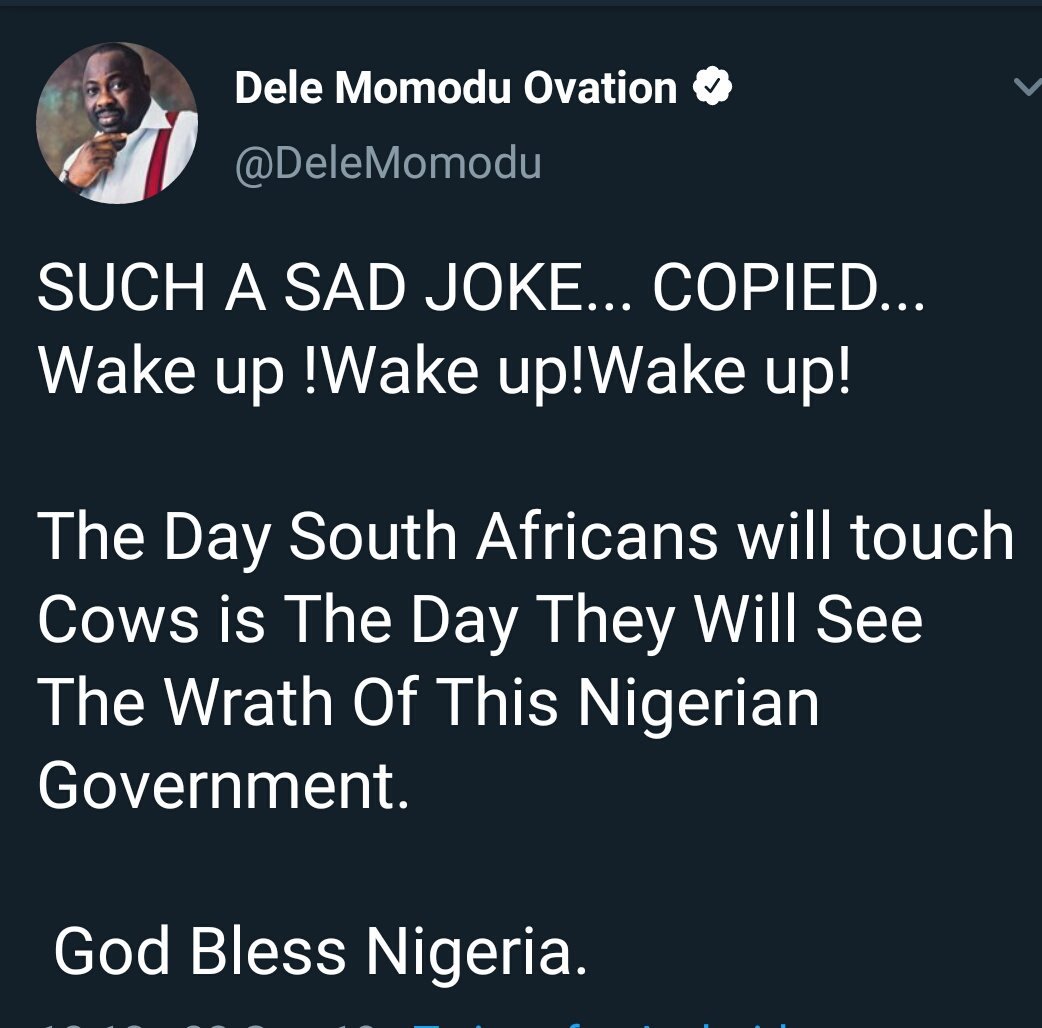 2.
seen moving into Dubai, Qatar everyday! China is one of the most advanced countries in the world yet, the chinese are scouring the earth looking for business opportunities. I wouldn't expect Davido to know anything but Dele Momodu keeps disappointing me. Anyone with half a
3.
brain would know that xenophobic attacks in South Africa didnt start today. In fact, one of the worst attacks happened in 2008; March 67 were killed & May another 62. An intelligent person should be asking, what would lead black Africans to attack fellow Africans when they
4.
aren't at war with each other. Then you realise that South African economy hasn't been doing to well. Whatever success/GDP/indices used in measuring wealth of a country we hear about from south Africa is mainly done & for a few. The people who run & own South African wealth
5.
are either white South Africans or white foreigners. We know power returned to the blacks after the dreadful years of apartheid but the black political leaders have done little or nothing to better the lots of black South Africans who are in the majority. SA's public finances
6.
are in a bad shape. Economic growth is so low, in about 6years tax collection has not met forecasts, debt levels have risen so high & got worse under Zuma. 2019 hasn't been any better for SA. Most private businesses owned by politicians or politically connected folks are run
7.
like scams such that they continue turning to government for bailout. All these have exposed the government's inability to serve South Africans. Instead of policy makers to think better ways to improve their economy, they blame foreigners. Unfortunately most people on the
8.
streets don't think to ask themselves, these African foreigners we blame are they the ones who took the lands or run the corporations? All these eventually have led to socio-economic conflicts in South Africa. The SA government are to be blamed for the Xenophobic attacks.