"Treatment of Bacterial Infections with Porous Silicon Nanoparticles" by Prof Michael Sailor, University of California, San Diego.
#Seminar
@MIPS_Australia
#NanoTech
#Science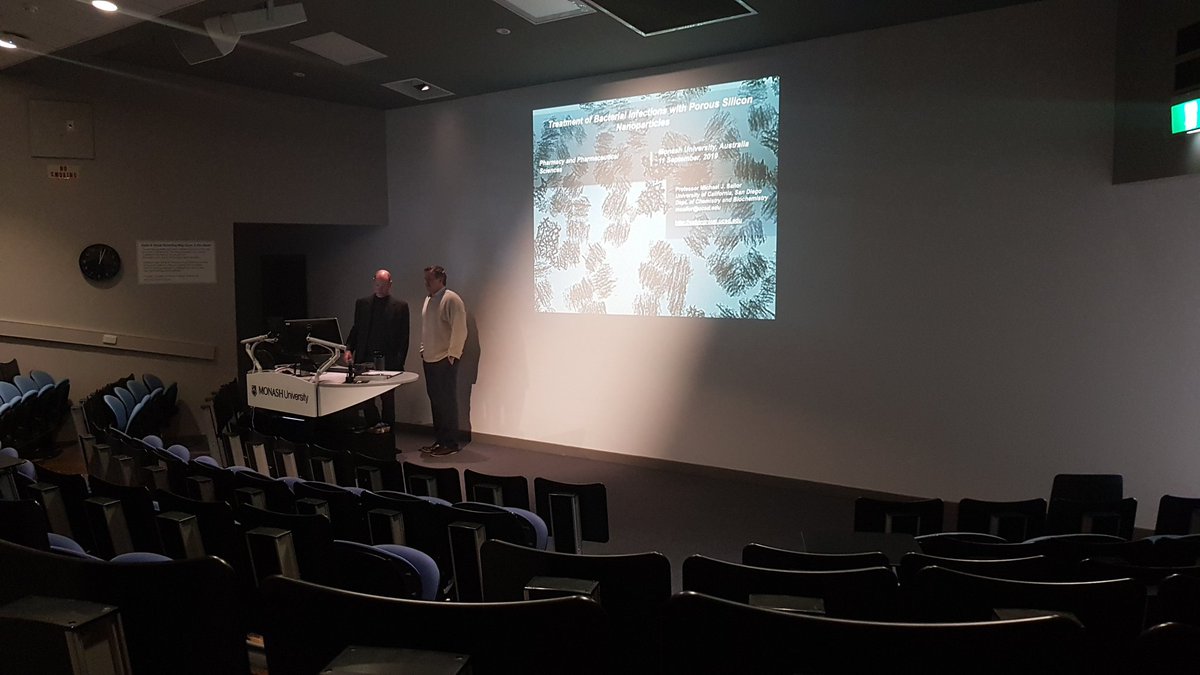 Runs a summer school for teaching people to use silicon nanotechnology.
Doxil first FDA approved product using nanotechnology for delivering drugs.
Liposomal coating is what made it work, improved efficacy, reduced toxicity and improved solubility.
Now using delivery systems for siRNA therapeutics etc.
Nanoparticles used as can target specific tissues/organs, target specific regions of a cell, and improve stability.
Bacterial infection treatment is important due to dramatic increase in antibiotic resistance.
Unfortunately investment is smaller than the need is.
Human intake of silicon is on par with iron, however it is not biologically required by mammalian life. 2nd mkst common in earth crust, 15th in human body.
However this means that human body knows how to process and excrete. Therefore safe to consume.
Naturally present in body, readily excreted, not essential for any pathways.
Make by etching a silicon wafer, etched electrochemically, turn pore sizes, pores directional in final structure, 10-20nm.
Track using quantum confinement. Naturally luminescent, so use that to image and track in tissue.
Long lived emission, great to eliminate tissue auto fluorescence, eliminating back ground signals. Called time gated imaging.
Make a core shell structure in particles, by making a silicon oxide shell.
Dissolution of shell is equilibrium, so can reform and use as method to help with loading if the drug. Seal the pores up, trapping the drug within.
Once loaded up, use surface chemistry on the surface of the particles to help with stealth (PEG) and targeting (peptide).
Targeting peptide is key. In lung infection model goes to the lungs, and vastly improves treatment over free drug, and nanoparticles only.
Use fusogenic coating developed for liposomes for the silicon nanoparticles, avoid endocytosis, so drug delivered directly into the cell. It works very well liposomes, will it do so with these?
If shut down the endocytosis pathways, the silicon nanoparticles still get in, so it does work.
Trialled using to target the macrophage response to lung bacterial infection, using peptide targeting and fusogenic coating. And gene knock down off this works.
And infected animal model, it works very well, all animals survive the infection, without actually killing the bacteria, but the macrophage response.
"Securing the Payload, Finding the Cell, and Avoiding the Endosome: Peptide‐Targeted, Fusogenic Porous Silicon Nanoparticles for Delivery of siRNA"
dx.doi.org/10.1002/adma.2…
"Immunogene therapy with fusogenic nanoparticles modulates macrophage response to Staphylococcus aureus"
nature.com/articles/s4146…