1/
Third
#TweetAnalysis
- Comparative Hashtag Analysis
Hashtags:
#Yang2020
and
#Bernie2020
I read 151 Bernie2020 tweets and 152 Yang2020 Tweets today, 27th September 2019, to discover what the
#YangGang
and
#BernieBros
tweet about.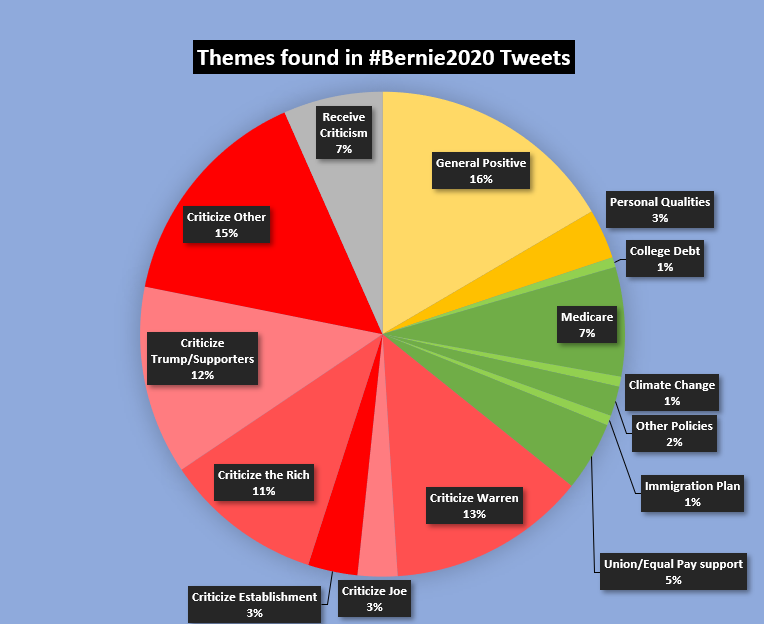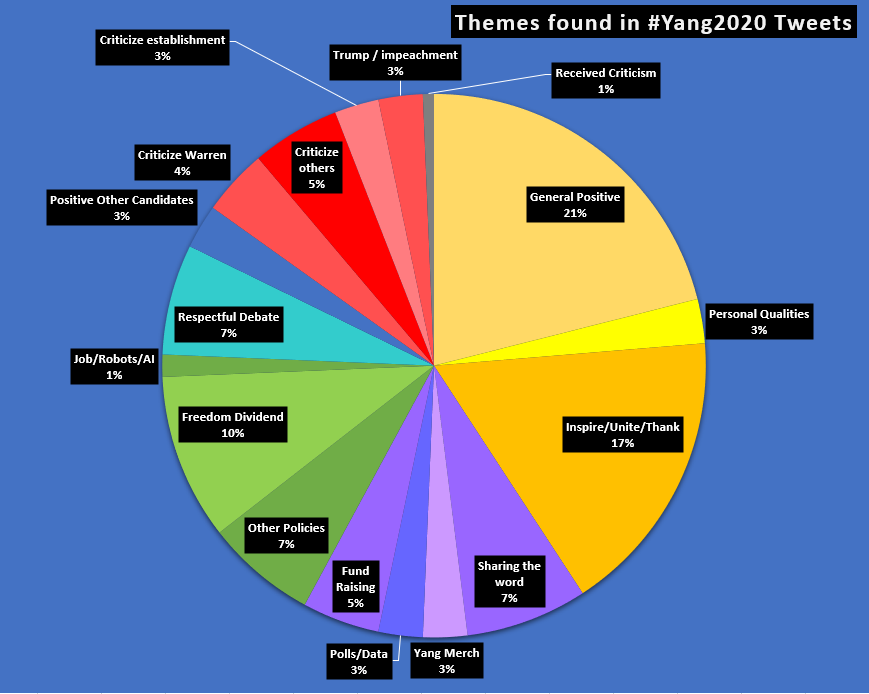 2/
Method
-Searched hashtags one by one (latest, anyone, anywhere)
-Read tweets to identify themes
-Adjusted and added themes as needed
-1 point for each theme mentioned (tweets mostly contained 1 theme)
-Afterwards, organised themes into more general types
4/
Analysis: There is a lot of overlap between these data sets, but the overall difference between them is the amount of negativity. There is no 'respectful debate' theme in
#Bernie2020
data because there were no respectful tweets addressing opposing views.
5/
There was also a great deal of 'anti-wealth' 'anti-warren' and 'anti-trump' sentiment in
#Bernie2020
tweets, as well as the myriad other tweets criticising a range of other people and entities. The negative tweet type is over half of all Bernie tweets; about 56%.
6/
#Yang2020
Tweets, in contrast, are generally more positive with only 15% being classed as negative. There were a couple of 'Positive other candidates' tweets supporting Tulsi Gabbard and one supporting Bernie.
7/
Yang tweets contained "meta" type discussion about spreading Yang awareness, examining data and polling, and offers for matching funds, asking for likes in exchange for followers and other things. YangGang tweet to communicate more than just announcing their views.
8/
Overall, Yang's message of
#HumanityFirst
, and his criticism of systems, not people, has resulted in
#Yang2020
tweets being 75% positive. This Might have been a good day for Yang, but this data undermines the 'angry army of Yangsters online' narrative spread by the media (Soz)
9/
Definition of Themes: [Yellow - Positivity]
-General Positive: Non-specific advocacy.
-Personal Qualities: Positive comment on the candidate's character
Inspire/Unite/Thank: Thanking Yang or others, people inspired by Yang, people reaching across the aisle, Ex-Trumpers
10/
[Purple - Meta]
Sharing the word: Talking about Yang to friends/family, organising events.
Yang Merch: Merch sightings, discussing merch, ideas for new merch
Polls/Data: Discussion of betting odds and official polls (NOT twitter polls)
Fund Raising: Encouraging donations
11/
[Green - Policies]
Other Policies: Any discussion of policy other than the ones listed below.
Freedom Dividend, Jobs/Robots/AI, College Debt, Immigration, Climate Change, Medicare: Any positive mention of these policies.
12/
[Blue - Positive towards others]
Positive Other Candidates: Tweets that advocate for other 2020 Democratic candidates at the same time as Yang.
Respectful Debate: Calm discussion with people who disagree
13/
[Red - Negativity]
Criticize (Name): open criticism or attack towards that candidate.
Criticize others: other candidates, media or supporters
Criticize establishment: distrust of democratic establishment
Trump/Impeachment: Criticism of Trump, or discussion of impeachment
14/
[Grey - Non-Supporters]
Received Criticism: Non-supporters using the tag to denigrate the candidate, their policies or their supporters.
Go here for the supplemental tweets about Pete2020 and Warren2020.
.