(THREAD) This CBS interview all but confirms Don Jr. can—and likely will—be charged with a crime, sometime in 2018, for lying to Congress. In fact, the best-case scenario for Trump is now that his VP—not his son—will be charged. Hope you'll read and share.
cbsnews.com/news/pence-i-k…
2/
Weeks ago I published the thread below, which explained that, besides Trump, the senior transition official present at Mar-a-Lago on December 29, 2016—when Flynn called Mar-a-Lago to get marching orders on negotiating illegally with Russia—was Trump Jr.
3/
Research into Pence's itinerary for that week in December 2016 soon revealed that, while he ran the transition and outranked Don Jr., he was not at Mar-a-Lago on December 29, 2016. But he could have called in via conference call and authorized Flynn's illegal contact that way.
4/
Of course, if Pence authorized Flynn illegally negotiating with the Russians, he was lying to America during his CBS interview on January 15, 2017—so the question, following Flynn's recent plea deal, was whether Pence would repeat his claim he knew nothing of the negotiations.
5/
As we see in the first tweet in this thread, Pence, despite knowing he'll need to speak to the FBI (lying to whom is a federal crime) has now doubled down on his prior claim—which means either it's true or he'll ultimately repeat the claim to the FBI and be charged with lying.
6/
Note: contacting Russia in the transition isn't illegal; *negotiating* with Russia—which is what Flynn did—is profoundly illegal, which is why Flynn lied about it, McGahn furiously researched it and Obama's DOJ investigated it. See this thread for more:
7/
Reports that K.T. McFarland—Flynn's deputy—took the call from Flynn on December 29, 2017 appear to be true.
But the Statement of Offense in Flynn's case confirms that McFarland did *not* herself have, or seek, or claim, the authority to clear Flynn to violate the Logan Act.
8/
Don hired McFarland; helped run the transition; was McFarland's superior; had a prior personal relationship with her; had previously dealt with Russia directly at Trump Tower; and was at Mar-a-Lago when Flynn sought advice from superiors—via McFarland—on illegal negotiations.
9/
Pence repeating what we'd presumed was a lie about his knowledge of the illegal negotiations Flynn conducted with Russia and Israel in December 2016 means he's either outrageously reckless—which he's not known to be—or telling the truth, which implicates Don or Trump himself.
10/
In the hierarchy of "PTT NatSec" (the national security unit within the Presidential Transition Team), Flynn was only outranked by those running the whole Team (remember, Flynn was named National Security Advisor on November 17, 2016, so he was already atop the NatSec unit).
11/
I pause here to say what every attorney and investigator knows: Trump himself ordered Flynn to illegally negotiate with Russia.
But this thread assumes that—as with the June 2016 Trump Tower meeting—Trump and his son conspired to create plausible deniability for the former.
12/
We will, eventually, learn that Trump himself was the person whose blessing the National Security Advisor was seeking on December 29, 2016, and indeed Trump's itinerary that day—per Sean Spicer—included a meeting with his National Security unit.
But that was in the morning.
13/
If Flynn called K.T. McFarland in the morning, this thread is moot—as Spicer's own statement on where Trump was that morning will incriminate Trump as running a conspiracy to illegally negotiate with Russia on an intergovernmental dispute under no color of authority to do so.
14/
And of course, as Brian Ross (ABC) *correctly* reported—the reason Trump attacked him on Twitter—Flynn told a confidant that Trump ordered the illegal Russia negotiations. This is also why WaPo is reporting Trump will call Flynn a liar; he *knows* what Flynn has told Mueller.
15/
And if you think Trump waited until it was *only* a crime under the Logan Act to tell Mike Flynn to negotiate with Russia—rather than ordering such negotiations (by Flynn, Sessions and others) during the campaign—you don't understand Donald Trump and will feel a fool in 2018.
16/
But if the Flynn-McFarland call was in the afternoon/evening of December 29, 2016, the NatSec meeting Trump attended was over and the marching orders Trump had given were to his son—just as was the case with the June 2016 Trump Tower meeting Don had with known Kremlin agents.
17/
How do we know? No one on the transition but Trump—including Pence—had power to "authorize" Flynn to commit a federal felony by illegally negotiating with a hostile foreign power while Obama (not Trump) ran the US government. And Trump had made his son his transition liaison.
18/
As I've detailed (see Tweet #2), Trump putting a conflicted son atop the transition wasn't just controversial in November 2016, but likely illegal. But the risk was worth it: it gave Trump a trustable, family link to the transition for purposes just like those described here.
19/
So Jared and Ivanka—as has been widely reported—pushed Christie off the transition so Flynn could come aboard; Flynn sought advice from Don at Mar-a-Lago on how to conduct the illegal negotiation he was brought on by Jared and Ivanka to pursue; and Trump kept his hands clean.
20/
So Flynn's immediate transition boss (Pence) could credibly say he wasn't involved; Pence's boss (Trump) couldn't directly be linked to what Flynn did; and three members of Trump's family—all trusted implicitly—acted as the bulwark between Flynn's actions and Trump's orders.
21/
The problem is that Trump Jr. didn't reveal any of this when he spoke to Congress under oath. And he can't admit it to the FBI when or as he is questioned by them, because in conspiring with Flynn to illegally negotiate with the Russians he committed (another) federal crime.
22/
The only hope for the Trumps—Trump, two sons and his daughter—was that Pence could somehow be made the fall-guy for a series of manipulations and authorizations that any criminal lawyer or investigator would first and immediately attribute to them. Pence has closed that door.
23/
Not only can McFarland *not* be a fall-guy (or -woman)—as Flynn was literally her boss, and wouldn't seek authorization for a federal crime he later would to lie to the FBI about from her—but Mueller presumably will be able to roll McFarland at his leisure. She's a small fry.
24/
So here again is Mueller's investigative hierarchy, as I posted on Christmas Eve: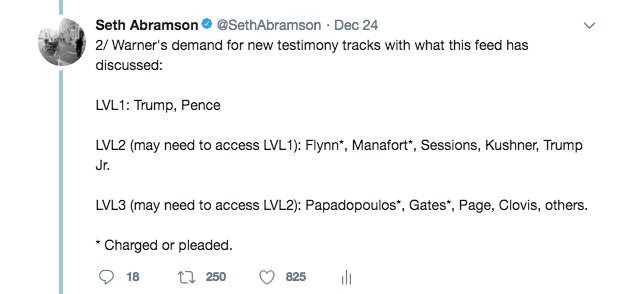 25/
Sessions is chargeable for perjury whenever Mueller wishes; Mueller laid a Making False Statements trap for Kushner by asking about his contacts with Flynn *after* Flynn was cooperating (which Kushner didn't know); now he has Trump Jr. on Making False Statements to Congress.
PS/ Let me be *crystal* clear: I *never* say on the feed—and no former criminal attorney/investigator would *ever* say of a *federal* investigation—"indictments are imminent." These things take a *long* damn time. But Mueller has positioned himself to capture *all* LVL2 suspects.
PS2/ As this is a political probe as well as a criminal probe—through no fault of Mueller's, but as a function of the target being the President of the United States—Mueller will move judiciously and *only* charge LVL2 suspects when he has as much as he can presently get on them.
PS3/ Lest Tweet #13 confuse anyone: Flynn's Statement of Offense says when he asked McFarland for advice on illegally negotiating with Russia, McFarland checked with the PTT; if that call came while Trump was meeting with the PTT, it means Trump issued the order to Flynn—a crime.
PS4/ One reason I have always said that—while I find Pence odious in every respect—I am fine with him being president when Trump is impeached is because I'm an attorney and I *do not* want anyone impeached or convicted if they did *not* commit a crime or violate the Constitution.
PS5/ Based on Pence doubling down on his "I didn't know" claim—granted, through a roundabout statement reiterating Flynn told him he didn't negotiate with Russia (which Flynn wouldn't have done if Pence ordered it)—there's now real reason to doubt Pence *did* commit a crime here.
NOTE/ Be wary of TV/print legal analysts discussing the WaPo report and Dowd's pushback against it—i.e. on Trump waiting to see what Flynn will say to accuse him of lying—as many don't follow the Russia probe closely. Trump *knows* what Flynn will say, per Ross's ABC News report.