(1)
Unsurprisingly, pro-Pakistan folks are spinning all kinds of lies about Afghanistan, India, China & Russia in an attempt to threaten & control President Trump & the USA. So it's a good time to revisit his historic 8/21/17
#SouthAsiaStrategy
speech.
whitehouse.gov/briefings-stat…
(2)
Please bookmark the above tweet so you can refer back to this thread later. I'll be back soon to complete it (need coffee).
Here's how POTUS started talking in his speech about the war in Afghanistan.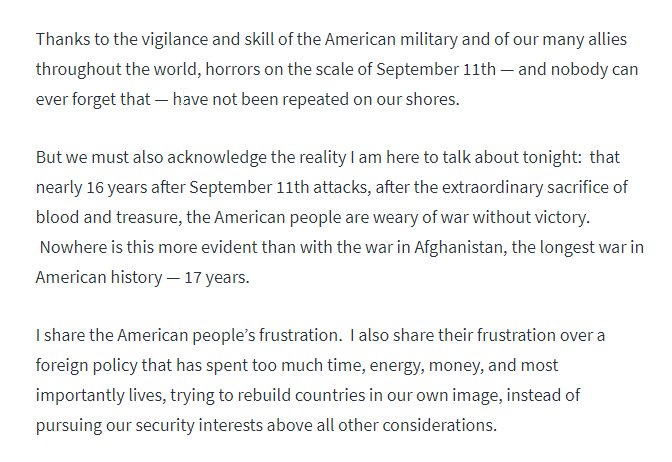 (3)
In a decision that flushed out the faction of Trump voters who are selectively dogmatic and unwilling to consider the "realism" part of
#PrincipledRealism
, POTUS owned his change of mind on Afghanistan. Obama never admitted taking a stance that differed from his campaigns.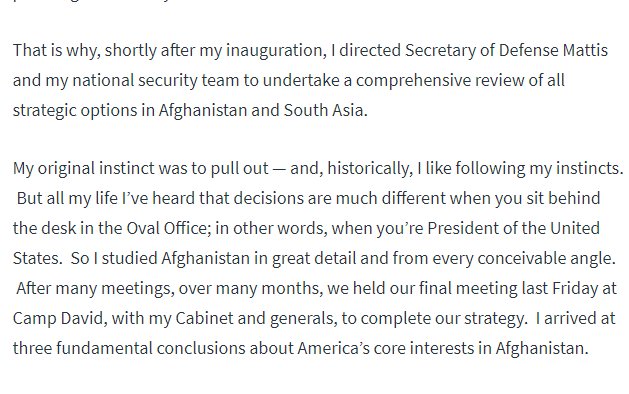 (4)
As I heard POTUS say this on 8/21/17 I was nodding my head in agreement. This President learns from the mistakes of others so that he doesn't need to make them himself.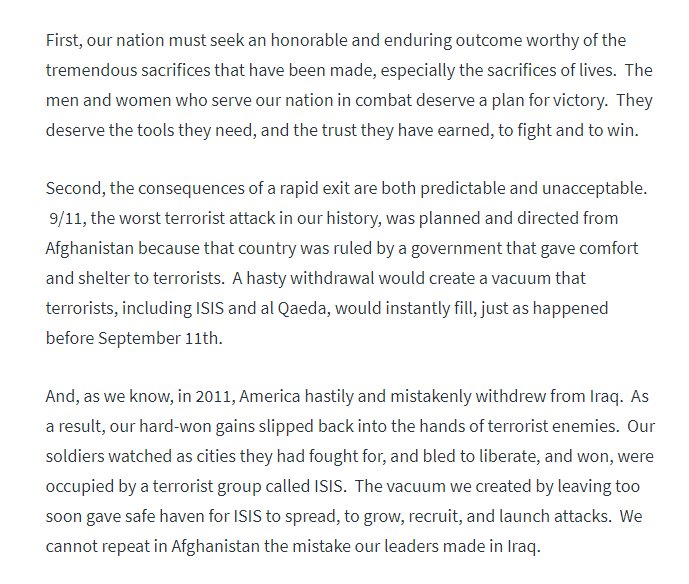 (5)
Today, pro-Pakistan elements are trying to persuade us that we somehow owe Pakistan special treatment relative to other countries that support or harbor terrorism (or at a minimum, fail to fully co-operate with our counter-terrorism efforts). This is preposterous.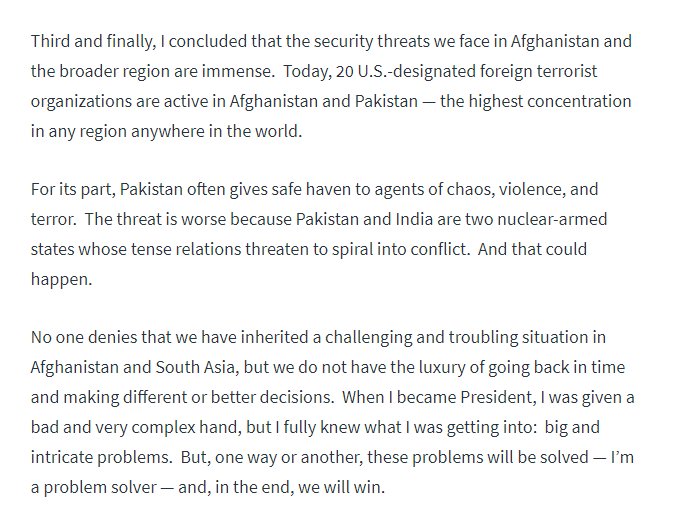 (6)
#TerroristsAreLosers
. Remember, until 2017, we were fighting terrorism with one hand tied behind our backs. From the vantage point of 1/1/18, IMO highly likely that on 8/21/17, POTUS knew all about
#ObamaHezbollah
& the events that would lead to the current
#IranProtests
.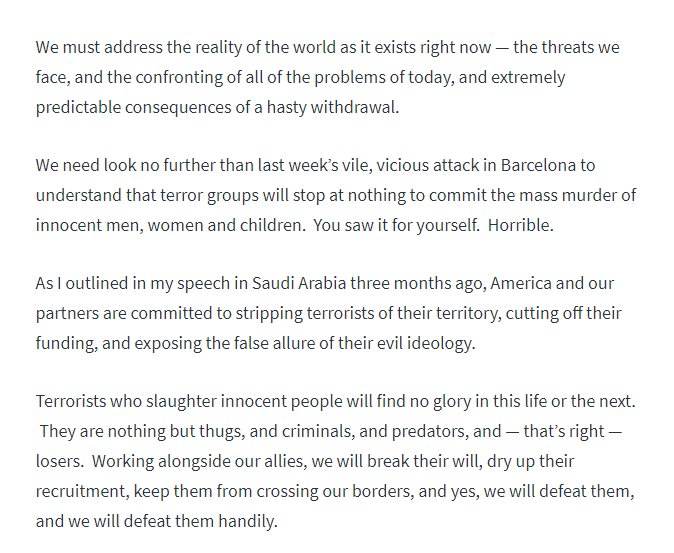 (7)
The pro-Pakistan pundits are trying to portray Afghanistan as materially different from Pakistan when it comes to harboring terrorists. This logical fallacy is obvious.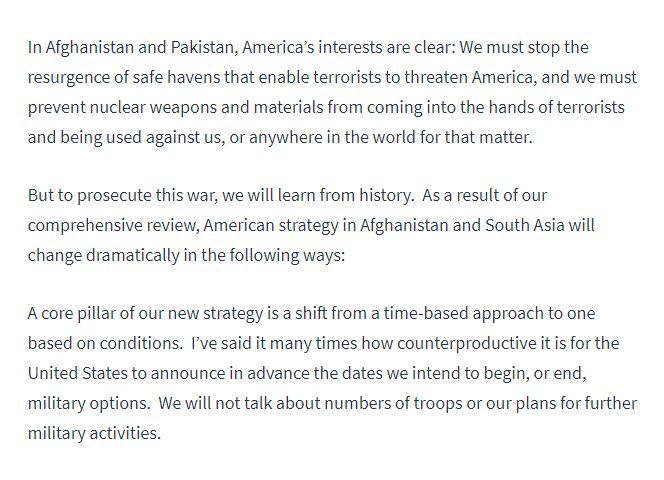 (8)
"We are not nation building again. We are killing terrorists".
#SouthAsiaStrategy
#PrincipledRealism
#PeaceThroughStrength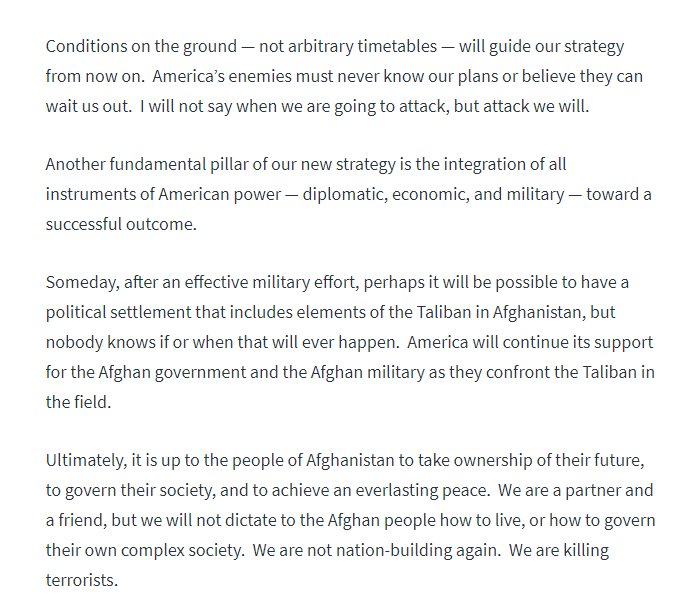 (9)
It's not like the President's tweet today about billions spent on Pakistan wasn't foreshadowed very clearly in August 2017. They were angry when he said it then, and they're angry now. Emotional blackmail doesn't work on us anymore.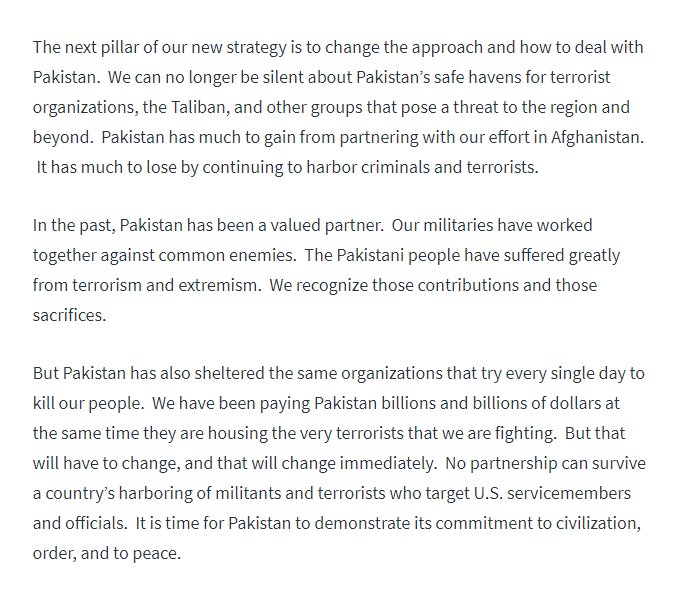 (10)
This part of the speech (and the strategy) is very important. From the outset, the Trump administration has recognized the opportunities presented by closer friendship with India, and with Israel, Saudi Arabia, certain other GCC states, Japan, Australia, France and so on.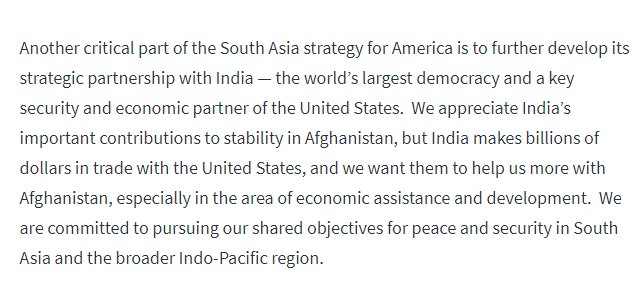 (11)
Why do I disagree with those who claim there is no hope for lasting security in Afghanistan? Because it has never been tried: "Micromanagement from Washington, D.C. does not win battles."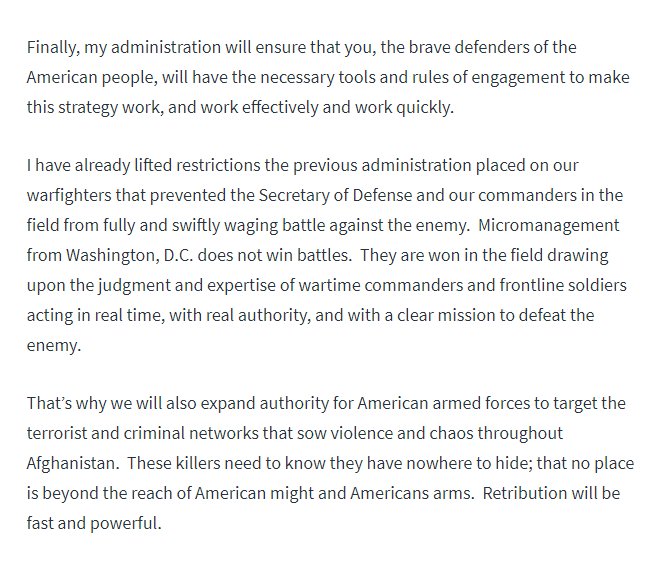 (12)
ICYMI, a Presidential action on 12/21/17 took a giant step toward maximizing "sanctions and other financial and law enforcement actions against these networks to eliminate their ability to export terror," & he'd already reaffirmed 7 existing EOs:
whitehouse.gov/presidential-a…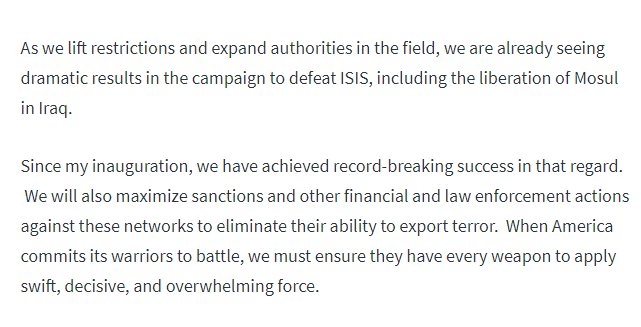 (13)
"Our troops will fight to win. ... From now on, victory will have a clear definition: attacking our enemies, obliterating ISIS, crushing al Qaeda, preventing the Taliban from taking over Afghanistan, & stopping mass terror attacks against America before they emerge."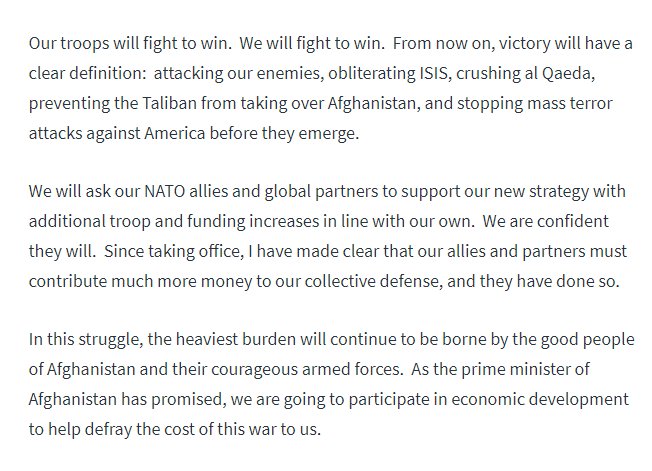 (15)
"In abiding by the oath I took on January 20th, I will remain steadfast in protecting American lives and American interests. In this effort, we will make common cause with any nation that chooses to stand and fight alongside us against this global threat." DJT 8/21/17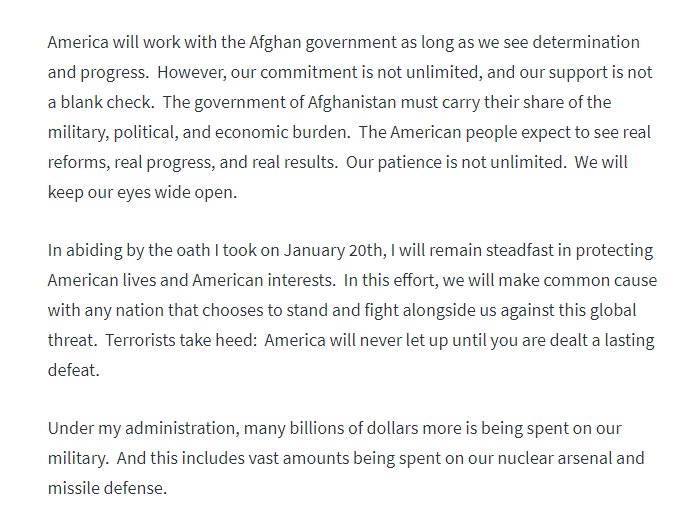 (16)
May their sacrifices not be in vain.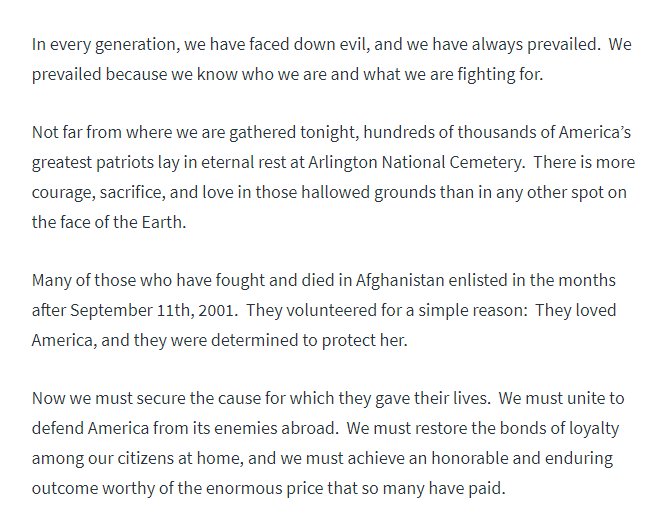 (17)
"Our actions, and in the months to come, all of them will honor the sacrifice of every fallen hero, every family who lost a loved one, and every wounded warrior who shed their blood in defense of our great nation."
Land of the free, because of the brave.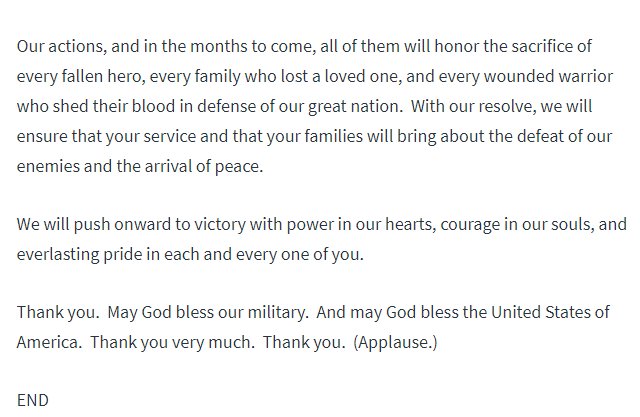 (18)
I have observed that nothing this President does in the implementation of his foreign or domestic policy strategies is accidental. The background, rationale and evidence supporting his decisions can be found in his speeches and documents. No need for conspiracy theories.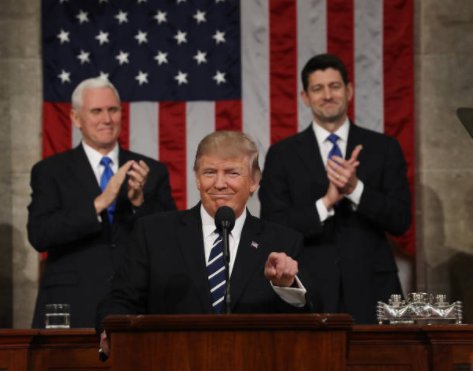 (19)
President Trump says what he means, and means what he says. Many world leaders have started to understand this, to their countries' benefit. Pakistan has that opportunity now.
END