Last week Deloitte published the 21st edition of their annual Football Money League, which ranks leading clubs by revenue, this time covering the 2016/17 season. Some thoughts in the following thread.
Manchester United retained top spot with £581m, just in front of Real Madrid £580m, who overtook Spanish rivals Barcelona £557m. Bayern Munich and Manchester City held on to 4th and 5th places with £505m and £454m respectively, while Arsenal £419m edged ahead of PSG £418m.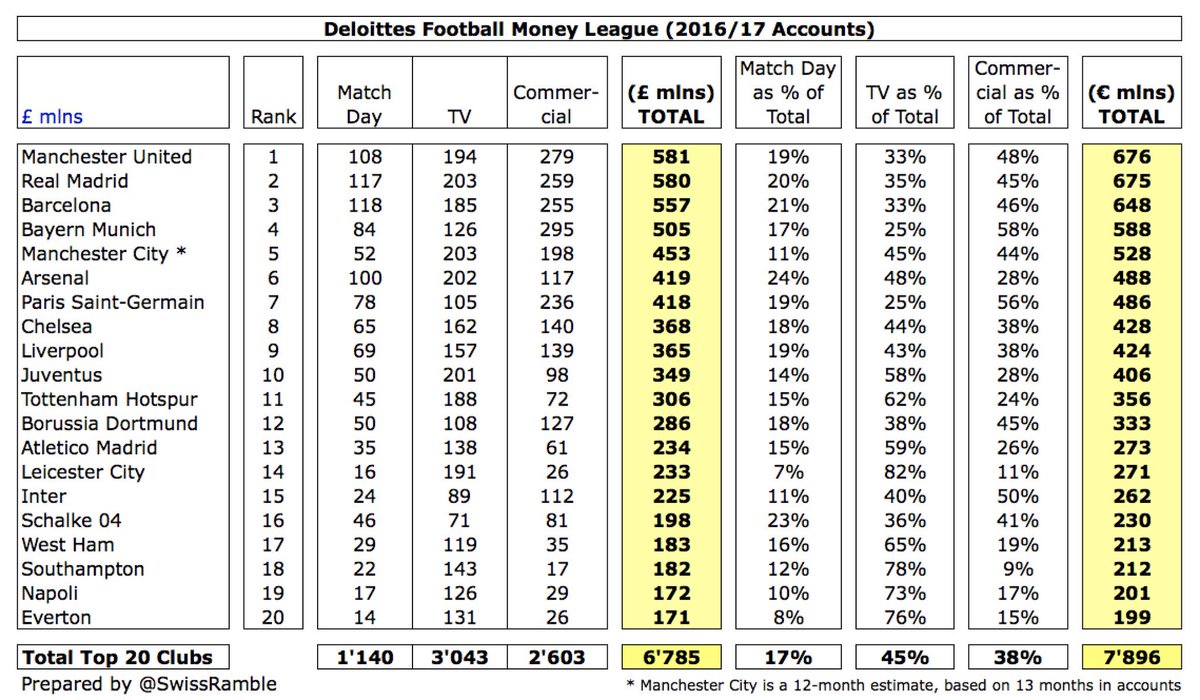 There are no fewer than six English clubs in the top eleven, also including Chelsea £368m, Liverpool £365m and Tottenham £306m. Southampton, Napoli and Everton were new entrants to the top 20, replacing Roma, Milan and Zenit Saint Petersburg.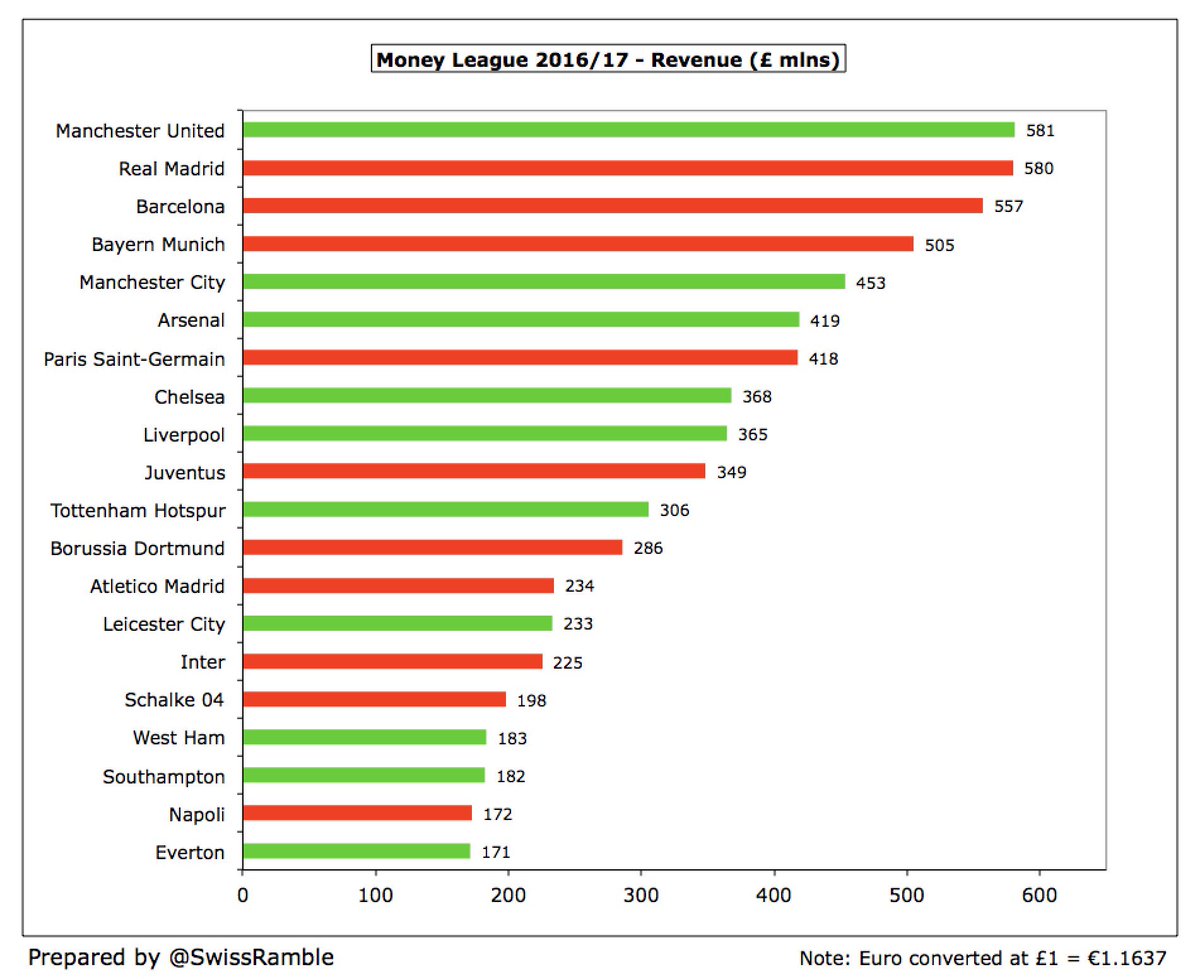 Total revenue for the top 20 clubs rose €478m (6%) from €7.418 bln to €7.896 bln, split between broadcasting €3.5 bln (45%), commercial €3.0 bln (38%) and match day €1.3 bln (17%). However, individual clubs sometimes have a very different revenue mix.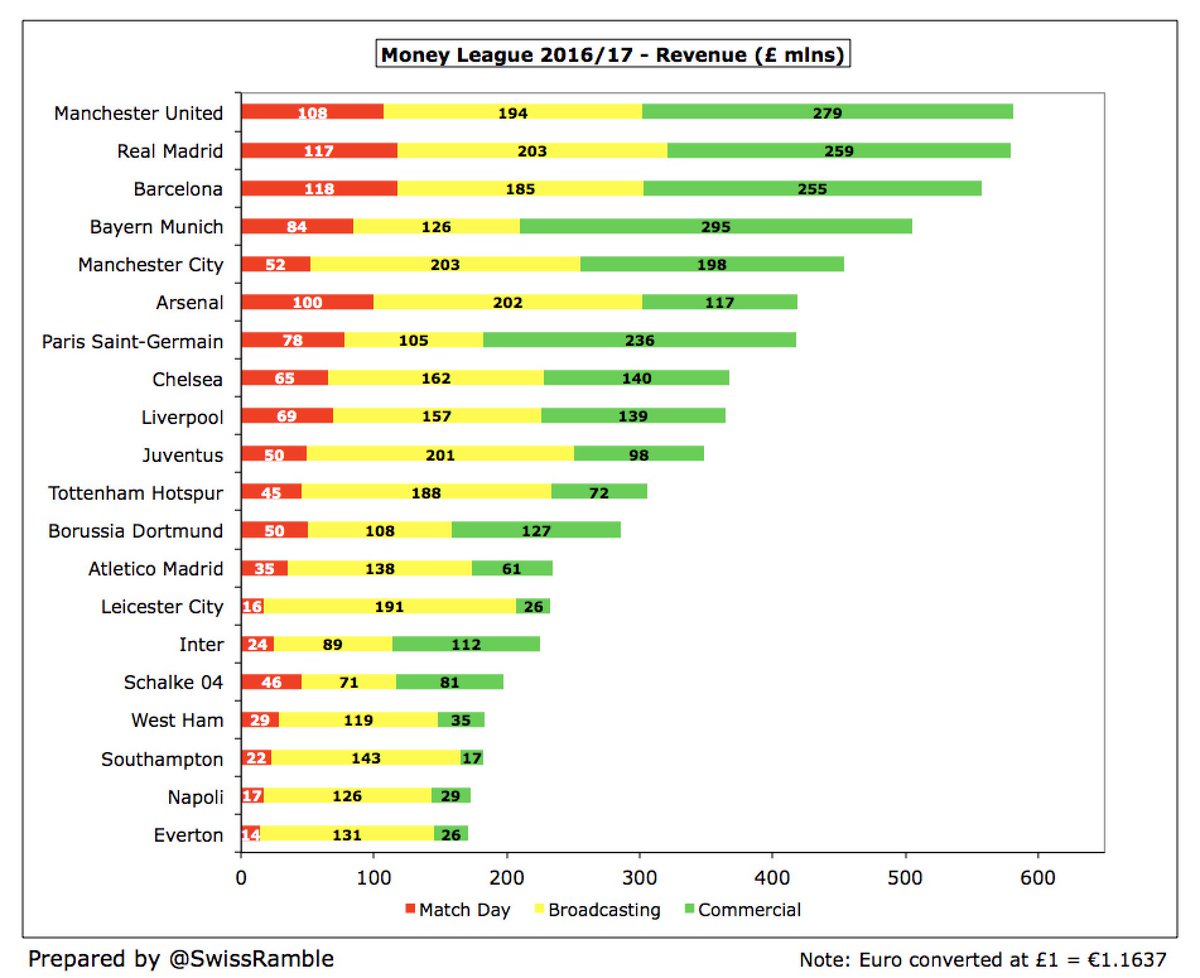 Changes in exchange rate have adversely impacted English clubs relative to continental peers, as Sterling weakened 13% against the Euro (1.3371 to 1.1637 this year). For example,
#MUFC
revenue fell €13m with exchange rate movement of €(89)m offsetting underlying growth of €77m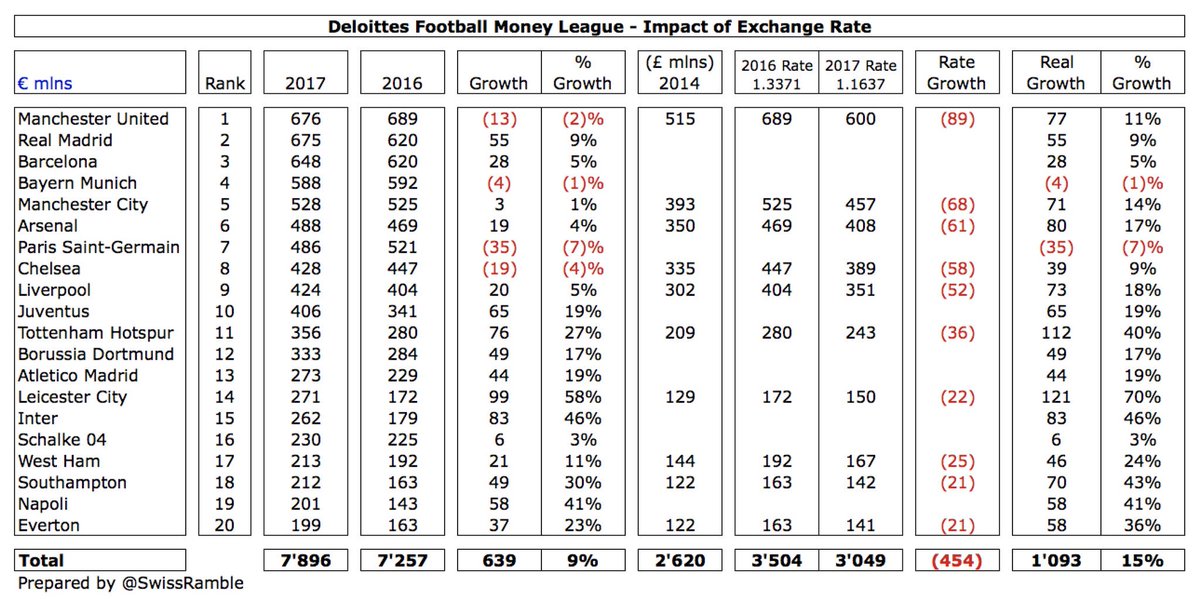 The highest growth year-on-year came from Leicester City €99m, due to new Premier League TV deal and Champions League money, but six of the top nine clubs in terms of growth were from the continent, led by Inter €83m, Juventus €65m, Napoli €58m and Real Madrid €55m.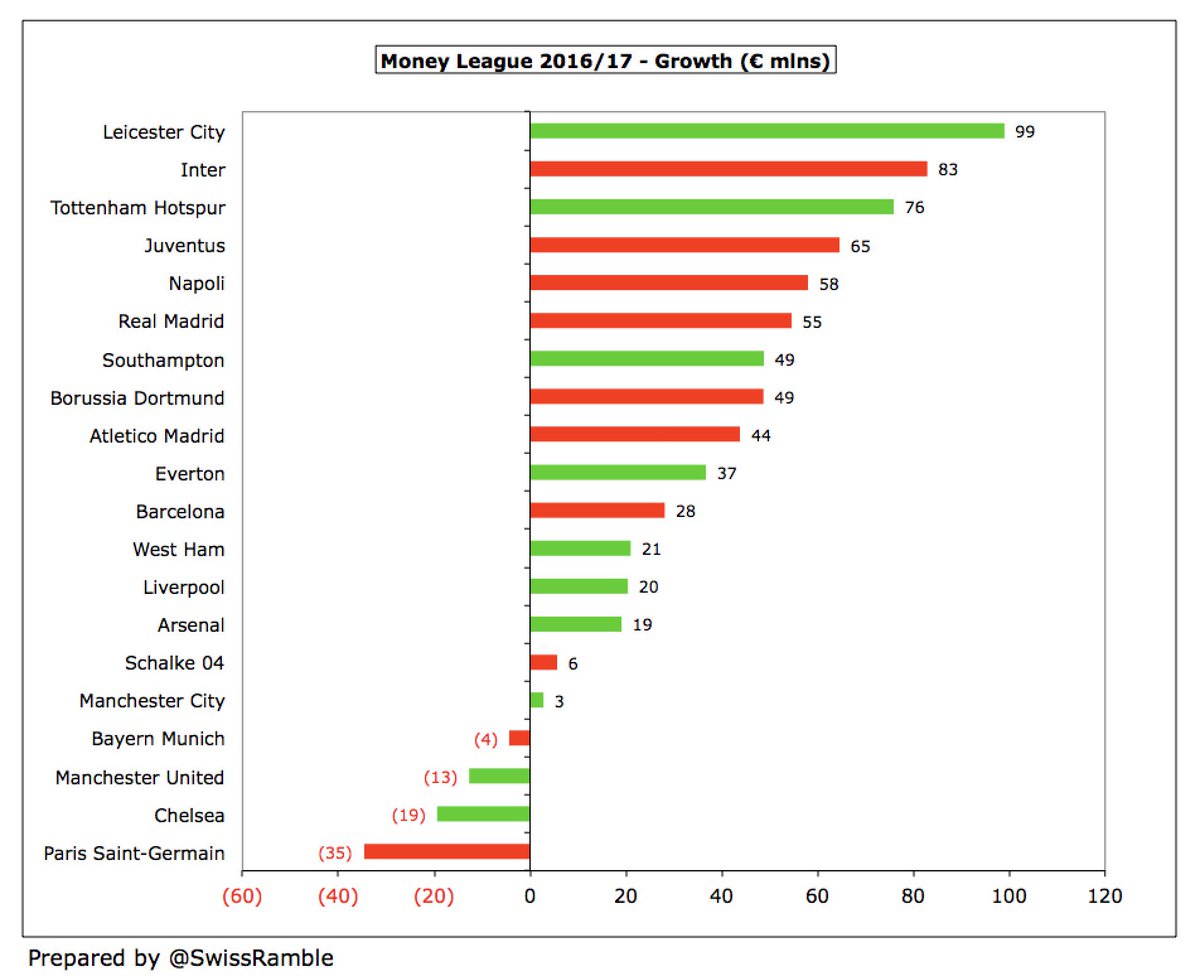 However, it's a different story if the FX impact is stripped out, with the most impressive real growth being reported by English clubs (seven of the top eight), led by Leicester €121m, Tottenham €112m and Arsenal €80m, largely due to the new three-year Premier League TV deal.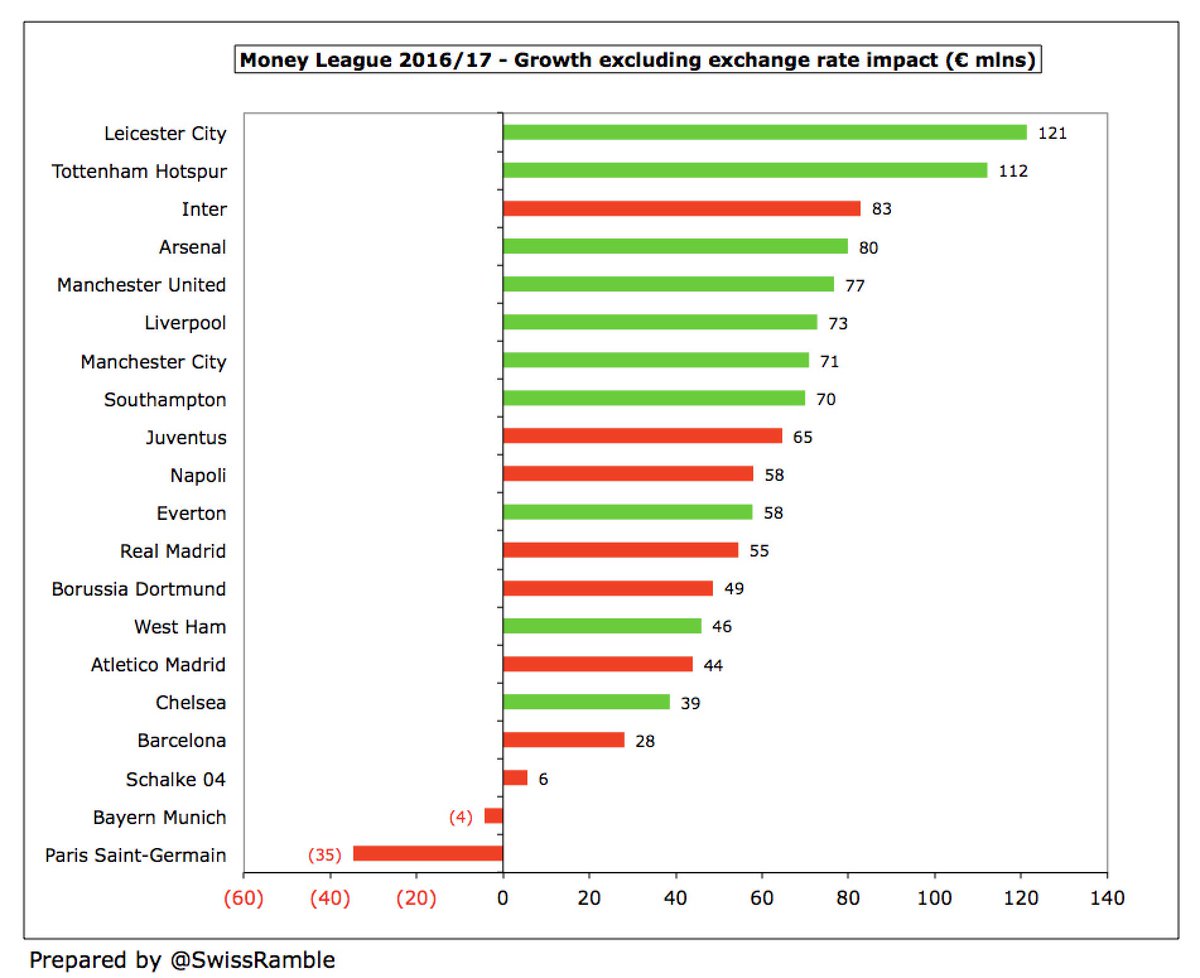 The main driver for the 2016/17 revenue growth was broadcasting €621m (up 21%), while match day fell €17m (1%) and commercial dropped €126m (4%), largely due to the loss of Zenit's high commercial income. Revenue has doubled since 2009, increasing by €3.9 bln.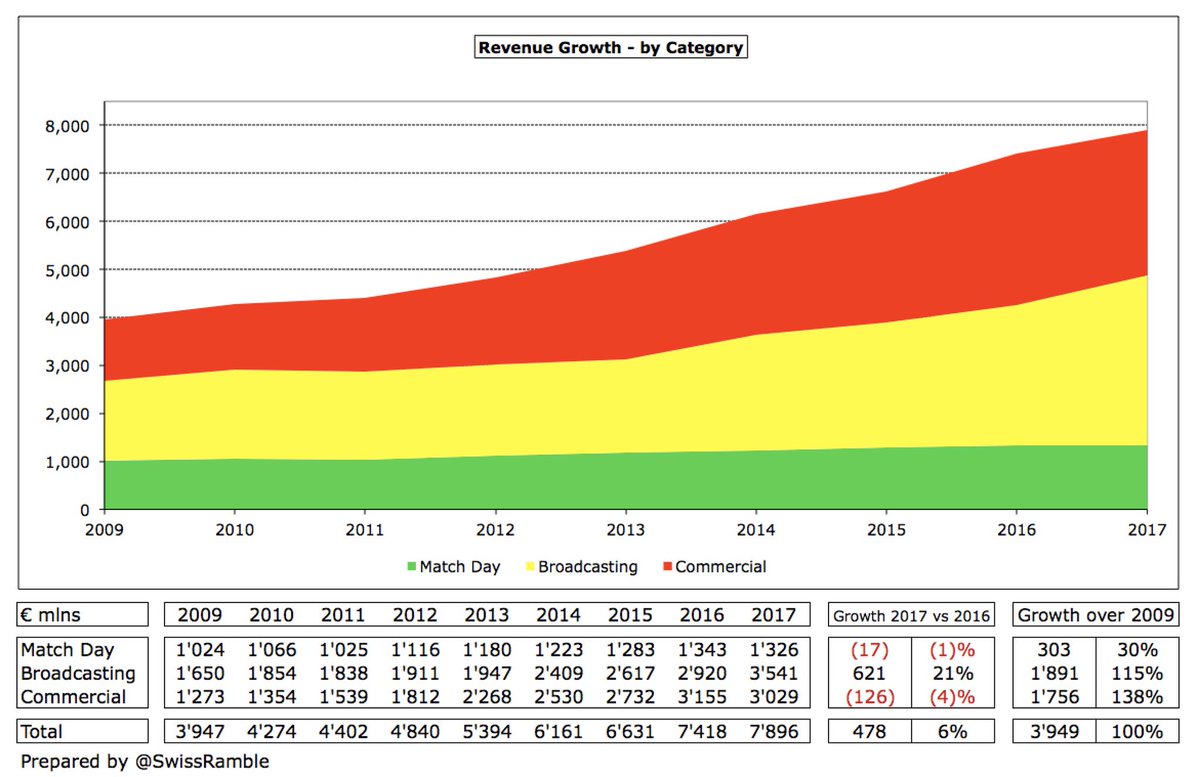 Broadcasting now contributes the most to total revenue 45%, overtaking commercial 38% for the first time since 2012. Match day has slumped from 26% in 2009 to just 17%, its lowest ever share.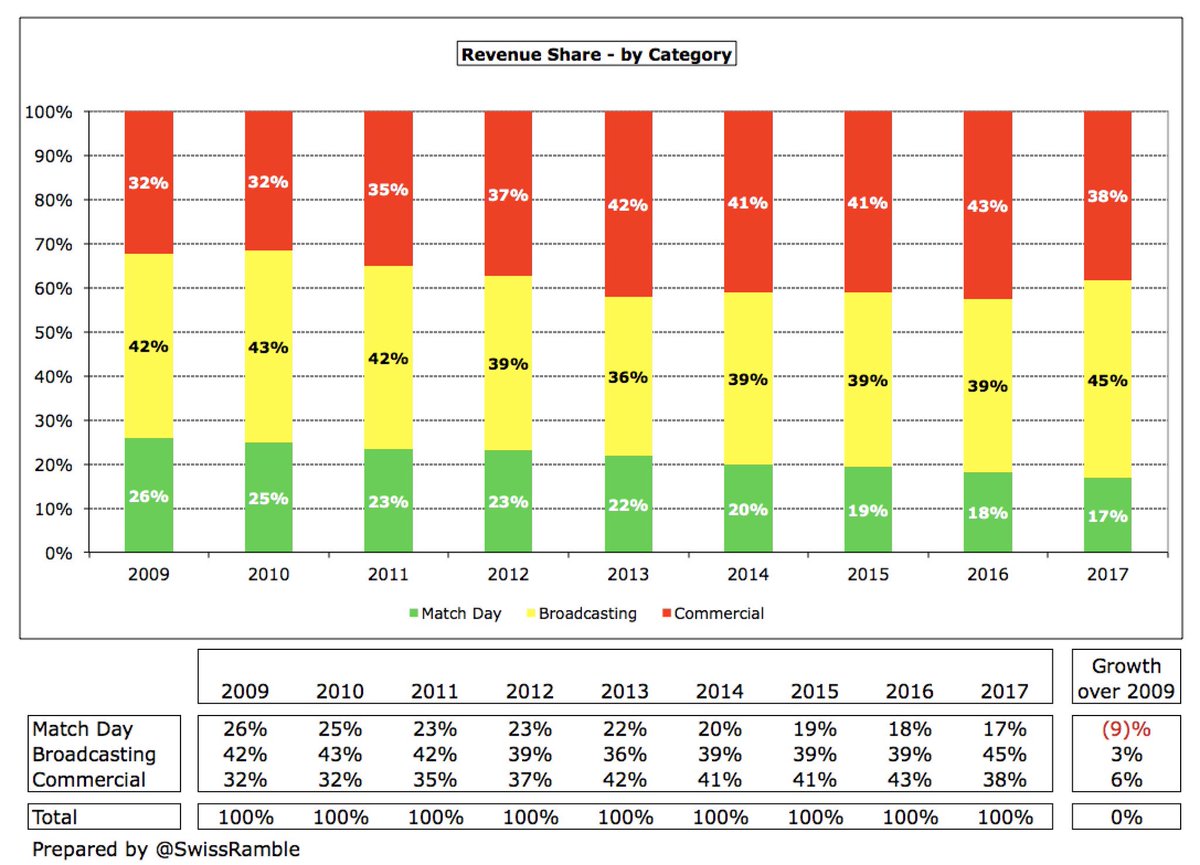 Barcelona €118m and Real Madrid €117m now have the highest match day revenue, ahead of Manchester United €108m and Arsenal €100m, partly due to the exchange rate. With exception of Juventus, this is a small revenue stream for Italian clubs, e.g. Inter €24m and Napoli €17m.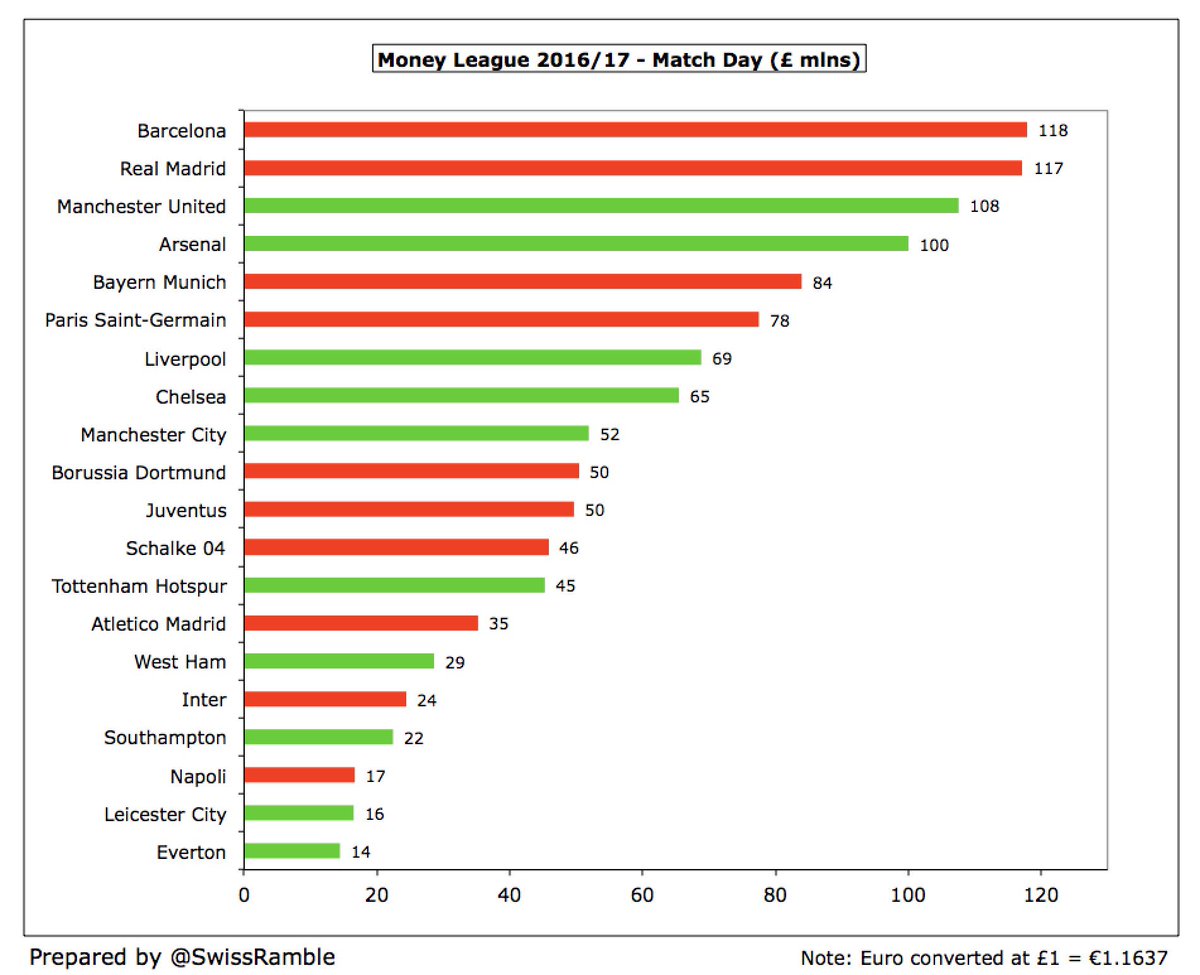 However, Arsenal still have the highest percentage of revenue from match day 24%, ahead of Schalke 23%, Barcelona 21% and Real Madrid 20%. At the other end of the spectrum are Leicester City and Everton with match day contributing just 7% and 8% respectively.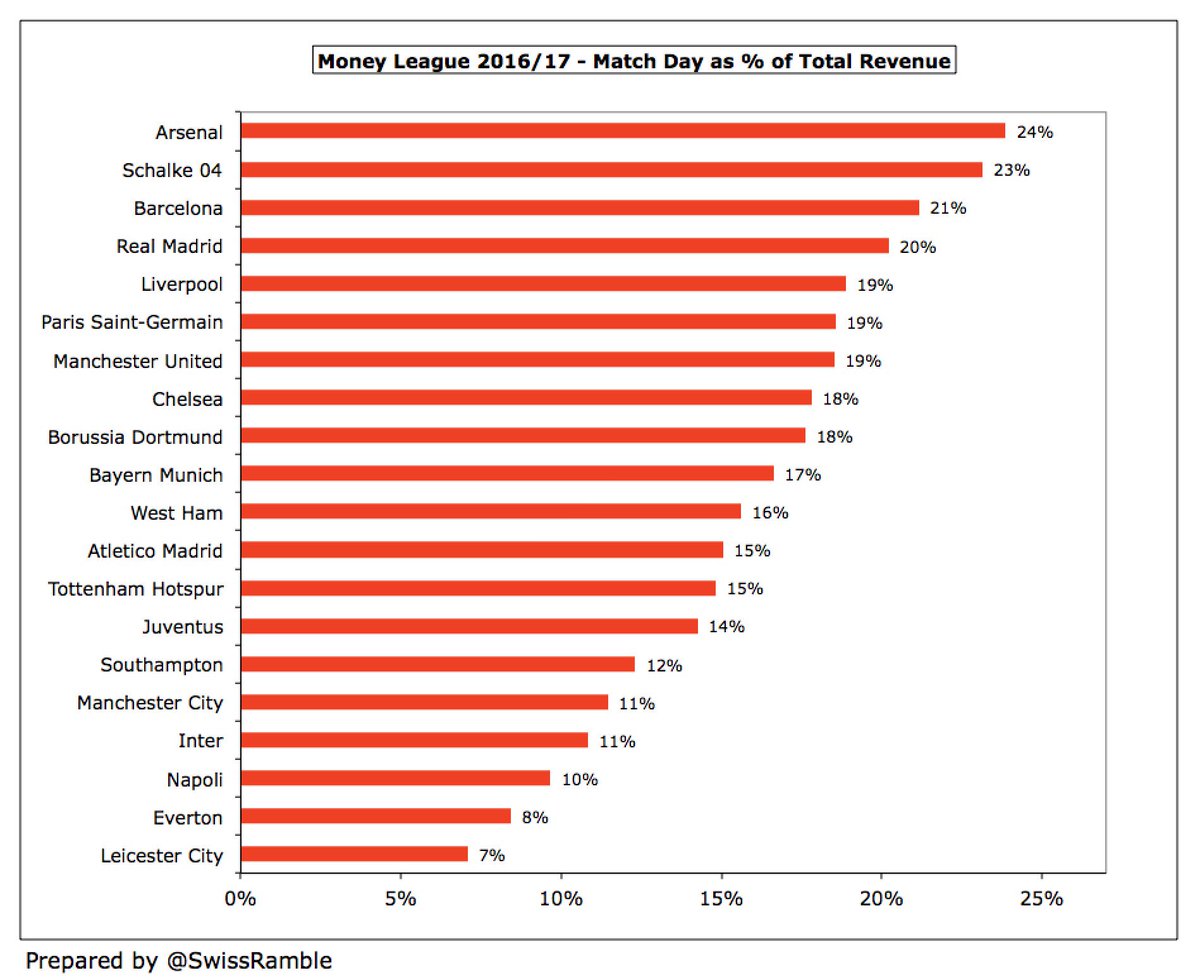 The new Premier League TV deal has taken Manchester City €203m to the top of the broadcasting income league table for the first time, just ahead of Real Madrid and Arsenal. Then come Juventus, benefiting from substantial Champions League money (including high TV pool).
The importance of the TV deal to medium-size English clubs is highlighted by Leicester generating 82% of their revenue from broadcasting (though this also included Champions League), followed by Southampton 78% and Everton 76%. Low domestic deals contribute to PSG and Bayern 25%.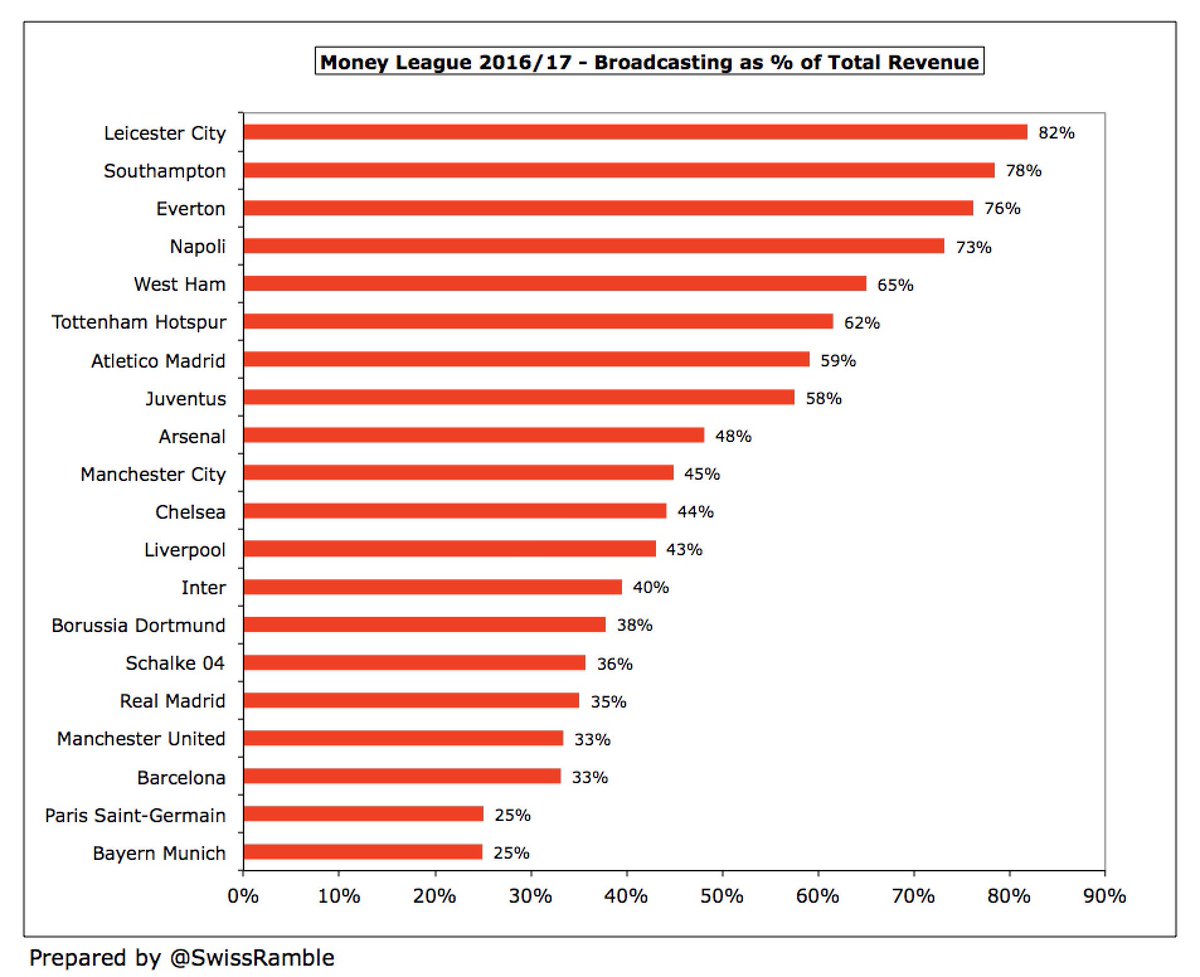 Commercially, six clubs are well above the rest: Bayern Munich £295m, Manchester United £279m, Real Madrid £259m, Barcelona £255m, PSG £236m and Manchester City £198m. There then follows a big gap to Chelsea at £140m. Despite progress, still much to do commercially in England.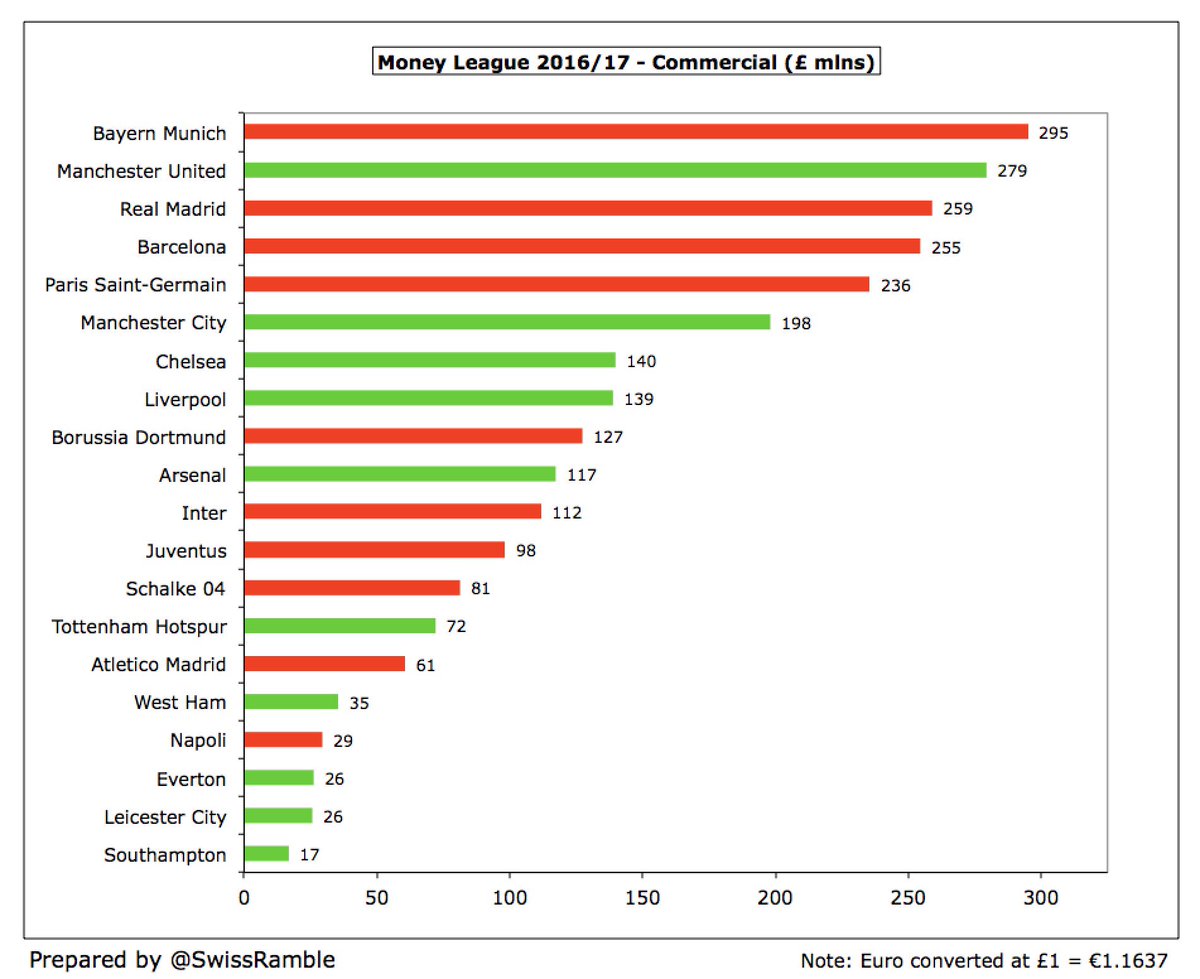 As might be expected, Bayern 58% and PSG 56% lead the way in terms of the importance of commercial income to total revenue, but then come Inter 50% following their remarkable €75m increase to
#130m
following the club's acquisition by Suning.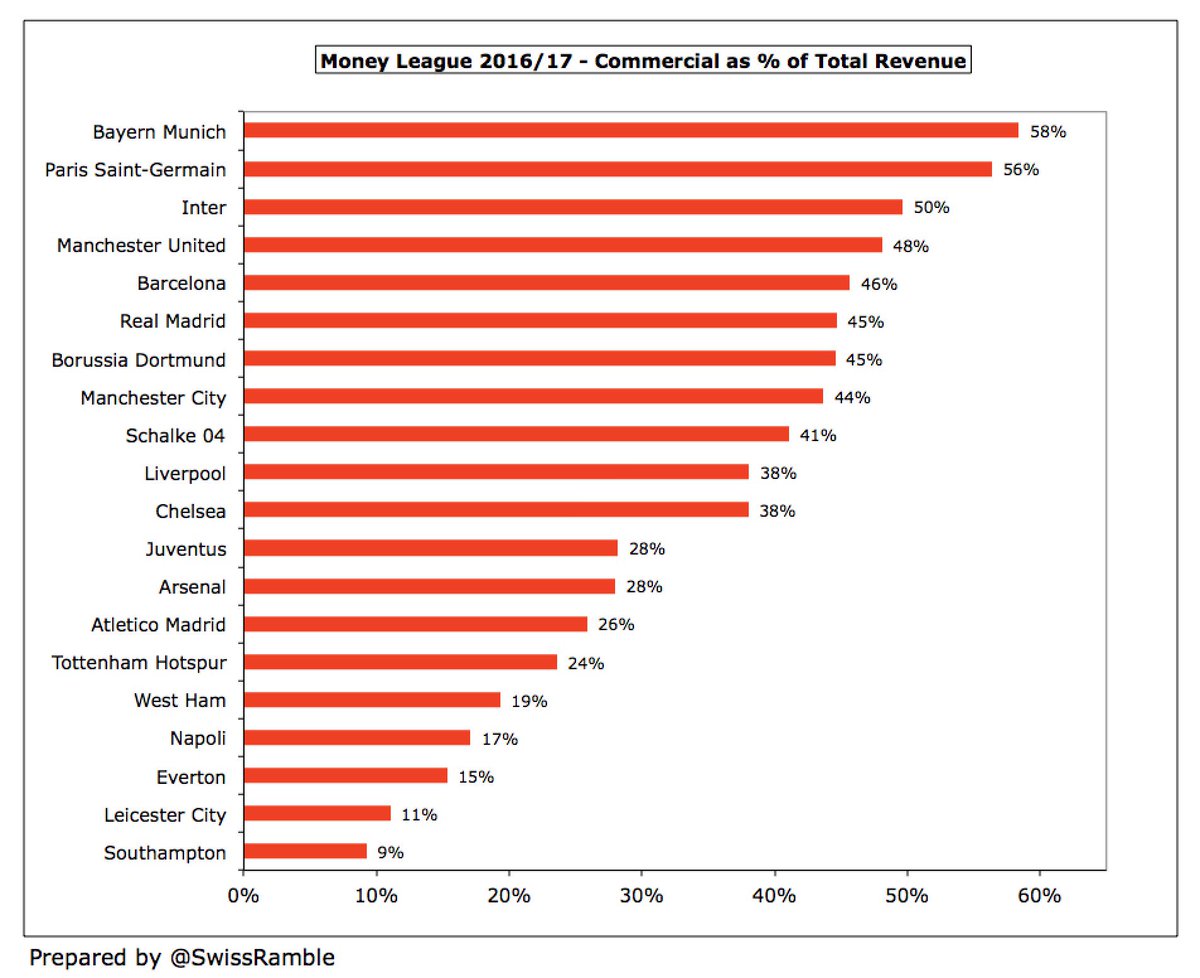 If we exclude broadcasting income, the leading clubs are similar, though Bayern and PSG are higher in the table and the top four clubs have much the same revenue (£372-387m). Without the boost of the Premier League TV money, the gap to mid-tier English clubs is much larger.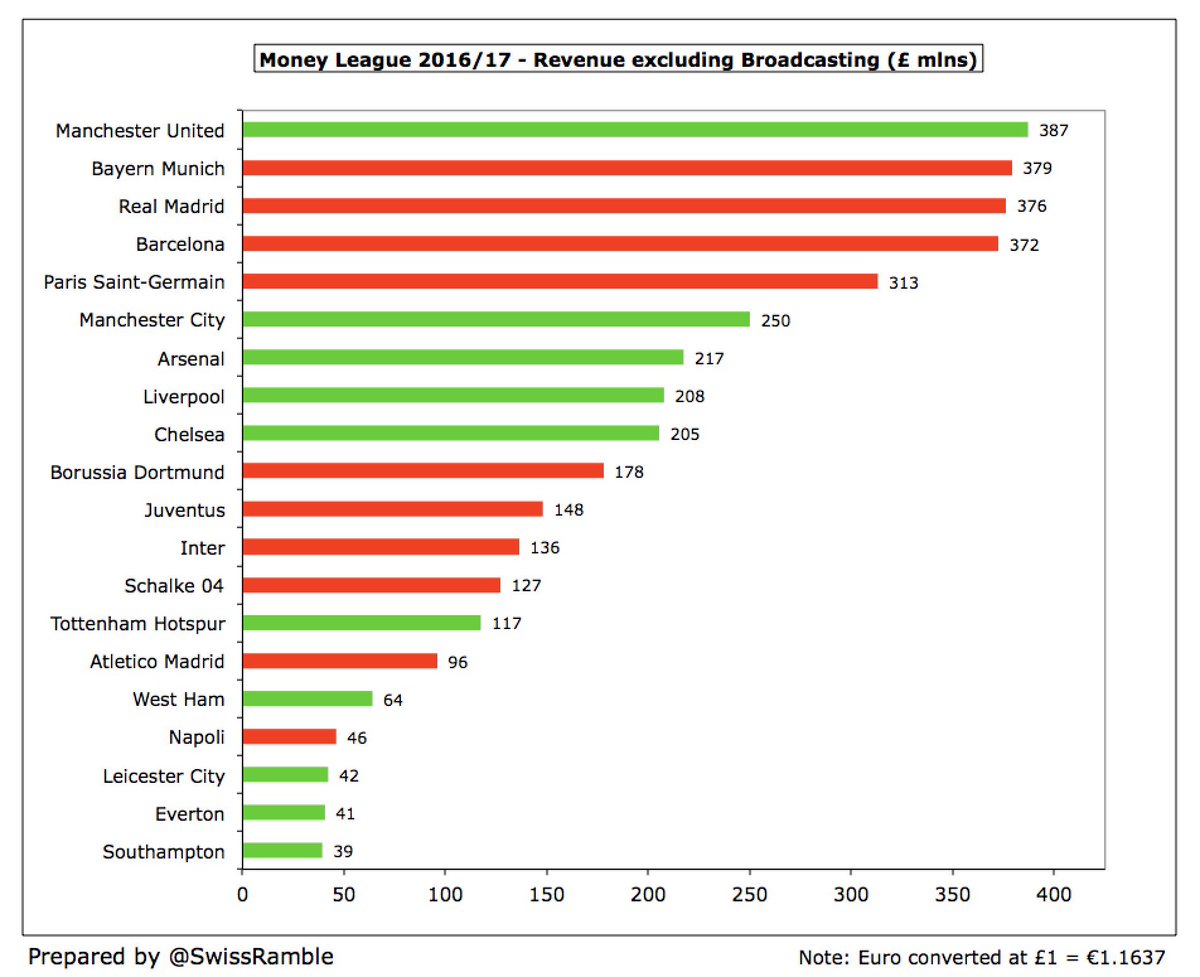 This year's money league sees a record ten English clubs in the top 20. On the other hand, it's Italy's worst ever performance with just three clubs in (there were five as recently as 2011). Germany and Spain also had three clubs with one from France.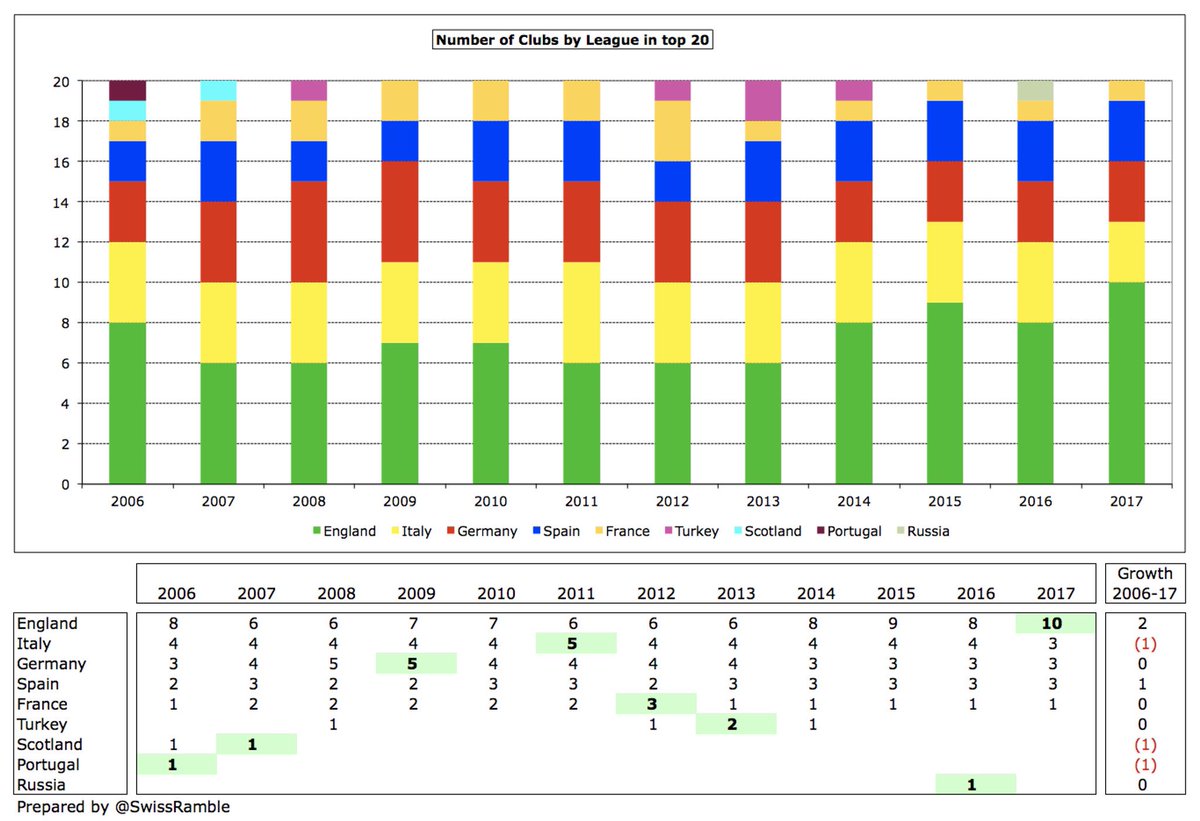 English strength is further reflected in the top 30 with the number of representatives rising from eight in 2013 to 14 in 2017 (though down from the peak of 17 in 2014). Nevertheless, for one country to provide almost half of the clubs is an impressive achievement.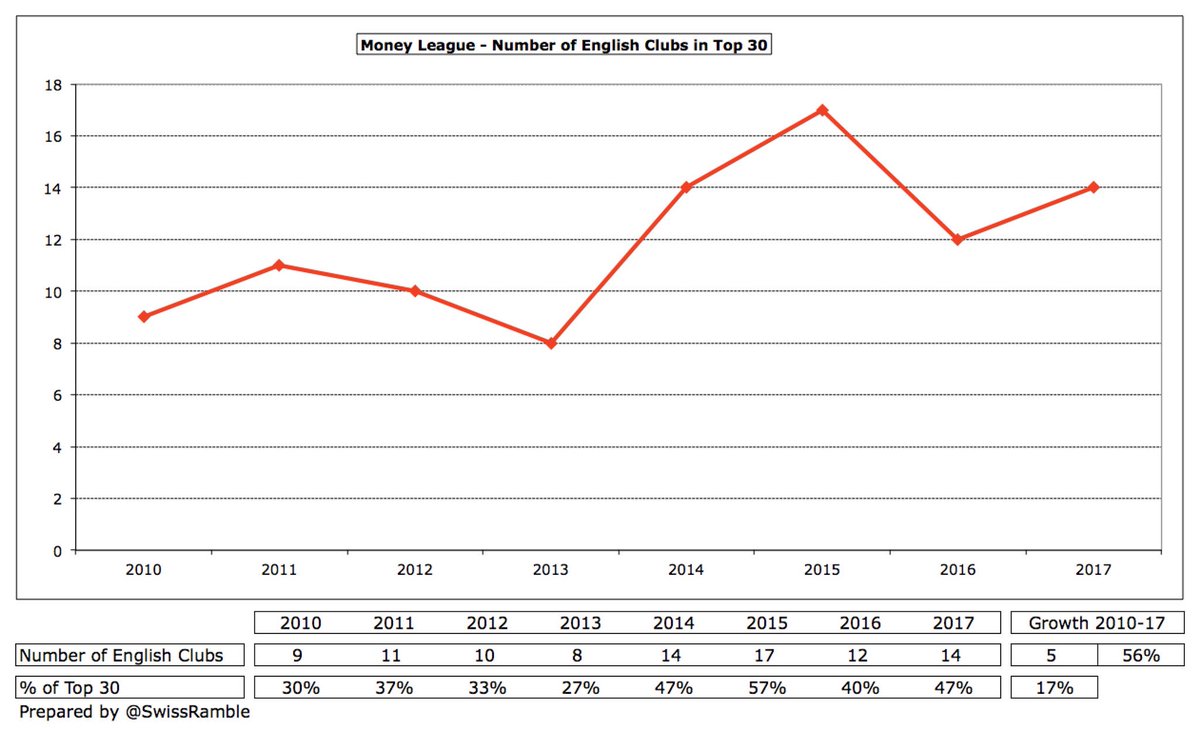 Highest growth of the top club in each of the "Big Five" leagues since 2009 comes from PSG (€385m since Qatari purchase), though
#MUFC
is not far behind with €349m. Juventus has 100% growth, but increase of "only" €200m means that the gap to the other elite clubs has widened.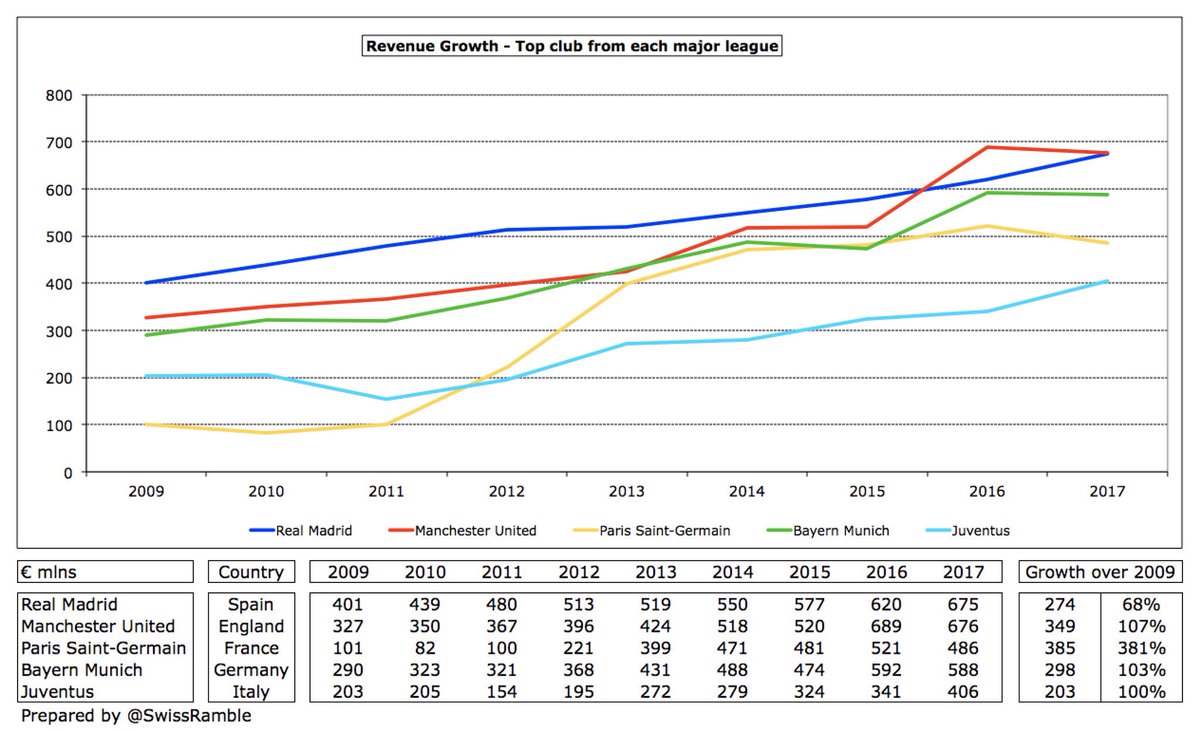 The gap between top and bottom, defined as 1st place to 20th place, reduced from €517m to €477m, but has been on a steadily upward trend, more than doubling from €207 million in 2006.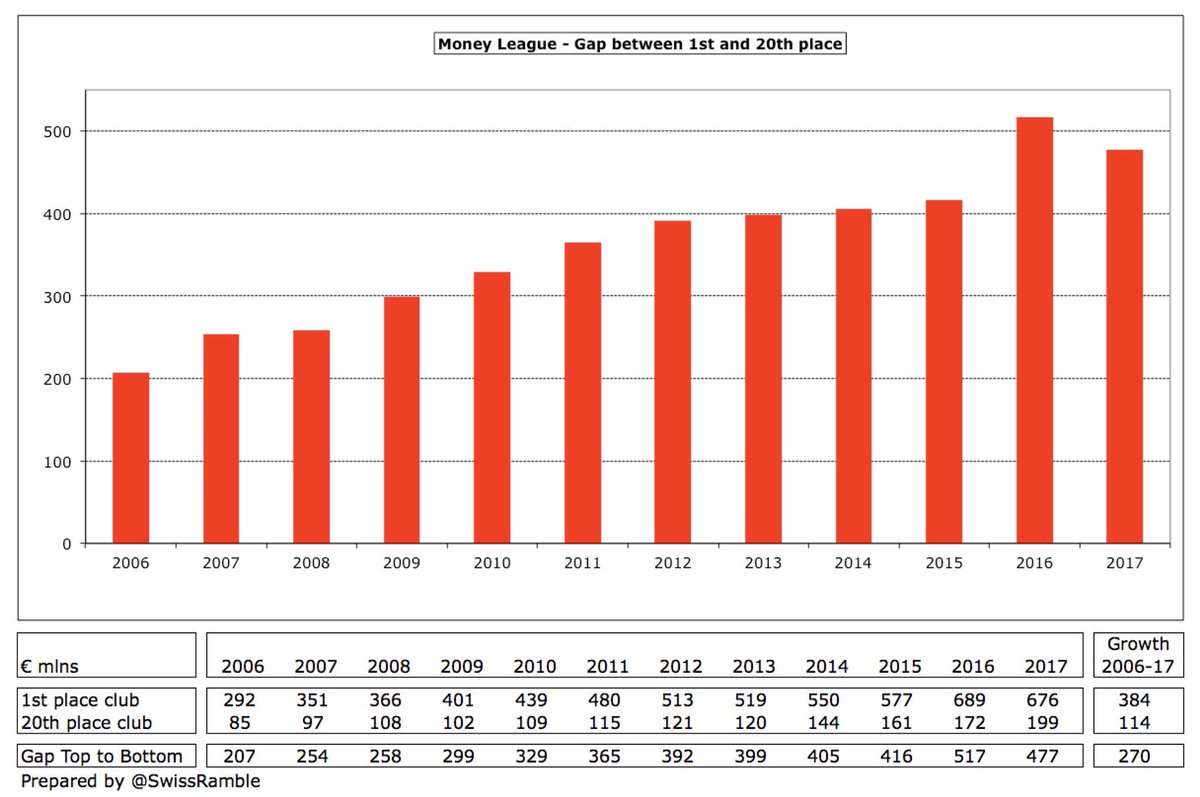 After a few years when the gap between the 10th place club and 11th place club seemed to be closing, it has widened in the last three years and now stands at €50m, being the difference between Juventus €406m and Tottenham Hotspur €356m.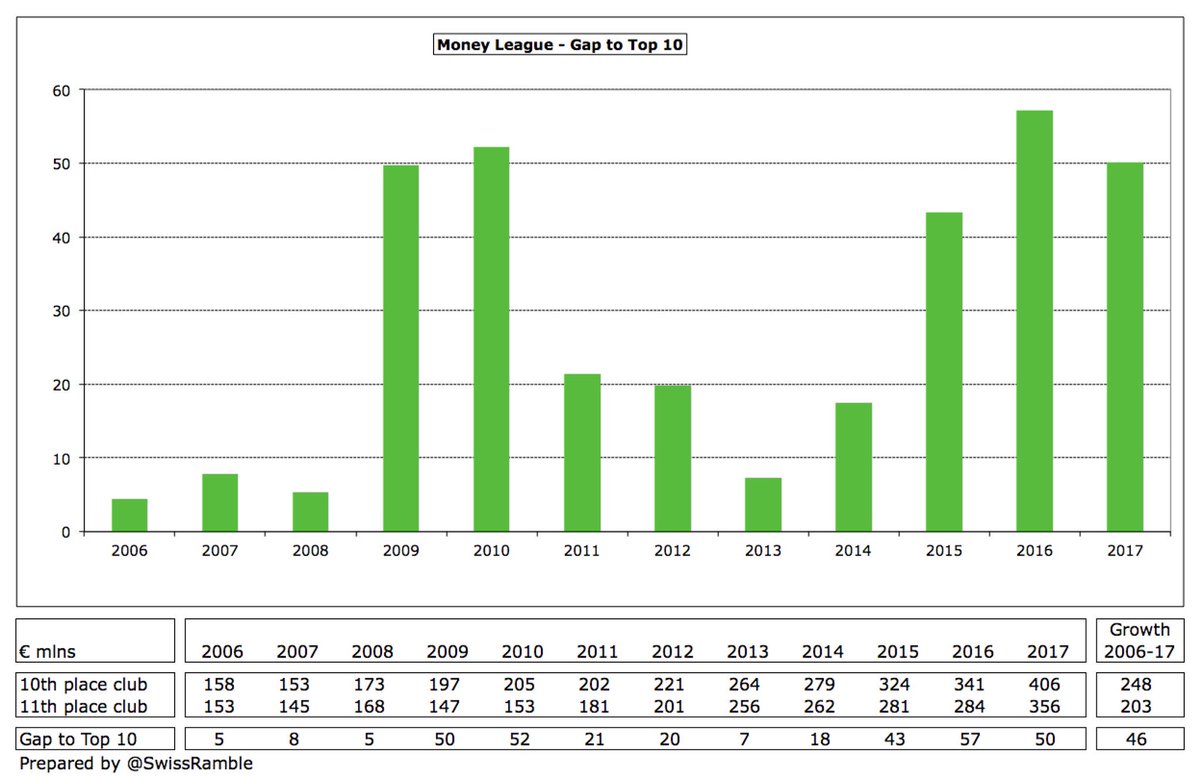 The financial threshold for membership of the Money League club is becoming increasingly challenging with the requirement for a place in the top 20 rising 16% from €172m to just shy of €200m.