(Thread) I've made some disjointed comments and tweets on how the
@DevinNunes
memo is bullshit, let me put it all in one thread for easier consumption. The
#FISAMemo
is 100% bullshit.
First off I see the
#ReleaseTheMemo
and
#QAnon
crowd pushing this narrative that the dossier invalidates the entire investigation, it doesn't. The investigation was actually triggered by Papadapolous drunkenly running his mouth to an Australian diplomat:
dailymail.co.uk/news/article-5…
The memo itself even asserts this on Page 4. .
@realDonaldTrump
and the rest of his supporters appear to have ignored this part of the memo because it doesn't support their narrative.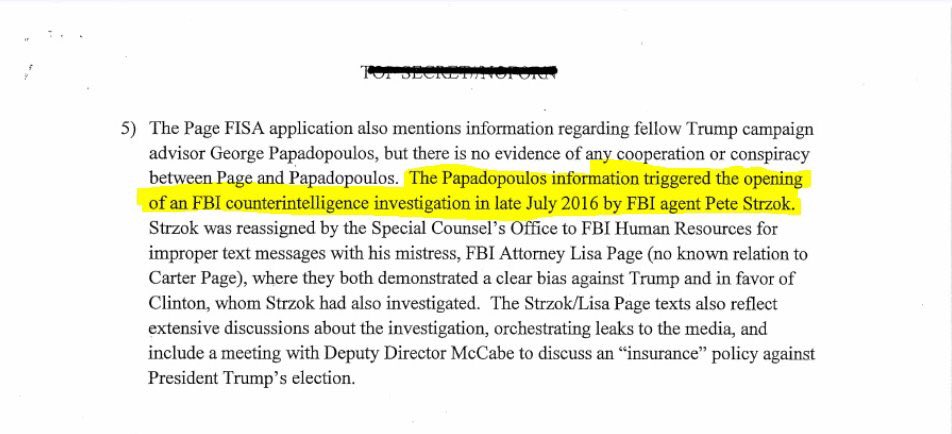 Another thing I see pushed is that the dossier was the sole reason for the Page FISA warrant, there are two things the memo and the
@GOP
and the rest of the
#MAGA
crowd doesn't say or maybe even doesn't know is that Page was under a FISA warrant before:
washingtonexaminer.com/former-trump-a…
And that in 2013 he actually openly bragged in a letter that he had close ties with the Kremlin:
time.com/5132126/carter…
Another thing the memo claims is that Andrew McCabe testified that without the Steele dossier they never would have gotten the FISA warrant. Not only is that only the memo that claims that(closed session no official transcript has been released) but it has been disputed by
This memo is a half baked and half assed attempt to undermine the
#RussiaInvestigation
and Mueller. What is actually does is show the
@GOP
and
@realDonaldTrump
attacks are desperate and fearful, it is the flailing of cornered people knowing justice is coming for them.
(Update 1/2) Oh and here is another Carter Page video further showing there is more than the dossier: