1.
Scope —the law should apply to protect the personal data of all people in India, foreign entities conducting business in India + those outside India processing personal data from india.
2/n
2.
Protect all personally identifiable data—do away with the distinction b/w "sensitive personal data" and "personal data". Protect all personally identifiable data.This means the law will not apply to de-identified data; incentivising de-identification (as techniques evolve)
3/n
3.
A new "Legitimate purpose" test should be the contextual test for entities to apply ACROSS data lifecycle, allowing data use that is (1) lawful (2) necessary for the service to be pvded (3) proportionate. See page 42 for suggested language
dvara.com/blog/wp-conten…
4/n
6.
Responsive regulation tools should be considered for a full pyramid of support and of sanctions, to provide regulatory certainty for all market players and crowd entities into regulation through ex-ante & ex-post tools. We event have A GRAPHIC in our response ;) see pg 55 7/n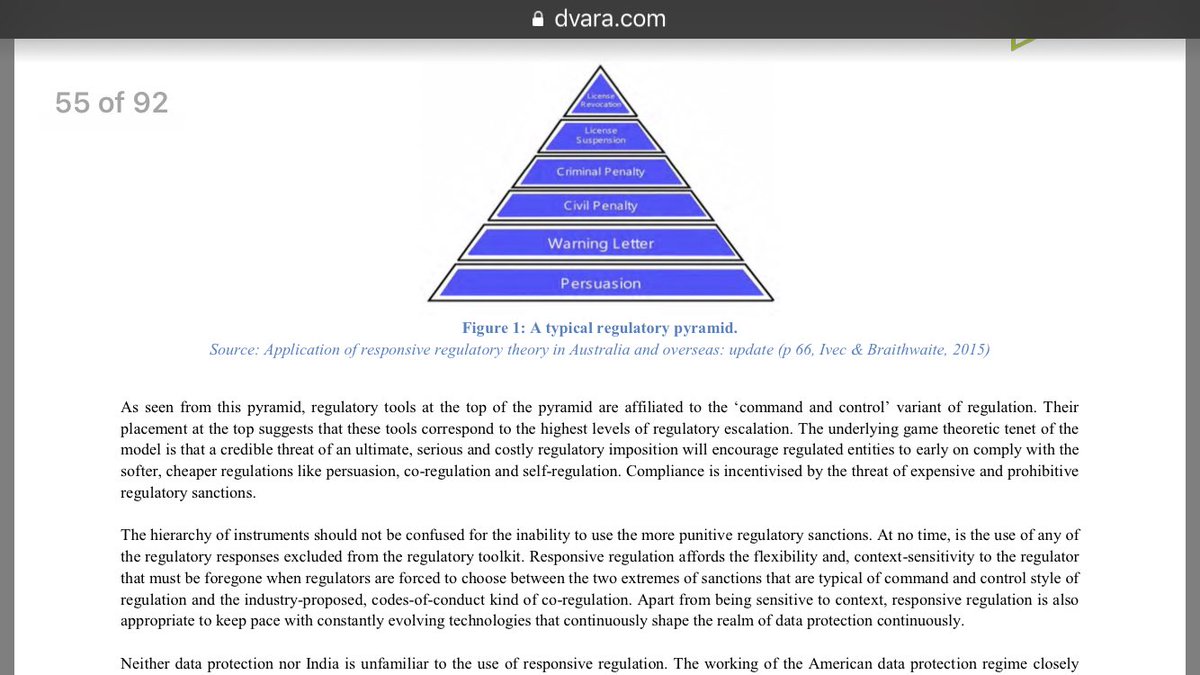 7.
#SystemicallyImportantDataEntities
(also, coolest hashtag of 2018). Draw from
#financial
#regulatory
thinking; consider grading entities into (1) systemically important (2) medium risk & (3) low risk entities to ration supervisory &regulatory capacity and tools accordingly.8/n
8.
#liability
—strict for most obligations where obligation is well defined in law (w/ gradual requirements clear for each sector through secondary legn & industry codes), this will help
#insurance
market; reasonable efforts for evolving principles like data harm & privacy.
9/n
9.
Inter-sectoral coordination—a future
#DataProtectionAuthority
should create processes to work with existing/future regulators in each sector for nuanced, fit-for-purpose regulations for sectors, to improve supervision, reduce risk of regulatory arbitrage.
10/n
And that's a wrap! Check out our (NON expert) legislative doc that shows how our thinking hangs together. Released v humbly& with full knowledge that this is only a learning document to constructively continue the debate. All comments welcome.
dvara.com/blog/wp-conten…
11/n