Here comes one of those thread things, a rather personal one in many ways, so feel free to unfollow/mute/ignore as you see fit

And yes, it's about the whole Johann Hari debacle, which many seem to be interested in

/1
In case there's anyone who is still somehow unaware, back in January Johann Hari released his new book about depression and how it 'really' works and can be cured, accompanied with a gargantuan publicity campaign and many endorsements.

I didn't agree with any of this
/2
I'm not usually one to labour a point I feel, but that follow up seemed particularly necessary to me, what with the whole 'people could die' aspect. I'm a proper snowflake like that, I guess

/4
Here's the thing; I know for a fact that I got under Hari's skin in many ways. A lot of behind-the-scenes stuff going on which confirmed this 100%, plus his later reference to me as a 'Guardian blogger' when addressing my criticisms
/5

Rather than, you know, a doctor of neuroscience with many years experience in Psychiatry and psychology. I know he knows my qualifications. He does now anyway, assuming he checks his Twitter mentions as copious people have informed him of them since
/6
So yeah, maybe he was 'rattled' by my and others' criticisms. But, in real terms... so what? His PR campaign was obscenely huge, his book's already a bestseller, and my efforts to respond reached barely a percentage of the audience he's racked up.
/7
Essentially, looked at one way, Hari won. His ideas and claims are out there, nothing the responses of me or my fellow critics can do about that now. Just got to sit there and deal with the fallout now, I guess
/8
But what's particularly galling about all this is that Hari's clearly made a great deal of money from it all. I'm an author and article writer myself, so I can appreciate how much he's racked up in sales and so forth. That's really grating.
/9
I could never prove it of course, but given Hari's serious reluctance to properly engage with genuine criticisms and concerns and his slippery not-100%-honest tactics to deflect them, it wouldn't surprise me to find that was his main goal all along. Not even slightly.
/10
And that pisses me off no end. Peddling some fad diet or new age woo to gullible types for profit is bad enough, but exploiting mental health concerns to line your wallet is beyond the pale, in my humble opinion.
/11
You can waffle on about 'widening the discussion' or 'starting a debate' all you want, but if you're happy to talk to Fox News but not concerned professionals, it's bollocks and you know it is. So at least I could retain *that* moral high ground.
/12
But here's the thing; the Guardian pay me for my writing based on what traffic it generates in any given month. All based on complex calculations of factors like time spent on piece, origin of hits etc. But generally, more traffic means I get paid more
/13
I recently got paid for my January blogging. It was a fair amount. Thanks to my Hari rebuttals. They may not have been close to his numbers, but they were very good for me. He upset a lot of people, after all
/14
But this made me a bit uneasy. I can condemn Hari for his profiting from muddying the waters of mental health, but now I'm profiting from his profiting, albeit indirectly. Can't really describe myself as that much better, really
/15
So, to get to my point
From critiquing Hari and his claims, I've incidentally made a fair bit of money. With web traffic and boost in my own book sales, I made close to £1000.
This felt very wrong to me, so I donated it all to
@Rethink_
See, here's proof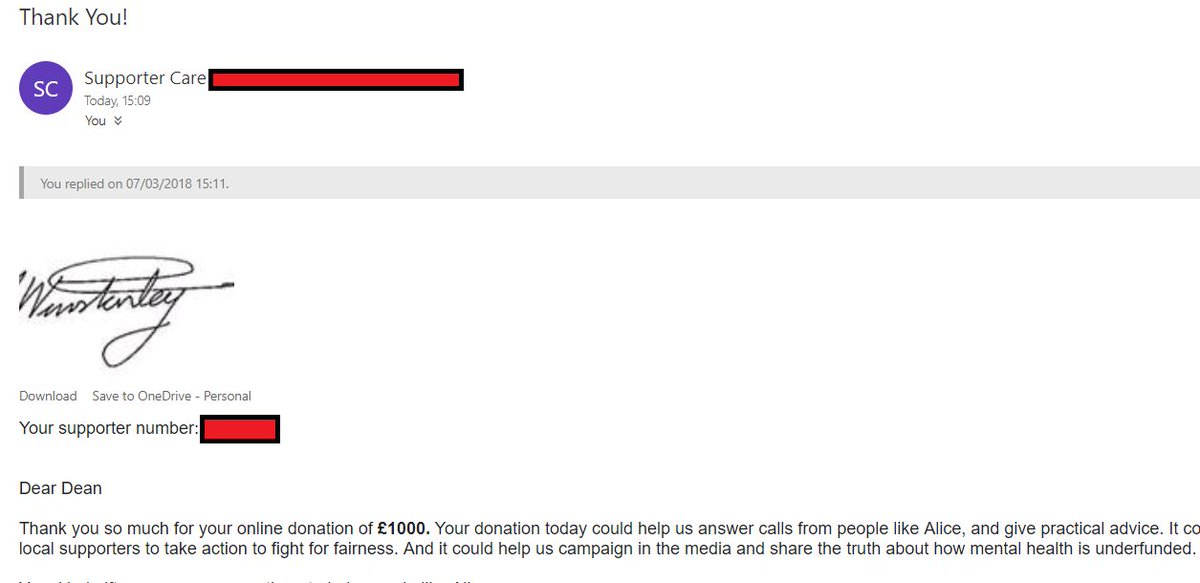 Pretty much guaranteed to get the accusations of 'self-serving charity' from this, and I did wonder whether I should bother sharing it at all, but decided it was worth it, for several reasons

/17
1.
I like
@Rethink_
and what they do, and they were very nice and promoted my book when it first came out, figured it would be cool to give something back
2.
Who knows, might guilt some other bigger name who unwittingly endorsed Hari into donating something too. Very remote I know, but still a vague possibiltiy

/19
3.
Hari's more 'enthusiastic' fans have regularly accused me of being motivated by profit in criticising him, so now I can point to this when that happens. Won't convince them otherwise at all, but will hopefully lead to some fun mental gymnastics. I like that sort of thing

/20
4.
And finally, I was able to make this donation to help those with mental health needs, not because I'm a neuroscientist or expert or anything, but because I'm a Guardian Blogger, that term Hari used to try and dismiss and belittle me.
Suck it, mate!

/21
So yes, In conclusion, I may have just delivered the most expensive comeback, to an arsehole who was trying to insult me, in all of human history.

Totally worth it, would do it again.

/end
A long thread from last night, but I feel it's an important one for those following my Johann Hari antidepressant antics.

Basically, have literally put my money where my mouth is