Meanwhile, while that was going on, CIG announced a new JPEG concept ship sale that has the tribe up in arms.

Normally, we'd just do what we do: point and lol. But this time, we can't even point because we're all collectively rolling on floor laughing.

I DID warn them.
For YEARS many backers have basically gamed the very system that CIG used to scam them out of money, under the guise of, you know, making a game.
One of those things is called Lifetime Insurance (or LTI). With no game, nobody knows IF/HOW it would work.
robertsspaceindustries.com/comm-link/tran…
CIG has changed it so many times over the years, that the link I just posted was the most recent "clarification" from May 2013. Yes, exactly FIVE years ago this month.

And there's still no game.

So, here's what this latest furor is about...
CIG has now decided that they want to make MORE money (on top of the $180M already raised) by no longer attaching LTI to new JPEG ship concepts bought with credits or melting.
They started it with the unveiling of the Hercules ship.
robertsspaceindustries.com/comm-link/tran…
Going forward, if you wanted to buy these new ships, you can only use warbonds.

wtf is that?

It's basically marketing speak for new money.

It doesn't matter how much money you have in credits, or even by melting old ships for new ones, you can't use those credits.
Some backers buy several ships (usually of the same kind) through sales, promos etc, then kept them.

When new things show up, they melt (convert to credits) the excess, then use those credits to buy new ships and stuff. No new money.

Yes, they're basically trading JPEGs.
Looking at the funding chart, CIG has now determined that they need more new money. Aside from the fact that they are now holding sales and JPEG concept sales merely weeks (not months) apart.

Yes, it's all so very hilarious, that it beggars belief.

Wait! There's more.
They "claim" to have raised $180M+. Yet somehow, 7 yrs later, the game isn't even 15% complete

But they're still selling stuff that's neither created, nor in the game.

Most were NEVER part of the game design.

They're basically consistently increasing scope to raise money.
We know the funding chart and the claim to have 2M backers is pure bs, but we go with it anyway because, hey, that's their metric that we consistently hang them with.
So, take a look at that funding curve and draw your own conclusions.
robertsspaceindustries.com/funding-goals
The hilarious part of all this? Those very same backers who have been making use of this system, are now - suddenly aghast at this recent display of affront by the company they KNOW is running an active SCAM.

And ALL the toxic cesspits of the community are now up in arms...
Let's troll our way through some of the hilarity because goddamn if videogame drama isn't the best kind.
reddit.com/r/starcitizen/…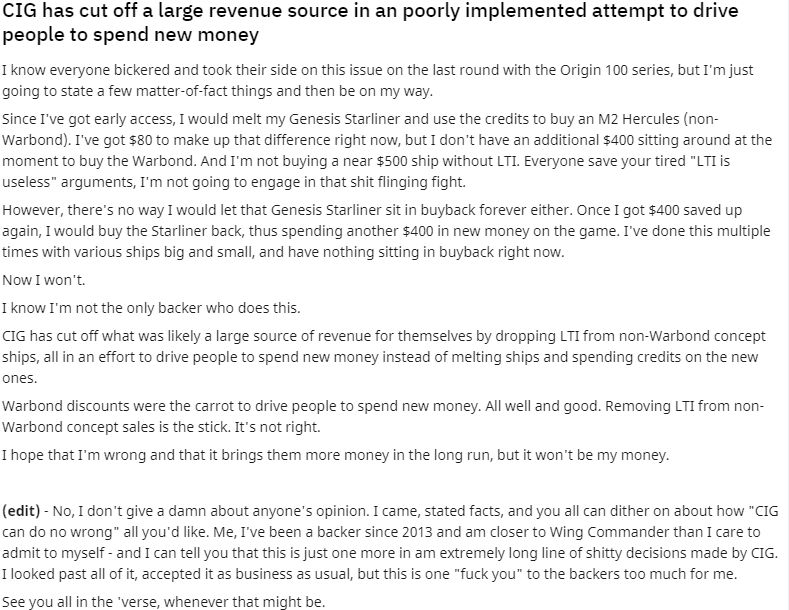 This thread, bar none, is the best one yet. And it was started by a Grand Admiral (aka mega Whale)
reddit.com/r/starcitizen/…

In this one, even the usual suspects whose sole job is to make light of everything while down voting dissent into oblivion, don't stand a chance.
reddit.com/r/starcitizen/…

On the game's official boards, ANY form of dissent is quickly shut down with CIG deleting posts/threads, banning their own backers etc.
This time, though they're working around the clock, they can't stop the signal. It's a mess.
robertsspaceindustries.com/spectrum/commu…
robertsspaceindustries.com/spectrum/commu…

It's Star Citizen - so being the biggest laughing stock of the videogame industry - none of this is surprising or even funny (we lol anyway).
But get this. Some backers really BELIEVE that a move like this "destroys" the funding model. I kid you not.
robertsspaceindustries.com/spectrum/commu…
These are some of the reasons why some of these guys don't even care if there is ever a game coming from this. For them, part of the "game" is trading in JPEGs and engaging in a litany of inconsequential bs that's NEVER going to amount to a game (let alone two) coming from this.
When some of them have had enough, what do they do? They create alt accounts, then go to the refund Reddit to complain about having been scammed.
Now that CIG has (as I warned last year), stopped issuing refunds, they just get [rightfully] laughed at.
reddit.com/r/starcitizen_…
For YEARS I warned that this whole thing had evolved into an full on SCAM, and that CIG execs were more interested in inventing new ways to raise money, than they were in taking steps to deliver the two games they've reportedly raised $180M (not including loans we know of) for.
Elizabeth Holmes, pulled the SAME stunt with Theranos, after raising $700M from investors.
She kept the scam going long enough until a few brave people started poking, thus getting the attention of the govt.
This is her story - in pictures. Read it.
msn.com/en-us/money/co…
That some backers believe the on-going Crytek lawsuit is going to be the defining factor that determines the fate of CIG and the project, is the height of the shocker when they find out what's brewing (I can't talk about it - don't ask) behind the scenes & will soon be public.
When I make these proclamations, the end result is usually that I get attacked (my block bot goes into overdrive). Then they happen - out of nowhere.

I warned about the looking Crytek lawsuit for months. Nobody took me seriously. Until it was filed (I broke the news) Dec 2017.
There is NO version of this where CIG ships either of these two games as promised.

Backers don't stand a snowball in hell chance of ever bringing about a lawsuit when they're already bound by arbitration which tends to favor corps.

They're just funding an active SCAM.
And they will keep doing it until the govt makes their intent clear.

It's coming. And there's NO getting around it.
ps/
In stark contrast, the upcoming convention tickets went on sale a few days ago. It's held in the US.
For some reason, they haven't sold out the tickets.
But they totally have 2M backers though.
robertsspaceindustries.com/comm-link/tran…