So! Let's talk Iran polling real quick. There are two polls out today, from Pew and CNN/SSRS -- both live-caller, done by reputable pollsters. The difference between them illustrates how much wording can matter in situations where most of the public doesn't have strong opinions.
First things first: here's the wording and results of the two surveys. Both are perfectly fair ways of framing a question about the Iran deal, but they're asking fairly different things.


It's also worth noting that neither of these polls gave people an explicit option to say they weren't sure. On the Pew question, which provided less context, more than a quarter of the public volunteered that anyway.
Per Pew, just 27% of Americans have heard a "lot" about the deal, and 26% have heard nothing at all. When awareness of an issue is that modest, framing matters even more than usual.
In the aftermath of Trump's decision, we're likely going to see a lot of questions phrased like "President Trump decided to [x]...Do you approve or disapprove?" You can probably guess what kind of partisan response that will activate.
So, when issue polls are highly divergent, that still tells you something: namely, that opinions are pretty unsettled/not strongly formed.
And it's also a good reminder of why it's always a good idea to look at surveys in context. Think of the old blind men/elephant parable: both of these surveys give us a little facet of how people are thinking (and whether they're thinking) about the deal.
Addendum: There's also a recent CBS poll out I'd missed that does give an explicit "not sure" option. A lot of people took it!


Last thing for now: Here's polling on the Iran deal starting in May -- I've fixed chart to make support/oppose consistent. I'll keep updating this as we get more data.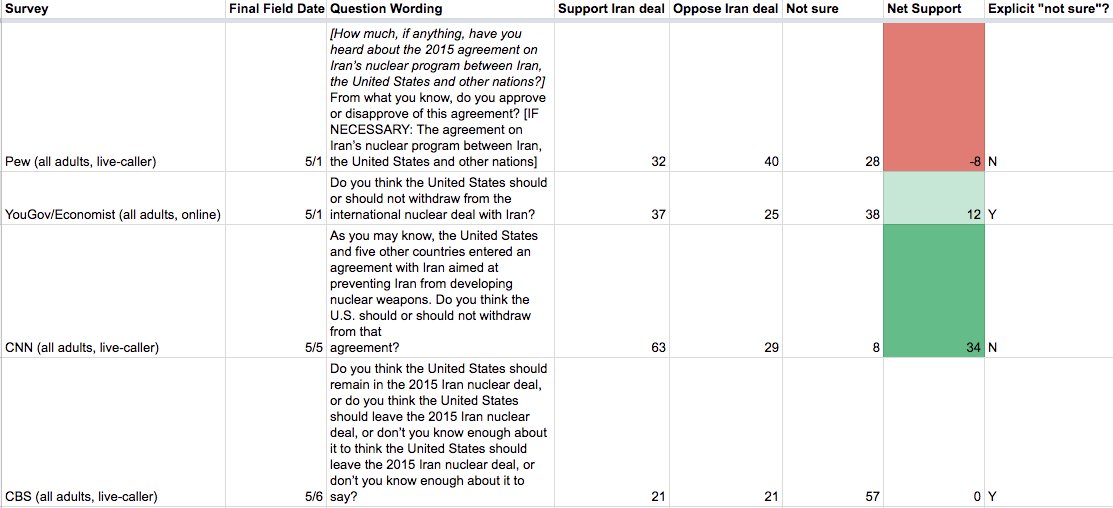 Added one more poll, from last week's Morning Consult. You get the picture: describing the deal as "preventing Iran from developing nuclear weapons"/"Iran agreeing not to manufacture nuclear weapons" seems to drive higher support than calling it a "nuclear deal."