Made it. Even brought a keyboard.
Staff is describing the proposed legislation.
Union member speaking w union leaders saying they won't stand in the way of other people being able to live here and own or afford to rent a home.
There are people here with green and white signs saying I LIVE IN West Seattle
Still learning how to use one of these computers with an apple on it though.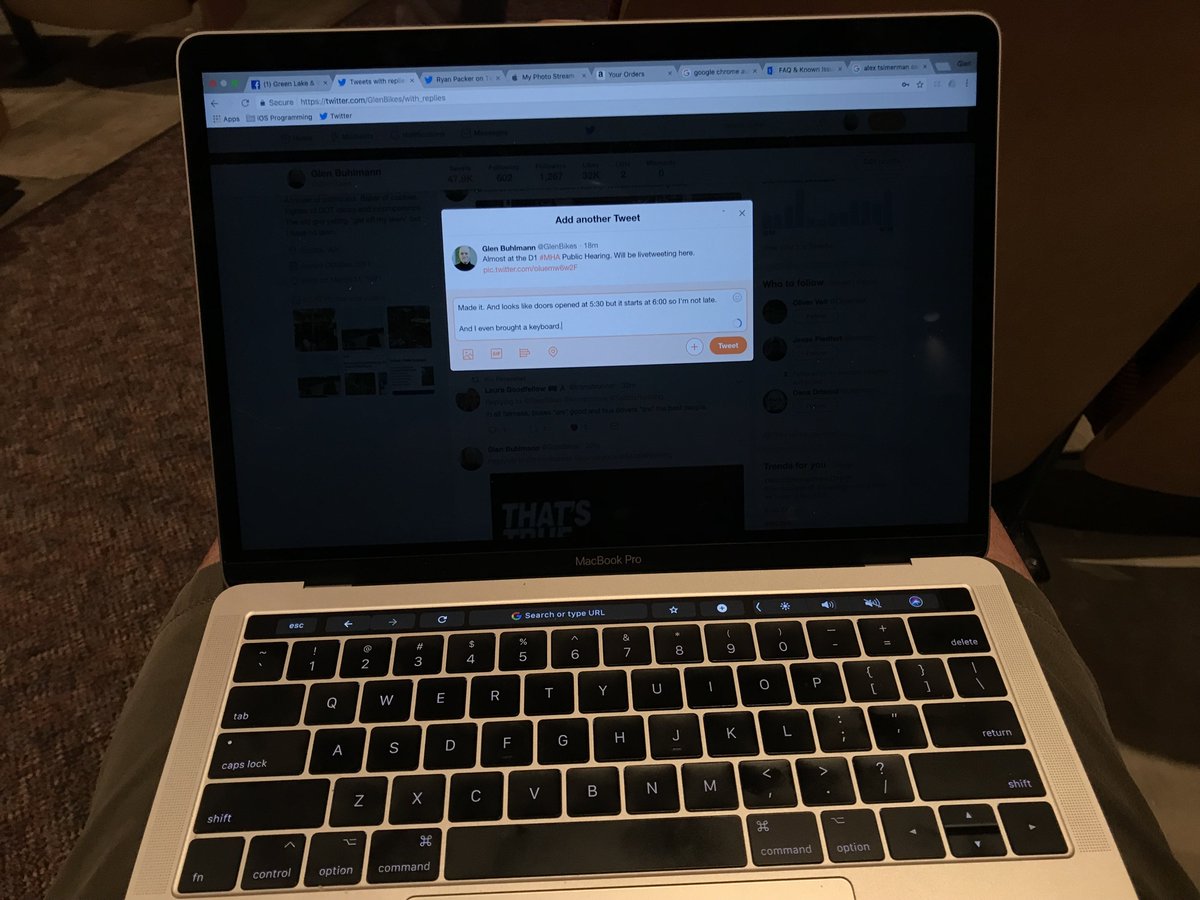 now speaking. 90% of the city should be open to apartments. Currently banned in most of city.

Note: I love the way people are now talking about it as an "apartment ban" rather than "single family zoning". Frame it as the negative thing it is.
points out most people who support
#MHA
are not coming to these meetings and are not e-mailing council. Points to today's
#bikeshare
report as example. 70% happy with it but council is hearing 85% negative feedback. Same w housing.
1st anti-housing speaker gets huge applause. The anti-housing folks have packed this crowd. So come down if you can.

Now a speaker, a union member, pointing out anti-HALA people saying their neighborhood will be wrecked but they're almost all white. Calls it white privilege.
Not sure why the anti-MHA crowd just clapped for this guy.
Man says he's not against affordable housing, nobody is. He's for responsible growth that builds infrastructure. Now complaining about too many parked cars (the infra he just said he wants). Wants assessment of current growth that is already zoned.
Jill Fleming an Alki homeowner. Loves inclusiveness of Alki. Supporting MHA so others have the opportunity she had. Need the added density to handle the growth we've already seen.
Mia, 11 from The Junction. Says families need a house, not an apartment.
Woman saying lowrise is to replace existing residents with apartment buildings.

These people seem to believe this that their homes will get bulldozed against their will.
Now she says most people she talks to are against MHA. Doesn't seem to recognize she is describing a bubble.
All the anti-housing people start with "I am not against... " "I am pro affordable housing..."
Speaker asked how many from W Seattle drove tonight. Everyone w green sign puts up their hands. Says developers will pay into fund rather than building affordable units on site. Talking about
#parking
as the reason why we can't build housing for people.
Woman says she's been waiting 2 years to see council... not sure how this is their fault since there've been dozens of public events/input options.
Asks Council how they would feel if their family got displaced. Not clear why she thinks
#MHA
is displacing her.
Renee W Seattle resident for 30+ years. Loves sense of community. Saying they had no opportunity to provide guidance on this plan that has been going on for years.

Developers will not build affordable housing in W Seattle, will be elsewhere. Sightlines, walkability, etc.
Homeowner says MHA is not providing enough housing. Now talking about tree canopy. W Seattle has half the avg tree canopy of the city. Says D1 isn't planned to get new parkland.
"we will systematically strip the green from the Emerald City"
#MHA
Patience now speaking for a coalition of organizations, united supporting
#MHA
Thanking council for the work council has done, the leadership and the extensive outreach.
Man speaking says he's lived in Seattle since 1968. Talks about a rezone but
@CMRobJohnson
interrupts saying that specific issue is a contract rezone and therefore quasi-judicial and council cannot listen to his comments.
Now this man says he doesn't want any additional height. "I'm all for affordable housing but there are places to put affordable housing"

Talking about taking away people's views and being a lousy neighbor. Not sure why any new neighbors would be more lousy than these comments.
Now a woman saying they are all for affordability but she wants to do that buy building new parks and more buses, but no new housing. Not sure how that helps affordability but it would certainly help current residents.
Now a man speaking to say that affordable housing must be built in the neighborhoods, not out in "ghettos". The anti-housing people applaud. Asks for allowing backyard cottages.

He just did search and there are lots of apartment buildings so why not just start subsidizing those
A woman in a 3rd generation home speaking. Concerned about displacement of low income, working people, people w disabilities. Somehow she thinks takes won't go up if we build no new housing.

Says city defunded existing neighborhood plans and are not forcing developers follow
Scott, "I am an avid supporter of affordable housing.... if it is done correctly and consistently"

I'm pretty tired of hearing all these wealthy homeowners saying "I'm all for affordable housing and more housing... just not this affordable housing and new housing"
Paul has lived here 60 years. I'm not following what he's saying. Something about apodments on Admiral being too expensive due to required parking. I think he is saying Admiral should be included in the areas that are close to frequent
#transit
and should not require parking.
Someone from Bellweather Housing speaking.
He said it's not perfect but it is what we need: compromise.
Multiple people speaking about infrastructure as a reason for not building housing.
I'm preparing my remarks now. We're at 12B and I'm 18B (last 3 digits of my street address - is that good luck or bad omen?)
I gave my comments. In meantime people said:
- MHA should require on site affordable housing (the anti-MHA side are almost all saying this - I hope
@CMRobJohnson
gives us what is almost unanimous)
- Lots of people saying they support affordable housing but not this aff housing
Woman speaking saying neighborhoods like W Seattle that have great schools and parks and other services should not only be available to wealthy people.
Gaelen bought in W Seattle 15 yrs ago, is a single black woman. IT was a house that nobody wanted, she bought it and built it up. She's saying she worked and worked and worked and she is against MHA. But she supports affordable housing.
She says in the middle east they build affordable housing where there is space to do it and then shuttle people around.
Young man speaking about SFHomes and the families that occupy them are the bedrock of the city. Says developers and unions want MHA to keep the bubble going and keep building.
Again he is talking about MHA "sacrificing" people's homes. Another person thinking his house will get bulldozed against his wishes.
A woman: "I live in West Seattle and I support affordable housing... but..."
A man saying the opt out payment option for developers needs to be removed. Says MHA will enforce gentrification in the area. Somehow he thinks SFHomes in West Seattle are "affordable".
Jennifer from S Park earns $30K/yr. Says some of her neighbors are homeowners and they are not white. Says MHA upzoning will cause the existing housing to be torn down and replaced with townhouses they can't afford.
There is no "page down" key! WTF?! And the page down via scrollbar goes a bit more than a page (at least in Twitter) so is useless.