Gab has been blocked from Apple & Google app stores. They have done everything they can to keep people from using it. Why is big tech trying so hard to control what you see and hear? Trying to keep the sheep in the pen? ?
The deep state MUST be able to control your media in order to control your mind. Tv, movies, music, msm, big tech, social media, etc. The deep state controls and censors it ALL!
#gab
I think that we should ALL attempt to get
@realDonaldTrump
to move from Twit to
#gab
. I guarantee that Gab would be more secure and trustworthy. If
@POTUS
were to spend one week posting on Gab, there would be a 50M user migration almost overnight.
.
@realDonaldTrump
, you could post your messages on Gab and have them auto populate on your twitter as well. This way you still get all the stupid lefties that comment on your tweets, putting your message in front of their followers too. Send a
#MAGA
message to Jack.
#GetOnGab
.
The EXACT same tactic used to silence (attempted)
#WikiLeaks
. The reason that John Perry Barlow and Assange started Freedom of the Press Foundation was because all of the payment processors refused to allow Assange to receive funding.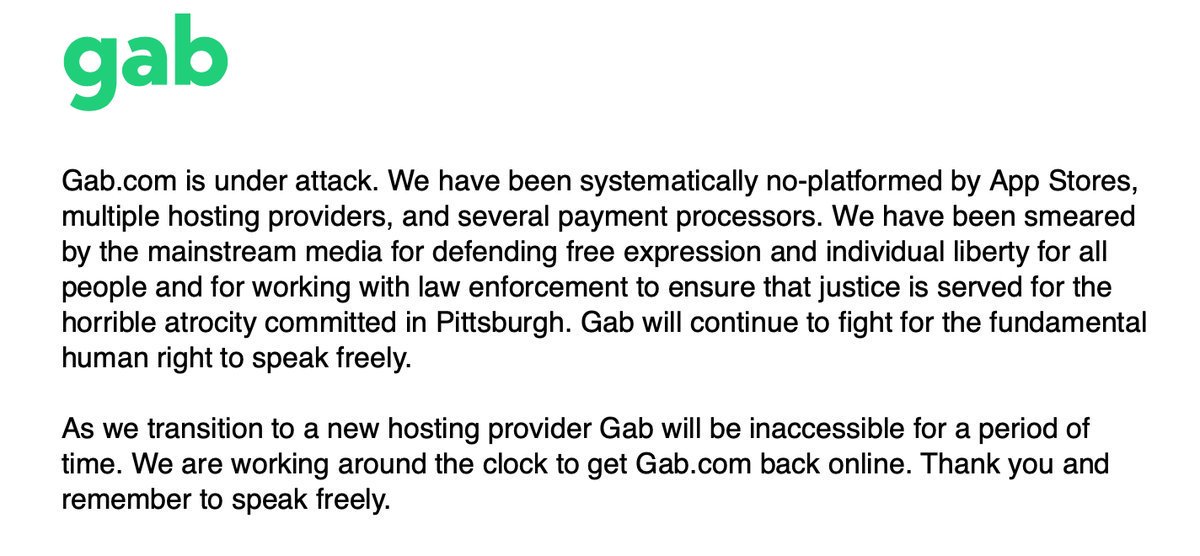 For all of you out there who condemn Gab, and support them being de-platformed, for allowing the Nazi moron (who hated Trump) to spew his racial, anti-Semitic nonsense- How about you stand on your principles and call for Twitter to be shut down?
bigleaguepolitics.com/179-death-thre…
Threats are > 'hate speech'. Free speech should be uncensored- and the platform is NOT responsible. Not even Twitter. But those who make open threats should be banned and prosecuted. So many people said Gab promoted Bowers radicalization. Show me one post where he said KILL ____!
Those who want to defend those tweets will project accusations onto me & say that I am defending Bowers- Horse crap. I am defending Gab & saying they are NOT/ should NOT be accountable for the idiot's actions. ANYONE who threatens killing ANYONE should be banned & prosecuted.
Let's say that 1 of 179 people tweeting to "kill Trump" were to actually try. (God forbid PLEASE!) Would Twitter be shut down? NO! Should Twitter be shut down? NO! The individuals should be held to account- NOT THE PLATFORM!
@getongab
Free speech means I am accountable- NOT Gab
If you find yourself responding "Good, your beliefs should be shadowbanned or censored." That is a Fascist Nazi way of silencing dissent. I am a Constitutionalist and I fight for YOUR right to state your beliefs freely without censorship, even though I disagree with it.
Does free speech give me the right to get in your face and scream my beliefs at you? NO! Who does that? Where I am from, if you are mad enough to scream in my face, you are mad enough to fight- so I don't do stupid stuff like that because I would expect to be punched in the face.
Free speech does NOT give me the right to physically assault you- including your eardrums! Personal respect. Free speech is about a respectful exchange of ideas. I always strive to be respectful of individuals who come at me respectfully. It happened today on here as an example.
An individual came at me with a point of opposition and the stated their case respectfully, so what did I do? I engaged them in a respectful dialogue & while we still didn't agree- We were civil. Respect earns respect.
Those that post comments of insults & tell me I'm wrong/lying, without having any 'sauce' to back it up- I am going to go hard on you. I spend 10-15 hours/day, researching and studying all of this crap- so if you wanna watch the msm & spew NPC talking points at me, keep steppin.
I do NOT suffer fools easily & whether you watch Fox, CNN, MSNBC or any other corporate controlled media- YOU ARE BEING LIED TO- So don't bring me your
#TongueDung
& expect me to tolerate it. I do NOT have time to deal with sheep trying to convince me that I just don't get it.
If YOU- INDIVIDUALLY- YOU- would spend half the time I do in research and reading- you would see that ALL corporate media has sold you a false reality, YOUR ENTIRE LIFE! Search for TRUTH like your life depends on it and STOP following the herd.