1)
The explicit, openly-stated position of the President of the United States is now that a full vote count in the Florida elections *cannot* render a legitimate result.
Thus, he says, Rs must be declared winners.
This is not the conduct of an actor in a democracy.
*Thread*
2)
In retrospect, Trump previewed everything we're seeing now in the run-up to the 2016 election.
Trump repeatedly declared that the outcome would only be legitimate *if he won.*
This put a new spin on longtime GOP "voter fraud" lies.
From my book:
amazon.com/Uncivil-War-De…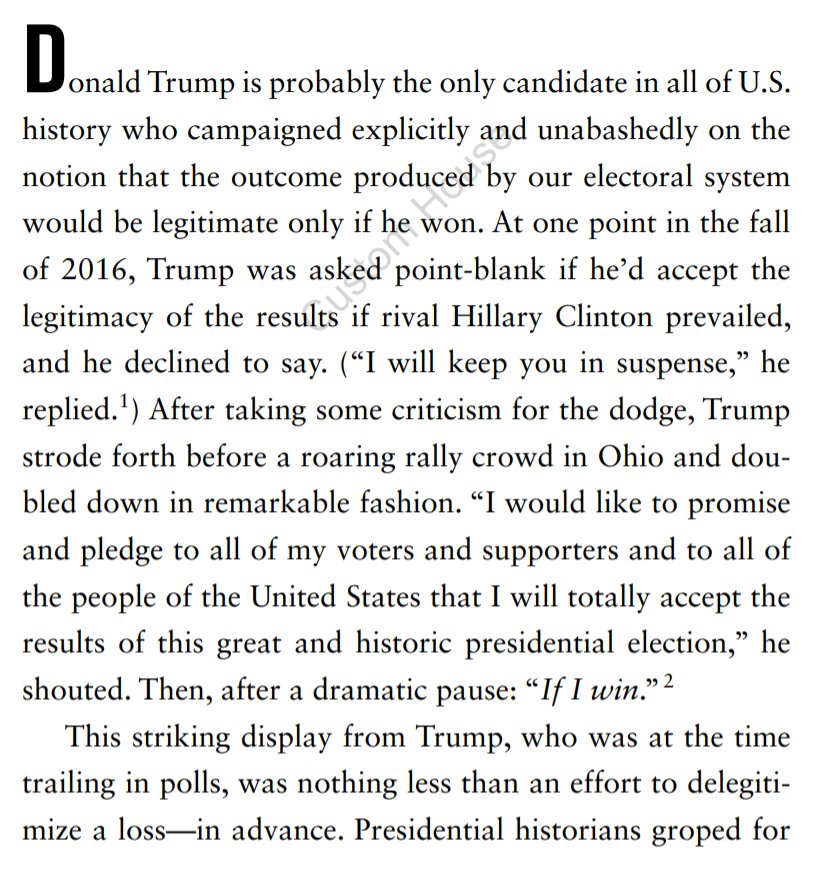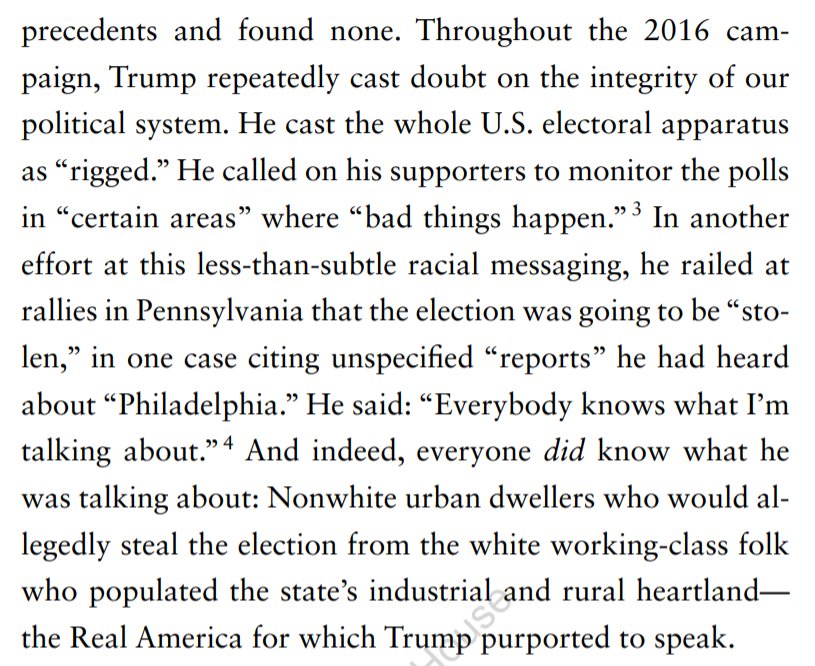 3)
Today, Trump claimed the vote in Florida has been "infected."
Trump uses this word constantly, to describe alleged undermining of our country by undocumented immigrants.
As a GOP pollster told me, GOP voters are open to such claims because of race:
4)
But this authoritarian style goes far beyond just lying about voter fraud.
We're seeing it on one front after another right now. It *escalated* as Democrats closed in on winning the House, which means imposing accountability on Trump's corruption and lawlessness.
5)
Let's run through the pattern.
Trump used the military as a prop to dramatize the central message at the core of the Trump/GOP propaganda campaign in the election's final days:
washingtonpost.com/blogs/plum-lin…


6)
Trump installed a loyalist to constrain the Mueller investigation. He did this without Senate confirmation, for the obvious purpose of shielding his choice from questions about his intentions towards Mueller.
How many Rs have raised a peep about this?
washingtonpost.com/blogs/plum-lin…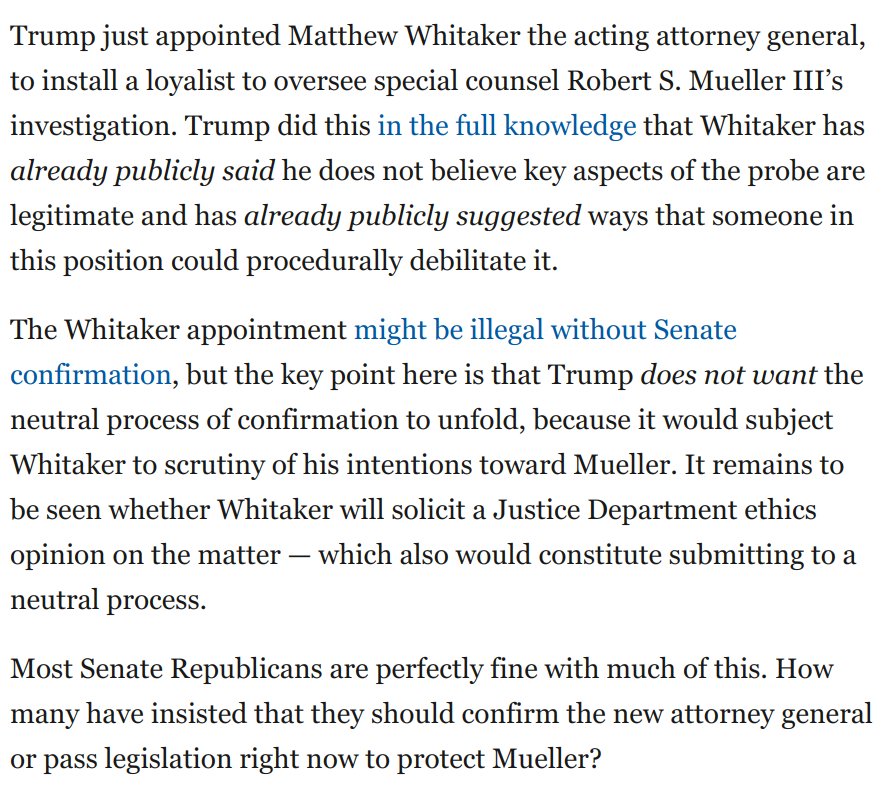 7)
Don't forget: Trump installed a loyalist to limit Mueller *after* his efforts to get his former AG to protect him, and *after* House GOP harassment directed at Mueller on his behalf, both failed.
He did this knowing Dems were set to take over:
washingtonpost.com/blogs/plum-lin…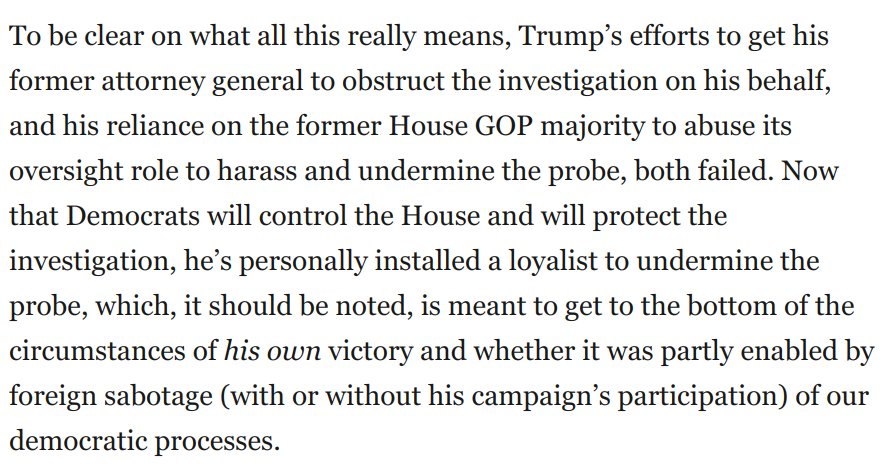 8)
In FL, GOP governor ordered law enforcement to investigate Dem vote counters in an election in which *he* is the candidate.
In GA, GOP gov candidate oversaw his own election and engaged in conduct
@rickhasen
described as among worst he's ever seen:
washingtonpost.com/blogs/plum-lin…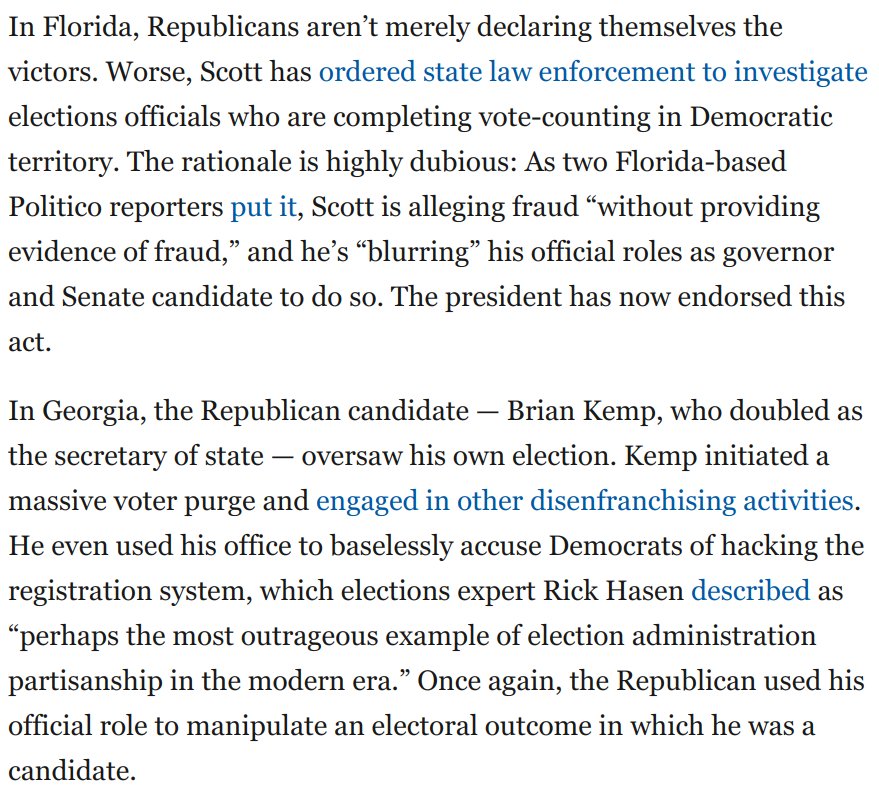 @rickhasen
9) White House circulated an apparently doctored video designed to create a fake rationale for punishing a reporter for asking Trump tough questions.
*Trump himself* confirmed there may be more to come.
Now Kellyanne claims the vid was merely "sped up":
washingtonpost.com/nation/2018/11…
@rickhasen
10) This quasi-totalitarian contempt for the truth and constant casting of the media as the "enemy" add up to conduct towards the independent press' institutional role that in important respects is something new, as I argued in this thread:
@rickhasen
11) The crowning absurdity of all this is that pundits are dithering around wondering whether *Democrats* will go "too far" in using their legitimate authority to act as a check on this lawless, out of control president.
Get your heads out of your arses. Jeez!
FIN
@rickhasen
Coda: And one last crowning absurdity: News organizations are now helping Trump blare forth his authoritarian lies.
As
@brianbeutler
notes, the news orgs simply *must* understand their own role in disseminating authoritarian propaganda at this point:
@rickhasen
@brianbeutler
In my book, I argue that this role of the news media in disseminating Trump's lies is an extremely serious institutional failure, one that is eminently preventable.
And now this thread is really, truly done.
amazon.com/Uncivil-War-De…