(1)
My thoughts on some recent Trump tweets.
This video clip from an hour ago is wonderful. I will let him speak for himself.🇺🇸❤️
#Winning
#SavingLives
#MAGA
(3)
Now for the tweets I missed while on a break. This one is accurate & not new, but I like that he mentions collusion at the end. We've seen the clear evidence of most of the beltway MSM being paid to spread the BS dossier & more. It will all come out.
(4)
A lot of folk in the MAGA movement seem a bit down atm, bc of events since 11/6. I get it, I do. But I'm not feeling down about things, at all. Maybe the break helped. (I recommend it!)
Trump always knew we'd have to
#DefyHistory
& in fact, we did, in the Senate.
(5)
The Senate has the power to stop the excesses of the House Democrats. And there are many other good things about the situation in which we find ourselves.
Rome wasn't built in a day, folks! Hold the line.
BTW, these texts still exist. No problem.
(6)
In these many tweets about
#SpyGate
stuff (actually
#ObamaGate
), Trump is achieving several goals. He's scaring the bejesus out of the criminals, which isn't strictly necessary, but is always fun.
He's also educating the public, day by day. Watch.
(7)
IMO this is an open-and-shut case & I look forward to the complete exoneration of Maj. Golsteyn, Silver Star.
BUT THERE'S MORE.
(As always.) When you read about this case, reminder that a military tribunal can order the death penalty.
J/s.
(8)
Obviously, if Golsteyn's case had been completed during the Obama years, he probably would have been executed by now. While monstrous killers higher up in the admin. got off scot free. So far.
Trump is steadily clearing the innocent & going after the guilty. Takes time.
(9)
If you're tired of waiting for the big criminals to get caught, stop and think about the alternative. There's no chance that Horowitz, Huber, or anyone else who is doing the necessarily secret work of *preparing* successful prosecutions would have been able to do this.
(10)
Wew lads, this tweet drove the Democrats completely round the bend, lol.
They so struggle with moral consistency.
(11)
I love his little spelling mistakes, They don't matter at all, but our adversaries fall for them every time.
Anything to avoid the policy issues at hand.
(12)
Another tweet to educate the public.
We don't need to reach them all. Just enough of them to consider voting GOP in the next couple of elections. Trump knows that "you catch more bees with honey than vinegar." He uses every avail. teaching tool.
(14)
Back in 2015-16 when I started hearing the details of why ObamaCare was so bad, it was the deductibles that I saw as the biggest problem. The hyperinflation of deductibles rendered the plans worthless in practice. Crazy stuff.
(15)
Another issue that I came to understand in 2016. It's sad that for some folk, it's only dawning on them now, but I guess it's down to lib brainwashing, that once affected me as badly as it has affected others.
Sunlight is the best disinfectant.
(16)
OK I think it was a bit hyperbolic to say the world is blowing up around us and Paris is burning but, whatever. As always, take him seriously, not literally, folks. Unless you want to look like a Democrat fool (pardon the redundancy.)
(17)
Obviously, he is not overstepping his powers & literally directing the Fed on what to do, he is speaking like the American entrepreneur that he is, & speaking for Main Street in particular.
But but he's really uneducated, right? /sarcasm
(18)
While every POTUS has people from Wall Street in the WH, you should look up how Obama filled those roles. Pretty much outsourced the hiring process to CitiBank. And it showed, didn't it?
That's what I call interference. But the media? Crickets.
(19)
A very pertinent question, Mr President.
I'm sure he knows to look back to the legislation from 1965, & every WH & Congress since then.
And don't @ me about Reagan. Sheesh. Get a clue.
(22)
POTUS retweeted this absolutely glorious official Christmas 2018 photo.
Simply stunning.
#USA
🇺🇸🌲 
(23)
He then RT this. IMO it's important to remember that the long-overdue Space Force isn't about "fighting wars in space," it's mainly about bringing together all the things the US mil is already doing, including comms, weather, reconnaissance, etc.
(24)
After Parkland, the GOP Congress & WH worked their tails off to deliver a new law in just one month. They don't get enough credit for that.
These changes are saving lives by preventing school shootings. Huge achievement.
(25)
I was ecstatic when I heard about this. A great decision on many levels. You gotta know how much this pissed off Cindy McCain and her brigade of Democrats.
(29)
I'm glad he spelled out (yet again) that a POTUS has many ways to get this done, & that the Dems & the tiny, dwindling group of RINOs will NOT be able to stop him.
The worse the border crisis gets, the more he can use the military & other budgets to
#FinishTheWall
.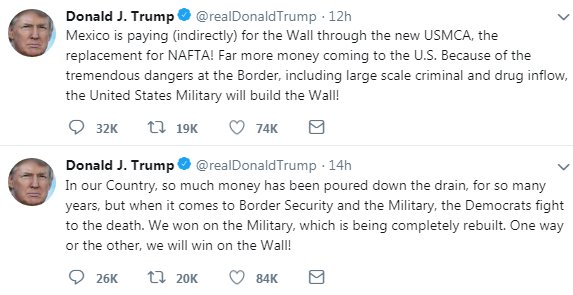 (30)
He specified the greatly increasing inflow of drugs & crime. This increasingly justifies the involvement of the national security parts of govt.
With national & (some) local resistance, it makes sense for (eg) USACE to do the work. They are infrastructure experts.
(31)
There just aren't going to be enough private sector workers to get the wall finished without using USACE & other military groups for at least some of it.
Eminent domain resistors may warrant the use of emergency powers. We'll see.
(32)
A short tweet, that says so much.
I'm just going to pause and enjoy this moment. It reminds me of when Iraq and partners liberated Mosul.
Much to celebrate.
(34)
OK, I'm all caught up, phew!
My admiration for President Trump's intellect, character and courage is renewed. Friends, I recommend taking a short break away from Twitter every now and then. It does you a world of good. Perspective.
#MAGA
END