(THREAD) Research ethics based on love, decoloniality and post oppositionality. Why
@mildredboveda
and I wrote our article. Hope you'll read & share.
#AcademicTwitter
#qualitativeresearch
#critqual
#educolor
#highered
#highereducation
#ethics
#researchethics
#decolonizing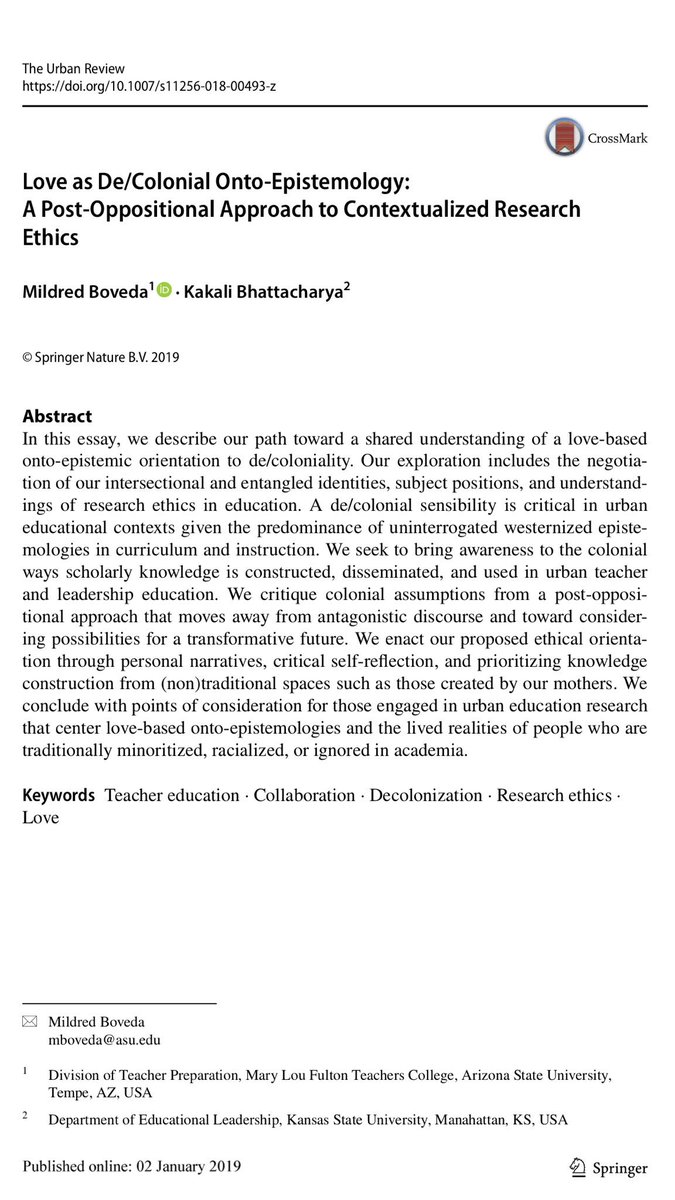 1/
We came together in this piece because our shared history of colonization was completely erased in what started dominating the Global North's discussion on decoloniality. That other nations also have colonizing histories with different liberatory agendas were simply absent.
2/
Buying into this discourse, reviewers aligned with this myopic grand narrative of decoloniality, and often told us that what we are talking about is just a metaphor, or critical research, but not decolonial, with zero understanding or acknowledgement of our histories.
3/
When critical scholars erase each other's work, it's hurtful. We wanted to work through the pain and produce some points of consideration that demonstrate our thinking grounded in our embodied histories and current transnational realities of de/colonization.
4/
In our article we spoke of our heritages and the influence of colonization and various erasures. We spoke of foundational knowledge that sometimes might not be privileged in academia and how that informed our research ethics.
5/
Here are some highlights for our points of considerations. We asked readers to check that critical scholars reflected on the intersectionality of oppression and privileges. E.g. one could be indigenous and white passing creating access and opportunities that others cannot.
6/
What might be some ways in which the researcher interrogates positionalities, analysis, interpretations to demonstrate thoughtful consideration of multiple perspectives?
7/
How do we demonstrate awareness for epistemicide in our studies? Do we privilege established knowledge or have we used our positions to bring forth knowledge from cultural elders, non-Anglo texts, oral histories, etc.?
8/
What moves do we make to not dehumanize participants and remain culturally congruent in our methodology (which isn't value neutral or innocent)? In what ways do we see participants as more than data repositories from whom we extract information for the purpose of our studies?
9/
What knowledge should remain sacred insider communal knowledge versus what can be shared with the world as a whole? As researchers, in what ways do we make those discernment with the communities with whom we work?
10/
We saw de/coloniality as a shuttling between the imagination of an utopian freedom devoid of coloniality & resistance to current colonizing forces. Therefore we called for a set of ethics that interrogates, contemplates, & proposes dignified, intersectional, communal healing.