1)
Important: The
#KDP
has rejected sensible recommendations from the International Crisis Group
@CrisisGroup
on returning stability to
#Sinjar
so that the
#Yazidi
people can return home, rebuilding, and have a future. This affair deserves comment.
#KRG
#Kurdistan
#Iraq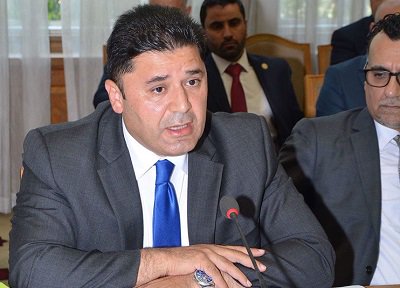 2)
The
@CrisisGroup
is one of the few analyst entities to produce reasonable suggestions that, in fact, reflect what the Yazidis have been demanding for the past 4 ½ years. They recently recommended that the
#Yazidi
people choose their own administrative leaders for
#Sinjar
.
3)
Dindar Zebari (pictured in 1st tweet), whose lovely job it is to craft responses to the many reports from around the world that criticize KDP policy and HR record, responded, stating that Sinjar already has a mayor (qaymaqam)—Mahama Khalil—who has been elected by the people.
4)
This statement is such a blatant lie and a contravention of such obvious and self-evident facts that even KDP members and supporters should be able to recognize its spuriousness. Mahama Khalil was unilaterally appointed by the KDP to his post and no election ever took place.
6)
In an article published by BasNews (whose quality is about the equivalent of the National Enquirer), a journalist asked Mahama Khalil how his election could have been held when all of Sinjar was displaced. Khalil absurdly responded that his election "had been held in Alqosh."
7)
Imagine just how ludicrous the suggestion is that several hundred thousand people in IDP camps through the Dohuk governorate could have been brought to a tiny Christian town in the Nineveh Plain to vote for a new head for a district under IS occupation.
8)
Not only was this a lie, but the Kurdish journalist's question reflected a general lack of awareness among Kurds about the reality of the administration of disputed territories: None of Sinjar's 3 mayors since the fall of Saddam have been elected; all were KDP-appointed.
9)
The fact that Sinjar's officials have never been selected by the people illustrates that its administration was effectively an occupation.
Let's go into this a bit further.
10)
Zebari
@DrDindarZebari
's post became a governmental necessity after the Yazidi Genocide when international awareness of KDP abuses began to increase. Recently, the KDP has finally found a less-ridiculous title for his post: "the KRG representative for international advocacy."
11)
His given title until the recent change was "Chairperson of the High Committee to Evaluate and Respond to International Reports in the Kurdistan Regional Government." Titles aside, he bears the ignominious responsibility of attempting to deflect responsibility.
12)
The irony of the new title is that it appropriates "advocacy" for an authoritarian political entity that's largely responsible for abuses against minorities; most of the criticisms that it is Mr. Zebari's job to respond to originate, in fact, with human rights advocacy.
13)
So the job title implies that his office is performing advocacy (which conveys a sense of supporting and defending others), when in fact it is Zebari's role to attempt to refute the outputs of international advocacy itself.
14)
These attempts usually do not work out very well for him, since his falsehoods are so easily shot down. Consider, for example, the hilarious claims in the same statement that "more than 700 Peshmerga were martyred in the operation to liberate Shingal." If he means the >
15)
< Nov. 2015 operation to liberate the city, the bulk of the operation was completed in about 11 hours and all of the Peshmerga commanders interviewed by the press asserted that it was an "easy" operation that met with little resistance since IS simply pulled out.
16)
Even if he refers to the entire period 2014-2015 of holding the front line in Sinjar prior to the liberation of the city, he will not be able to substantiate such a wildly unrealistic number.
17)
If anyone wants to attack me for "cheapening Peshmerga deaths" by critiquing numbers (please feel free), I would recommend not invoking Peshmerga deaths for political purposes in the first place.
18)
It is very common for the KDP to invoke Peshmerga deaths when laying claims to disputed territories that it seeks to annex to the Kurdistan Region.
19)
Zebari's additional claim (in the same statement) that it is the KRG's right to administer Sinjar "until Article 140 is resolved" is perplexing because, obviously, until Article 140 is resolved, the right of the KRG to administer Sinjar is not established.
20)
He bases this "right" in the claim that the Peshmerga are "from Sinjar." After the Genocide in 2014, the KDP did create a Yazidi Peshmerga. Most who joined it were destitute & displaced and joined in order to receive a salary.
21)
Qasim Shesho—not previously a military figure—was propped up in order to legitimize the Yazidi Peshmerga, but he himself acknowledged that the KDP, fearing the Yazidi desire for autonomy from the KRI, never received the same weapons enjoyed by the Kurdish Peshmerga elsewhere.
23)
Preventing Yazidis from bringing goods to their homes is a tactic that the KDP has now used for over three years which directly impedes the post-genocide recovery of Sinjar and the ability of Yazidis to resume their lives. It also exacerbates the trend toward emigration.
24)
There is nothing surprising about this KDP response, but it is nevertheless sad that they do not engage with the ICG report, which I will turn to next.
By the way, Zebari's statement is here:
kdp.info/a/d.aspx?l=13&…
25)
It is sad that in 4 ½ years more think tanks, governmental bodies, UN entities, & others cannot articulate the obvious conclusion of the ICG's reports: Sinjar's future depends on a plan that privileges the development of the local administration for which Yazidis have begged.
27)
The weakness of the ICG approach, in my opinion, is their view that since the only Yazidis with technocratic skills are the co-opted KDP elites, they should be brought back in to help build a local administration while the militarized KDP entities should be kept out of Sinjar
28)
What this approach fails to understand is that this runs counter to every aspect of how the KDP operates, which is an exclusively hegemony-seeking model. The KDP cannot power-share in Sinjar any more than a monkey can share a banana. The KDP is not the only actor with this >
29)
< kind of absolutist approach. A framework that allows for true power-sharing (rather than an assemblage of tiny token parties) is also alien to the PKK model.
30)
The ICG envisions bringing everyone together to work together on disputed territories (Baghdad, KDP, PUK, YBŞ); while I don't advance any opinion on a solution for Kirkuk, I do not believe that this can succeed in Sinjar.
31)
I do agree with ICG that Baghdad must step up and reassert its involvement in providing leadership in Sinjar to help develop a local administration for Yazidis. ➡But whereas the ICG is proposing an inclusive political model, I am proposing a nonpartisan, depoliticized model.
32)
After the ICG's recommendation in December (which was also published in Arabic), competing claims to the mayoral office were quickly asserted. On Christmas day, Mahama Khalil declared that Shingal was officially part of the Kurdistan Region:
rudaw.net/english/kurdis…
33)
(This is not something unusual; in 2012, people in Sinjar were awakened in the middle of the night by the gunfire of KDP members celebrating that Sinjar had just been declared "the capital of Kurdistan" by KDP authorities in Erbil.)
34)
Then on the 27th, PKK-supported factions announced a new administration for Sinjar. This one involved a larger participatory coalition of groups that even included Arabs and Turkmens.
kirkuknow.com/arabic/?p=63930
35)
Though this local coalition certainly enjoys more popular support on the ground that the rightfully-defunct KDP administration (and would therefore be at least preferable to it), it is questionable the degree to which it could truly inaugurate a de-politicized Sinjar.
37)
A Yazidi man recently said to me, "I wish that all political parties would be made illegal in Sinjar." I believe that rather than trying to bring all sides together, a local administration with a mandatory and enforceable requirement of total nonpartisanship is the solution.
38)
I am also completely confident that 95% or more of Yazidis in Sinjar desire this, the remainder being those who are heavily invested in a major Kurdish party, whether KDP or PKK. Such a plan requires two things: an active Baghdad that finally prioritizes Nineveh and takes >
39)
< responsibility for Sinjar, and an international community (i.e. one or more powerful Western governments) that sponsor a commission that works directly with Baghdad to motivate this and provide oversight/accountability.
40)
It would be easier to train a new generation of Yazidi leaders with any technocratic skills that they lack than to try to bring parties with armies who mutually loathe each other (none of which are loved or fully trusted by the people) to the table.
41)
As the KDP do not administer Sinjar, have no security presence there, are resented by the people, and can only lay claim to co-opted and defunct unelected admin officials, there is ultimately no reason to involve them in Sinjar.
42)
There will be costs associated with either approach, but if the international community is serious about responding to the Genocide that it has recognized & ensuring the future survival of Yazidis, it should confront the root causes & pursue the most effective long-term plan.