Today there were few intraday opportunities to long and short in
#BankNifty
. Did you catch any? Plenty to learn from the charts today to catch both side moves. Analyze and let me know and I will help clarify your doubts.
#TradeWithPAL
Sharing my analysis for 9th Jan
#BNF
possible trades on
#PriceAction
:
1)
Day started with a weak candle closing near the lows so 1st short was below the low of it. Target EMA21.
2)
Price took little support & bounced back. You can scalp for quick profits here as well.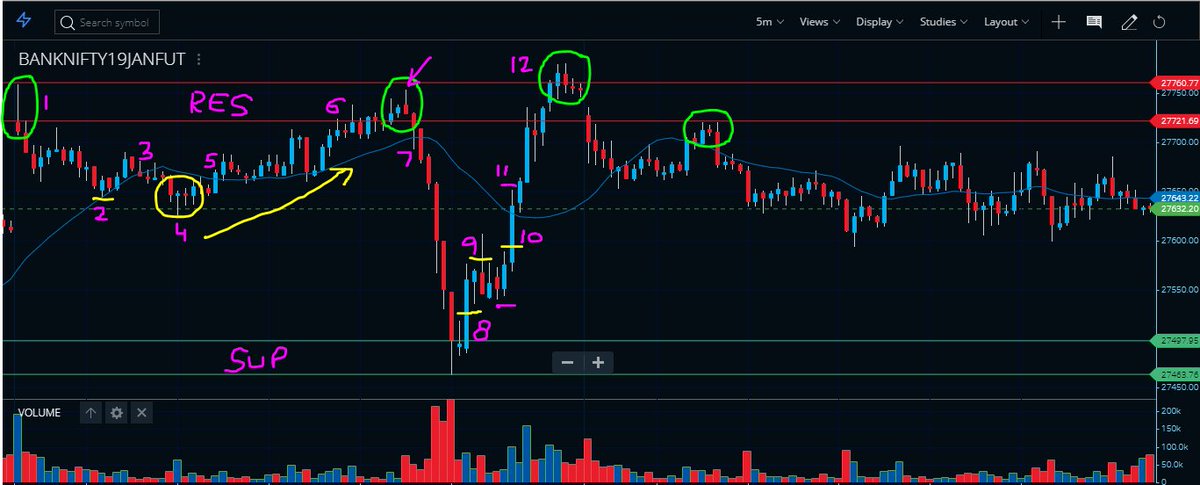 3)
After that price couldnt sustain the upmove & closes below EMA21. Exit longs but no shorts yet until the recent low breaks convincingly.
4)
It tried to break the low but not convincingly & we see a Doji shows weak selling & good buying pressure. Watch for next 1-2 candles.
5)
Price closes back above EMA21. Enter long above it with SL below pivot low & ride till supply zone.
6)
Exit longs and wait for short setup.
7)
Short when price closes below EMA21. Aggressive bears can short at top as well when they see weak bar (arrow). Ride until reversal.
8)
Selling stopped with long wick with Inside bar after it. Aggressive buyers can buy above IB at 8. Safe buyers can wait for next 1-2 candles for price confirmation. Can buy at 9 or 10 but SL would vary. For 8 & 9 SL is below the long wick but for 10 its below pink line.
Another buy entry is at 11 abv EMA21 & breaks the high. Book near supply zone.
12)
Price breaks day high but next 2-3 candles are weak & indecisive. I wouldnt buy here but wouldnt short as well until price confirms.
Please retweet to expand the learning to others.
#TradeWithPAL