Who is Slate Star Codex? - A thread
Slate Star Codex is one of the biggest dangers to people (esp marginalized groups) who want to use the internet without being abused.
TLDR is that Slate Star Codex is a blog that promotes platforming white supremacists and the like, whips up frenzies about the dangers of feminism, and serves as a vector for promoting the work of white supremacists
Ever wonder why Twitter is a "nazi haven"? Reddit a cesspool of hate? Well one of the reasons is that people working at this companies read and follow the precepts of Slate Star Codex.
Slate Star Codex is the blog of a guy named Scott who got his start blogging in the "rationalist" community.
Slate Star Codex is basically Tucker Carlson for "smart" dudes in tech. The only difference is Scott buries his ideology in mountains of text and disclaimers.
His typical rhetorical technique is "I love the gays/hate racists/am not a conservative BUT"
The BUT is usually "this racist/sexist/etc. Has some points and we should hear them out."
Unsurprisingly, he's cultivated a community where racists/sexists/etc. Are VERY comfortable. In the comments and on a slatestarcodex reddit.
Now I know he didn't create the subreddit, but he approved of it and he was a moderator there. And when things went wrong with a popular thread called "the culture wars thread" he wrote a long blog post about what a tragedy it was.
Now I am a minority in tech so I've had his blog posts thrown at me by dudes for years. I saw his blog post go "viral" on both private work slacks and communities that techies frequent.
archive.is/v62cM
The thing people took away from his post is that internet toxicity is drowning out "open debate." Now let's talk about the "open debate" he so wants to protect.
By his own stats it was mostly white men. Sure a lot of them were professed "liberals" but in tech "liberal" means "I have a gay friend but don't make me uncomfortable by talking about things like privilege."
The thread debated things like "maybe eugenics is good." It had "only" about 20 percent far righters which Scot delusionally thinks is normal. I'm sorry but while your everyday Republican might be racism he's also probably not a racial IQ stats aficionado like these dudes.
While Scott claims to hate racism, his top priority is preserving a seat at the table for a ragtag group of far righters. Unfortunately this philosophy is shared with a lot of people in tech and they use his posts to spread it.
I know because I work with a team that does abuse/moderation design and they post his stuff all the time saying how "insightful" it is.
Their argument is you have to "hear out" the white supremacists and the like and that in the end "rationality" will win. If only that were true. And it's especially not true in an environment where the comfort of white "liberal" dudes is the top priority.
I wonder how many people started reading white supremacists because of Scott's blog?
How unfair you say, he can't control the subreddit. Well besides being a moderator there so he can control it to some degree, you don't even need to go there to find links to white supremacists.
Right on his very blog roll are links to "Gene Expression" whose author was fired by the NYT for his links to white supremacists.
washingtonpost.com/blogs/erik-wem…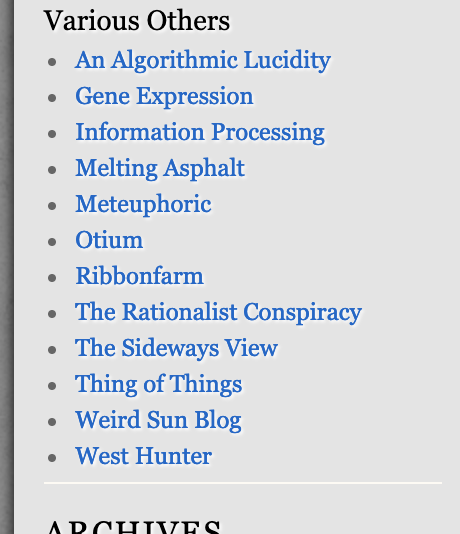 Slate Star Codex is essentially a blog about how the "real" danger in the world is SJWs, feminists, and other "leftists." They, not white supremacists, are the real threat.
The worst part about all of it is that he buries it in such obtuse language that only the interested will wade into it. And his followers are rabid at defending the precept that Scott is a moderate centrist liberal.