A longish THREAD on Soviet anti-Zionism & some of its echoes today. As a note, I lived the first 19 years of my life in the USSR & so have personal experience w/some of this.
0/
Russian Jews like to note that
#Stalin
got his stroke on Purim—a Jewish holiday celebrating the demise of an evil plot to annihilate the Jews. He died 4 days later—66 years ago today.
1/
In the last years of his life Stalin did, in fact, implement several deadly campaigns against selected groups of Jews & possibly planned a broader annihilation. In this piece, a celebrated Soviet Jewish activist recalls Stalin's antisemitic campaigns. 2/
m.jpost.com/Opinion/Purim-…
Post-WW2 USSR came to be known as a country of state-sponsored
#antisemitism
. But I often think that it would be more accurate to call it a country of state-sponsored anti-Zionism.
3/
People still argue whether Stalin was actually an antisemite. But we do know for sure that at some point he came to view Israel as a hostile entity & Soviet Jews as a potential 5th column.
4/
Stalin's antisemitic campaigns all included some allegations of Zionist espionage/conspiracy. But it was the 1952 Slansky trial in Prague that for the first time showcased in full the notion of international Zionist conspiracy.
5/
Slansky & 10 other Jewish Czech communists were executed, making clear to everyone who cared to know that allegations of Zionism bore deadly consequences. The trial incited a massive wave of antisemitism throughout the socialist bloc. 6/
yivoencyclopedia.org/article.aspx/S…
Anti-Zionism remained part of Soviet domestic & foreign policy after Stalin's death, albeit in milder form. Then came the Six Day War & Israel's unexpected victory. Threatened by the defeat, the Soviets responded with a new, wide-ranging anti-Zionist propaganda campaign.
7/
This new campaign was masterminded by the KGB & the Propaganda Department. Its ideologues drew directly on the Protocols of the Elders of Zion. Some of the writers who authored the campaign's main texts were closeted admirers of Hitler & Nazism & borrowed from them.
8/
This group constructed Zionism as a global anti-Soviet conspiracy manipulating world affairs. Its primary movers & shakers were American "Zionist" investment bankers & "Zionist"-controlled media. Israel was their racist, fascist, imperialist, colonialist vanguard in the ME.
/9
The Soviets invested staggering amounts of resources into the campaign. 100s of books & 1000s of articles were written demonizing Zionism. Anti-Zionist caricatures using classic antisemitic imagery peppered the pages of Soviet newspapers. 10/
propagandahistory.ru/1014/Sovetskie…
One of the campaign's main texts, "Caution: Zionism" saw several reprints, eventually circulating in hundreds of thousands of copies. It was translated into several languages, incl English (see link). Its author, Yuri Ivanov, was a KGB employee. 11/
marxistsfr.org/subject/jewish…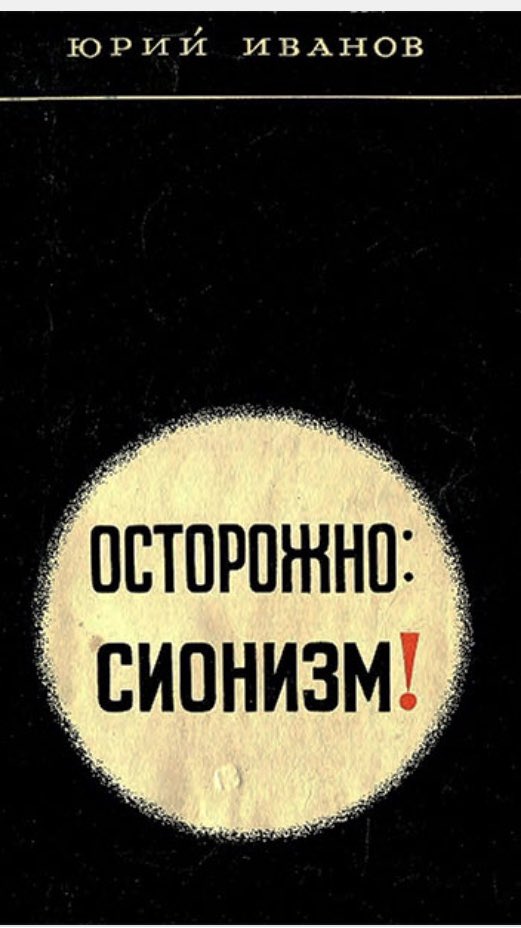 Other books included titles such as "Fascism under a Blue Star," comparing Zionism to Fascism; "The Poison of Zionism"; "De-Zionization" (this one was translated into Arabic & published in Syria in 1979 on Hafez al-Assad's direction)/12
play.google.com/books/reader?i…
Another book, "Zionism & Apartheid," contained open antisemitic propaganda. Its author apparently borrowed directly from "Mein Kampf." 13/
play.google.com/books/reader?i…
Multiple segments of Soviet society were drawn into the campaign. Celebrities gave press conferences condemning Zionism & Israel. School children wrote letters of condemnation. Labor unions & academic councils joined in the choruses of condemnation.14/
In 1983, the KGB established the Anti-Zionist Committee of the Soviet Public. Consisting of prominent Jews, it was meant to deflect accusations of anti-Semitism from abroad. State Dep classified the committee as one of Soviet active measures. 15/
yivoencyclopedia.org/article.aspx/A…
The Soviets were also behind the UN's infamous Zionism is Racism resolution. The propaganda campaign went on for 20 yrs. Despite its claims, it had nothing to do w/justice for Palestinians. It had everything to do w/Cold War politics & Soviet interests in the ME.
/17
Domestically, the campaign created an oppressive climate of antisemitism for the Jews. Judaism & Jewish customs were increasingly squeezed out & prohibited. Jewish prayer books were considered Zionist literature b/c they contained the line "Next year in Jerusalem."
18/
Jewish activists like Shcharansky who fought for the right of Soviet Jews to live as Jews or be allowed to emigrate were branded as Zionists, harassed & condemned to years of gulag. Simply studying Hebrew—a prohibited language in the USSR—could land you in jail
/19
The Soviets rejected accusations of antisemitism, claiming that they were bad-faith smears. Anti-Zionism, they said, was not antisemitism. But we, the Jews who lived with all of it, knew the truth of the matter./20
We were targets of antisemitic insults in the streets. Our educational & professional opportunities were diminished. As the USSR fell apart, over a million Soviet Jews emigrated to Israel, & hundreds of thousands to the US.
21/
When I hear today's far-left anti-Zionist discourse, I hear echoes of Soviet anti-Zionism. It feels weirdly ironic to hear young progressive activists use the idiom invented by one of the most oppressive regimes on earth.
22/
Another thing that decades of Soviet experience, from Stalin to Gorby, teach us is that anti-Zionism goes hand in hand w/antisemitism—whether intended to or not. It's a history that's very much worth remembering today. 23/END