Senator Bagnai gave an interview today in which he declared that the Lega (Salvini's party, now the largest in Italy) has no intention of leaving the euro:
bloomberg.com/news/articles/…
2/n
Shortly after, responding to complaints by many of his Twitter followers (who have been following him for years and voted for him on the promise that he and the Lega would deliver the promised land of monetary sovereignty),
3/n
In his tweet, Bagnai speaks of followers who complain about his interview as bowling fans who do not appreciate the subtlety of his strategy and would just like him and the Lega to cause all the pins to fall in one easy strike.
5/n
In the past, Bagnai used a similar message for his fans, telling them that, after all, Churchill did not air mail to the Germans the message that D-Day was going to come on June 6. The plans for the Allied landings had been kept carefully concealed!
6/n
Bagnai and Borghi have been playing this game repeatedly over the years. They've gotten elected and they are now in important positions: head of the Senate Budget Committee and head of the House Budget Committee, respectively.
7/n
They were elected thanks to their virulent opposition to the euro over several years. Bagnai coauthored work arguing that the crisis following Italexit would be nothing more than a standard currency crisis:
doi.org/10.1016/j.econ…
8/n
He argued in favor of Italexit in post after post in his blog:
goofynomics.blogspot.com
His ability to mix the appearance of scientific credibility with flowery but accessible language got him a large number of followers.
9/n
He is among the founders of the association "a/simmetrie," which has been actively promoting anti-euro positions
asimmetrie.org/?lang=en
10/n
At the same time, he strategically blocked all opposition (for instance, I was blocked from reading his tweets even before I knew of his existence). He even explicitly encouraged violence against intellectual adversaries.
11/n
In the tweet below, replying to a reference to death for university professors, Bagnai is inciting the making of a fir wood coat (i.e., a casket) for
@monacelt
. 12/n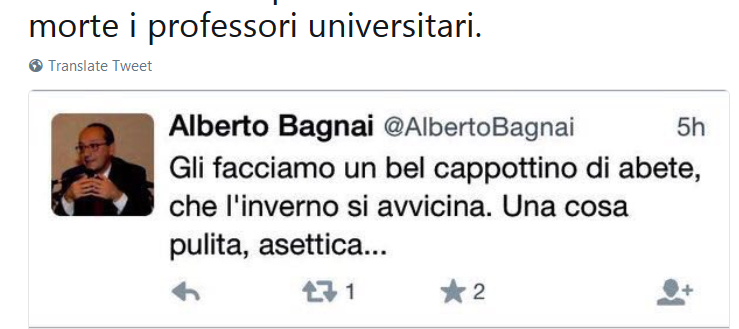 His tactics got him from being a little known associate professor at the U of Pescara to having a large number of followers, election, and a five-figure monthly salary (in much hated euros).
14/n
His pal Borghi has been following a similar MO: virulent anti-euro declarations and posts, and explicit statements about
#minibots
as a step toward leaving the euro, got him election and a similar five-figure monthly salary (needless to say, in similarly hated euros).
15/n
This thread by
@lucianocapone
contains links to videos (in Italian) of Borghi in which he is very explicit on his vision of minibots as part of the strategy toward Italexit:
16/n
Any economist worth this title who has been following Borghi's Twitter feed has read countless completely erroneous statements about economics and finance. But, like Bagnai, Borghi is good with words, a lot of the Italian electorate lacks the tools to understand better,
17/n
and the tactics got him into parliament. (Borghi himself tweeted in the past that if it was not for Salvini, he'd be playing bocce outside some bar in Tuscany.)
18/n
Well, now Bagnai and Borghi not only have Salvini's ear, but, most important, they have those beautiful five-figure monthly (euro) salaries. Suddenly, the prospect of being responsible of triggering Italexit is a bit less appealing.
19/n
if Bagnai and Borghi ***really*** wanted to become the heroes who triggered Italexit, Lega and the 5-Star Movement have the majority and could just go ahead with the bonkers minibot idea.
21/n
We could then see if the crisis that would follow would just be a remake of, say, 1992-93 or ***a lot*** messier.
22/n
But holding on to the big salary is safer and more appealing. So, whenever they talk to mainstream media (especially international), Bagnai and Borghi put on the institutional mask of responsibility, and they claim that there is no plan to leave the euro.
23/n
And whenever they address their tens of thousands of followers (and voters), they pretend that they are the new Churchill or Ulysses playing a complicated chess game against Hitler or building the Trojan horse that will win the war,
24/n
and those who do not understand them are just not smart enough. For instance, in today's interview, Bagnai is such a good chess player that he is also careful to bring up how evil Europe is in making things complicated for
#Brexit
Britain,
25/n
suggesting that it's Europe that would complicate what would otherwise be Italy's smooth path to the promised land. Explicitly or implicitly, Italy's problems are always of someone else's making.
26/n
You can bet that if a major crisis finally happens at any point in the future and Italy does crash out of the euro and the EU, Bagnai and Borghi will have positioned themselves to argue that the responsibility is all of the evil Europeans and EU institutions.
27/n
Whatever happens, they will have done everything possible so they can hold on to those salaries. Meanwhile, Italian taxpayers foot the bill for their shenanigans and Italian economic activity faces downward pressures we would happily do without.
28/n
I guess this thread should help you understand why I think it is important to avoid giving crackpots with very questionable ethics any kind of intellectual backing, or to distance yourself from them explicitly and repeatedly if you run the risk.
29/n
And the thread should also help you understand why I found it astonishing that characters with a proven record of inciting violence would be given any space in reputable media over the years.
30/n
I understand it has to happen *now* that these characters are where they are. But it didn't have to happen before the March 4, 2018 election. Instead, media exposure helped get them elected.
31/n
The responsibility of mainstream media in this mess is huge. You wanted them on your TV or newspaper? Fine. Do your job and, besides free publicity to their ideas, show them along their tweets inciting death for dissenting colleagues.
32/n
Now consider whether you can take them as credible instead of letting them they play you like violins when you interview them.
33/n
Finally, I find it astonishing when I hear of any reputable academic institution anywhere that would give these characters any space. Am I against freedom of speech? I guess so, if freedom of speech means legitimizing and empowering people who incite violence.
34/n
Oh, and one really final thought: Will Italy ever leave the euro? I have no idea. We may think that--let's be serious-- it's never going to happen. Well, I recall thinking exactly that before the Brexit referendum and before Trump was elected...
35/n
All I am certain of is what I said before: Whatever happens, Bagnai and Borghi will have done everything they can to minimize the risk of going back to a low-paying job in the periphery of Italian academia or to playing bocce outside a bar. n/n