Can we talk about "asexuality" in relation to the LGBT movement? Because I just stumbled across this Tumblr post with 10,000+ notes and it's crazy. Even by the usual standards of Tumblr discourse craziness, this is extra-crazy.
archive.is/EYD7H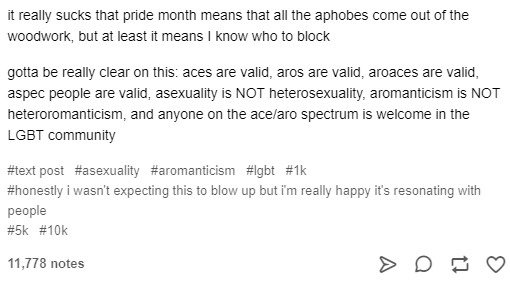 Notice the assertion of "aphobia," as we are told that "aphobes come out of the woodwork" in June. What the actual fuck does this mean? Are there roving gangs of hooligans assaulting asexual people?
Who are these "aphobes"? How is their allegedly dangerous prejudice manifested? Outside the lunatic world of Tumblr discourse, I mean.
What does it mean to be "on the ace/aro spectrum"? At what level does someone's lack of interest in sex put them on this spectrum? Has this phenomenon been researched? Are there studies about asexuality?
According to this Tumblrina, "anyone on the ace/aro spectrum is welcome in the LGBT community." Why? The commonality of interest in not apparent, unless we regard "the LGBT community" as just a trash-heap of non-normal behavior.
Someone who says, "Hey, I'm just not into this whole 'sex' thing" -- are they suffering oppression? Like, this hinders their employment prospects somehow? What sort of "rights" are being denied to asexual people? I'm mystified.
By the way, how was it determined that "anyone on the ace/aro spectrum is welcome in the LGBT community"? Was there a referendum? Someone commissioned a poll? A decision by the LGBT Inclusivity Commissar?
One imagines a contingent of asexuals showing up for the SF Pride parade, holding aloft posters with slogans like, "Love Is Love (But We're Not Interested)" and "Our Sexual Preference Is Never."
Why are there "asexual" activists on Tumblr, insisting on their inclusion as part of "the LGBT community"? Doesn't this suggest that being included in this "community"confers benefits, privileges or special status on members?
What I'm driving at is that the attitude of this "asexual" Tumblrina, demanding that others conform to their beliefs or be denounced as "aphobes," has become an increasingly common type of online discourse about gender and sexuality.
The absurdity of this particular Tumblr post -- who even notices "asexuals" enough to be prejudiced against them? -- is apparent, but what about all the other boutique identities? You're a "non-binary genderqueer"? And ...? So what?
What's really happening here? My impression is that a lot of weirdos want to join the Oppressed Victims of Society Club, which confers on members the right to go around pointing fingers at people and accusing them of some kind of "hate."