Many of you shared or read the VICE article ''High Likelihood of Human Civilization Coming to an End' Within 30 Years' - based on a report from Breakthrough National Centre for Climate Restoration, an Australian think tank.

This was misleading & needs some caveats
1.
"The "report" is not a peer-reviewed scientific paper. It's from some sort of "think tank" who can basically write what they like," says Prof. Richard Betts of the Met Office Hadley Centre & University of Exeter
(See annotations here)
hyp.is/IKIg7IqhEemxHQ…
This happened similarly with Jem Bendell's 'Deep adaptation: a map for navigating climate tragedy' paper (2018), which prophesised "inevitable", "near-term" social collapse -- & got hundreds of thousands of downloads.

Rejected by peer reviewers, who called for "major revisions"
Can non-peer reviewed thinktank type papers have interesting things to say about future scenarios? Yes.

But you need to read carefully and critically. Is there new science in this, or is it re-analysis? And what do experts make of the analysis?
Remember, dear postgraduate educated leftist, that you are as susceptible to sharing fake news as anyone -- if it's emotionally intense and fits your narratives, you won't think about it.

Stop, check & verify - then retweet.
But back to the Breakthrough Centre report.
Six scientists reviewed the coverage of it in IFLScience - which took the same headline as the VICE article, "New Report Warns "High Likelihood Of Human Civilization Coming To An End" Within 30 Years"
climatefeedback.org/evaluation/ifl…
The first problem is that headlines misrepresent the arguments of the actual report.
Amber Kerr, UCal Davies:
climatefeedback.org/evaluation/ifl…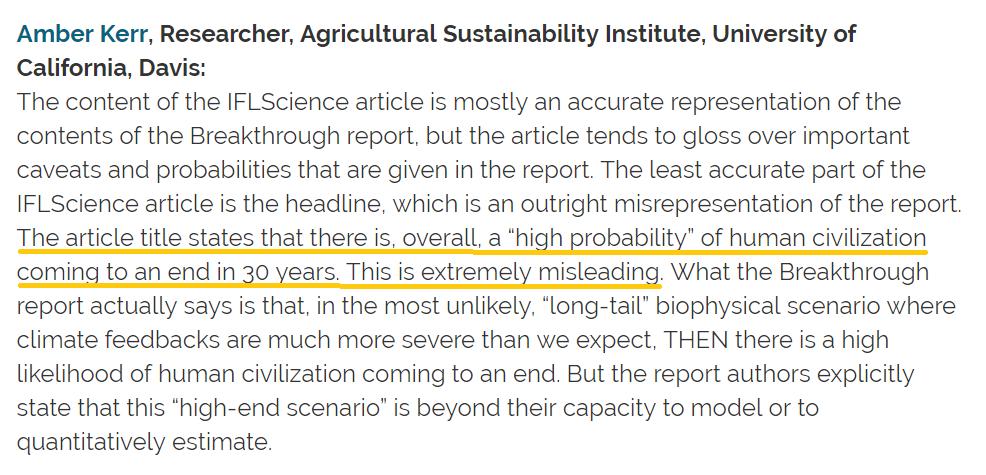 Fucking subeditors, you guys!!!! You can't trust them as far as you can throw them.

Their job is to make you click on shit, and they do that through SHOCK!!! and FEELINGS!!! and flat out lying to you, as required.

(PS don't blame the journalist, they're probably pissed off too)
The way I see it, me & a bunch of my futures friends could easily set up a think tank.

We'd set up a snazzy website & write reports about "probable futures", complete with whizzy diagrams: a Cone of Possibilities; many 2x2 matrices… Have footnotes & citations

It'd look 'real'
When I read a non-peer-reviewed PDF from a non-scientist, containing no primary research, I am assuming that the author is no more qualified than I am - unless I see evidence to the contrary.

This is bc I'm a bitch with the opposite of imposter syndrome. But you should try it.
The person I could marry right now is
@KelseyTuoc
, who has written a very considered article on how to think more clearly about whether climate change is "merely just devastating or in fact an existential risk to humanity"
vox.com/future-perfect…
@KelseyTuoc
What's brilliant is that
@kelseytuoc
asks, WHY do these extreme narratives of "Total civilisational collapse next Tuesday" gain traction?
@KelseyTuoc
Honestly this article is pretty much perfect and I am sick with envy that I didn't write it!
Why do people look for more extreme scenarios than those offered by the World Bank or IPCC? Because "lots of climate policy analysts agree that the IPCC is too optimistic."
Another big source of confusion:
"Many analyses of climate change — including the report Vice based its article on — treat the deaths of a billion people and the extinction of humanity as pretty similar outcomes." But they're not.
Why does it fucking matter to distinguish between the deaths of a billion people and human extinction? Aren't both "catastrophic"? Because it changes the cost/benefit calculation of extremely costly solutions like geoengineering.

Gah! She's so good.
Another probabilistic point comes to mind.

A thing I see often is a sort of 'stacking' of probabilities: assuming that ice sheets will collapse AND methane in permafrost AND topsoil will erode AND oceans acidify AND AND AND, each one the worst case scenario.

This needs proving.
It's like ppl have understood the basic idea of earth systems being complex & interrelated, & grokked 'feedback loops' - but superficially

Working on the basis that every feedback loop is positive (accelerating) & systems will inevitably be wholly coupled. No! These are guesses.
I was tweeting with a prominent UK leftist a while ago, who was (IIRC) claiming that by 2100 there will not be a single human being alive on the planet. Total annihilation.

"Not one Inuit guy in the High Arctic, hunting rats and jellyfish?"
"No, he's dead too."

Really? How?
The one thing Kelsey Piper doesn't say - but I think is important - is that the apocalypse is, in a way, seductive.

It has a long theological history. It offers some perverse narrative or psychological consolations: Justice, for one. Punishment for sins. Resolution. Meaning.
(Also, the ability to develop oneself as as a more-radical-than-thou Thought Lord, prepared to think the unthinkable and speak truths others do not dare...

...and generating a stream of shocking, highly emotive content to the profit of your fame, reputation & bank balance.)
Ultimately: climate change is the biggest deal facing us this century.

We do it - and ourselves - justice by facing that head on. It does not need hyping, it does not need catastrophising; clickbait will not change the world.

It doesn't need to be any more serious before we act