A group of riot police just entered Legislative Council. Just caught the tail of it.
Civil Human Rights Front just said on stage in Tamar Park that pepper spray were used on Admiralty Centre Footbridge.
Incessant banging of a metal gate, behind which stand the riot police who have deployed two rounds of pepper spray
Rally goers walk directly across Harcourt Road. Traffic disrupted but no blockage so far.
Protesters begin to cut off Harcourt Road.
The return comes with chanting of "Reclaim Hong Kong" and singing of Glory to Hong Kong.
Helicopter hovering in Admiralty
Rivers of rally goers are flowing to Tamar Park, singing "Ahhh Corrupted Cop".
Citic Group is determined to display it's best wishes for
#PRC70
while protesters chanting "Reclaim Hong Kong" "Five demands not one less".
Tension is building on Harcourt Road outside the government HQs. People were saying riot police would come out at 8.30pm. Water cannon truck was spotted driving in a while ago.
Smoke rose. Some protesters suspected it was smoke cake deployed by their fellows. Objects like bottles and umbrellas were thrown across the water horses.
Protesters have retreated a bit from the water horses and metal gate guarding the government HQs on Harcourt Rd. Massive crowd on Harcourt now.
Protesters are hurling bricks and stones at the window glasses of government HQs facing Harcourt Rd. A video camera is set there, not sure if on and filming. You can see the scratches on the glasses.
Police suddenly began to spray water - not sure If it's fresh water or pepper solution - and protesters responded with a Molotov Cocktail.
Water cannon deployed.
Finally glass windows of government HQs are smashed and broken too.
While a group of protesters continue to break the government's windows, some others urged people to leave. "We frontlines do not want a fight today. If you don't leave, we can't leave," one masked man shouted desperately to the crowd.
Protesters on Harcourt Rd are retreating as first round of tear gas fired.
Protesters on Harcourt Rd flee in panic as riot police descend
Stream of police buses from Wan Chai on Harcourt Rd, and a roadblock built and left behind by protesters. Smoke lingering in air.
Riot police on Rodney St split and some moved on Queensway. Others order loudly passengers on the footbridge to leave immediately.
Starbucks and Shake Shack, whose franchise in HK is owned by Maxim's, had their shopfronts in Pacific Place in Admiralty turned into Lennon Walls by protesters. The grudge was planted when Annie Wu, daughter of Maxim's founder, pressed schools to punish students on strike.
Riot police stopped double deckers in Wan Chai and lined passengers up on street for search. (via
@appledaily_hk
)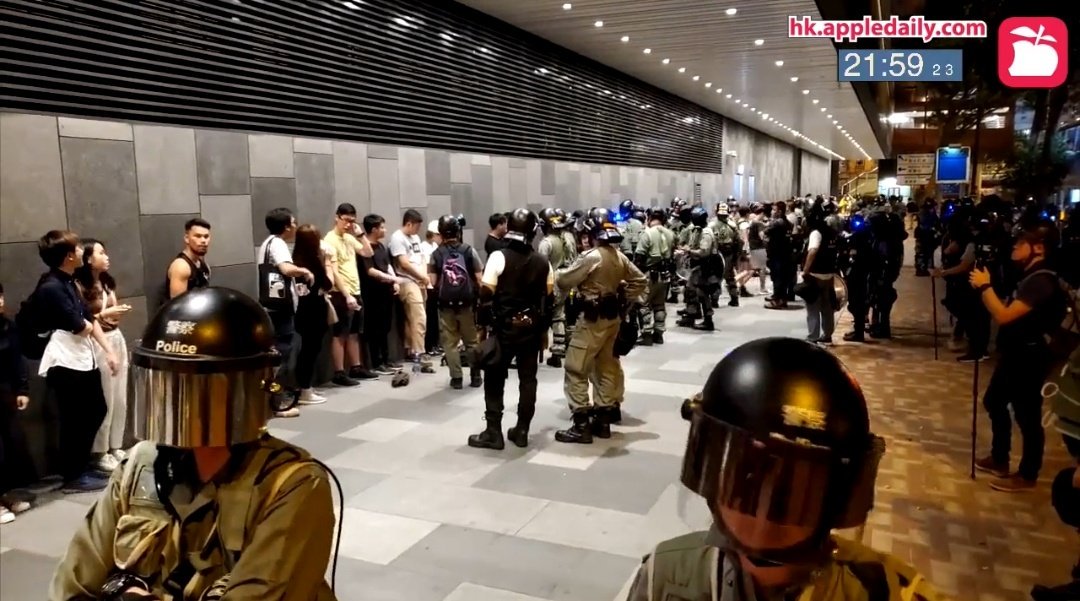 The Starbucks in my neighborhood was not spared. And it's the first time I see face of singer Maria Cordero, whose speech at a pro-police rally was remixed into the popular "Ah Corrupted Cops" song, morphed into
@pepe
.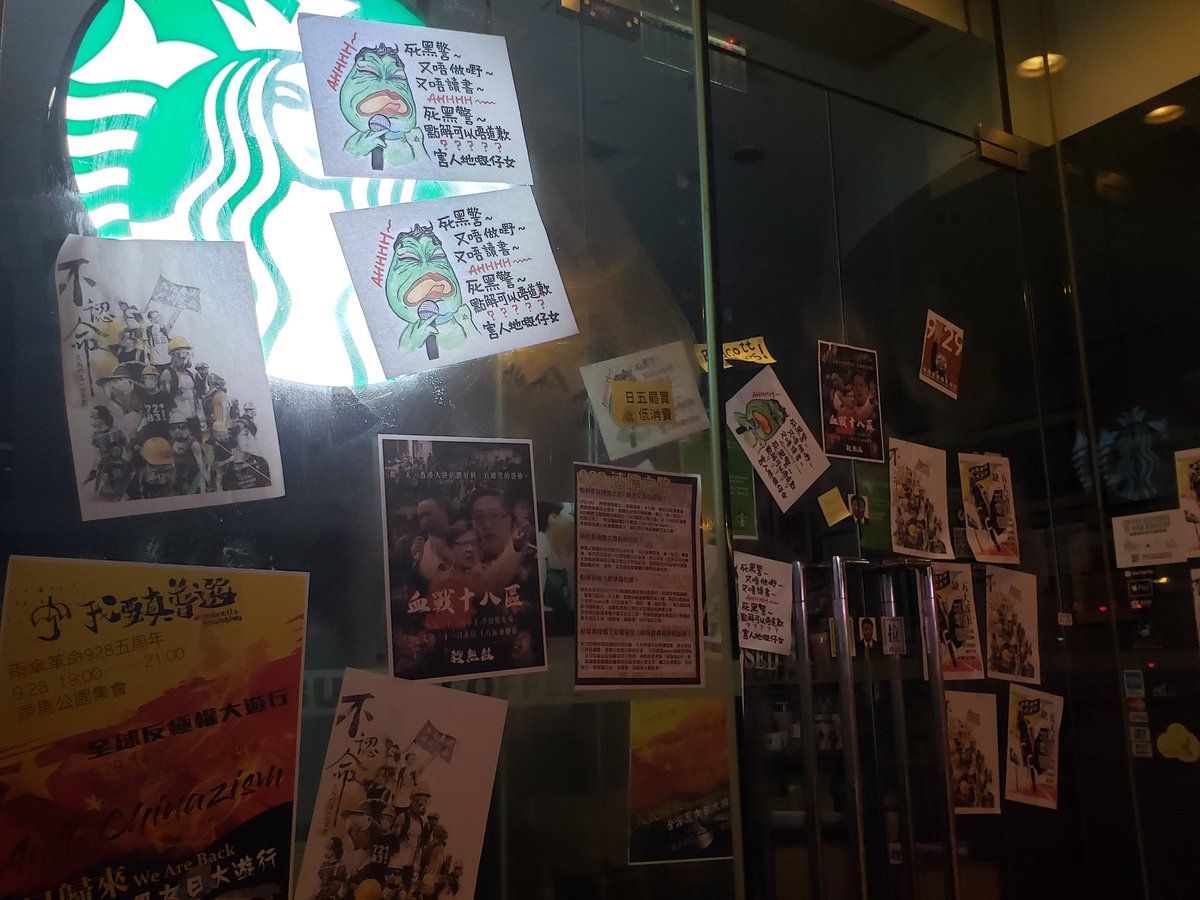 Riot police on East Point Rd in Causeway Bay. The lady in brown T shirt was confronting the police, asking them why two girls in black outfit were bothered (uncertain about their status). (via
@StandNewsHK
)