RIP Josh Crooklyn. The bravest truth teller i ever knew personally. He was angry at
#QAnon
lies bc of the promise to
#ReleaseTheCures
. No one wanted it to be true more than Josh.
@StormIsUponUs
will be proud of him dying.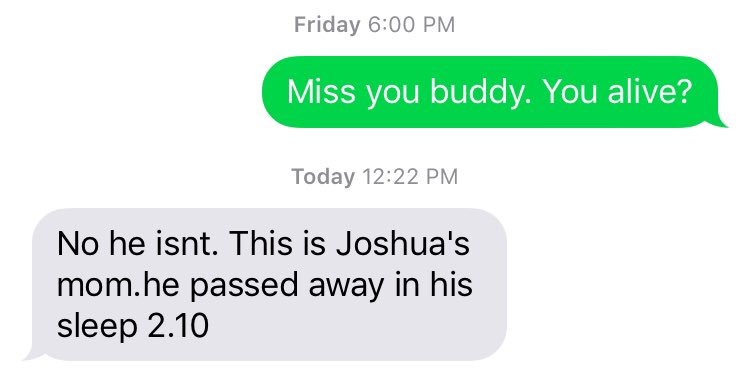 2)
Josh was the first in my circle to suspect
#QAnon
. He kept pushing me to see. He was brutal. He was surgical. He succeeded. I don't know where i'd be without him. He didn't care about my comfort. He cared about my soul. He wanted to veil to break before he left. So did I...
3)
You won't find his tweets. He was booted off twitter weekly. Never for cursing though... Crooklyn's sin was accuracy. That's why people hated him. That's why they hate me. He showed me how to be hated and keep shooting. Who does that?! ...
4)
I know there's more of us. Josh cut through the lines while people threw shit at him. He crawled under the evil lies of
@StormIsUponUs
and planted his grenade. That's what brought
@FurorRises
and I over so early. He gave us courage and we've never looked back.
#Crying4Crooklyn
5)
i hope we win this thing. If we can't, i hope more of us go down like he did.
6)
just wanted to say i know there's more of you that have been doing what Josh did. Something about the way me, Josh, and Furor worked the field really made me happy. Brothers in Arms. I know you guys are out there in the trees. Thanks for being so Josh Crooklyn.