Trump says health care will be back "in the early to mid part of next year."
Trump lies again that China's corporate tax rate is 15%. (It's 25%, 15% only for advanced industries in certain designated cities.)
"I'm going to be surprising people with an economic development bill later on, but I haven't even told Mitch" - Trump beside McConnell
McConnell's body language is so good right now
The Trump administration has an abnormal number of "actually I don't hate this guy" press conferences.
Trump says he's hopeful of getting tax reform done "fairly long before the end of the year." It's mid-October
Trump lies again that Clinton tried and failed to do health care for 8 years (less than two) and Obama only succeeced in 2.5 (14 months).
Trump suggests he'll try to talk Steve Bannon out of trying to primary certain incumbent Republicans, since they are "great."
"We're the highest-taxed country in the world," Trump lies again.
Trump says the Republican party is united but "we have to go through HELL" because we need Democratic support for things. (Not all things.)
Trump says he'll formally declare an opioid emergency "next week," down from the usual two weeks.
McConnell reminds people of the Todd Akin etc. disasters, says Republicans need to nominate "people who can actually win."
! Trump on drug companies: "They contribute massive amounts of money to political people...Mitch, maybe even to you."
Trump notes that prescription drug prices are much lower in Canada.
Trump says he will make sure the middle-class is the biggest beneficiary of his tax plan, which overwhelmingly benefits the rich.
Trump says he's written "personal letters" to the families of the soldiers killed in Niger. Says he'll call their parents "at some point."
In a really ghastly lie, Trump says that Obama, unlike him, didn't call the families of dead soldiers.
"I do believe Cuba is responsible," Trump says of the mystery attacks that injured American and Canadian diplomats.
Trump won't directly comment on Roy Moore's desire to make homosexuality illegal. Says the people of Alabama like him.
I constantly feel like questions to Trump could be phrased so much less gently, made so much harder to dismiss and evade.
Former Obama deputy chief of staff:
Trump is called on his lie about Obama not calling families of soldiers. "I don't know if he did," Trump says. "...probably did sometimes."
Trump is almost never called on his lies in real time. He just was, and he took the lie back. It's not pointless to do the challenging.
"It's totally fake news. Just fake. It's made-up stuff," Trump says of an allegation of sexual assault against him.
"Puerto Rico is very tough. Because of the fact it's an island," Trump says, then complains about PR's pre-existing problems.
Trump falsely claims again that they'll have to rebuild Puerto Rican power plants. They were basically undamaged.
Trump blames "people on the island" for water and food not being successfully distributed to Puerto Ricans.
Asked if he's considering firing Mueller, Trump says, "No, not at all."
Huh. Trump on the Iraqi-Kurdish conflict: "We don't like the fact that they're clashing. We're not taking sides."
"Hillary, pleeease run again," Trump says when asked about his tweet today.
Trump on the NFL protesters: "There's plenty of time to do knees," but not during the anthem. "You're sitting. Essentially."
Kaepernick deliberately took a knee, rather than sitting as he did at first, after consulting with a military vet.
Trump's response when told Puerto Ricans don't have water: "Well, we've delivered tremendous amounts of water."
Here is Trump's full answer on his calling and not calling of the families of dead soldiers. It is worth reading.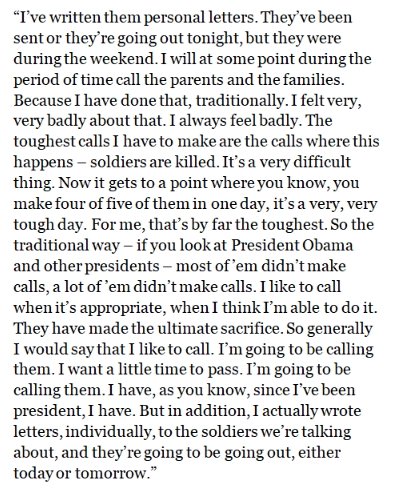 Trump delivered the Obama smear in the middle of a mad ad-lib scramble to explain why he'd neglected his own duties. It's a go-to move.