(THREAD) The evidence that Trump business partner Felix Sater is a cooperating individual in the Mueller probe is now overwhelming—and if he is, he's the most dangerous witness against Trump Mueller has (and that *includes* Flynn and Papadopoulos).
I hope you'll read and share.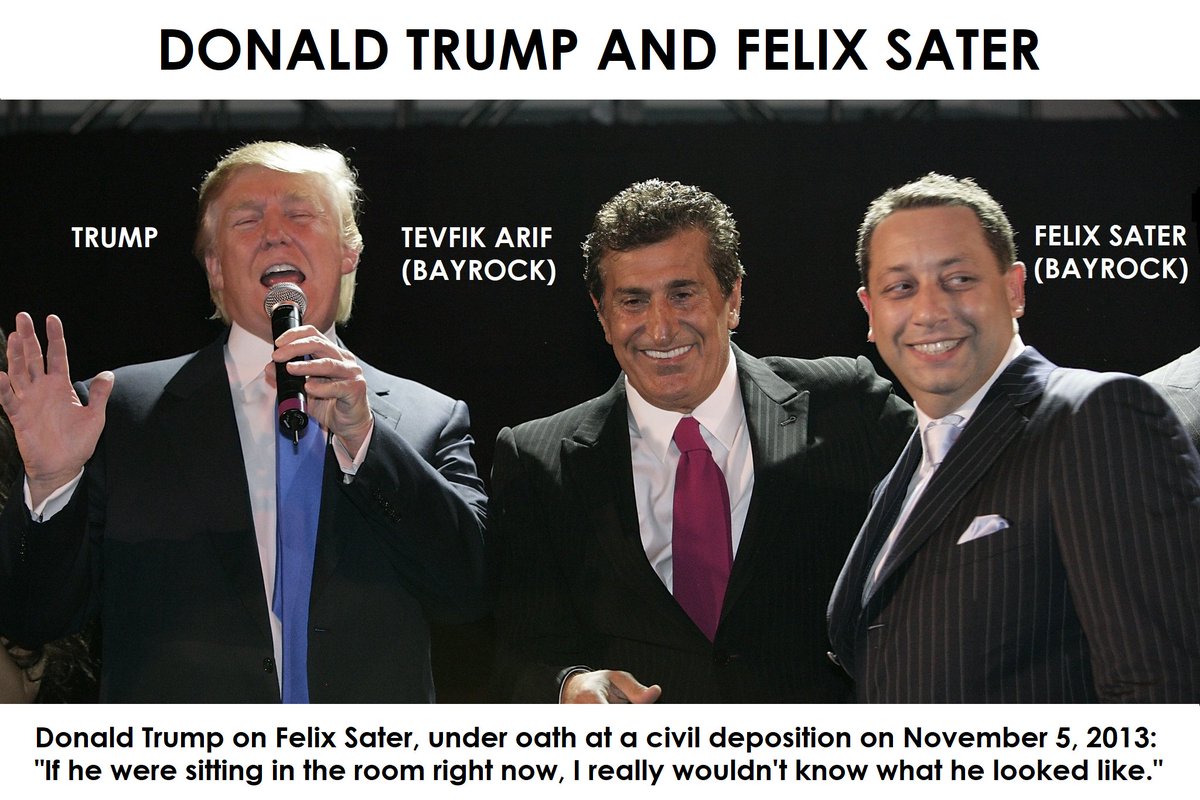 1/
Paul Wood—a top BBC correspondent, who's *repeatedly* broken major news on the Trump-Russia story—wrote in August that, according to his sources, "Sater may have already flipped and given prosecutors the evidence they need to make a case against Trump."
washingtonmonthly.com/2017/09/19/pau…
2/
In that same story, Wood revealed the *quality* of his sourcing, noting at least one source was in contact with—and receiving information from—a member of Mueller's team. That source gave Wood a key piece of corroborating information on the claim Sater is now a CI for Mueller.
3/
According to Paul Wood, "Sater has told family and friends he knows he and POTUS are going to prison." Again, Wood received this intel from someone speaking to a Mueller investigator—at a time when, per Wood, "For weeks there have been rumors that Sater is ready to rat again."
4/
Wood wrote "again" because Sater has *previously* been a cooperating individual (confidential informant, or CI) in an FBI probe, which seals the case that he's willing, generally, to be a CI (most criminals aren't). We also know he's *specifically* willing to be a Mueller CI.
5/
We know this because Sater—via his lawyer—offered to cooperate: "he intends be fully cooperative with any and all government investigations in this matter."
Note the phrase "any and all" at a time Sater was *only* being asked to work with the Senate.
mcclatchydc.com/news/nation-wo…
6/
As Mueller was bagging Papadopoulos as a CI—so, while Mueller was actively recruiting CIs—Sater, discussing becoming a CI in an interview with New York Magazine, made a startling claim that many felt was an allusion to an upcoming FBI cooperation deal.
nymag.com/daily/intellig…
7/
Sater told New York Magazine, "In the next 30-35 days, I'll be the most colorful character you've ever talked about. Unfortunately, I can't talk about it now, before it happens...[but] it ain't anything as small as whether or not they're gonna call me to the Senate committee."
8/
So a source on Mueller's team says Sater is a CI; Sater has been an FBI CI before; he's said he'll be a CI if asked; he's implied the FBI demanded it, he said yes, and he'll now go to jail; the timeframe fits Mueller's CI-hunting; Sater has repeatedly teased this big reveal.
9/
By linking him going to jail with Trump going, and saying to family/friends he'll indeed be going to jail—while emphasizing he's ready to cooperate with all federal probes, even as a member of such a probe says he's a CI—Sater underscores the *harm* his testimony can do Trump.
10/
But we have much more than Sater's words to go on in seeing the harm Sater can do Trump: we have proof in the form of emails and eyewitnesses. Sater's role in the Trump-Russia affair is absolutely jaw-dropping, and it remains under-explored, despite some great articles on it.
11/
First, understand that Sater is an ex-Russian mafia ex-con who has been working with Trump for 15 years. He has close enough ties to the Kremlin that in 2006 he arranged for Ivanka Trump to sit in Putin's private desk chair. But all that's just the *start* of a bizarre story.
12/
We all know, post-Clinton impeachment, that lying under oath in a civil deposition in order to hide misconduct is an impeachable offense. So now here's Donald Trump *lying under oath* in a civil deposition to pretend he doesn't know who Felix Sater is:
13/
What *allegedly* saves this perjury ("If he were sitting in this room right now, I wouldn't know what he looked like") from being impeachable is that it happened before Trump's presidency. But Mueller's *also* charged with investigating crimes committed during the *campaign*.
14/
Mueller is *also* charged with investigating "any matters that might arise from" his investigation of Trump's campaign—which includes evidence Trump committed perjury to hide his collusion with Russia *after* he chose to run but *before* he announced.
justice.gov/opa/press-rele…
15/
Trump committed perjury on the question of whether he knew Sater on November 5, 2013—just 72 hours before leaving for Moscow to sign a letter-of-intent, with Putin's help, on Trump Tower Moscow. The outline of the deal had been set months earlier. This is absolutely critical.
16/
It's critical because ex-Russian mobster Sater has played one role in Trump's life since 2002, when he mysteriously appeared to save Trump from bankruptcy after Trump gave the Miss Universe crown to a Russian mobster's girlfriend: helping him cut business deals with Russians.
17/
Trump decided to run for president before November '13, as he spent his Moscow trip telling Russians he was running. So the fact Sater *specifically* wanted to help Trump get a Trump Tower Moscow deal tells us Trump may have lied about knowing him because it'd poison his run.
18/
The evidence suggests that—when Mueller tells the story of Trump's crimes—it will be clear that his perjury in a deposition 18 months before he announced his 2016 run was part of a criminal course of conduct designed to hide his clandestine Russian ties from American voters.
19/
The fact that the Putin-linked ex-Russian mobster Sater spent 15 years convincing Putin-linked Russian oligarchs to overpay Trump on business deals suggests he knows about the ongoing effort Russia made to develop Trump as an asset—discussed in Luke Harding's book Collusion.
20/
But let there be no confusion: Sater's role in the Trump-Russia story is *predominantly*—as far as we know—focused on his actions on Trump's behalf *during* the campaign. Those actions involved the two ends of Trump-Russia collusion: Trump Tower Moscow and Russian sanctions.
21/
Moreover, those actions involved Sater working with his boyhood friend Michael Cohen, Trump's personal attorney—and a man who has publicly said that he will never say or do anything to hurt Trump and would hurt others *for* Trump. In other words, Trump's most loyal soldier.
22/
We already know the Trump family's position is that whenever a lawyer is in the room, attorney-client privilege exists. (False.) Perhaps this is why Trump made his attorney a top executive in the Trump Organization and then had him *work on Russia issues during the campaign*.
23/
But Trump didn't just lie about knowing Sater while having his most loyal foot soldier work with him on Russia issues during the campaign; Trump sat idly by as Cohen repeatedly—and provably—lied about precisely *what* he did for Trump on the Russia issue during the campaign.
24/
So let's review how Sater comes into play in the Trump-Russia story *during* the campaign, as even just what we know—let alone what Sater would have told Mueller if Mueller's agent correctly told Wood's source that Sater is now an FBI CI—because it's absolutely mind-blowing.
25/
First, some background: Don and Ivanka traveled to Moscow with Sater in '06; Sater worked two floors below Trump; he was born in Russia; he's committed federal fraud—something Mueller seems to be investigating as to Trump; he's tied to organized crime.
kansascity.com/opinion/reader…
26/
On November 3, 2015, Sater—claiming ties to Putin—wrote his pal Cohen, Trump's most loyal foot-soldier, "Buddy our boy can become President of the USA and we can engineer it. I will get all of Putin's team to buy in on this." He's claiming Putin can help engineer a Trump win.
27/
Sater makes this claim 30 days before Trump sends his second-most loyal foot soldier, top NatSec advisor Mike Flynn, to Russia to dine with Vladimir Putin at an RT gala—a seating arrangement the Kremlin coordinated as Sater was claiming to be working with Putin to help Trump.
28/
Sater lines up financing with VTB, a sanctioned Russian bank, and Cohen goes to Trump at least 3 times—that he admits to—to discuss what would be the biggest Russia deal of Trump's life.
Please remember—Trump has been a presidential candidate for *five months* at this point.
29/
But boyhood pals Cohen and Sater began negotiating the deal that *September*, according to The Washington Post.
So Trump began trying to gain leverage in his Russian deals using his presidential run within 90 days—at the very *most*—of announcing it.
washingtonpost.com/politics/trump…
30/
The idea that Trump's personal attorney would actively seek a deal to build Trump Tower Moscow *without first checking in with his boss* on whether he was authorized to conduct such negotiations is laughable—if Cohen was doing this work in September 2015, Trump knew about it.
31/
But we have inadvertent confirmation of Trump's close involvement in these negotiations not only from the fact that he signed a *letter-of-intent* to build Trump Tower Moscow in fall 2015—while running for president!—but from Michael Cohen's obvious lies about the Sater deal.
32/
This August 2017 Cohen interview with The Huffington Post is one of the most stunning documents of the Trump-Russia affair (see excerpt below) because of its obvious—even *offensively* obvious—wall-to-wall lies about the President of the United States:
huffingtonpost.com/entry/michael-…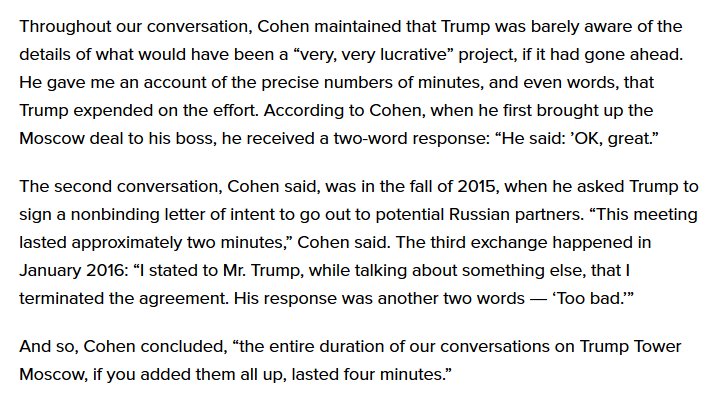 33/
Trump had been dreaming of "Trump Tower Moscow" since 1987, and now his attorney and business partner have the financing set up, and a developer, and Trump has signed a letter-of-intent, and he only gives *four minutes* to the deal over *five months*? That's an *insane* lie.
34/
What it *isn't* is surprising. Cohen has made it quite clear in interviews that he considers Trump like a father and would be willing to do anything for him—so lying about private conversations no one can call him on in an interview with The Huffington Post is small potatoes.
35/
And why is Cohen so *obviously* lying about conversations presidential candidate Trump had on executing a clandestine, Putin-linked real estate deal as he was establishing the most Russia-friendly policy of any presidential candidate in 100 years? I think that answers itself.
36/
But in the event it's not crystal clear, I'll spell it out: as Don Jr. told a gaggle of Trump Org investors in 2008, and as is universally known anyway, (a) you can't build a massive new project in Moscow if Putin isn't on board, and (b) Putin doesn't do anything for nothing.
37/
Sater told Cohen that he would get Putin on board, and no one in American media, American politics or the American electorate who follows the Russia story has *any doubt whatsoever* about Putin's cost for allowing Trump to build Trump Tower Moscow: dropping Russian sanctions.
38/
So given that Trump (as we now know) had a secret and historically extraordinary—borderline treasonous—Russia policy of responding to Russian cyberwar by *unilaterally dropping all sanctions on Russia*, of *course* Cohen had to lie about a secret in-campaign real estate deal.
39/
But wait! you say. That's conjecture! We've no evidence that Cohen and Sater not only worked with Putin's agents on the *real estate* side of the deal, but were *also* working with Putin's agents to get Russian sanctions dropped!
Oh, wait a minute...
washingtonpost.com/politics/amid-…
40/
That's right: while Trump was under maximum international scrutiny over Russia, Cohen and Sater risked everything—perhaps because it was part of a debt owed, or a deal struck?—to meet secretly with a Putin agent to ferry a Russian sanctions deal to (wait for it) *Mike Flynn*.
41/
But surely Cohen didn't—once caught—lie *again* about what he did? Of course he did. He lied about:
* Whether he read the documents
* Whether he took them to the White House
* Whether he gave them to Flynn
* Whether Trump saw them
* Whether he ever discussed them with anyone
42/
He said he never opened the envelope—then revealed he knew how many pages the document was and what it said. He says he never took it to the White House—multiple sources say he did. He says Trump never saw it—but he brought it *first and immediately* to a meeting with Trump.
43/
The idea Cohen—Trump's loyal foot-soldier—would spend a meeting with Trump holding in his hand a sanctions deal from Putin and *never mention it to Trump*, and would then take it out of the White House without ever giving it to Flynn as Putin asked is, again, an *insane* lie.
44/
Note: the fact that Flynn was to be the point person on sanctions is of course related to the fact that he was illegally negotiating sanctions with Russia during that same 60-day period, but it may also suggest Flynn joined Sater and Cohen in their clandestine 2015 acts, too.
45/
Here I pause to give everyone three vital links on Trump, Sater, Cohen, Putin, and Bayrock (Sater and Tevrik Arif's company, which helped Trump make deals with Russian oligarchs):
ZEMBLA documentary 1 & 2:
ZEMBLA documentary 3:
46/
If you haven't read of Trump's rigging of the 2002 Miss Universe, do so now. Why? Because it worked: it gave the crown to a woman who was Putin's girlfriend (and also the girlfriend of a Russian mobster), and Sater appeared in Trump's life right after.
47/
As this thread details, the Russian mobster beau of the woman Trump crowned Miss Universe in 2002 was known for—wait for it—helping U.S. businessmen get close to Russian oligarchs. Within months, Russian mobster Sater appeared to do just that for Trump.
48/
(Note that the threads I linked to in the last two tweets are *different* threads—they just happen to both use the same picture in their first tweet, hence the image of Trump posing with 2002 Miss Universe [and Putin girlfriend] Oxana Fedorova appearing twice in two tweets.)
49/
So Sater can give Mueller how and why he came into Trump's life to save him from bankruptcy in 2003; what deals Trump pursued in Russia before 2013 (and, more specifically, and typically for the Trumps—see Ivanka in Panama—Russian mafia); and the full Trump Tower Moscow tale.
50/
Trump illegally traded America's Russia policy for clearance to build Trump Tower Moscow, continued Russian election assistance, and—per Steele's dossier—possible Russian oil monies.
Sater is the closest Mueller can get to all that—and the evidence suggests he has him. /end
SOURCES/ On Trump's secret plan, developed during the campaign—as his team was having contacts with Russia on sanctions they lied about—to unilaterally drop sanctions on Russia immediately upon entering office (despite Russia's cyberwar against America):
yahoo.com/news/trump-adm…
SOURCES/ Scott Stedman (
@ScottMStedman
) has done some amazing investigative reporting on Medium regarding the 2015 Trump Tower Moscow deal (at a level of detail it wouldn't even be possible for me to put in a thread, so I strongly advise reading it there):
medium.com/@ScottMStedman
PS/ So why hasn't a Sater CI deal been announced? One explanation: Trump set a "red line" for firing Mueller with the NYT, and that line was *investigation of his past business deals*. A publicly announced Sater CI deal signals Mueller is going there and could cut short his work.
PS2/ But the fact Sater met with House Intel last month and is providing docs to the Senate, coupled with him reaching out to Hollywood producers—presumably to tell his story—certainly suggests he has a story to tell that America would find worth hearing.
theblast.com/stella-bulochn…