tonight they've got the new meeting procedures as discussed at the council retreat on the agenda. it's listed as a reading on the agenda, but public hearing on the background. i hope they're hearing public comment...
tonight's cville city council agenda:
charlottesville.org/home/showdocum…
about 50/50 these days on folks standing vs sitting for the pledge. folks are starting to get it.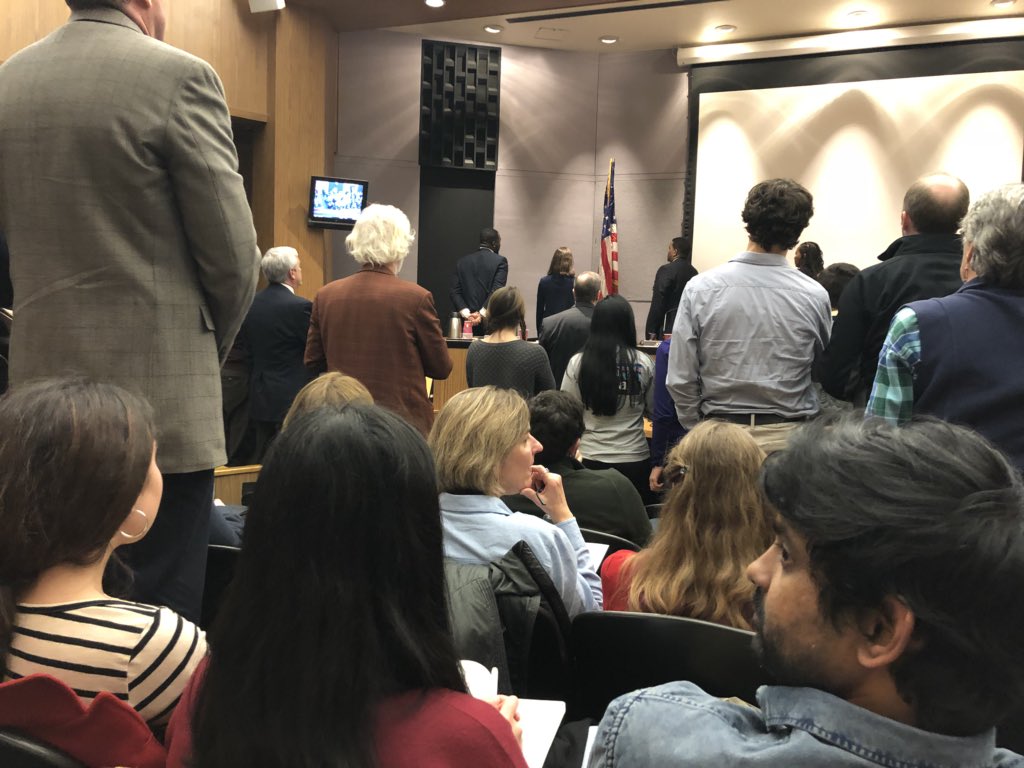 galvin opens announcements by congratulating the UVA democrats group for attending the meeting. i'm sorry, i didn't realize groups were getting recognized for attending. i'm happy to receive DSA's participation award on behalf of the chapter. we've attended every damn MINUTE.
city clerk paige rice is in her usual seat on the dais. kind of surprised to see her — she was a subpoenaed witness in this afternoon's hearing but was too ill to appear.
"affordable housing is housing justice is racial justice" yesss comrade nancy
we have to see and dismantle patterns of segregation. the community will is here - look at chambers, at petitions. the city has to listen & act.
"wow what a year we've had. let's not do this again." 🙄 solid start dude. here comes another lecture about civility from an old white guy.
mayor walker is handling this with skill. this guy fucking sucks, but she's calmly allowing him his time. not doing what signer did, which was hostilely engaging with the crowd — that only inflames things further.
LOVE to hear old white guys talk about how unfair we've all been to nazis. please continue sir. tell us more. your opinion is important and unique. he left after his time was up — obviously doesn't have a vested interest in the business of the city, just wants to talk.
rev don gathers at the mic. "before we give another dime to developers, can we please have a conversation about affordable housing?"
says he emailed all of council, only heather hill replied to him.
don also rips them for holding the budget retreat at morven farm. it's not "open to the public" if it isn't accessible to the public. (20 minutes outside of town, small room, bad parking, former slave plantation...)
comrade michael up there talking about a special use permit for w 2nd st for woodard. citing sale of lot to developer for well BELOW market value, lack of clarity in requirement for developer to include any affordable housing units in the project.
oh here's a spicy development: woodard was a big campaign donor in mike signer's council run two years ago. he appeared at a press conference thanking him.
someone from legal aid up to remind city council of their priorities for affordable housing. city's initiatives must focus on community needs, must address needs of extremely low income (not, say, 80% AMI like the "affordable" units in woodard's special use permit)
she has some disdain for council's "landlord risk reduction" plan passed a few meetings back. she says this creates MORE work for legal aid — they'll fight every one of these cases.
"you're changing the formula for how many people have been served in order to make it look like more people have been served" — LAJC attorney
"we need a housing strategy before we do anything else with the zoning"
"if the city gave as little as a $400 grant" to someone it's considered supported housing — this counts toward the goal.
jeff fogel walked in right as his name was called 🌹
"why don't we go around and drop a penny on every doorstep and claim every household is supported housing?"
tell 'em jeff
"there's no reason we can't increase taxes on the rich"
AGREED, COMRADE.
addresses 3/5 of council's choice not to increase real estate tax for FY19
a white man gently mansplaining affordable housing, downplaying importance of the habitat program, bookended by black mothers advocating for the habitat program that has allowed them to become homeowners. take a seat, sir.
another white guy very concerned about downtown businesses. please, won't someone think of the hotel occupancy rates?!?!!????
maybe the trad workers will book a block of rooms at the new hotel on cherry & ridge? is they the tourism you're looking for?
he has 5 complaints, but doesn't list them clearly. my dude is very confused about how parking works. says downtown is "dirty and scary" and there is "aggressive panhandling"
he finishes by handing out some kind of custom, bound books to members of council. dying to know what's in those 😂😂
new city attorney robertson now presenting new city council meeting procedures as decided at the council retreat. sounds like there will be a public hearing, despite the resolution-only wording on the agenda.
drink every time someone says "roberts rules"
new guidelines propose prohibiting electronic communication between councilors about a matter being discussed during public hearing. signer pushes back, says it's no different than a verbal sidebar... but it's so much sneakier. contrary to the spirit of a public hearing!
clarification: if you're ejected from a meeting, it's just for *that* meeting. signer had ruled in recent months that you would be barred from public proceedings for an unspecified period of time. no motion made, but it seems generally agreed upon.
"thousands and thousands of bodies use it around the world, probably as we speak" - mike, robert & his rules are not gonna be your friend ok?
public comment on the new guidelines, jeff fogel is up first.
"make a commitment to actively respond to the public."
wants to give mayor power to extend 3min to 5min when warranted.
cites passage prohibiting discussion of motives of councilors - this is concerning.
jeff: need to address failures of the previous guidelines. two people still being tried (wrongfully) after being ejected from these chambers. while council doesn't arrest or try, they have a responsibility to talk to the commonwealth's attorney.
calls of "drop the charges!" from the audience.
the system relies on "punishment as a means of resolving disputes"
"people are being punished simply because other people don't like what they are doing"
stop punishing dissent & hear the people ✊
former head of cville NAACP reminding us that we hired an all-white law firm to write the report on the incidents of the summer (the heaphy report). it lacked "cultural consciousness" — totally erased role of race.
his time's been up for a while, but there isn't any enthusiasm for stopping him. our white cops were reluctant to take orders from our black police chief, he says.
this speaker takes issue with the retreat not being recorded. "all regularly scheduled public meetings" are, according to policy, recorded... how does the retreat not qualify as such? he makes a damn good point. so much for "open to the public." so much for "accessible."
aaaand he lost me. he says ceding time is an "abuse" of the signup system.
organize, comrade ✊
"i always write down what i want to say so i make sure it fits in three minutes. not everybody does that." thanks for the scold, mom. she's graciously allowed that maybe we could have 5 if it's "enforced."
what a boring old scold. she's chastising us for coughing and clapping. and hand gestures! the violence!
while i agree with don that council should prioritize voices of city residents, i worry this would lead to citizenship/documentation requirements. the risk is too great.
donna: sharing time creates accessibility — not everyone can get here early to sign up in person, not everyone has internet access
allowing folks to return after ejection should be based in reality: mason pickett should NEVER be allowed to come back after what he said to nancy in chambers. he's a violent racist, facing charges for punching a woman
re: folks dragged out on august 21 – drop the charges against mark & sarah, expunge donna's conviction & refund her court costs ✊
turning off the cameras when things get heated HAS to stop. that is included in the new guidelines. glad to see it. it's open to the public, including the public that doesn't fit within these too-small chambers.
yes nancy! re: ceding time — "i have a lot of privilege" and if someone who doesn't decides at the last minute that they need to get up and speak, she should get to cede her time to them.
honestly what difference does it make if the name on the list belongs to the speaker?!
"y'all come back in here like y'all done had ice cream and cake" — mary carey talking about the feed being cut on occasions when she's been thrown out of council. folks watching at home have a right to see what happens in these chambers.
admittedly, i didn't read all the agenda background this time. apparently some changes were made to the matters by the public at the end of the meeting vs what was agreed on at the retreat... now that time is limited to 2min per speaker and is no longer unlimited speakers.
so they've taken the EXISTING system and introduced new limitations? in their efforts to protect & expand public comment? seriously?
the only ADDITIONS are one (1) more speaker and the optional 2 min response from council for speaker.
to be clear, their efforts to INCREASE PUBLIC ENGAGEMENT adds 3 minutes of public comment up front, REDUCES it on the backend, and enshrines the right of last word for council.
sounds about damn right.
"what happened here over the summer was terrible, but in some ways it was a gift to us" SIT THE FUCK DOWN
maybe i yelled "tell that to heather's mom" at her as she walked out. maybe she deserved it.
i had to absent myself for a few minutes to scream at/with some comrades outside. missed some milquetoast discussion in here but i'm not sorry.
mayor walker has concerns about requiring city residency to speak — folks who live over he county line have valid concerns, too. it's a logistical issue for the clerk, as well.
(please don't require fucking ID to speak at meetings. this is wild.)
galvin: we all agree that ceding time is ok, but we need to enforce the rule that no one speaks more than once. ceding time shouldn't allow people to speak twice.
mayor walker moves to strike that.
a comrade whispers that she's previously ceded time to nikuyah so she could speak
kathy & mike are DOOOOONNE here. hearing from the public is clearly not a high priority for th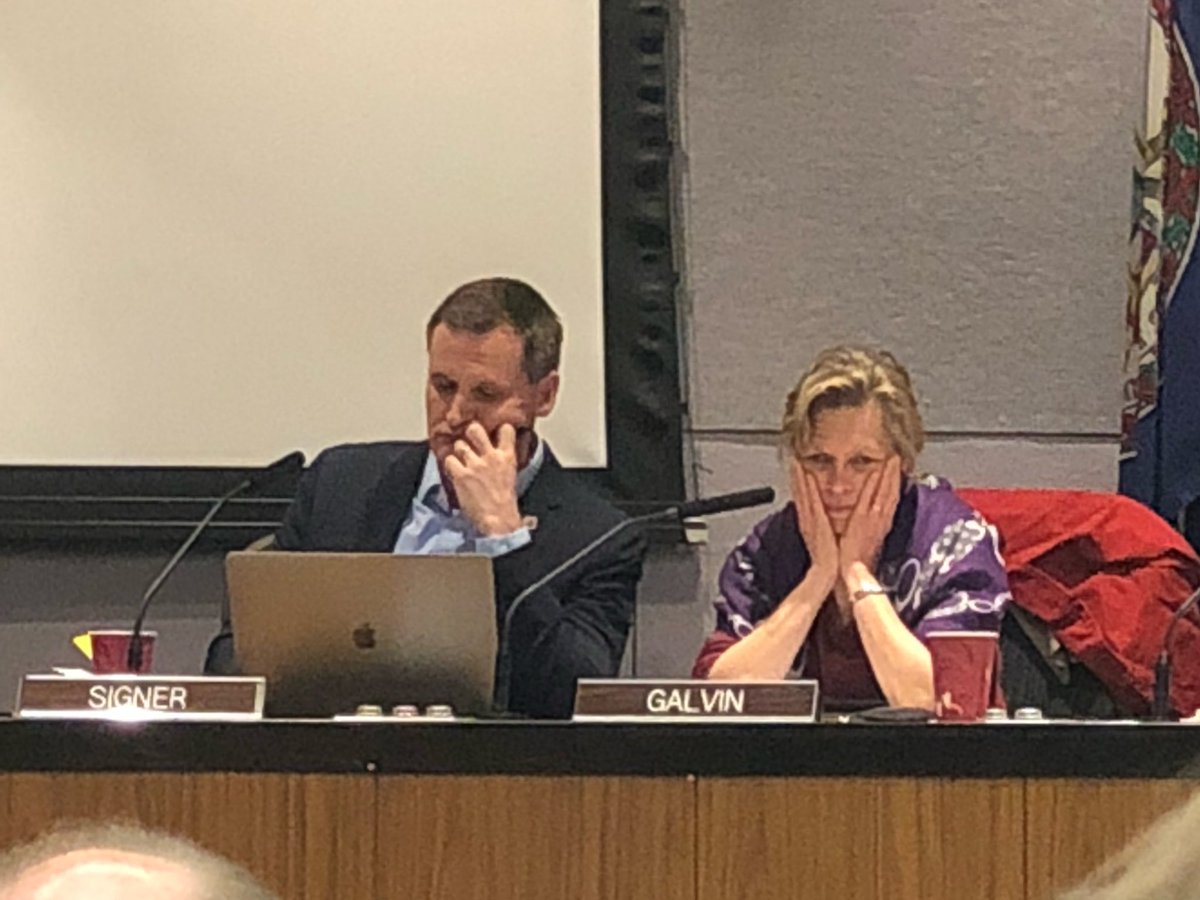 VGQ9
galvin moves they increase speaking time from 3 to 4 min. walker seconds.
votes: bellamy, hill, and signer vote no. galvin and walker vote yes. it fails. what is wes doing?!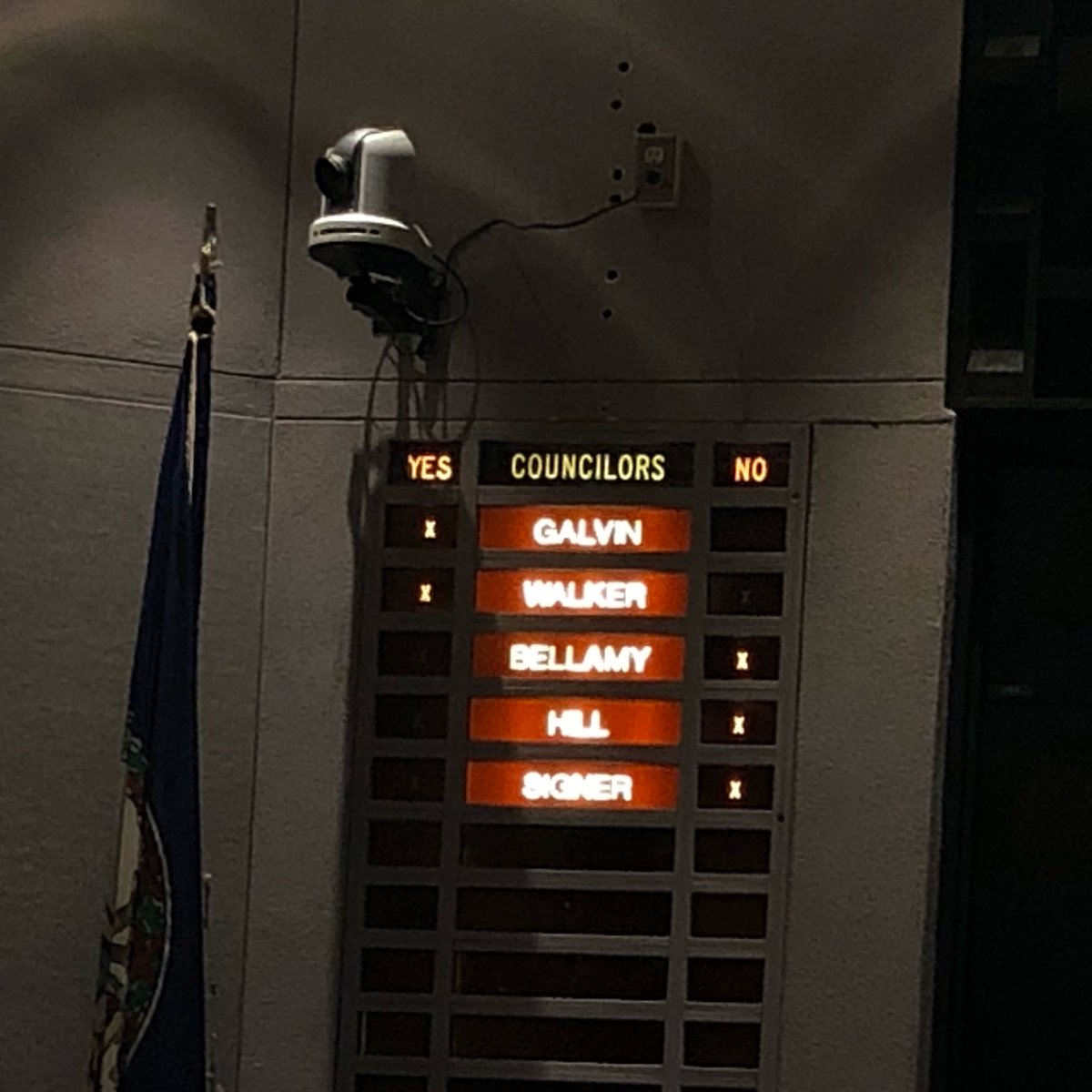 wes motions that speakers are allowed to cede time and speakers can speak more than once. heather objects because this is two things. signer objects that he should motion instead to strike portion of existing motion to prevent speaking twice 🙄
ok, speakers can speak twice if time is ceded to them. finally.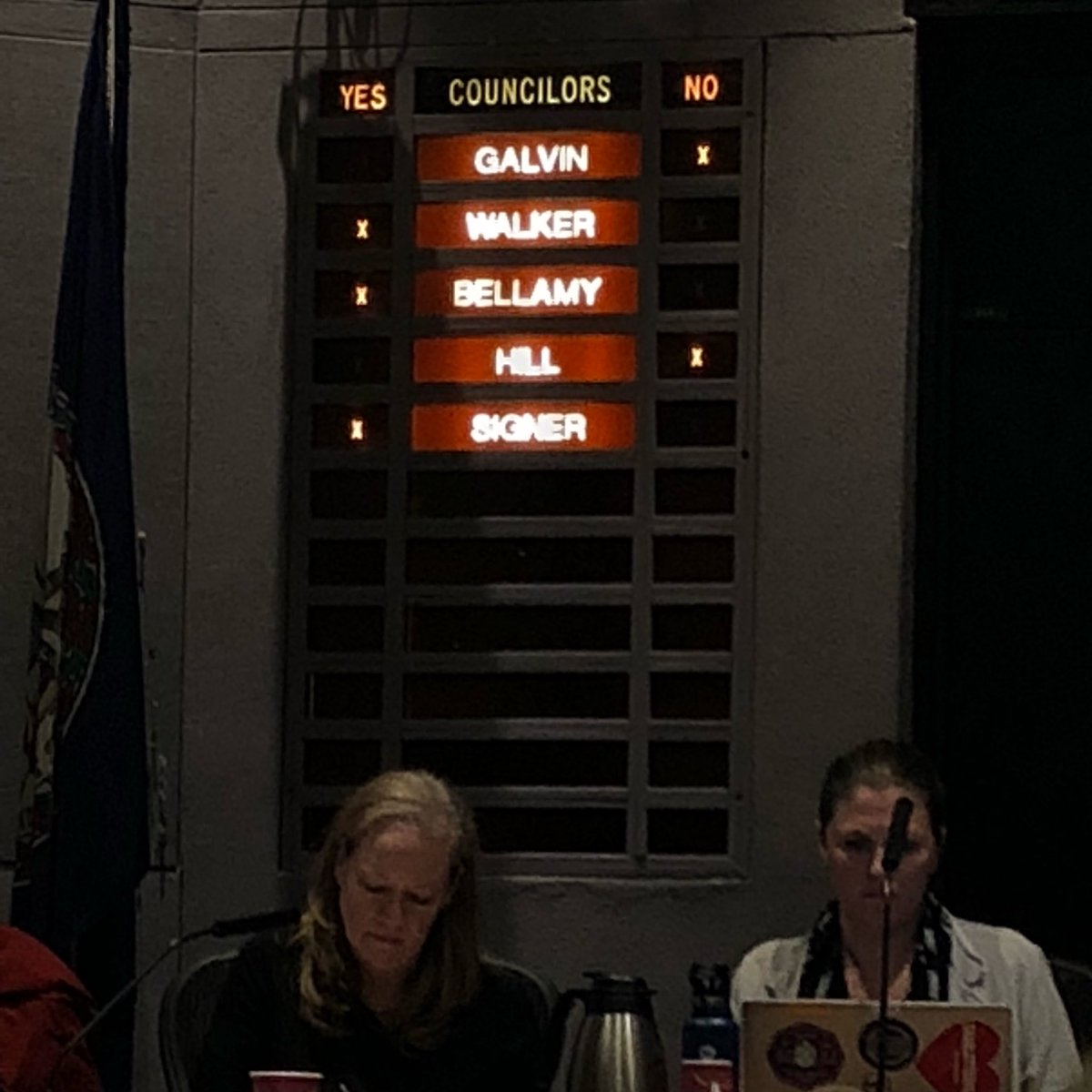 with those two amendments, the rest of the guidelines are unanimously adopted. so much for revisiting the item about not questioning each other's motives...
damn y'all. "A12 was a gift" lady came up to talk to me during the recess. the emotional labor i have just performed was heavy. let me just say: heckling changes hearts & minds ✊🌹
if we're being super honest, explaining that just because she has the resources to take A12 as a growth opportunity doesn't turn this community's positive response to terrorism into an argument that said terrorism was a gift has me too drained to take in this special use permit.
some agent of developer woodard is preaching all of his accomplishments in the arena of affordable housing. "he's built a lot of units of housing" (yes, all student housing. that's part of the damn affordable housing crisis)
oh poor rich developer! he has paid for the costs of his OWN DEVELOPMENT PLAN! with no guarantee of getting his money back! good god the free market is so scary and we should lick the boot of those who brave it.
me working on *my* development project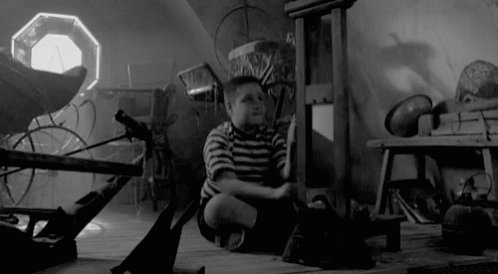 keith is a saint who has pledged to include SEVENTEEN units of affordable housing in his development!
from my notes from the budget retreat:

i don't know if this is actually 48x more boring than a typical presentation from some overpaid architect or if i'm just not in top form after spending all afternoon in court... but this is killing me. this is weaponized dullness.
we're still on #3 here.


iiiiiii'm sorry. the "affordable units" won't even be onsite. because it isn't "feasible." they're gonna park the poor folks away from their mix used development. don't wanna have to accidentally SEE any poor people!
and they're only obligated to keep those units affordable for 4.73 years. but keith, the saintly developer, maintains affordable pricing on units he COULD raise rates on! what a saint!
wes wonders why someone would move into a unit they know they'll be priced out of in four years. keith offers to trade 16 units for 4 years for 8 units for 10 years instead. how fucking magnanimous.
mike lobs a softball at his campaign donor, developer keith woodard.
folks in the gallery with affordable housing signs are waving them, making a loud rustling ✊
sit down, keith.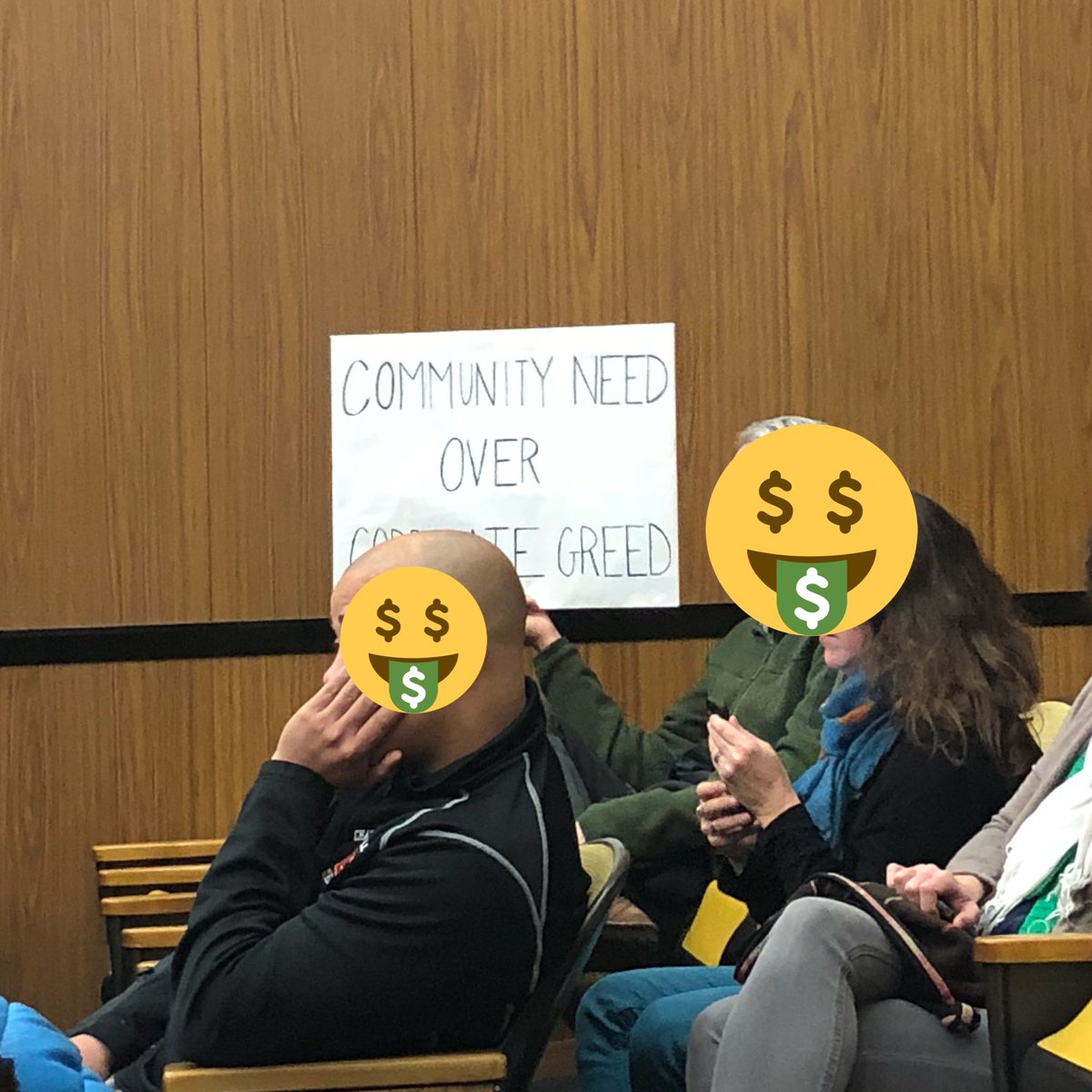 i can't even tonight. there is no accountability. no good faith. no regard for the lives of the non-wealthy. kathy is up here defending it all because it's the way we've always done it.

heather tells keith woodard that she believes he has all the best intentions. well, thank god. pack it up, members of the public! keith has our back! it's "a good plan!" and keith is investing a lot of money & is taking a lot of risk... FOR US! heather vouches for him!
heather just doesn't know how much more we could ask if this development?!

kathy gets him to agree to 8 units for 15 years... but at 80% AMI. that's over $60,000k/year for a family of 4 in cville. that's not low income housing.
ludwig kuttner trying real hard to have me removed from this meeting. he keeps motioning to the cop and pointing at me.
aaaand then he got UP IN mary carey's face.
five minute recess called so some dweeby little cop can lecture us about disorderly conduct.
i'm aware of the statute. if the chair of the meeting would like to have me removed, we'll talk.
god, i'm so sorry — i've been in court + this meeting since 12:30. the old white man in the ridiculous suit threatened JOY JOHNSON. not mary carey. i'm sure he'd yell at her if she deigned to speak in his presence, too, though, to be fair.
oh no! kathy says if we don't keep developing, the economy will die! keep clapping boys and girls or tinkerbell's bond rating will tank!
kathy says the city can't do any of the things the people want if we don't first bend to the developers' will... then point to what you've given us all previous times you've caved to these terrible plans? show me the receipts. i'll wait.
wes asks keith woodard how much he stands to make off this project. he says he doesn't know. wes asks, maybe $7 million? long silence. the city attorney interrupts with a redirect, saving him from having to answer. CMON ROBERTSON. LET HIM ANSWER.
keeping the pressure on gets the fucking goods fam. permit denied. i guaran-damn-tee you this would've gone differently if not for the voices in this room tonight ✊✊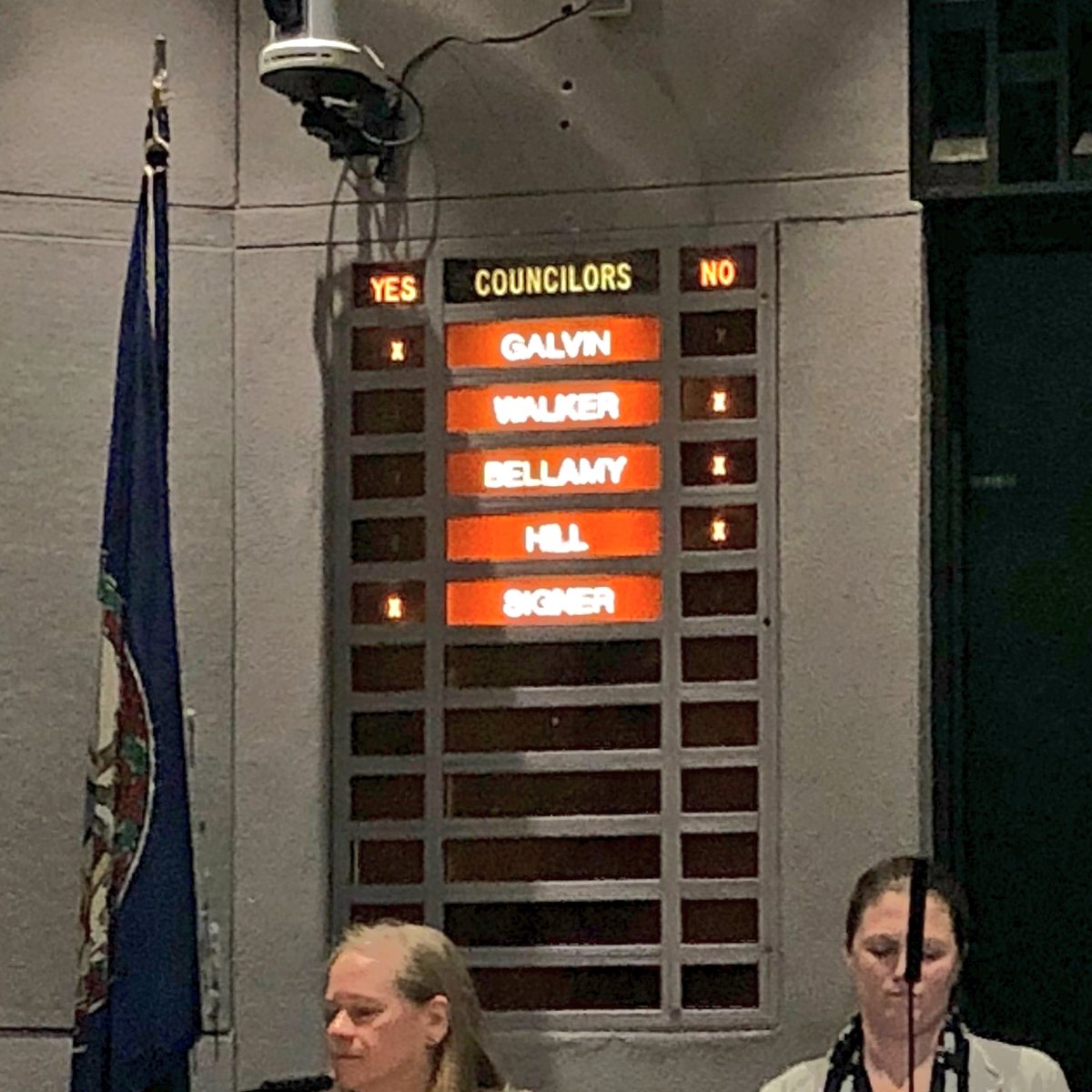 uhhh why didn't signer recuse himself from this vote by the way? voting to benefit a major campaign donor? would love to hear more about why THAT'S ok?