You think this is nuts? Oh hon. Welcome to my life.
Anyone remember 2011? When Ben Quayle's momma called Arizona's governor and yelled at her because her boy had been drawn into another Republican's district by the Independent Redistricting Commission?
So Arizona's Republican governor fired the head of the Independent Redistricting Commission. Just because the IRC drew maps that didn't overwhelmingly favor the GOP.
m.huffpost.com/us/entry/10839…
The state Supreme Court reinstated the IRC chair and the not-super-gerrymandered maps passed. (By the by, baby Ben Quayle lost his primary.)
So what was the totally reasonable reaction of Arizona's Republican legislators? They sued to have the IRC, created via a citizen-initiated ballot measure, declared unconstitutional.
But do you think Republican legislators are gonna let a little thing like a SCOTUS decision stop them? As just demonstrated by Pennsylvania GOP lawmakers, no freaking way.
Arizona Republicans sued to have the map tossed as an unconstitutional partisan gerrymander. SCOTUS ruled against them -- unanimously.
thedailybeast.com/arizonas-nonpa…
And then there was that time a North Carolina Republican legislator tried to impeach the Democratic secretary of state for literally no good reason
m.indyweek.com/news/archives/…
The Republican's attempt to impeach her never received consideration by the full House, and then that impeachment-happy GOPer suddenly resigned. No one's really sure why.
newsobserver.com/news/politics-…
But that's not nearly as bananas as when the GOP-controlled North Carolina legislature tried to strip the incoming Democratic governor of his constitutional powers
thenation.com/article/north-…
So what did North Carolina's Republican supermajorities do? They passed the same crap laws again. And the state Supreme Court smacked them down again.
slate.com/news-and-polit…
...so Republicans replaced it with an outrageous partisan gerrymander. And they were super open about it, too. But then a federal court ruled it unconstitutional.
theatlantic.com/amp/article/55…
Several of North Carolina Republican legislators' defeats came at the hands of state judges. So they're messing with the state judiciary to make sure more Republican judges get elected.
motherjones.com/politics/2018/…
And then there was Kansas, where Republican legislators tried to totally usurp the state judicial system because of a state Supreme Court school funding ruling that made them mad
newyorker.com/news/news-desk…
This is what Kansas Republicans tried to do to the state Supreme Court: Take away their authority over lower courts, then deprive them of funding if they object. A legislative catch-22, of sorts.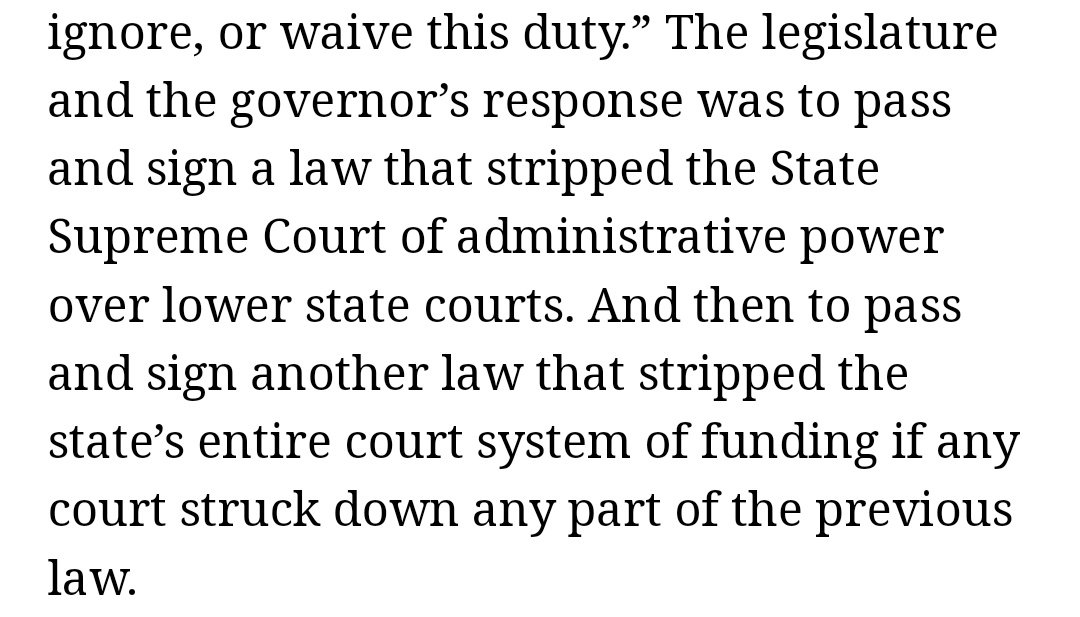 The first bill was obviously unconstitutional, but finding it so jeopardized the state judicial system's functional existence.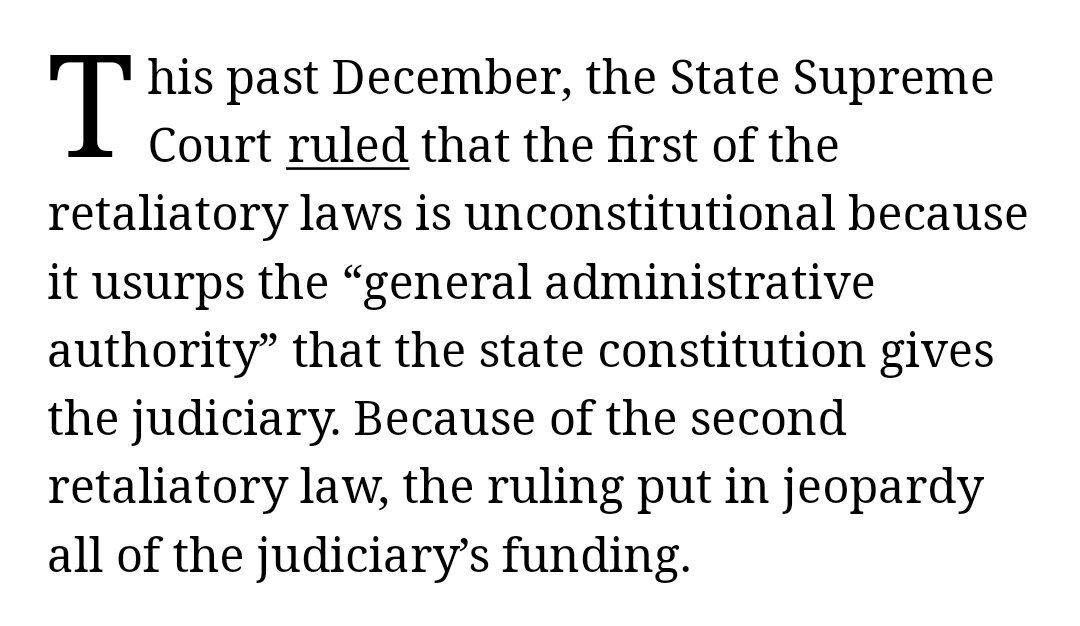 The GOP-controlled legislature blinked and passed a bill restoring funding to the Kansas court system. But Republicans weren't done messing with the state judiciary.
Kansas Republicans tried to pass a bill authorizing the impeachment of justices if their decisions "usurp" the authority of other branches of government. And by "usurp" they meant YOUR DECISION IS MEAN AND WE DON'T LIKE IT
nytimes.com/2016/04/02/us/…
The measure ended up dying, as did efforts to inject more politics into the Kansas judicial selection process.
By the by, all of the Kansas Supreme Court justices facing retention election in 2016 won.
Anyway, this has all been a very long way of saying Yes, the threat from Pennsylvania GOP lawmakers to impeach state Supreme Court justices just because they disagree with a ruling is bananas, but it's not shocking.
Messing with the judicial branch just because you disagree with rulings is insane, BUT IT'S WHAT REPUBLICANS DO.
~fin~