(THREAD) Tonight's CNN tilt between
@JeffreyToobin
and my former professor
@AlanDersh
was epic. What Alan says matters more now than ever, given that Trump—whose behavior is increasingly contemptuous of the rule of law—cites him as an authority.
But Alan is wrong—and here's why.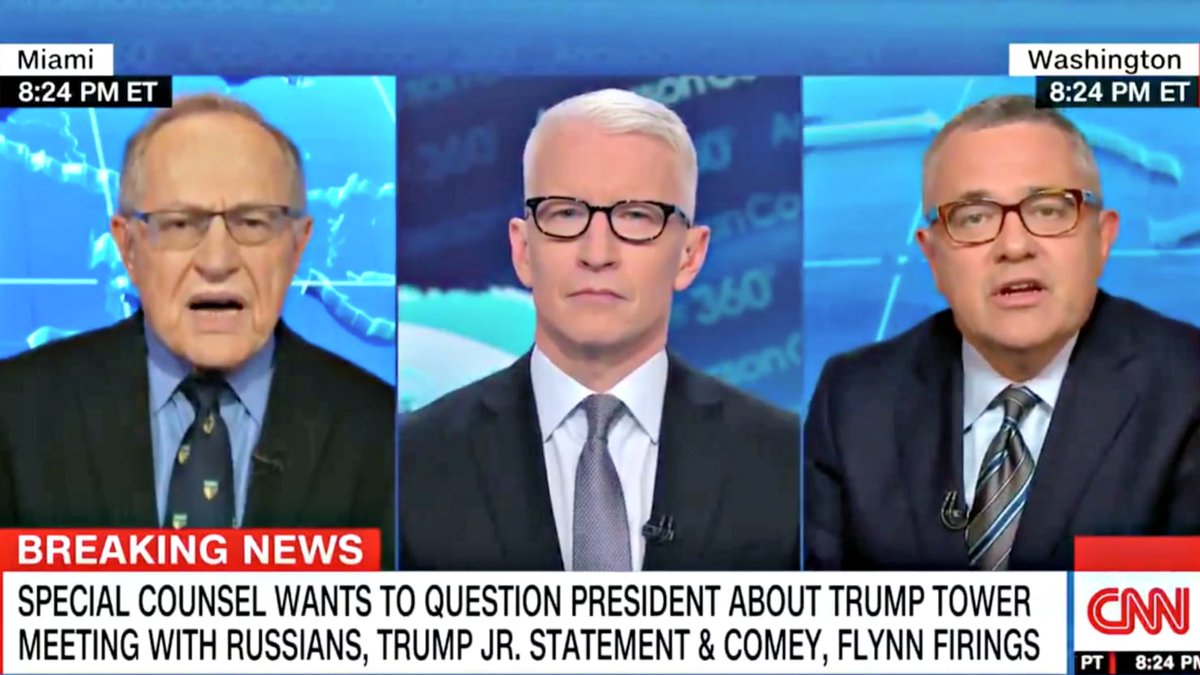 1/
Dershowitz says Special Counsels should almost *never* be used because they're (a) inherently political, and (b) *commanded* to find crimes. In fact, Dershowitz is thinking of Independent Counsels—like Clinton faced—who were authorized by Congressional statute. Mueller wasn't.
2/
That Dershowitz used the Clinton impeachment as an analogy for the present situation confirms that he doesn't understand the major shift in the law between the 1990s and today—namely, that Congress is no longer in the business of authorizing Independent Counsels via a statute.
3/
In fact, Mueller was authorized by a DOJ regulation and an authorization letter from the DOJ—and absolutely nothing in the letter commanded Mueller to find a crime, or indicated that he would be subject to any political or Congressional oversight whatsoever. He is nonpartisan.
4/
That makes Dershowitz's suggestion for what we should do *instead* of DOJ Special Counsels truly ridiculous: he says there should be a section within the DOJ that's independent from any political appointees (e.g., Sessions and Rosenstein). But that's *exactly* what Mueller is.
5/
Mueller's office is overseen by the DOJ, but also independent from both recused (Sessions) and non-recused (Rosenstein) DOJ political appointees because he can only be fired for just cause or exceeding the scope of his DOJ authorization. That's exactly what Dershowitz demands.
6/
When Dershowitz excoriates
@JeffreyToobin
for being "inconsistent" and therefore "partisan" as between the Clinton and Trump probes, he fails to see that—because the situations are legally *entirely* distinct—it's in fact his own self-described "consistency" that's suspicious.
7/
The suspicious nature of Dershowitz's position on the Trump-Russia probe is that Dershowitz *wrongly* says that Trump can fire anyone in the Executive Branch as long as he's acting within his "constitutional authority," which to Alan means (incredibly) "while he is president."
8/
Put those two
@AlanDersh
positions together and you get this: Mueller should be formally a DOJ employee rather than a DOJ-authorized contractor not because it would make him less biased but *so that Trump could more easily fire him the moment Mueller displeases the president*.
9/
But if Donald Trump can fire anyone in the Executive Branch who's investigating him, there's no rule of law in America—we have a constitutional crisis. Why? Because in Dershowitz's world *only Congress can investigate the president*—which means *only political investigations*.
10/
So
@AlanDersh
has gone on TV to decry partisan political investigations, only to demand the *one system of governmental self-regulation* that would immediately ensure that *all* investigations of the Executive Branch would be 100% political. So what's Dershowitz's game here?
11/
As I know from studying with him—and to be clear, Alan gave me an A+ in Criminal Law, so I've no student-teacher grudge against him whatsoever—Alan is a legitimate genius. He doesn't make specious arguments. But *this* argument is so specious as to be legitimately suspicious.
12/
That's why I'm glad another old student of his, Toobin, called Alan out directly. So what gives here? Well, it seems to have something to do with Alan's *other* argument, which is that those with a partisan axe to grind are increasingly "criminalizing political differences."
13/
Alan's argument on this score is *really* strange—inasmuch as he's conceding crimes *are* being found among Trump's cadre. But he says—wait for it—they *shouldn't be prosecuted*, though they're *crimes*, because they *wouldn't have been found if not for partisan motivations*.
14/
This is a bizarre stance for any attorney to take, as in fact equal application of the law to all Americans—which Alan has said he champions—would insist that *all* criminal statutory violations be prosecuted, no matter *who the defendant is or how the conduct was uncovered*.
15/
Indeed, the phrase "criminalizing political differences"—which Alan uses incessantly—doesn't mean what Alan thinks it does. It means turning non-crimes into crimes for partisan reasons—which is not at *all* what's happened to Donald Trump's aides (e.g., Flynn, Papadopoulos).
16/
What's happening to Trump's aides,
@AlanDersh
, is they're being charged with crimes because a nonpartisan investigation overseen by the DOJ (as Alan wants) found crimes were committed. There are no non-crimes being turned into crimes in the Russia probe, and never have been.
17/
What Alan *could* say is there are *other* crimes that have been committed in D.C. but aren't being investigated or prosecuted because the political winds somehow didn't lean on the DOJ to initiate an investigation. That may be, but there are two problems with that reasoning.
18/
First, just because other crimes aren't being investigated or prosecuted doesn't mean that you *stop* investigating or prosecuting the crimes you *know* of—rather, it means that you conduct *more* investigations (not the *fewer* investigations that Alan was demanding on CNN).
19/
Second, how in hell could
@AlanDersh
imply that political winds pushed the DOJ to investigate Trump—when the GOP has the White House, the GOP has the House, the GOP has the Senate, the GOP runs the DOJ, the GOP runs the FBI, and the GOP runs the intel community? It's *crazy*.
20/
Indeed, right now we're in the midst of such aggressive one-party (GOP) control of DC *and* the electoral prospects of incumbents—because of GOP gerrymandering—that this may be the *one* instance in which we *can* be 100% sure investigation of a GOP politician is legitimate.
21/
I have no opinion on the allegations involving Alan Dershowitz and Jeffrey Epstein—I know nothing about them except that Alan has (indirectly) successfully fought them in court. But I know Alan's situation is wrapped up with this idea of "criminalizing political differences."
22/
So when
@JeffreyToobin
asks Alan "What happened to you?", the answer is that Alan for years faced what he considers libelous statements about his past conduct, and his anger at what he considers politically motivated accusations is now being misplaced when it comes to Trump.
23/
When attorneys argue from a place of emotion and personal hurt rather than the facts or the law, they not only lose but make little sense in doing so—and perhaps for very human and understandable reasons, they betray the very profession they love. Alan's doing that right now.
24/
Alan's problem—and I say this as a fellow Jew who sees in myself this same defect of excessive (perhaps culturally encouraged) self-consciousness—is he can never distinguish between the times he's defending a principle and the times he's defending himself. This is the latter.
25/
Alan has to stop, breathe, and take a long look in the mirror: he won his case on the Epstein issue and needs to stop fighting that battle.
Right now it's blinding his judgment and directly enabling criminal conduct on the part of a U.S. president. That's unacceptable. {end}