Breaking:
- West Bromwich Albion fail in attempt to introduce 'safe standing' at The Hawthorns next season.
- Government rejects plan, no change to current policy on all seater stadiums.
- WBA wanted 3600 rail seats, accuse
@tracey_crouch
of being "short sighted"
More
@BBCSport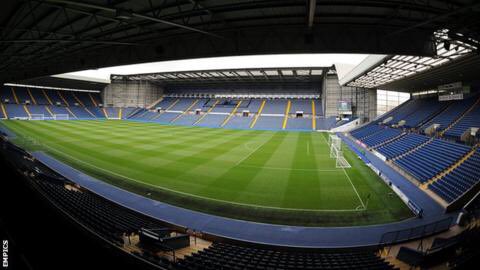 WBA Director of Operations Mark Miles: "I think the Minister has taken a short-sighted view and is preventing the club from creating a safer environment for supporters. The all-seater policy was developed over 25 years ago and football is a very different place now."
Have followed this story for a number of months. WBA were fairly confident of approval. 3600 rail seats would have been introduced for home + away fans. Safety was the driving motivation.
Difficult to see - given their meticulous application - if govt will ever now change policy.
Director of Ops at WBA wants a safe stadium. They have problem with persistent standing which they consider v unsafe. Attempts to mitigate have failed. Rail seats viewed best option but rejected. DCMS statement coming soon which may cast more light on reasons why not approved.
Government statement after rejecting WBA safe standing plan: "We have no plans to change our position and introduce standing accommodation at grounds in the top two divisions covered by the all-seater policy."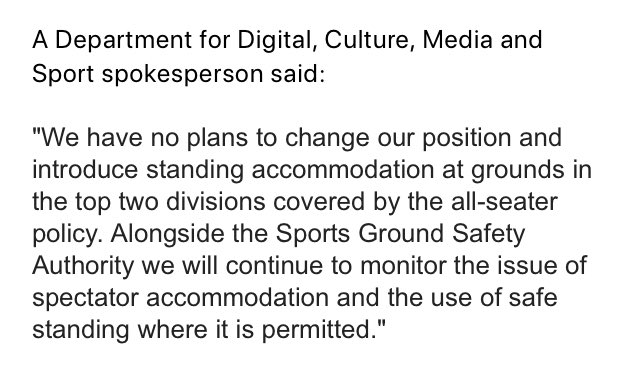 No acknowledgment in government statement about WBA's application being made solely on safety grounds.
A clear setback for safe standing campaigners and advocates but many clubs in PL and EFL want a safe standing option.
Issue has not gone away with today's decision.
Mark Miles,
@WBA
director of operations and one of the UK's most respected voices on stadium safety, will be talking to
@tonylivesey
on
@bbc5live
at 5.15pm today to discuss the government's decision to reject the club's safe standing plans.
Leader of the Welsh Conservatives
@AndrewRTDavies
- criticises
@tracey_crouch
decision to reject
@wba
safe standing proposal:
"It makes no sense at all, particularly when we know that thousands of supporters are persistently standing in every single ground across the UK."
Welsh Conservatives want safe standing trial.
@AndrewRTDavies
: "The all-seater policy demonises football supporters with a ban that doesn't apply to concert goers, boxing fans, or people out for a day at the races... it's time for politicians to listen."
Updated story now here:
bbc.co.uk/sport/football…
Safe standing campaign suffers major set back as government rejects
@wba
plan to install rail seats in home and away sections for start of 2018/19 season.
Important update - WBA confirm its Safety Advisory Group (consisting of various members including police, fire, ambulance, local authority etc) supported the club's proposal to apply to the government to be considered for a safe standing pilot.
The government rejected the plan.
Interested to learn what the official advice from
@SGSA_UK
to the government was on this issue in light of last tweet. Has government rejected the advice from its safety authority? Or is it fully in line with this decision too?
Update: asked the SGSA if it supported West Brom's application to install rail seats. This is its very detailed response.
Begs the question: did the government ignore the advice of its own stadium safety advisors in rejecting WBA's proposal?