A transition is sensible on its own terms, but we have agreed to this because of the lack of viable solutions we have so far offered. Certainly none have come from the parliament Leavers who, in rejecting the EEA & demanding regulatory divergence, have compounded the problem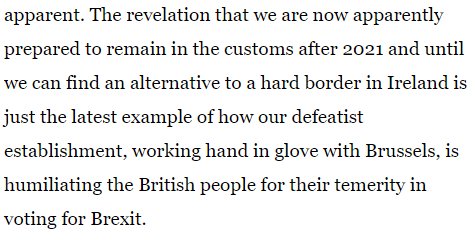 Perhaps we could try bombing Dresden again or launching D-day 2 to force their hand? Otherwise, this comment is a total irrelevance. We would of course have facilitated the whole process if there had been anything like a plan, or willingness to accept a pragmatic compromise


A piffling 13% of our GDP, and 43% of our exports.. yeah, a trifle really. Not really explained how its detrimental, this is in contradiction to the vast majority of British businesses who do not call for a "bonfire of regulation" and are instead calling for convergence


British businesses are calling for stability in the regulatory regime & continued convergence. Even many companies that don't export supply companies that do, therefore produce their product according to EU regulation. What specific benefits are there to convergence? Silence.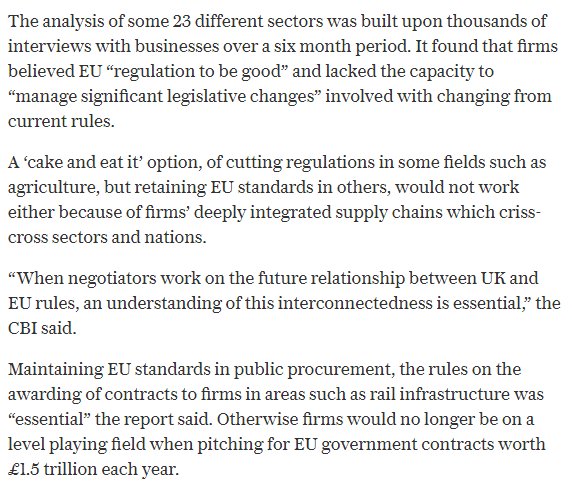 I suspect our participation can be secured if we agree to a more comprehensive agreement, of the kind that the author of this article rejects. E.g. EEA, or a bespoke Association Agreement governed by robust institutional framework encompassing trade, security, cooperation etc


While we're at it, lets get on with developing a uniquely British version of the wheel, how exciting.


Again, wide ranging cooperation such as this required something more than an FTA, which many Leavers and the author wants. Others, including more sensible Leavers, realise this needs to be rolled up into a broader agreement which will include obligations & payments into system


Canada is not enough. That's why we haven't just run with the offer on the table.
politics.co.uk/blogs/2018/04/…


No acknowledgement of the kind of preparation needed for "no deal", it means the erection of very significant trade barriers between UK & EU. Huge investment in infrastructure that would take years to be implemented.
@instituteforgov
on why we're not ready
instituteforgovernment.org.uk/brexit-no-deal…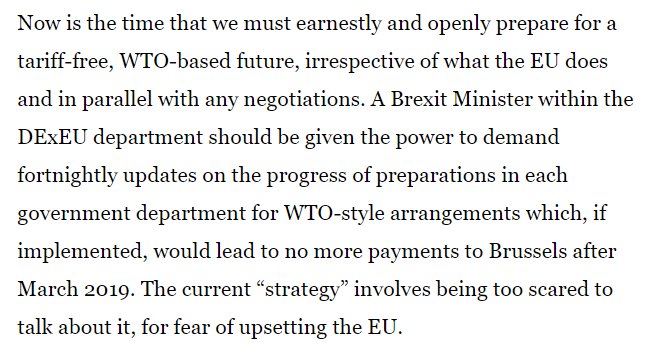 This this ignorance and gross responsibility is why Leavers in parliament are losing control of Brexit. They think WTO rules is a swashbuckling,free trade fantasy. It's anti-free trade, it means a myriad of tariff and non-tariff barriers. It means border checks, costs, delays ets


And, as has been explained many many times before, we can't just hope that under WTO rules the EU will not impose tariffs because it would hurt European economies. It's not as simple as that.
telegraph.co.uk/news/2016/09/1…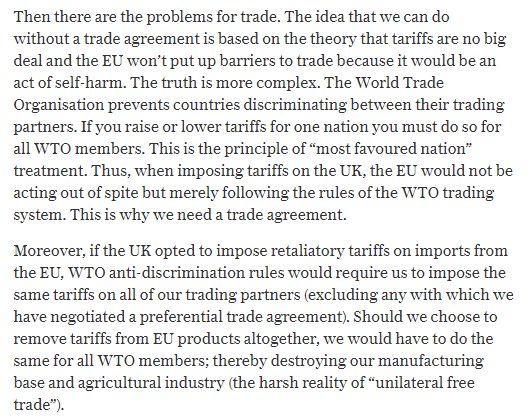 Any in any case, tariffs are not the main issue here.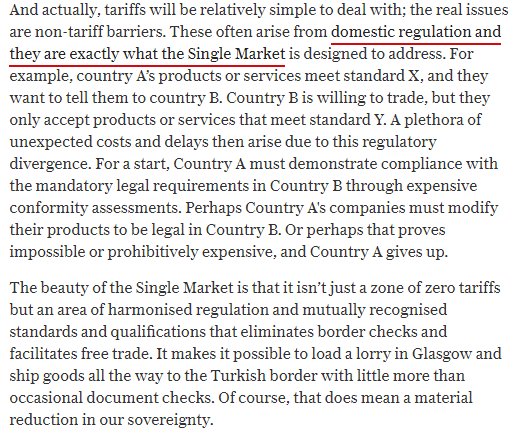 Having called for the UK to revert to WTO rules, he then calls for the UK to break WTO rules by not carrying out any border checks, in violation of WTO most favoured nation rules because we are not in a trade bloc with the EU


The EU have to maintain its side of the Irish border because under WTO rules it must show that it can control the external borders of its free trade area.

WTO rules means the hardest border of all.
Ah, but we could instead unilaterally remove tariffs. This would remove negotiating collateral in future trade negotiations with third parties & imagine the political process as various industries furiously protest the threat from cheaper imports. Good luck! Not so easy.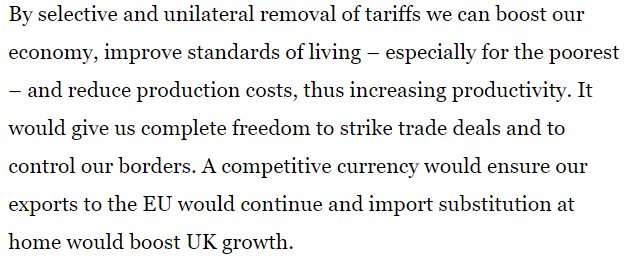 'The EU will come running" and "needs us more than we need them" attitude has worked wonders so far, lets persist.


The EU would, I believe, bite our hands off if we came to our senses and showed a willing to compromise, stop fretting over red lines and banging the table and really get sensible about achieving a "deep and special" partnership. There are ways and mean.
EFTA/EEA is one option or, as I have said, and advocated by
@AndrewDuffEU
and
@guyverhofstadt
- as new agreement tailored to the unique UK-EU relationship. A free trade area, agreements on trade, security & cooperation rolled into an Association Agreement
No. It's time people like this had a bit of humility and showed some willingness to compromise, take on facts and adjust their ideas according to those facts. Not plough on regardless being impervious. The government in in a muddle due to not being free to pursue its objectives


And much of this is due to intransigence from the hardliners of both the Leaver and Remainer side. Brexit can be a success, yes I do think that, but it requires a change of direction.. and if it isn't, people like this author are part of the cause as well.