1.
Study: Sean Hannity spent the last year laying the groundwork for an authoritarian response to the Russia probe
Here's my review of all 487 Hannity segments about the first year of the Mueller probe
mediamatters.org/blog/2018/05/2…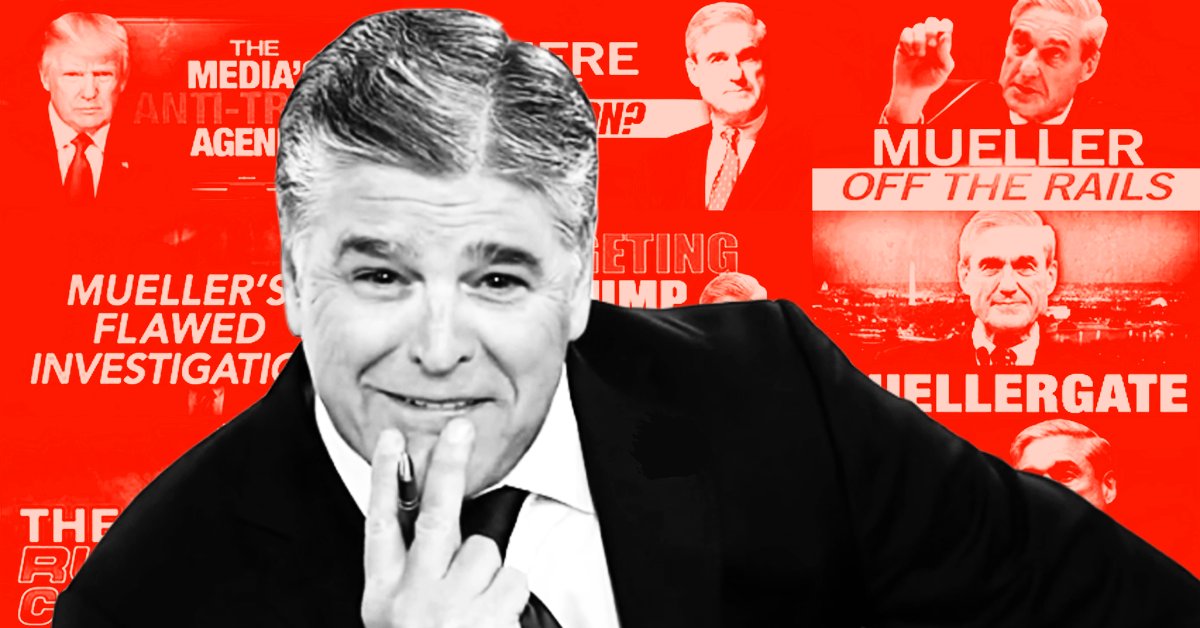 2.
Click through for a lot of great data that we compiled over the past few weeks after reading through more than 2,700 pages of Hannity transcripts from the 254 episodes that aired in the year after Mueller's appointment on May 17, 2017.
I'll talk big picture in this thread.
3.
I've come to believe that if you only watch Hannity, you'll have no idea what Mueller is doing. But if you never watch Hannity, you'll have no idea what Trump is doing.
4.
Trump is both a regular viewer of the show, and, by virtue of his relationship with Hannity, effectively its unofficial producer. Hannity advises Trump on how to respond to the probe; Trump advises Hannity on ideas for his show.
5.
You can draw a straight line from the president's hyperaggressive response to the Mueller probe -- especially in recent days -- to the paranoid narratives Hannity has been weaving about the investigation over the past year.
6.
Hannity's strategy: delegitimize the press, defend Trump from collusion claims, create a counternarrative that targets investigators, and prepare his audience for Trump to take authoritarian steps by ending the probe and demanding investigations of his political foes.
7.
His method is repeating the same talking points night after night, finding ways to claim that all events fit comfortably within his narrative of a deep state coup against Trump. Hannity is an incredibly skilled propagandist.
8.
Hannity wants to delegitimize the probe in the eyes of the Republican base and to give congressional Republicans an excuse to support Trump no matter what Mueller finds.
9.
That's what Trump wants as well. And his talking points against the probe -- the "conflicted" Mueller team, the idea that collusion isn't a crime, the calls for a second special counsel to investigate the investigators -- were all road-tested on Hannity's show.
10.
The result is a very dangerous moment, in which Trump could act on Hannity's entreaties for authoritarian action -- and escape unscathed thanks the unyielding support the host and his allies have inculcated for the last year in Fox's legions of viewers.
Here's the data in shareable form:
Also hats off to my fantastic research assistant
@ShelbyJamerson
, who had to read all of these transcripts too and did a great job with segmenting and coding!