Y'all this
#Apeshit
video has me losing my shit. This moment right here is the fulfillment of my art history degree. Beyoncé's vision and talent is unmatched. Stay tuned for some thoughts.
#Beyoncé
#EverythingIsLove
1)
The visual and lyrical message of
#Apeshit
is that Beyoncé and Jay-Z have MADE IT. They own the motherfucking Louvre which has been and still is a white-centric space with a history deeply rooted in colonialism. Thus, centering black bodies in this space is radical.
2)
The first shot of the duo is in front of the Mona Lisa, the most recognizable portrait in the museum. People from around then world flock to the Mona Lisa to take their picture with her (i.e. next image). Beyoncé (and Jay-Z I guess) is visually asserting herself as Mona Lisa.

3)
This is the easy bit. The full complexity of Beyoncé's vision in addition to her obvious familiarity with the history of art and her place within it becomes clear as the video progresses.

4)
Winged Victory (Nike) of Samothrace, an Ancient Greek statue of the goddess of Victory. Beyoncé's costuming mimics the folds of the statues drapery and positions her as Victory. She is clothed in white, imitating the statue's current bleached state.

5)
Here, Beyoncé once again models herself as a Greek statue, this time the Venus de Milo. However, in this shot she wears a nude bodysuit with wrapped hair, reframing both goddesses of beauty and victory as a black woman. This dismantles white-centric ideals of beauty.

6)
Most of the art featured in this video is from the Neoclassical period, meaning the Napoleonic era. Reminder, Napoleon was the worst and went around colonizing much of Egypt, Syria, etc. This painting is The Coronation of Napoleon by Jacques Louis David.

7)
In this painting Napoleon is crowning his wife Josephine empress, a moment chosen to highlight his supposedly god-given right to rule. "I've got expensive fabrics" is a direct reference to the expensive clothing worn by Josephine and Napoleon for political reasons.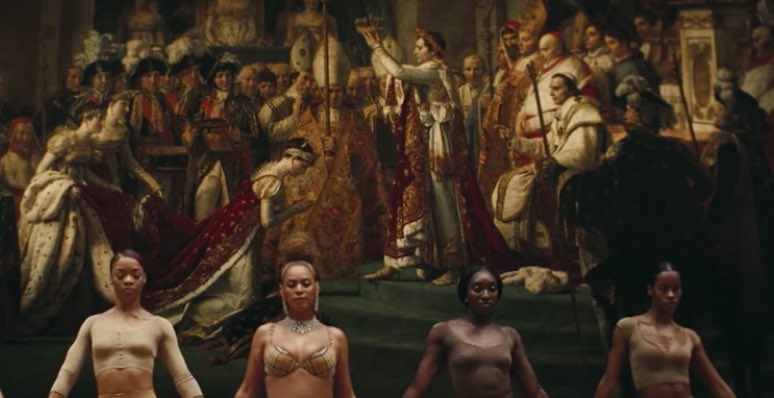 8)
Josephine is clad in fine French silks and velvets and Beyoncé is slaying in Burberry. She's empress and Jay-Z is emperor. However, there is much more depth to that self-modeled comparison because of—you guessed it—colonialism.

9)
Another work by David that is heavily featured in
#Apeshit
is The Intervention of the Sabine Women. I'm going to be brief on this one and just note that (white) female fear evoked by (white) male violence is juxtaposed w/ (black) female empowerment ("get off my dick").




10)
This can be extrapolated as an allusion to historical white violence against black bodies, specifically sexual violence against black female bodies which are centered in
#Apeshit
as beautiful and powerful.

11)
Next we see a celebration of black love in addition to black beauty. Subtext of this image is death (stab wound on chest), specifically the endemic murder of black men due to police brutality and the consistent devaluation of black lives.


12)
This is a portrait of Juliette Récamier by David. She hosted one of the most popular salons in the city and was a brilliant intellectual. However, the styling of these two women is much more similar to Marie-Guillemine Benoist's Portrait of a Black Woman.


13)
Benoist's Portrait of a Black Woman is one of the only portraits of black women in the history of Western art until the 20th century or so. It was completed by a female artist, possibly in support of the abolition movement. Now we have a female creator + black independence.


14)
This is The Raft of the Medusa by Gericault which was a political painting that criticized the incompetence of the Bourbon Monarchy (allusion to Trump?) but also features a black man at the apex of the image as the bearer of hope for those trapped on the raft.



15)
It is also thought that this image is critical of slavery. Jay-Z is obviously juxtaposing himself with the man in Gericault's painting in addition to other clearly problematic portrayals of black men from the nineteenth century which depict them as exotic or animalistic.



16)
At the time this is how black men and women were portrayed and is often their only representation w/in museum spaces.
#Apeshit
highlights this and acknowledges the images of their predecessors while simultaneously presenting blackness as equal to whiteness w/in museum spaces.


17)
Some more overt symbolism that references current events include the comparison between the Discus Thrower and the men who kneel and the spears and the men with raised fists. Here we see allusions to protest against police brutality against unarmed black men and women.




18)
Essentially,
#Apeshit
is not only a brilliant celebration of Beyoncé and Jay-Z's success but a self-aware acknowledgment of their success in the face of historical/current oppression as well as an expression of gratitude to their predecessors who are too often forgotten.

19)
This is apparent in the lyrics
"I can't believe we made it" and "This is what we're thankful for." Beyoncé recognizes and celebrates her accomplishments in addition to the oppression of others in a historically white space, an act which in and of itself is radical.

20)
She is the Queen. Her vision is unmatched. Also she rented out the motherfucking Louvre. What a goddess. Intelligent. Beautiful. Victorious. I will stan forever. I'm going to go listen to the rest of
#EVERYTHINGISLOVE
now. Hope y'all enjoyed the start of my dissertation.✌🏽

Side Note: This is nowhere near close to complete and I would love to hear all of y'alls thoughts on this incredible gift. Feel free to DM me with any thoughts. ❤️
Hi everyone! Thank you so much for all of your comments. I'll be able to respond more fully later today since I'm actually out of the country at the moment. And since y'all asked the CashApp tag is $HeidiHerrera