1/
DEAR DEMOCRATS: Based on 21 states so far, I've concluded that you're *sort of* overplaying your hand re. 2019
#ACA
premium hikes. Let me explain.
acasignups.net/18/07/03/updat…
2/
The talking point being spread among Dems is that "
#ACA
premiums will spike by double digits due to
#ACASabotage
!" The image which comes to mind is of rates increasing by ~20-25% with sabotage vs. perhaps ~5-10% without it, costing unsubsidized enrollees up to $1,000 more.
3/
Now the first part *is* accurate:
#ACASabotage
*is* causing premiums to increase an extra ~12% or so. However, the *specifics* are shaping up to be a bit different than I expected: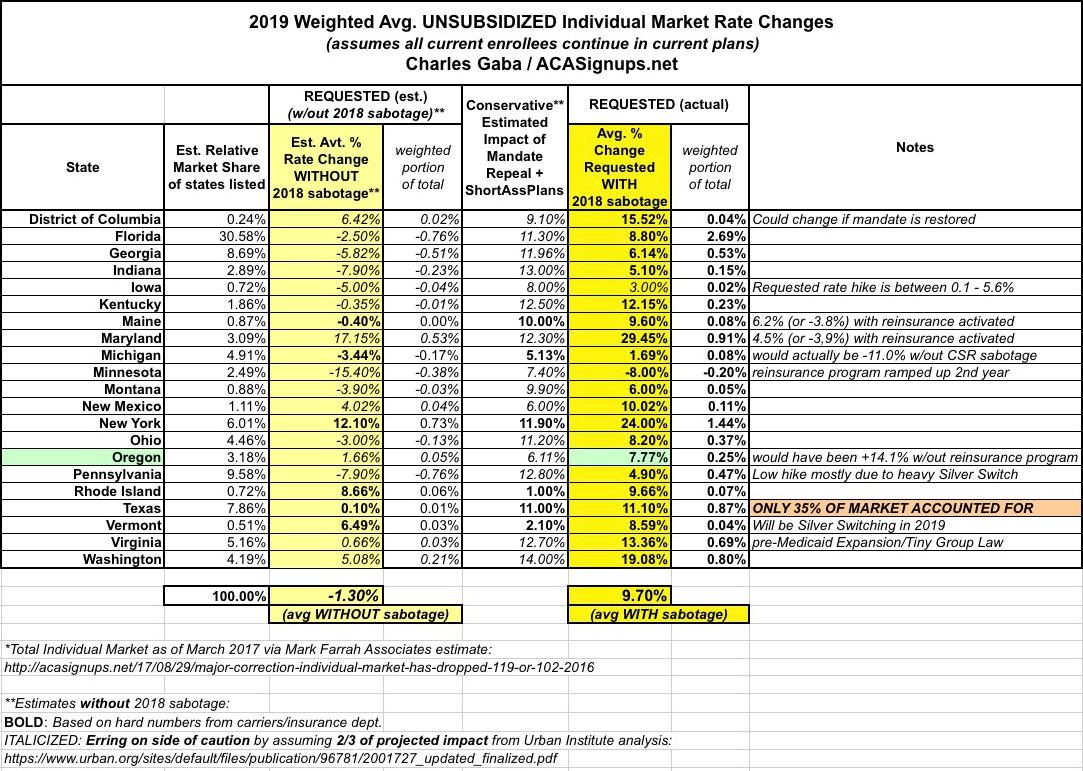 4/
Based on what I'm seeing across 20 states +DC (~40% of the total
#ACA
market), it looks like carriers are looking at roughly ~10% rate hikes *with*
#ACASabotage
…vs. perhaps a 1-2% *DROP* without it.
5/
Now, let me add some caveats: Both the with/without
#ACASabotage
nat'l averages will likely change as more states are added in; some rates will change after state regulators review them (see Oregon); and *some* carriers actually *are* seeking hikes of 30%, 40%, 50% or more.
6/
Having said that, assuming it ends up roughly where it is now (+10% with sabotage, -1% without), the fact STILL remains that unsubsidized enrollees will have to pay hundreds of dollars more each next year due specifically to
#ACASabotage
. Here's how the $ figures look so far: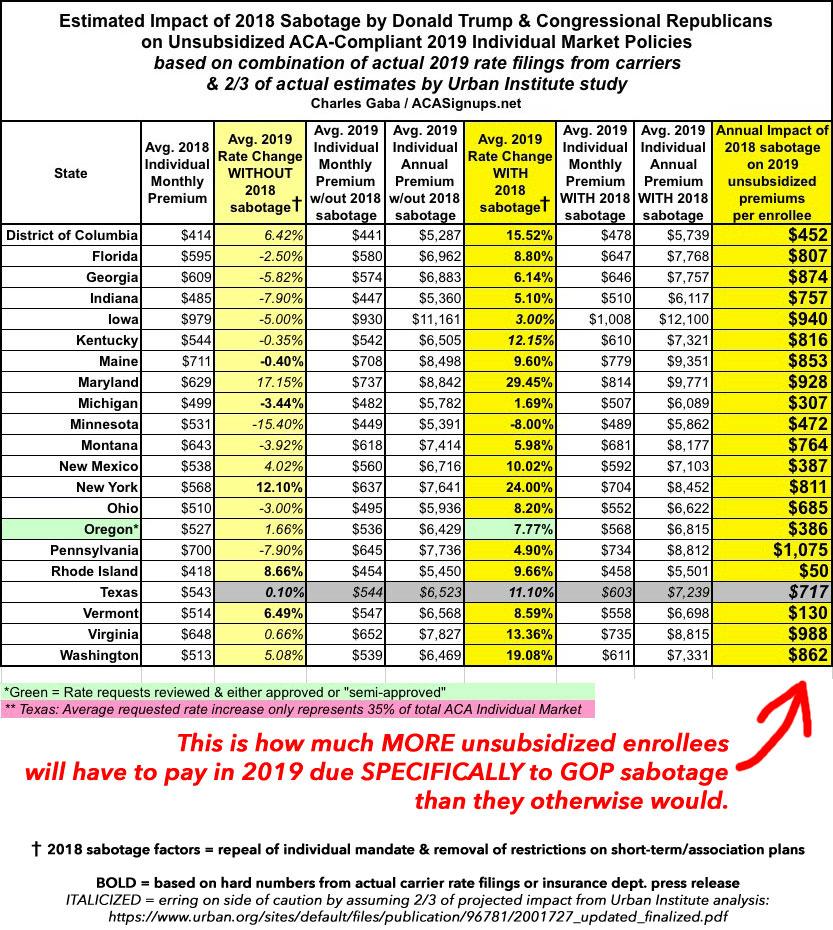 7/
If you pay $600/month this year and your premiums WOULD have gone DOWN $30/month in 2019 without
#ACASabotage
but are instead going UP $30/month due to it, guess what? The impact isn't just $360 for the year, it's $720.
9/
As you can see, they're looking to raise rates by 5.7% next year. However, they're also adjusting their 2019 premiums upwards by 15.5% due to increased morbidity (sicker enrollees). Why is that? "PRIMARILY DUE to the non-enforcement of the individual mandate".
10/
In other words, perhaps 10% of that 15.5% morbidity adjustment is due to the mandate being repealed (which happens to be exactly what the CBO is projecting nationally). Remove that and their premiums would be DROPPING 4-5% instead.
11/
Here's another example: Minnesota. Thanks to MN's reinsurance program (every state should have one!), 2019 premiums are actually DROPPING about 8% next year even WITH
#ACASabotage
…but if you remove the sabotage factors, they'd likely drop even MORE:
acasignups.net/18/06/15/minne…
12/
Now, the
#ACASabotage
factor ranges widely from state to state, carrier to carrier and even plan to plan for a variety of reasons. Rhode Island is looking at a pretty nominal impact: BCBSRI isn't adding any sabotage hike, while Neighborhood Health is only tacking on 1.9%.


13/
Why is this? Hard to know. Every carrier has different internal factors. Some states are fighting back (for instance, DC, along with New Jersey, is restoring the mandate next year, so DC's rates will probably be refiled later this summer…NJ hasn't submitted theirs yet).
14/
Maryland should be interesting—they're looking at nearly 30% hikes with
#ACASabotage
, likely 5-10 points lower without, but also expect to implement their own reinsurance program which *should* knock that down to mid-single digits in the end.
15/
Even WISCONSIN (yes, Scott Walker's hard-GOP Wisconsin) is supposed to be launching a reinsurance program to chop rate hikes down to size. If so, that's awesome…but that's SEPARATE from
#ACASabotage
, which will STILL tacks hundreds of $ onto unsubsidized enrollee costs!
16/
Anyway, try to keep this thread in mind this fall when the FINAL, APPROVED 2019 rates are rolled out and Trump inevitably starts trying to make fun of Dems for "much ado about nothing" since rates are "only going up single digits for the first time" in some states, etc etc.
17/
Oh, one more thing: Remember, adding 10% to $600 is the same as adding 20% to $300 in terms of the extra dollars you have to pay, so don't let "only going up by single digits!" fool you this fall. /END