Brother, you're feeding your porous readers their favorite meal. Between yesterday and now, you've authored so many threads and tweets just to sully
@bukolasaraki
. Since "corruption" is the most deceitful thing to package
@MBuhari
and deride Saraki, I'm taking you up on this.
First, the statement below is both fad and facade. You
@AdeBanqie
said:
"Buhari forwarded *some* Anti-Corruption bills to NASS. However, as I write, they have not been passed."
Did you intentionally hide the number of those bills forwarded by
@MBuhari
to
@bukolasaraki
? Fine.
While it's plausible that the Bill for Special Corruption Court would help hasten prosecutions, the bill is just one of the 12 others, which are more imperative in far margins.
@AdeBanqie
, let's see what bills are most crucial to anti-corruption. Did
@bukolasaraki
pass them?
"It was noted that of the 12 Bills, only two were aimed at enhancing the anti-corruption crusade of the government."
1.
Mutual Assistance in Criminal Matters Bill.
2.
Money Laundering (Prevention and Prohibition) Act
STAUS: Passed by the clog
@bukolasaraki
&
@nassnigeria
.
In fact, it was written in gold by
@PremiumTimesng
that
@NGRSenate
finally passed
@MBuhar
's anti-corruption bill.
Please, check
@AdeBanqie
.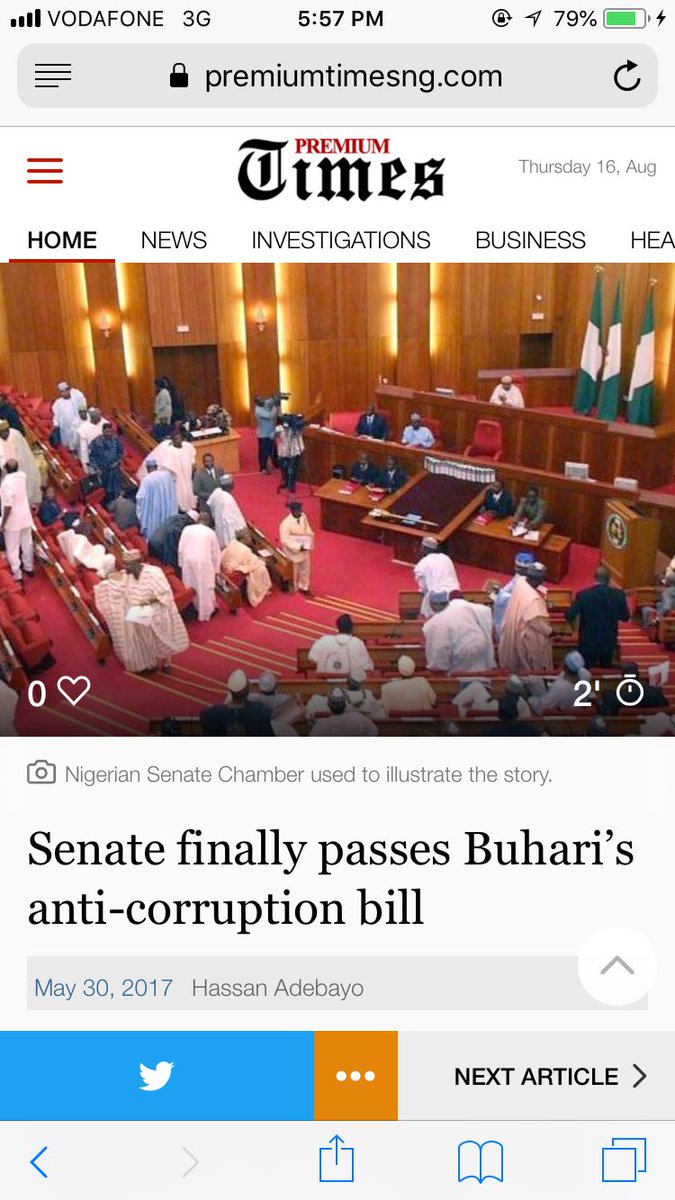 @PremiumTimesng
: The Nigerian Senate has passed an executive bill proposed to enlist international assistance in the country's efforts to tackle criminal matters, including money laundering, asset acquisition from proceeds of corruption and other forms of illicit financial flows.
The bill on money laundering (passed by
@bukolasaraki
's
@NGRSenate
) must really be a clog in the wheel of
@MBuhari
's anti-corruption war.
Besides, the Senate passed four other bills in support of the anti-corruption agenda. Check next:
1.
Witness Protection Bill.
2.
The Whistleblower Protection Bill.
3.
Federal Audit Service Commission Bill.
4.
The Nigerian Financial Intelligence Unit Bill (NFIU.
The amazing thing is that these bills were sponsored by individual Senators (clogs) as private member bills.
You wrongly decry that
@bukolasaraki
buried anti-corruption bills. Did you know that?
The Money Laundering Bill was withdrawn by the executive due to reported disagreement between the Office of the AGF/Minister of Justice and EFCC Chair, Magu.
They ain't clogs, right?
Okay. No worries.
@bukolasaraki
is the sole target. The good news is,
The Money Laundering Prevention and Prohibition Bill was passed by the lawmakers on 30 May, 2017.
Note: It was passed by the clog.
Read here:
premiumtimesng.com
Besides, the Whistle Blower Protection Bill is one of the best contributions of the
@bukolasaraki
's
@NGRSenate
to the
@MBuhari
administration. Nigerians know how much the govt has recorded thanks to
#WhistleBlower
. Yet, Saraki is a clog.
Wow! We'll be be alright "lass lass."