THREAD on
#Russia
/n Orthodox Church (ROC) breaking off "eucharistic communion" w/
#Constantinople
Patriarchate.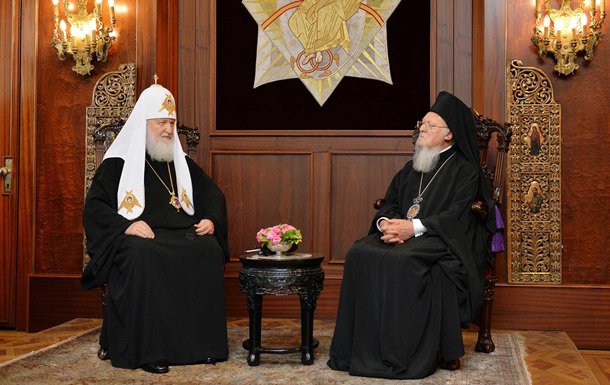 1.CAVEAT: I don't claim to be an expert in church relations but being Orthodox Christian & working on
#Russia
-related politics/policies I feel entitled to share few of my own observations esp in the face of mounting ignorance or propaganda from some of the usual "Russia watchers"
3.On A:Patriarch Kirill,73,couldnt 've raised to the ranks in the system @ the time w/t cooperating w KGB-rule of thumb all"Eastern bloc"pol/social leaders had to follow. It MAY 've left some imprint on how he sees things,does stuff but aint makes him wrong by default in his case
4.On B:Similarly,no powerful religious orgnztn in the world free of political ambitions and/or has some kinda rels w/ gov/serves cause of national gov.Many Protestant denominations serve as"soft power"tool of American values/lifestyle.Catholic,Islam,Judaism do their polit thing
5.On C:Conflict been brewing there long before RUS-UKR war in 2014, as UKR authorities see church independence as integral element of national independence,.For them the issue 100% political, pushed from above. For RUS it too is political but also civilizational..
6.
..ROC feared the divide among people (to be fair it also cared for property). Now,thanks to Bartholomew decision, RUS-URK are on verge of new violent clashes for this property, And yes,high chance they'll get violent.Those who sought to fuel fire of conflict in UKR - good move
7.IMPORTANT:
#Russia
/n Orthodox Church didnt severe ties w/ rest of
#Orthodox
world but with
#Constantinople
that seeks to play
#Ukraine
nationalism card to augment its influence in East European segment.
9.NOTE::
#Constantinople
Patriarchate-emasculated, symbolic,
#Turkey
-dependent body claiming hereditary to Byzantine [Eastern] Church
#Moscow
Partiarchate-the biggest,the richest Orthodox church (70+ million people) giving hundred thousands of pilgrims,donations to ORTHDX churches
10.Hopefully, other Orthodox churches won't be pushed to chose b/n
#Moscow
&
#Constantinople
for it will deteriorate the schism - if the two sides care about preservation of remnants of Orthodox unity, personal pride of Patriarchs should be humbled.
11.Modern RUS Orthodox History much more nuanced than what those who talk about it using Wikipedia notes think. The history is full of ups and downs.
A;
#Moscow
&
#Constantinople
already halted their "Eucharistic communion" for a few months in 1996 over Estonia.
14.
Internationally, Church of Antioch broke off "eucharistic communion" w/ Patriarchate of
#Jerusalem
in 2014 over small Orthodox community of 100 people in
#Qatar
. Today's events while much bigger in scope significance are no "historic precedent."
orthochristian.com/70416.html
15.
INTERNAL DYNAMICS within ROC against this background is huge: Liberal wing is temporarily silenced. Conservative wing hails the breaking of ties as a moment when Moscow becomes "a third Rome". Here's what the concept means for
#Russia
rbth.com/arts/history/2…
16.The decision to break off "eucharistic communion" is serious but not final - Bartholomew is not anathematized either named heretic,no penalties for churches who continue their own communion with
#Constantinople
.
17.RUS experts on the matter note that ROC positions itself globally as more conservative institution that
#Constantinople
but doesnt want to look too reactionary for it's important for its rels w/ Antioch church (its main partner in Mideast) as well as Protestants and Catholics