Someone should really tell Republicans to buy their domain names before someone else does. 🤣
Here are all the ways
#ME02
@BrucePoliquin
has lied about his stance on saving the ACA, including coverage for pre-existing conditions. Let's have a look.
1/
brucepoliquin.com/health-care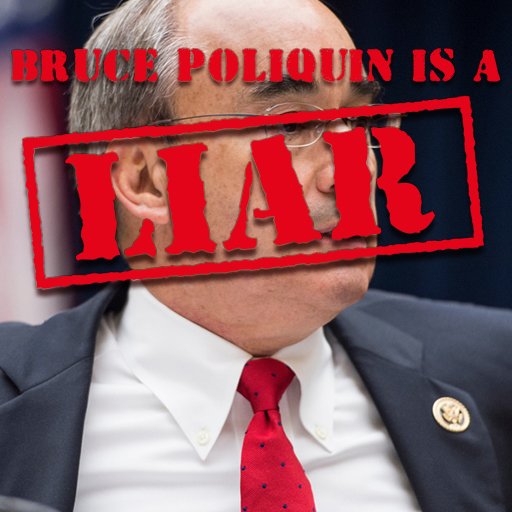 Sadly, Bruce's efforts are not always appreciated by the hoi polloi. That's why he is tragically forced to lie about his many attempts to vote down affordable healthcare. (Here he is running away from a mean old lady when she asked a totally unfair health insurance question.) 4/
He's even forced to declare that he wants to protect Mainers with pre-existing conditions, despite having repeatedly voted to do the opposite. 5/
sunjournal.com/democrats-zing…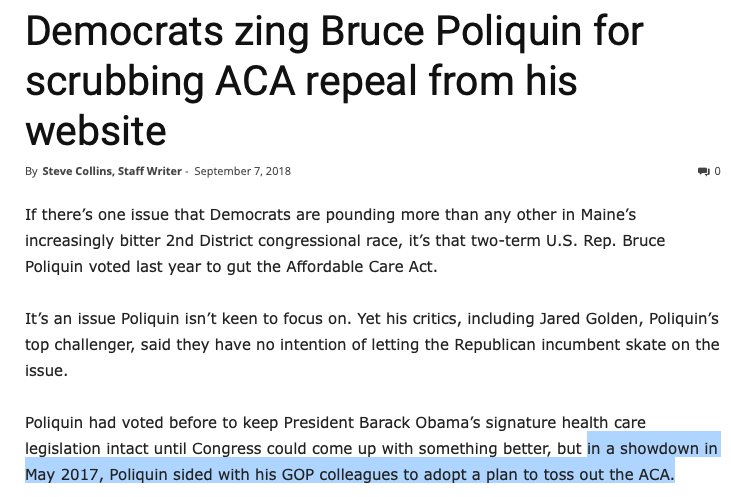 Bruce has an unassailable point here: if you want your family to have the same sort of access to healthcare as Bruce's son, all you have to do is be a millionaire fund manager like Bruce. Get to work slackers! 7/
opensecrets.org/personal-finan…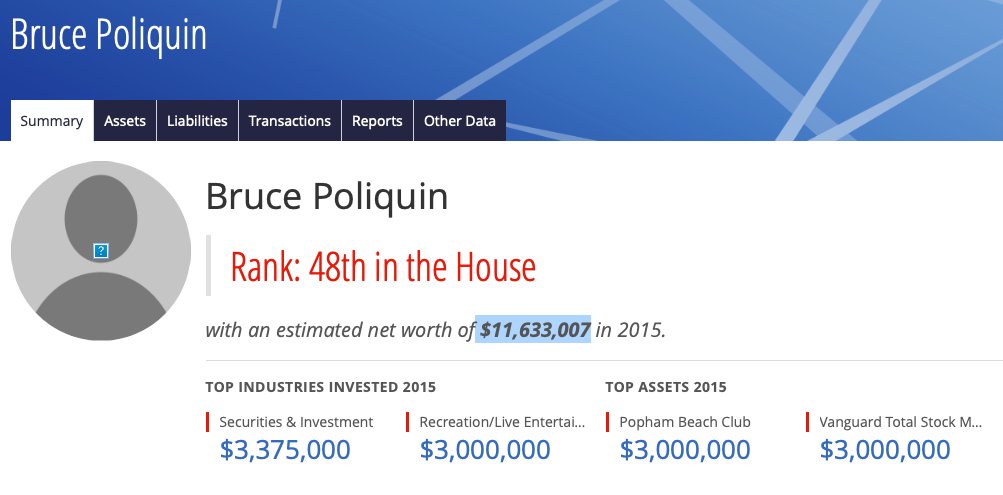 Bruce cares about affordable housing, too - or, more precisely, about affording his own house. He paid a mere $21 in taxes on a $2 million dollar beachfront home, simply by redefining his valuable property as being worth less than it is! 8/
pressherald.com/2016/08/03/u-s…
Bruce loves fiscal responsibility; he even lectured on it at a Tea Party conference. Speaking of budgetary policy, Bruce knows that when it comes to how you handle other people's money, you can care too much about discipline. 9/
americanprogressaction.org/issues/default…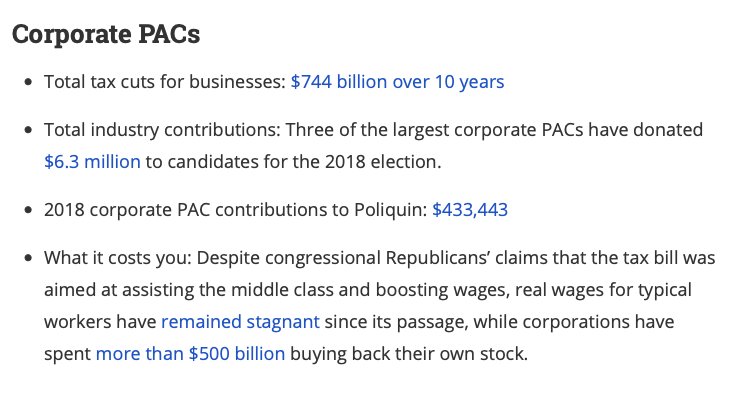 That's why he voted for a deficit-expanding tax cut for corporations and his fellow multimillionaires that blew a hole in the nation's budget and added a trillion to the national debt - all without producing the promised economic boost. 10/
americanprogressaction.org/issues/default…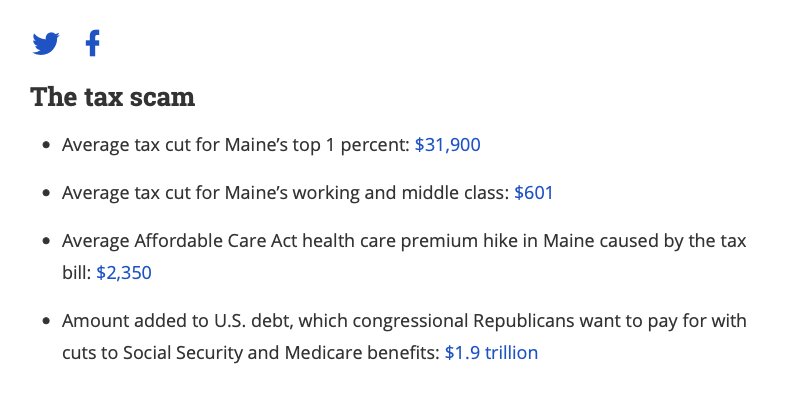 Beyond caring about lining his own pockets while picking yours, Bruce even finds the time to care about his opponent, a Marine Corps veteran named Jared Golden. Bruce found it in his busy schedule to criticize Jared's unsightly tattoos. 12/
Did Bruce Poliquin vote to remove protections those with pre-existing conditions, on Medicaid or getting up there in age? Let's get the truth - and to make it interesting - let's get the truth from a number of different Republican or non-partisan sources.
14/
What did Republicans who voted against that bill say? Did they believe the bill protected Medicaid participants, older Americans, and Americans with pre-existing conditions?
15/
Republican Source #1 : Congresswoman Ileana Ros-Lehtinen from Florida said:
"The proposed high-risk pools will make it more challenging to cover sick individuals and those with pre-existing conditions." 16/
ros-lehtinen.house.gov/press-release/…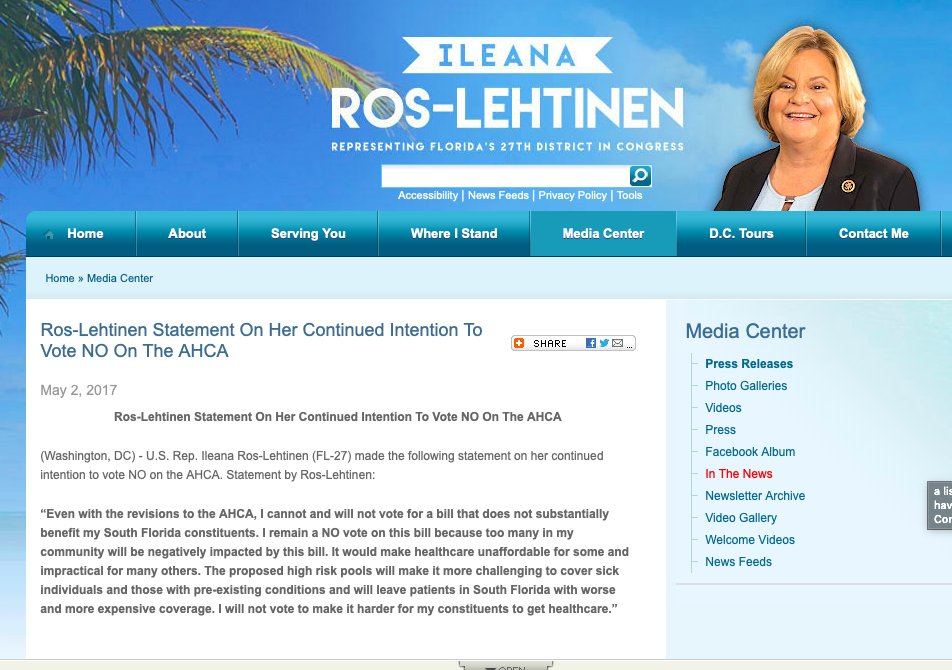 Republican Source #2 : Republican Congressman Charlie Dent from Pennsylvania said the bill would "undermine important protections for those living with pre-existing conditions." 17/
lehighvalleylive.com/news/index.ssf…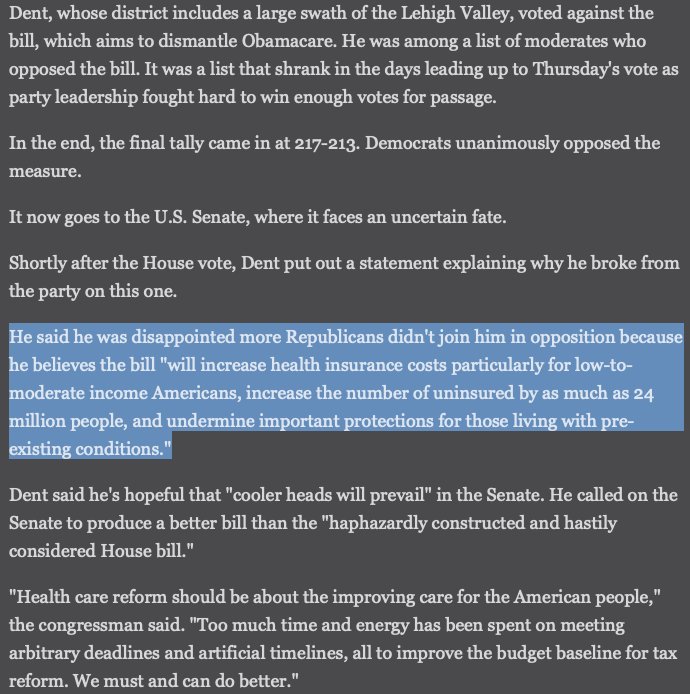 Republican Source #3 : Ryan Costello said "I pledged to my constituents that protections for those with pre-existing conditions without contingency and affordable access to coverage were benchmarks that needed to be satisfied."
costello.house.gov/media-center/p…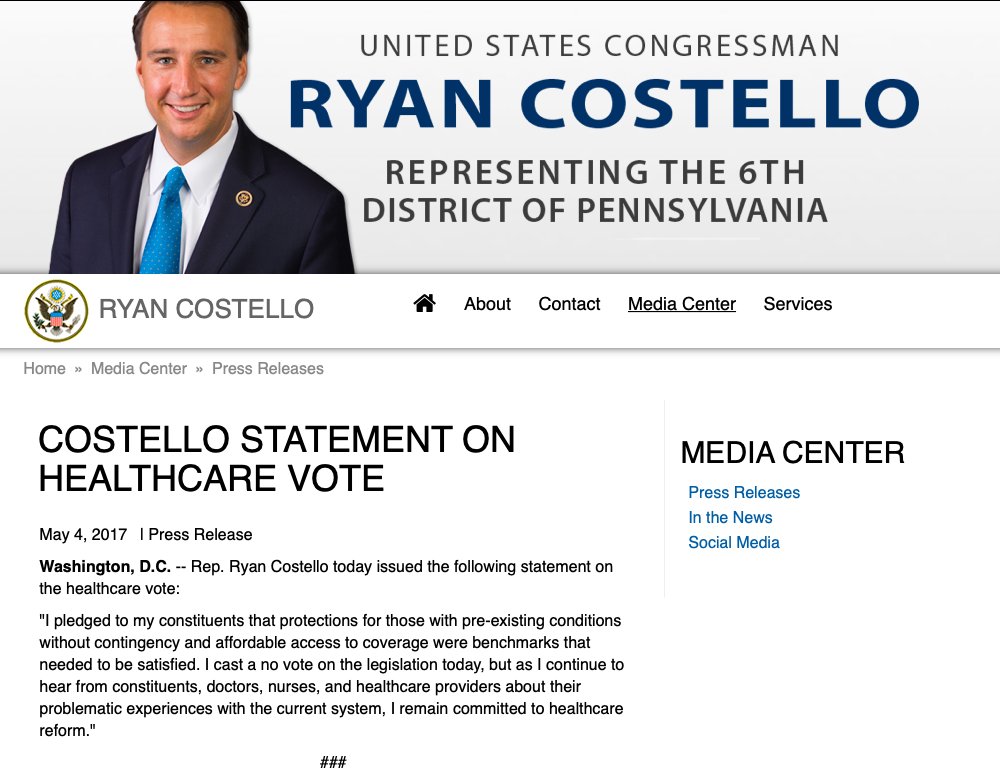 Republican Source #4 : Republican Senator Rob Portman of Ohio said that the health care bill Bruce Poliquin voted for: "does not meet the test of stability" for people who rely on the "safety net" of Medicaid.
And there are so, so many more examples to choose from, but here's the best one:
Republican Source #7 : Donald Trump said that the bill Bruce Poliquin voted for was "mean."
It was too mean for Trump, but Poliquin voted for it anyway. Tsk tsk!
For much, much more, visit
brucepoliquin.com
, and while you're at it, check out the folks who put together the research that went into this thread, Citizen Strong.
citizenstrong.org