My new visual reconstruction of
#Maidan
massacre in
#Ukraine
& bullet holes locations shows that snipers from Maidan-controlled buildings and not Berkut police & government snipers massacred Maidan protesters. View is from Berkut barricade spot.
#Майдан
#Майдан_5
#Майдан_5років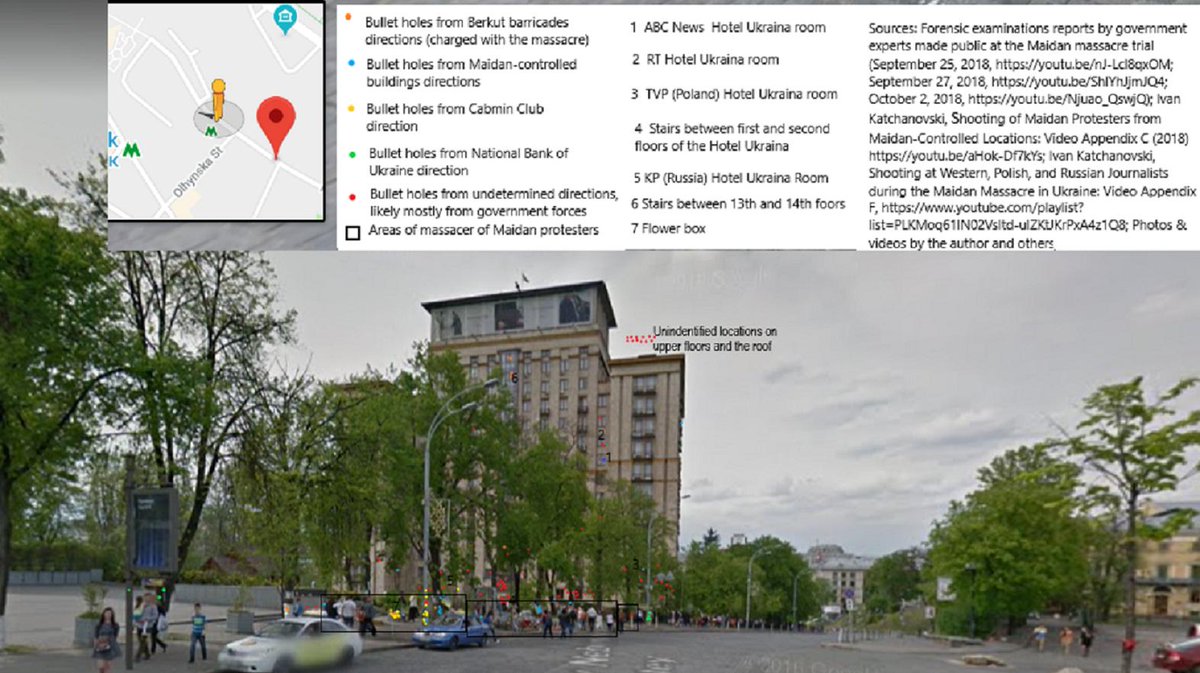 Bullet holes, which were identified in government forensic expert reports, videos & photos, as being from directions of this Hotel Ukraine & other Maidan-controlled buildings are within the massacre area, locations, height and directions of shooting of the Maidan protesters.
Visual reconstruction & bullet holes locations show that Berkut police & Omega snipers did not target Maidan protesters because of lack (0 in forensic reports) of bullet holes on 1st floor of Hotel Ukraina behind several dozen protesters who were killed & wounded in that area.
The top of the Berkut truck barricade and Berkut policemen with Kalashnikovs behind the truck point to the middle of the 2d floors of the Hotel Ukraina. This is consistent with dozens of bullet holes on this floor & above but not below in government forensic examination reports.
Policemen, who were filmed shooting from behind top of truck barricade, were charged with killing & wounding Maidan protesters even though these victims were below line of police fire there. This is why investigation in Ukraine for 5 years did not determine bullet trajectories.
This new video appendix shows shooting at American, Australian, British, German, Polish, and Russian journalists during the Maidan massacre in Ukraine on February 20, 2014.
This court decision, Maidan memorial construction completely changing landscape & failure to conduct investigative experiments 5 years after the massacre are consistent with my APSA study finding of cover-up & stonewalling of
#Maidan
massacre investigation
apsa2018-apsa.ipostersessions.com/default.aspx?s…