Is this a joke? A fraud? It falsely lists the Mueller Report as being available to the public on March 26, and falsely represents that we know now—which we don't—whether any of the report will be public. I'm surprised Amazon is allowing this obvious scam.
amazon.com/Mueller-Report…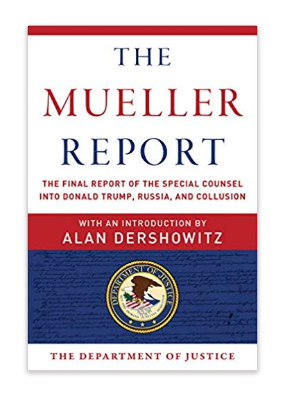 1/
Understand that to the extent this book seeks to get Amazon users' cash for a product that may never exist—and *certainly* won't be available within *months* of when it advertises—this project to discredit Mueller being spearheaded by someone who has advised Trump,
@AlanDersh
.
2/
This is Team Trump's first assault on the Mueller Report, which is to have an ally—someone who advised Trump, and has socialized with him and friends of his (e.g. Epstein)—smear the report with an "introduction" to it presumably written *now*, before the report even comes out.
3/
By putting a date certain (March 26) on the book—a fake date that's preposterous in no small part because the content of the Report will be litigated for months before it reaches the public (if it ever does)—Trumpworld is also trying to build public impatience for the Report.
4/
This is an improper use of the Department of Justice seal, the name of the Department of Justice as an "author" of the text—again, a fanciful text that doesn't exist—and should be treated as domestic disinformation perpetrated by one of Trump's legal advisers. It's a scandal.
5/
Were I
@DOJ
—and if a publisher and
@AlanDersh
were representing to the public that I would be releasing to the public *by March 26* a document that I in fact have not at all decided whether I will release—I would be contacting Amazon to have this false advertising eliminated.
6/
@washingtonpost
also has an edition of the "Mueller Report" due for "release" on March 26, which is also, and for the same reasons, a scam. I'm amazed that any journalist would be involved in something like this. We have no idea when the report will come or if it'll be public.
7/
To
@washingtonpost
I'd say, this is why America increasingly despises the media. To
@AlanDersh
I'd say, this is why America already hates lawyers.
The very existence of this scam "product" misinforms the public about the timing and accessibility of the report. It's sickening.
8/
I appreciate that Amazon sometimes sells problematic products—e.g. digital summaries of books already for sale on its website—but this is different. This is a product that *may never exist* that's *taking people's money* while *falsely declaring its date of availability*. WTH.
NOTE/ This fraudulent book is even worse than I've already said above—as Attorney General Barr has made it very clear that what would be released to Congress (and thus to the public) *if anything* at some *distant future date* is *not* the Mueller Report but Barr's summary of it.
NOTE2/ *All* public reporting says Mueller's report won't be released to the public: that Barr will summarize it and that *at best*—somewhere *down the line*—the public *may* see excerpts of it. So it's not possible for *anyone* to legally—in good faith—market a "Mueller Report."
NOTE3/ So all one has to do is look at the cover of the "book"—which says that the book contains Mueller's "final report"—to know that not only the *date* of the book's "release" but even its representation of its *contents* is a scam. Amazon has to take action here immediately.
NOTE4/ Imagine it's late-ish 2019, and Barr's ready to release his *summary* of Mueller's work to the public—many months after possibly tens or hundreds of thousands of Americans have paid to buy Mueller's "final report." The book's false advertising becomes political propaganda.