(1)
James Shaw, co-leader of NZ's far left Green Party was attacked today by a man now in Police custody. Shaw is reportedly uninjured.
I detest political violence of ANY kind. I hope this incident is not used to portray his peaceful opponents negatively.
#NZpol
#jobsnotmobs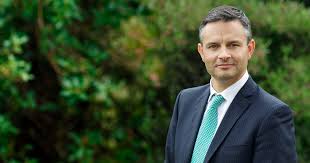 (3)
When a politician is assaulted or murdered, today's already insane media environment goes completely off the deep end.
It does not matter who the person is or what they believe. Violence is wrong, and it is bad for the country.
And, lying about it is bad for the country.
(4)
Lying about political violence is bad for a country in so many ways.
All our countries are vulnerable to this kind of harm, but in New Zealand there is a spectacularly high level of apathy about everything, including the risk of terrorism.
NZ has been lucky so far...
(5)
I spent many years walking the streets of the capital, Wellington, to and from work, just like James Shaw MP does.
I've lost count the number of MPs I've passed on the street, even stood and chatted with. There's never any security around them, unless they're at the top.
(7)
James Shaw MP is a party leader in the government (there are 3 parties in coalition at the moment.) I think they should all be offered 24/7 protection but I'd bet money he will turn it down.
Because complacency is a core value for many New Zealanders. Oh well, his risk.
(8)
See why I want to move to the great USA?
The lack of foresight, rationalism and, frankly, ambition here is stifling. Thankfully, there is a growing group of likeminded, positive, conservatives in NZ and we keep each other sane.
(9)
I wish Mr Shaw all the best as he recovers from the assault, and I wish him well. Because I am a good person.
His far left policies are destroying my country but hey, we have an election in 2020.
#MNZGA
#MUKGA
#MAGA
Read more from me at
social.quodverum.com/@godlessnz
(10)
Update to thread on the assault on James Shaw MP, a politician in New Zealand:
Today we will learn more about the alleged attacker as he appears in court. And, I've learned pols have even LESS protection than I thought. It's insane.
#nzpol
stuff.co.nz/national/11127…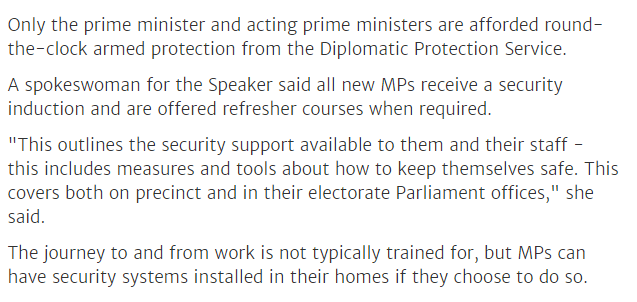 (11)
That's right, in NZ only the PM (or acting PM) have personal Police protection as a matter of course. It's a country of 5 million people but so often we act like it's a pleasant little farming village.
In Canada & the UK, jihadists have stabbed & killed individuals.
(12)
Since yesterday's assault on James Shaw MP, his colleagues have all said it would be a shame if they needed personal security.
Wake the f*** up.
You need it and if you're smart you'll ask for it. Or at least you'll stop wearing headphones while you walk to work, alone.
(13)
I'm not even a politician but I know better than to wear headphones while walking in the city. Mainly I'm worried about traffic but there's always the chance of being mugged or worse. There are many such attacks in Wellington.
nzherald.co.nz/nz/news/articl…


(14)
In the above story you'll read that all MPs are given security training, which I'm sure includes
#SituationalAwareness
. We ALL need that training for ALL the times we go out in public. It can save lives.
Not blaming Shaw ofc. j/s.
NZ's MPs in general are too complacent.
(15)
Hand-wringing about the fact of violence may make a person feel better but it does nothing to actually address that violence.
You can't prevent it all. But you can try to protect yourself, and as MPs you CAN make the laws tougher on crime, and the Police properly funded.
(16)
If this alleged attacker gets convicted, then I hope the sentence is harsh (and/or the secure mental health treatment effective.)
Attacking an MP needs to have a harsher penalty bc it affects more than the person who is attacked. It undermines democratic freedoms.
(17)
When a group of people with shared political views feels threatened with violence bc of them, they are less likely to speak up and campaign for those views.
Despite the anti-conservative double standard worldwide, I will speak up regardless of who is attacked.
(18)
Today it's a socialist MP who was attacked, tomorrow it could be a conservative MP who is attacked. Like American conservative Rep Steve Scalise and libertarian Sen Rand Paul were. Heinous, life threatening attacks. Very weak sentencing in the latter case.
(19)
Hot off the presses: Shaw has a suspected (likely, IMO) fractured eye socket.
Owww, that is a super painful injury to have. Risk from a fracture near the eye and the brain are serious. I think he'll be fine but this could have been a lot worse.
nzherald.co.nz/nz/news/articl…
(20)
Medical info: They call it a suspected fracture if they've seen something on x-ray and not yet had a consultant review it and/or done an MRI. My concern is that a punch to the face that hard can cause a mild concussion/TBI. I hope Shaw takes time off to rest.
(21)
And here is the man himself. It's Friday afternoon, Mr Shaw. Please take the rest of the day off... set a good example to others. There are no prizes for soldiering on!
#nzpol