So China's MacMines shelves its decade long development of its Galilee Coal project, China Stone. A $6.7bn high ash, low energy (HALE) thermal
#coal
export proposal.
abc.net.au/news/2019-05-2…
by
@LGartry
Why? 🇨🇳 is moving to decarbonise & transition its economy as fast as it can. China is the world's biggest producer, consumer & importer of coal. But China's coal consumption peaked in 2014. 🇨🇳 will probably cease thermal coal imports medium term, relying on their domestic mines.
China just announced a 21GW subsidy free wind &
#solar
tender, for construction completion by next year. Grid parity for renewables in China by 2020. That is well ahead of target. Zero pollution, zero emissions domestic production.
bloomberg.com/news/articles/…
by Feifei Shen
@business
But surely
@AdaniAustralia
knows something we don't, right? No. What Adani knows is that like 🇨🇳, 🇮🇳
#RenewableEnergy
is the low cost source of new supply of electricity. Adani published this chart last week. India's
@narendramodi
is 100% committed to low cost domestic solar.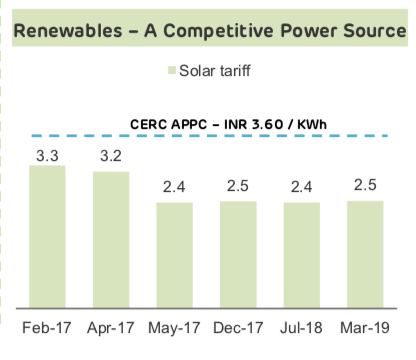 So why would Adani proceed with Carmichael? If you can wangle enough subsidies & law changes across 🇮🇳 & 🇦🇺 + get a $400m pa diesel fuel subsidy, free carbon emissions, free water & offload expensive dirty power onto the poor of Bangladesh & Gujarat, Adani will make money for #1.
Far better 🇦🇺 focus on developing industries of the future. Like Wesfarmers is doing with its pivot away from
#coal
into the rapid growth fields of lithium & rare earths. Investing in downstream processing of Australian resources before they are exported.
wesfarmers.com.au/docs/default-s…
And
@BHP
has made it clear as well this week, it is overdue time for Australia to move on from thermal coal. This is very different to high value coking coal for steel production. Thermal coal is no longer of interest, according to BHP.
afr.com/business/minin…
by Peter Ker
And Mizuho Financial Group 🇯🇵 this week tightened its lending for coal power plants, following MUFG last week, acknowledging the need to decarbonise and move away from reliance on thermal coal. 112 globally significant financial institutions have moved.
nikkei.com/article/DGXMZO…