THREAD: DISABILITY INCLUSIVE DEVELOPMENT (DID)
- RESEARCH & INNOVATION
@RClarkeDFID
tweeted this week about
@LSHTM
innovation to help people with disabilities access quality eye-tests (huge unmet need).
bit.ly/2QRnlnD
Want more on
@DFID_Research
's new work..?
1/14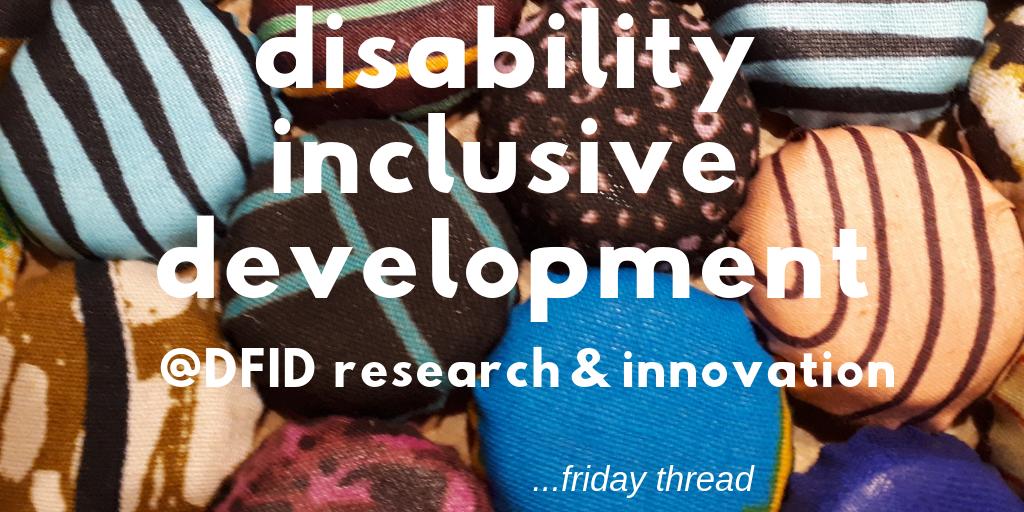 DFID has long supported DID research - starting long before DFID was DFID.
If you like your research methods 'old skool' head back to 2001 (SocSci&Med) for ODA-funded research on Community Based Rehabilitation (CBR) in urban India in '90s....
bit.ly/2wGKCj2
2/14
....ancient history but focused on a pressing need to evaluate <quality> & <effectiveness> of DID services (e.g. compare goals of service users with those of providers; & whether goals were met).

In 2019... Quality/Measurement/Effectiveness are still pressing questions...
3/14
Before 2018
#GlobalDisabilitySummit
@DFID_RED reviewed our DID research / innovation work. As earlier with
#VAWG
, we saw good research describing experience/challenges/activities - but a gap on effectiveness/impact.
As in VAWG, we knew too little about 'What Works?' 4/14
MAP THAT GAP ?
@DFID_Research
commissioned an <Evidence Gap Map>
bit.ly/2PpQl4v
by
@campbellreviews
@LSHTM
@CEDIL2018.
This 'effectiveness map' trawled for research/evaluation that measured effects & impacts.
Like many such maps, it found gaps... 5/14
...BIG GAPS!
Few interventions had been tested for impact (>100 studies on health interventions/outcomes; 30 on Education; few in livelihoods or social inclusion; virtually none for empowerment).
There were big geographic gaps - particularly for sub-Sahara Africa.
6/14
New Programme! <PENDA>
'Programme for Evidence to iNform Disability Action' (& 'love' in kiSwahili)
PENDA targets 'what works' to improve well-being & inclusion of people with disabilities.
Led by
@TommyShakes
&
@hannahk1974
at
@ICED_LSHTM
See
bit.ly/2HZP2I6
7/14
PENDA will deliver 10 new impact evaluations (mainly Africa); develop measurement tools for 'What Works' in DID; & help build capacity of people with disabilities in global south – including to do research.
PENDA consortium
@CBMworldwide
@adduk
@HelpAge
@ICED_LSHTM
8/14
New Programme! <AT2030>

Challenge: 1 billion people worldwide need some form of Assistive Technology (AT) e.g. eyeglasses hearing-aids prosthetics orthotics, personal digital devices & wheelchairs. Only 1 in 10 have access to the AT they need - including basic spectacles. 9/14
we have just discovered @ThreadReaderApp unroll - turn your twitter threads into a thing that looks very nearly but not quite like a Blog (ie text all in 1 place)