Who knew a time would come when PROROGATION would be so topical?

Well, settle in, because I have a little story from New Zealand's former province of Marlborough that might just make the UK look amateurish in the art of improper prorogation. (Thread, 1/19)
Between 1853–76, New Zealand had a quasi-federal system of provincial governments beneath the central parliament. There were 6 provinces at first, ultimately 10. I wrote a book on them, which I hope you might consider buying. This story is from chapter 6.
otago.ac.nz/press/books/ot…
Marlborough had two main Pākehā settlements in 1859. Blenheim was largest; wealthy pastoralists owned houses in Picton, which had the best harbour. Both were small, only a few hundred people. It might seem absurd that a province of >1,500 people got legislative powers—but it did.
I must pause here to note that Blenheim was, at this time, known as The Beaver. I promise you I am not making this up.
Picton had no facilities to host a legislature in 1859, but it was proclaimed capital anyway. Here's a Charles Barraud watercolour c. April 1860 (
@NLNZ
B-006-018) that suggests how small it was.
Blenheim (or The Beaver) was... not happy about this.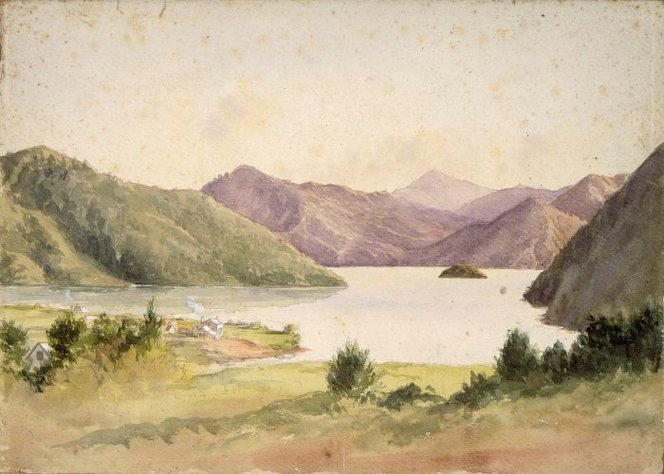 The first council met by necessity in Blenheim from April 1860. Blenheimites hoped to keep the government, but the Picton faction had a majority in the council and, once facilities were ready, moved its meetings to Picton in 1861. From here, things got a bit nuts.
Baillie knew he lacked the numbers to retain the superintendency but his supporters were contesting the election results. So what did he do to buy time?

Well. He remained superintendent until council elected a new one. Council met as required... and HE PROROGUED IT IMMEDIATELY.
Eat your heart out, Boris Johnson.
The first orders of business for a new council were to elect a speaker and then a superintendent. Baillie didn't even let it get that far. He literally opened the council and then prorogued it before the speaker could be chosen. Absolutely brazen.
The public gallery, full to capacity, burst into laughter as Baillie and his supporters rose and left the chamber.
The remaining members, however, stayed put. They elected William Henry Eyes as superintendent (pic:
@NLNZ
PAColl-7581-28).
Marlborough now had pope and antipope.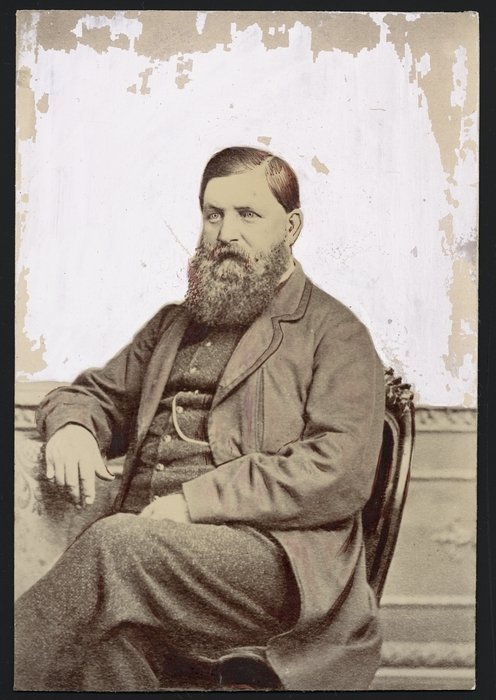 Eyes was no saint—he sexually assaulted a 9yo girl near Wollongong in 1844! His sentencing here is from the Hawkesbury Courier (18 July 1844, p1), but he served just a year before being pardoned. More here:
unearthingtheskeletons.wordpress.com/2015/06/17/the…
Despite his past, Eyes was Blenheim's champion.


Baillie refused to hand over the keys to the council. The literal keys. Eyes couldn't get in to hold meetings!

No problem, though. Eyes met with his allies at the Tasmanian Hotel across the road, and they resolved to move the council to Blenheim.
Baillie also still had the provincial seal and the government records, and he wasn't going to release them willingly. This meant that Eyes could not prepare any business for his council to consider.
The bank would not let anyone access the province's accounts until it knew who rightfully held office. Public works and government activity ground to a halt. Provincial employees such as the police went unpaid for months.
In the end, George Grey, the governor of New Zealand, resolved the impasse by simply dissolving the council and calling new elections. Marlborough's council next met in Picton—partly because the law still required it to, and partly because the Picton faction won.
I'm worried this reads as inspiration for Boris Johnson, since the Picton prorogation faction succeeded. He might not like the eventual ending, however. The Picton faction won the battle but lost the war.
Marlborough's nadir came in 1865 when two entire rival councils asserted full legislative functions, and Blenheim finally secured victory to become the capital. But that's a story for another time—or you could grab my aforementioned provinces book if you can't wait. 19/19
Typo alert: this was meant to be <1,500 Pākehā. Marlborough probably had about 1,200 at separation in 1859. By the scandal of 1862 it would've been around 3,000. New Zealand's provinces all had pretty small populations, but Marlborough was the smallest.