Sorry,
@iandunt
an obsession.
@solange_lebourg
IMHO, there was a very clear reason. Simply PIC⬇️ from the 2017 Queen's Speech
Barriers to No Deal?
1.
Queen's Speech 2017 parliament
2.
No Deal Consent
To any Brexit?
1.
Legislative - meaningful vote, pre-exit planning ⬇️
cont..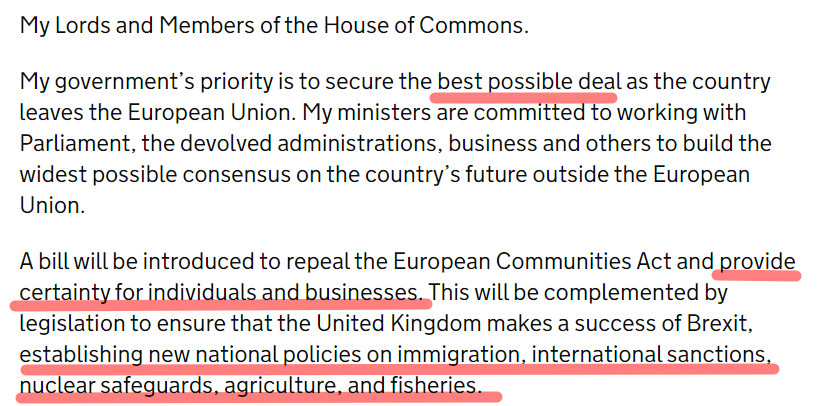 So what do we find in Boris QS
removal of Deal requirement
any pre-exit commitments, now they just "work to implement"
They even killed the EUref confirmed Trade to "work toward"
So what now?
The only barrier EURef16 Consent
No Divine rule in UK!
cont.
gov.uk/government/spe…
Consent SHOULD be an issue. Even with a pre-leg ref and even after GM1

A50 passed in parliament that committed to THE outcome based on THE referendum.

So I checked - quantitatively, objectively.
vs. 43 Vote Leave 2016 Claims
Boris scores just 0.5/43


Looks to me like they don't care, or we don't. Coz Boris isn't implementing 2016.
Linked one of many pre-QS warning tweets on this. If you can help raise profile
@IanDunt
, I'd appreciate support.
QS is lost. Consent isn't yet
If we fight the ratchet