#THREAD
: 🧵Check out
@amnesty
's new report which analyses the surveillance-based business model of
@Google
&
@Facebook
. We find that the biz model is incompatible with the right to privacy & threatens a range of other rights:
amnesty.org/en/latest/news…
But how does it work?🤔
👇🏽👇🏽👇🏽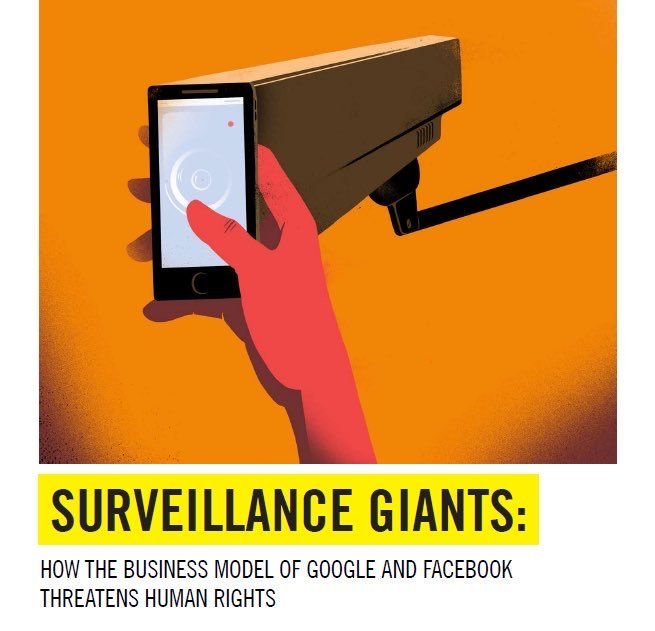 This constant surveillance undermines the very essence of privacy. It's an intrusion into our private lives that can never be necessary or proportionate; access to these platforms is conditioned on "consenting" to processing & sharing of personal data for marketing & advertising.
The abuse of the right to privacy isn't inherent in the technology; this is a conscious choice. Facebook and Google chose their business model not because it was the only one available, but because it was the easiest way for them to grow.
What this means is that many people have no choice *but* to submit to ubiquitous surveillance to enjoy the benefits of the digital world. It's just not realistic for people to leave social networks where all their friends & family are. In some countries, Facebook IS the internet.
It doesn't have to be this way.
@amnesty
is advocating a smart mix of structural solutions to ensure that access to essential digital services is brought in line with human rights.
As a first step, governments need to enact laws to ensure companies incl. Google & Facebook are prevented from making access to their services conditional on individuals "consenting" to the collection, processing or sharing of their personal data for marketing or advertising.