#NOW
outside TST pier and Harbour City, citizens and tourists are enjoying a colourful and festive Christmas Eve while a small group of riot police are guarding the Star Ferry's exit
#CarrieLam
just published a video on her FB page, wishing people a peaceful, safe and merry Christmas.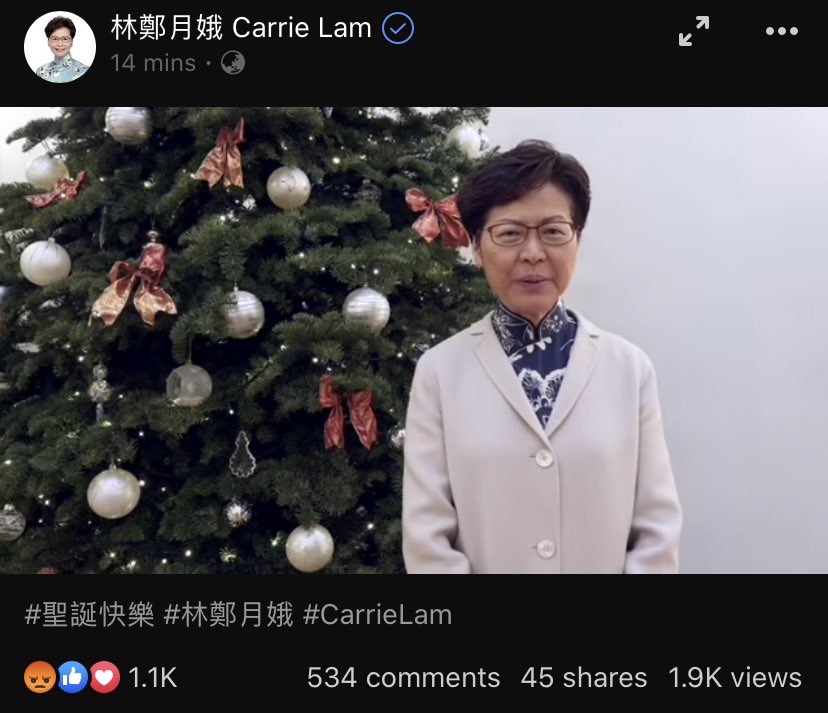 Riot police patrolling Canton Road in TST.
Long stream of police cars on Kowloon Park Drive in TST which was closed by police for tonight.
Zara in Harbour City TST is closing down.
#NOW
protesters chanting slogans in Harbour City
A whole team of plain clothed police in Harbour City
Protesters have been chanting slogans and profanity at the team of plain clothed police in Harbour City. The police just stand there in a line and listening.
I guess he sang something in Cantonese and the lyrics are criticising the police but honestly, I am not sure ...
Look who is in Harbour City. One protester said "oh watch out he is in green pants."
Brawls broke out in Harbour City between plain clothed police and protesters. Baton and pepper spray were used. At least two pinned down.
Riot police in Harbour City.
Riot police pointing guns at heckling crowd in Harbour City
Riot police taking people arrested in Harbour City away. Apologies for unconsciously dropping my camera...
Standstill across "All You Knit Is Love" in Harbour City
This protester has been standing out there drawing police attention for a while. There is no sign of backing down by the time this tweet is sent.
Ran into this group on my way out of Harbour City
Riot police with new police motto on helmets dispersing crowd in TST
Orange flag on Peking Road
Chatty riot police on Peking Road. "Louder! Can't hear you!" "You are loud now but you will be the first to flee." "Why don't you raise your hand and I call your name to speak?"
When some riot police pushed to some bystanders on the pavement, others shouted, "come save your fellows!"
#Now
standstill on Salisbury Road outside Cultural Centre
Raptors arrive on Salisbury Road from Kowloon Park Drive to reinforce ... then turn around...
Two blue flags on Salisbury Road
Tear gas warning on Salisbury Road came immediately after blue flag of unlawful assembly warning was raised
Water cannon and armoured trucks return to Nathan Road
Riot police pushed down Salisbury Road from Kowloon Park Drive to Nathan Road
This woman toured from behind the water cannon to riot police cordoning Salisbury Road, chanting "Karma will come after the rogue police who killed"
Riot police pushing down Star Avenue warning of unlawful assembly and forcible dispersal
The little and startled Santa
How riot police forced people sitting on stairs facing the Victoria Harbour to leave, calling them unlawful assembly
The elderly couple at the end of the clip got pepper spray in their face when police forced them to leave from the stairs facing TST waterfront
It took the riot police a while to decide not to disperse the women queuing for toilet
The protesters were gear-less but they moved rather reluctantly away from the riot police
Bystanders seemed rather entertained by the charge of police, heckling loudly from the pavement
Blue flag raised at defiant crowd outside Space Museum
This is more romantic than I could ever imagine - an elderly couple drove past riot police cordoning on Salisbury Road and began to play Silent Night
Countdown at TST. Merry Christmas and we are now on the 200th day of
#HongKongProtests
Volleys of firing on Peking Road at protesters following riot police