Scroll up to see me list. Will add one more in the next tweet.

And this one was simply too divine! 👆👇


So... The thread continues in 2018.
This morning at 5AM, Thirupparankundram where the warrior lord permitted me to have darshan. Rock cut temple from 6th Century and one of the 6 abodes of Murugan.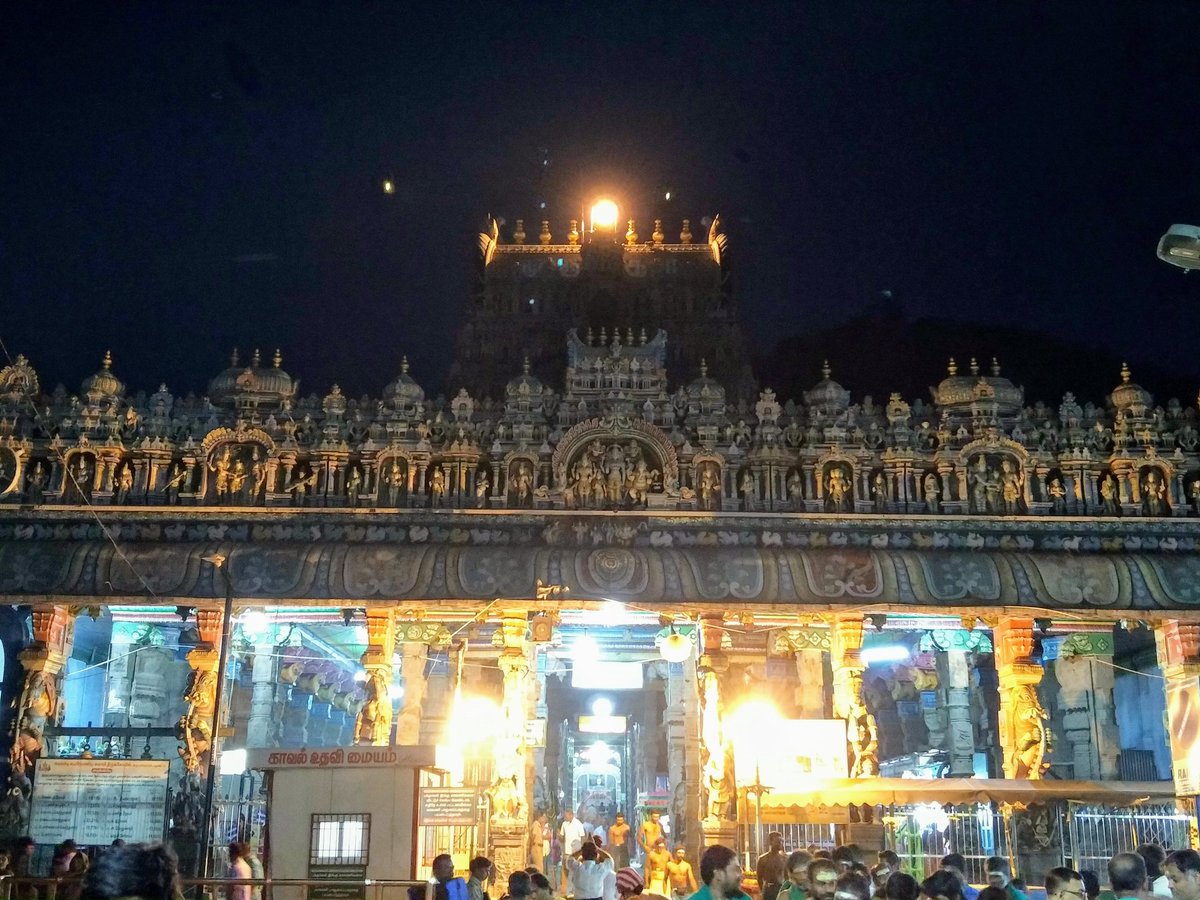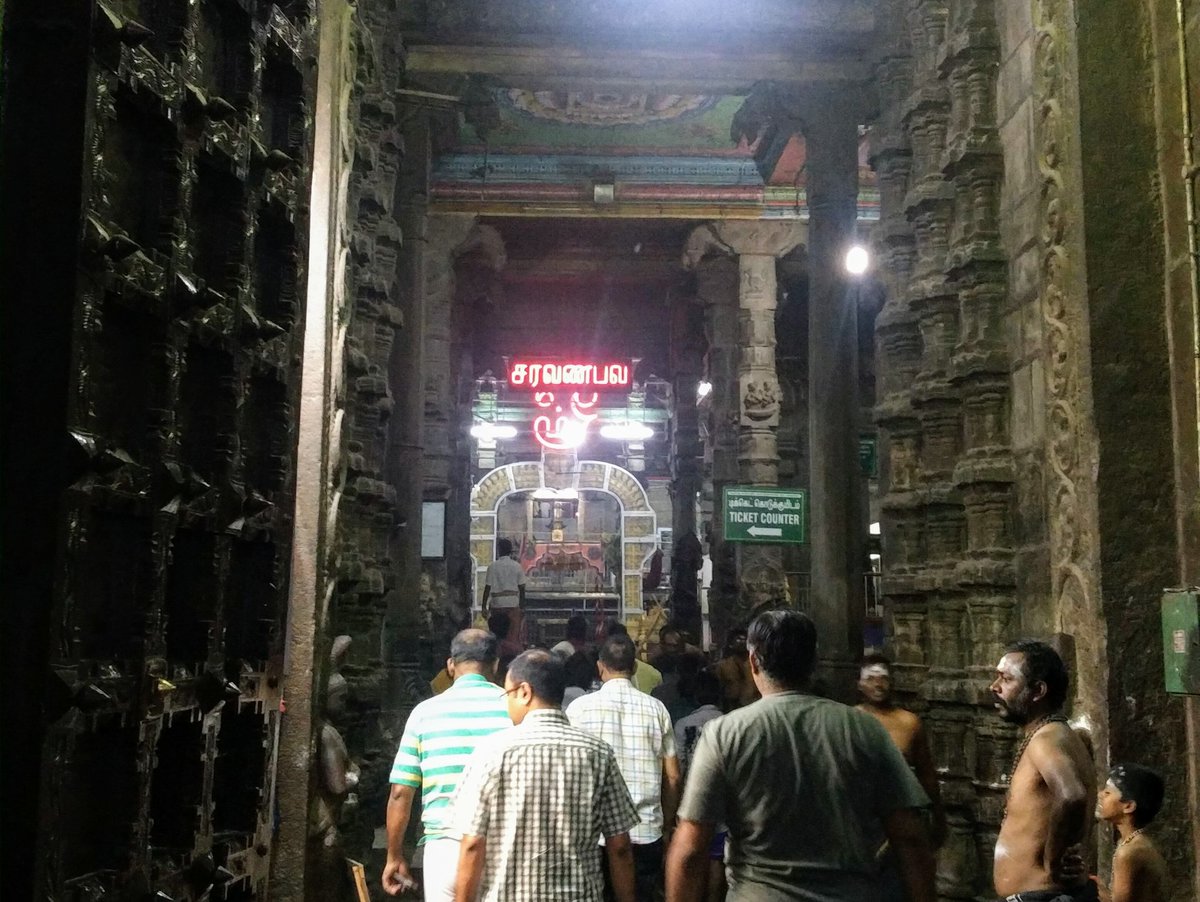 Gajāsurasamhāramūrti.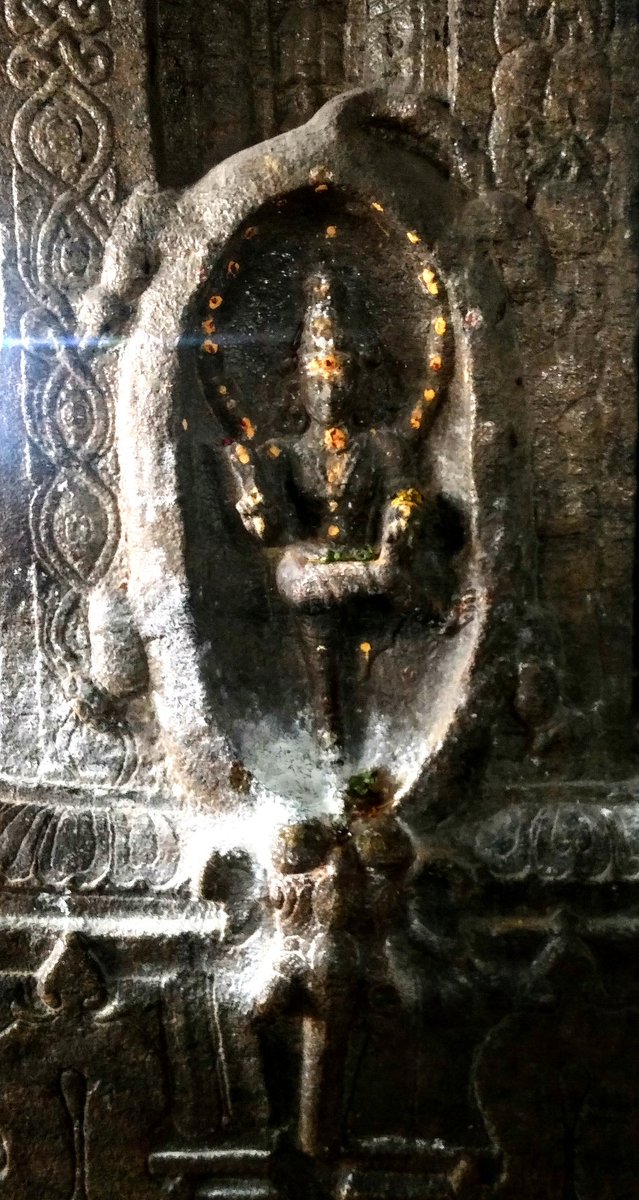 On one pillar Natarāja, on the other ulagaLandaperumAL.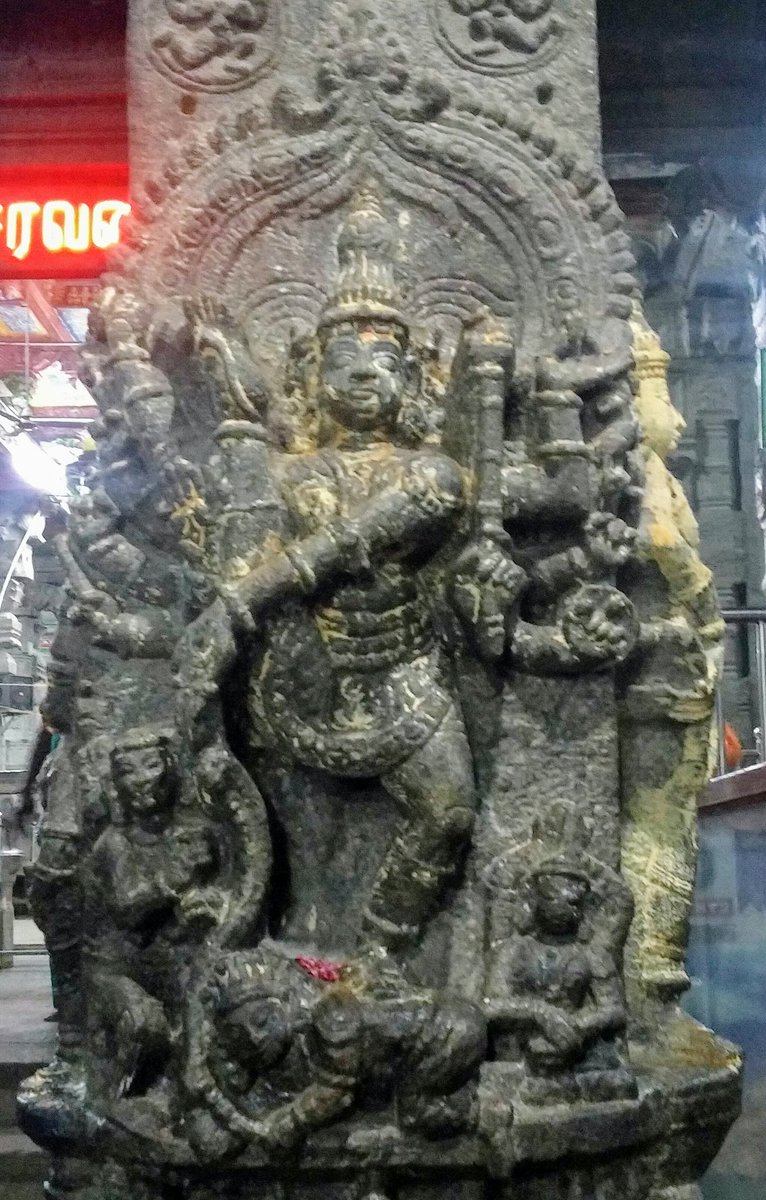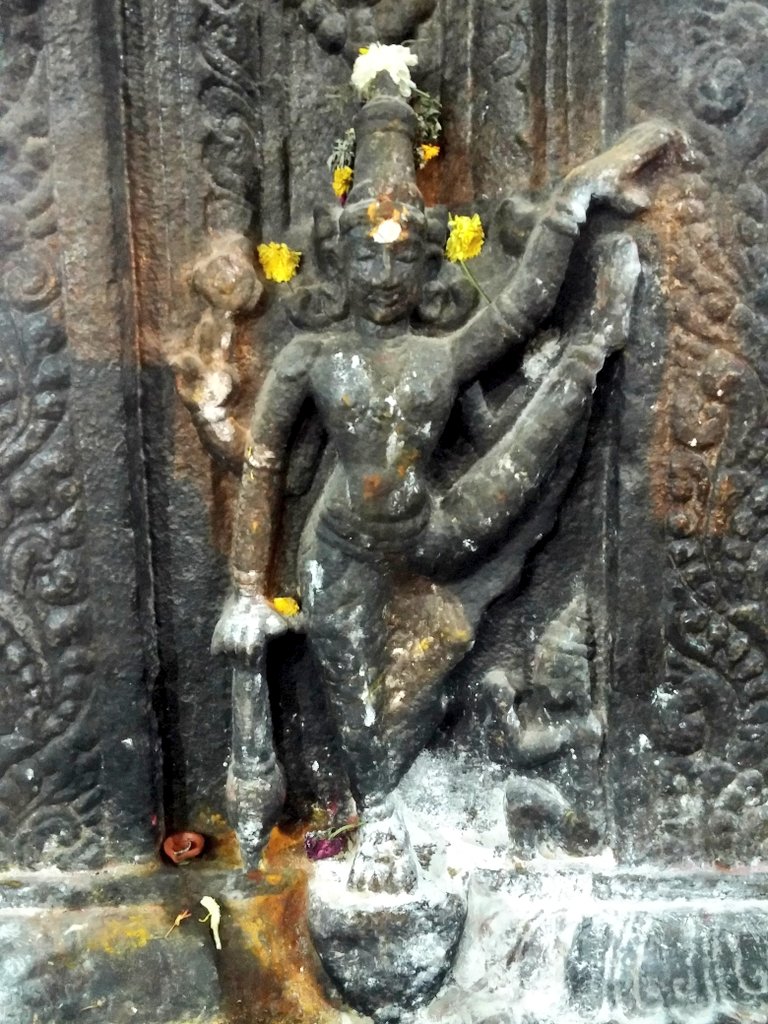 Narasimha and YOganarasimha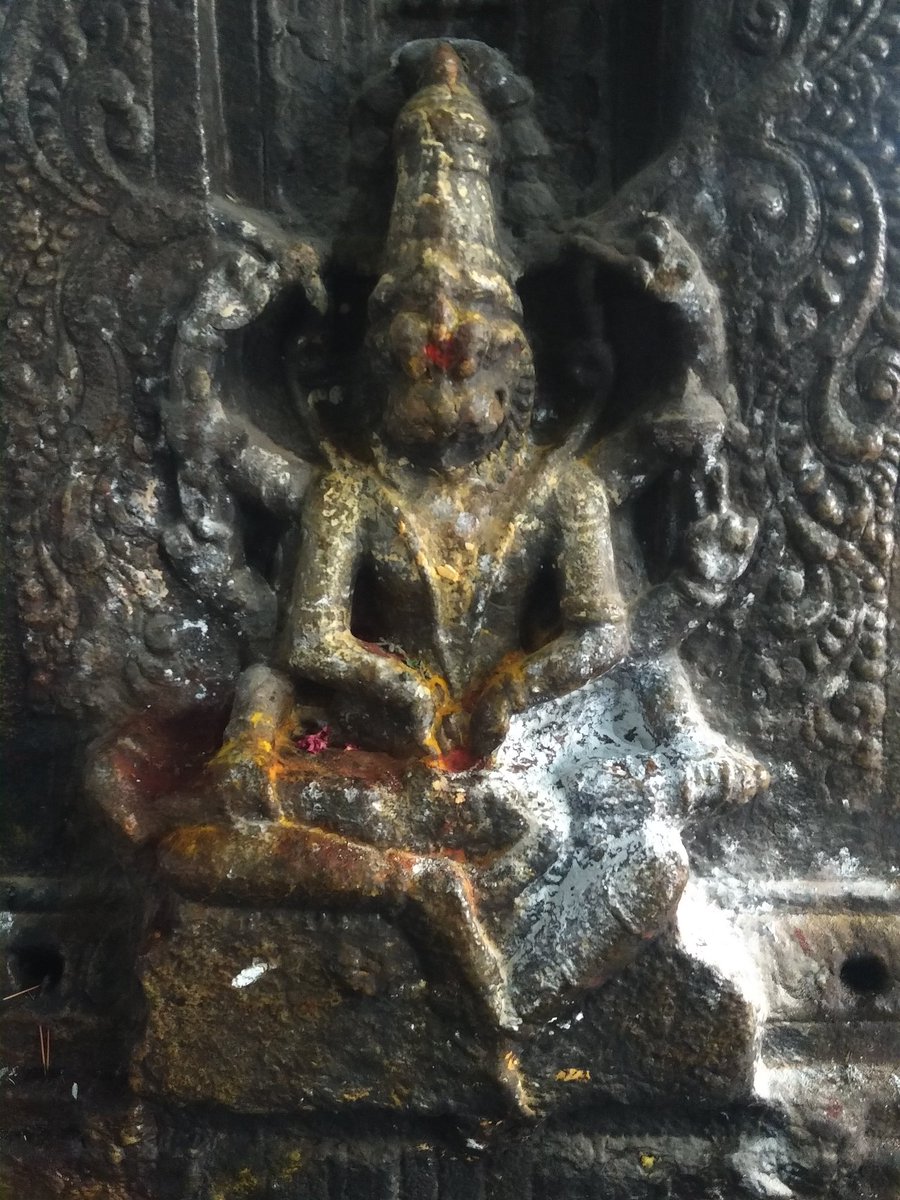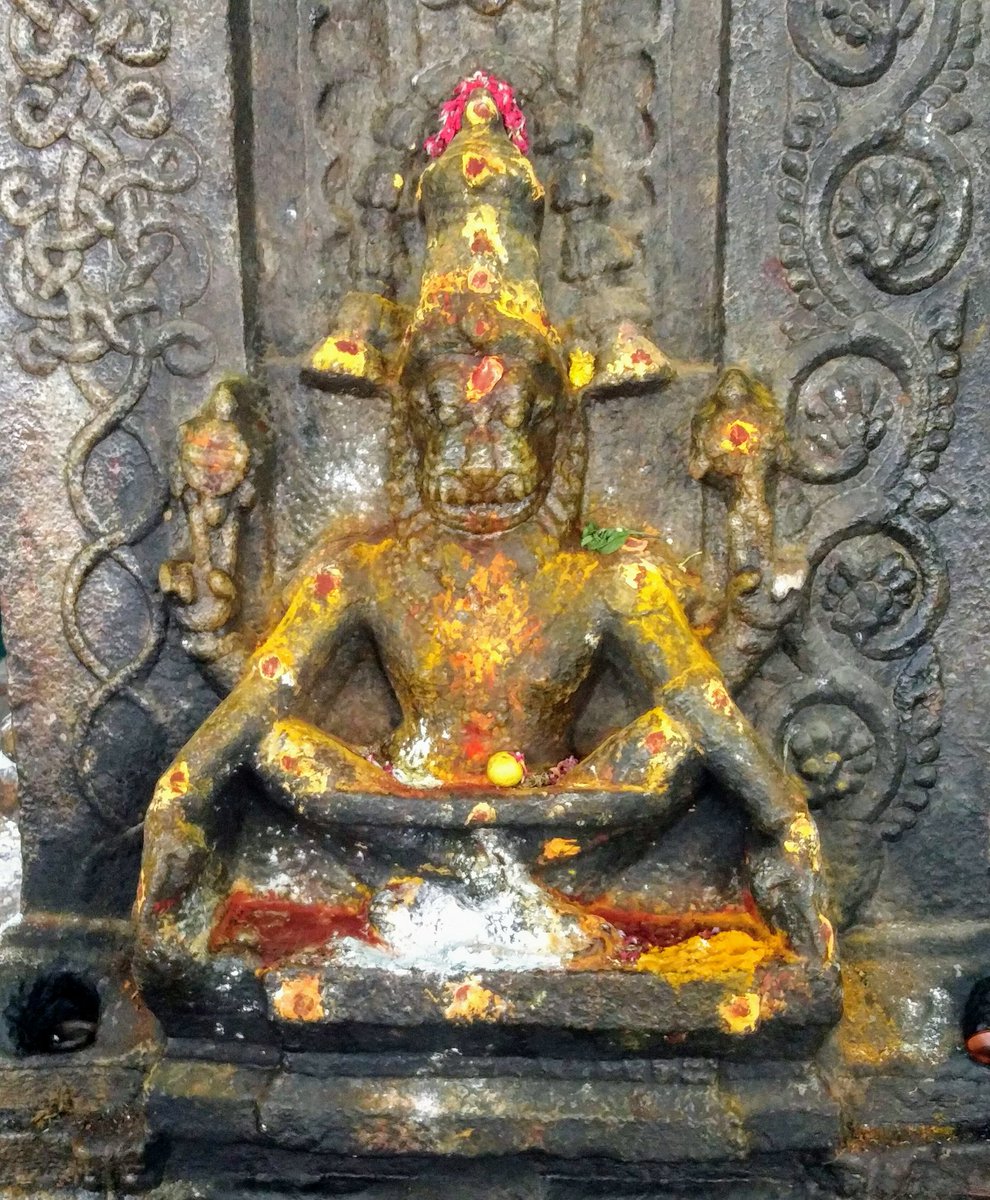 Father and son duo. 🙏🙏🙏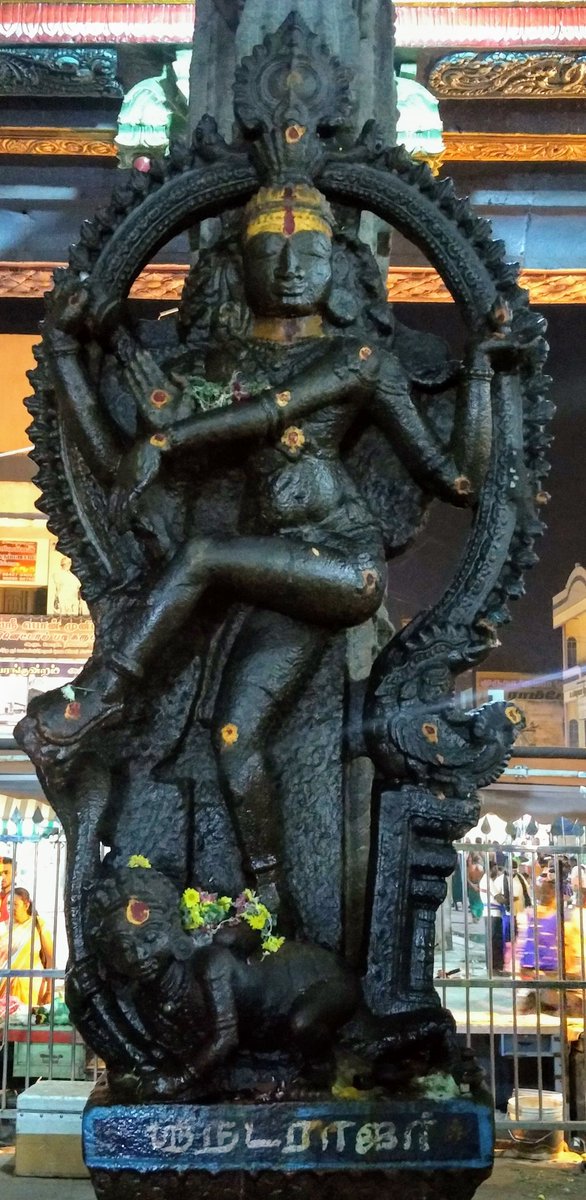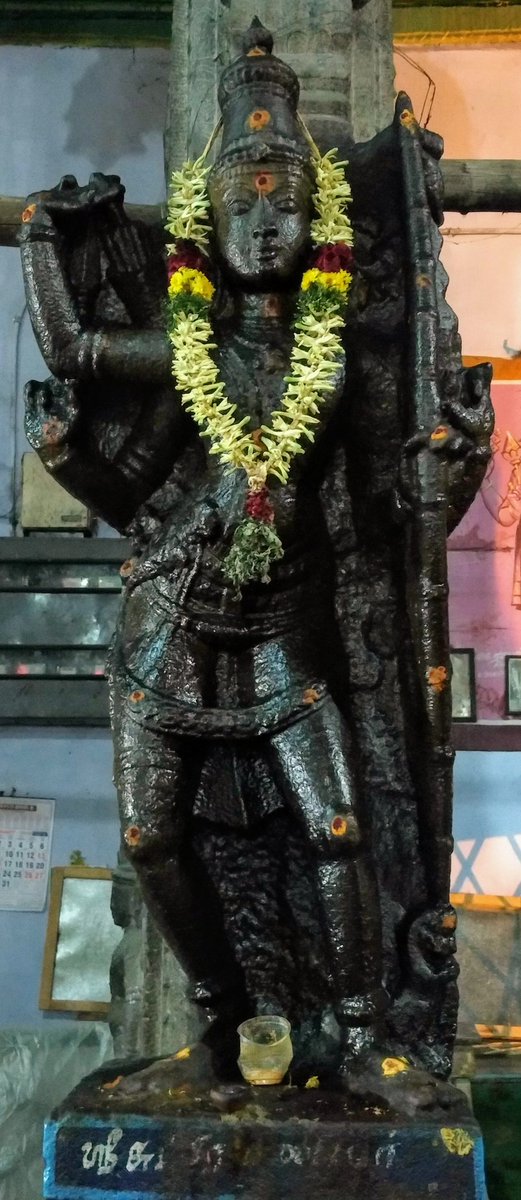 Then moved on to ThirumOgur to see kALamEgha perumAL where the Lord gave darshan post his mOhini avatar.
He is known as a friend in temporal affairs and as mArgabandhu to guide you to mOksha here.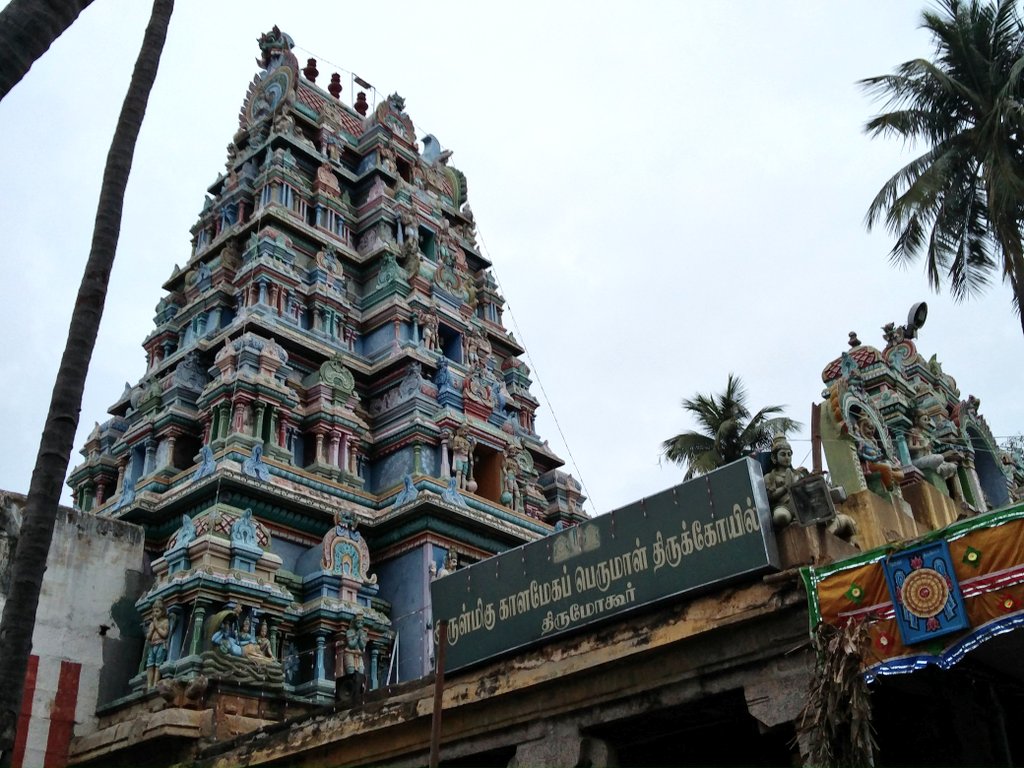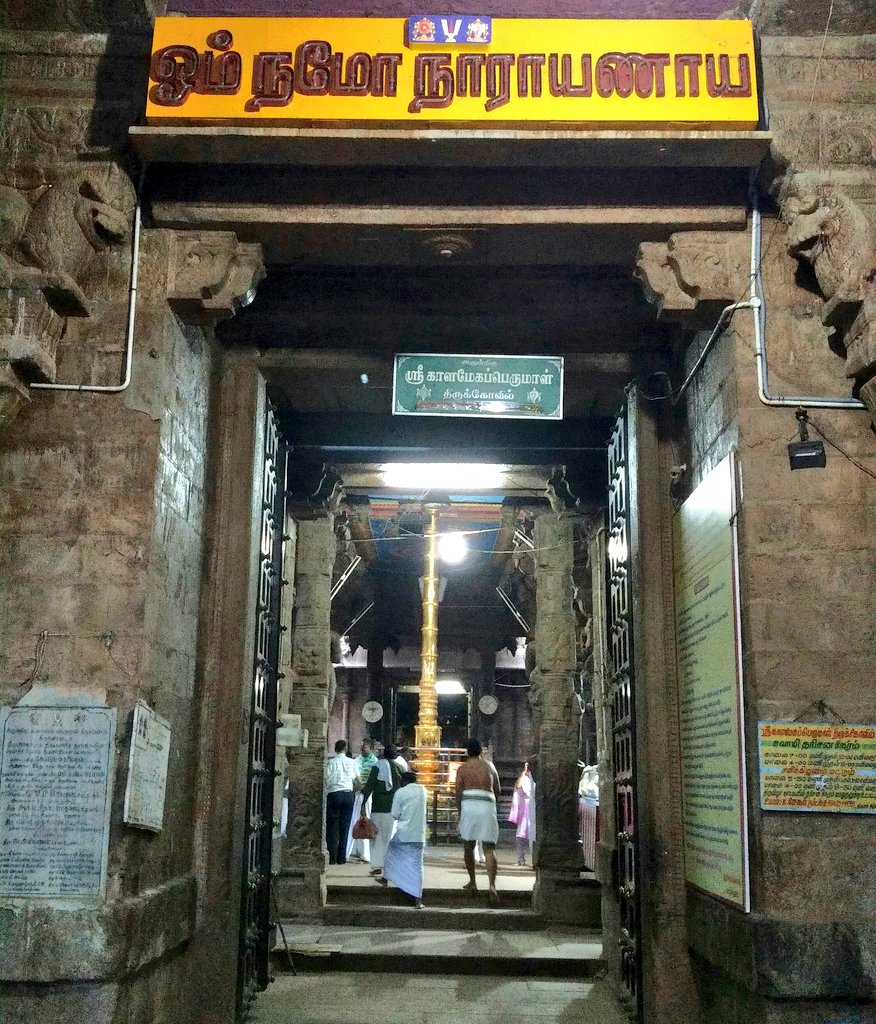 It's a beautiful temple.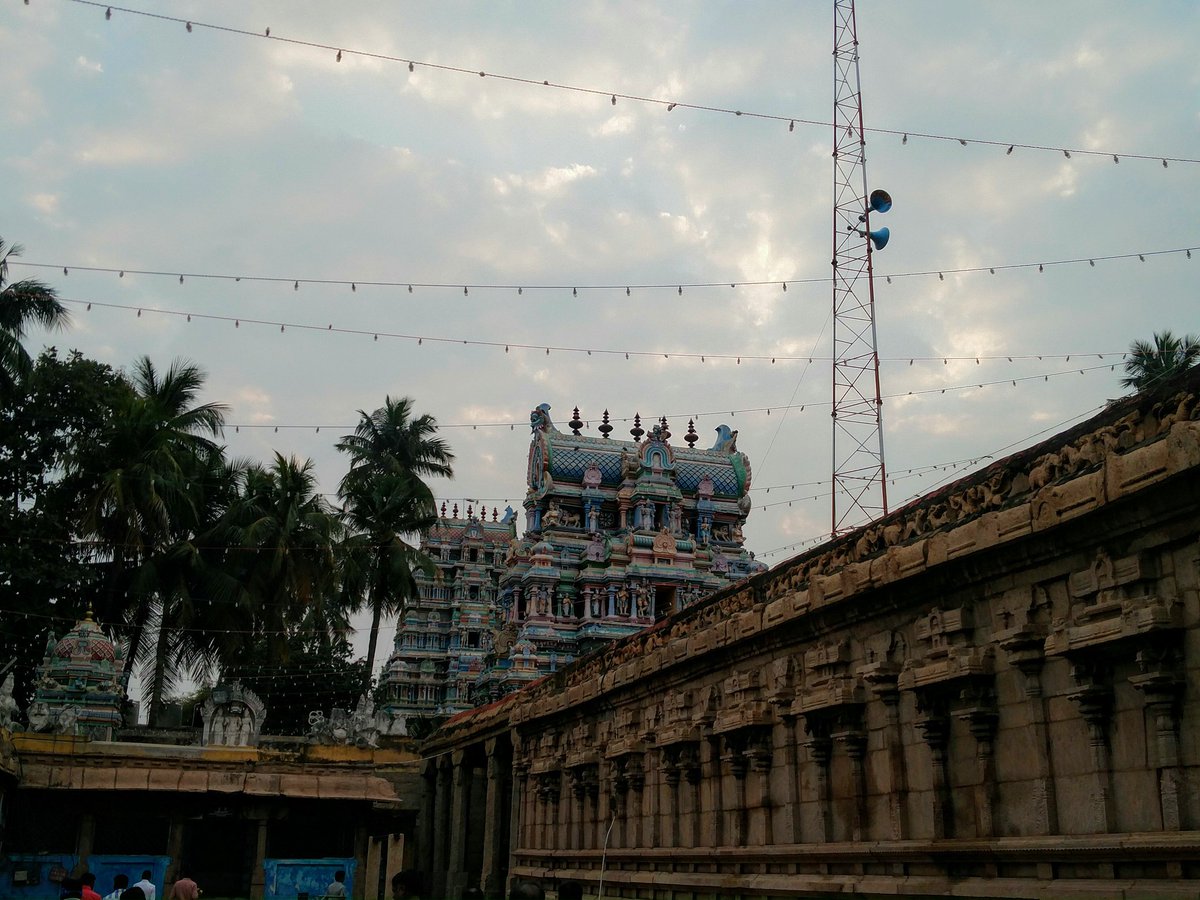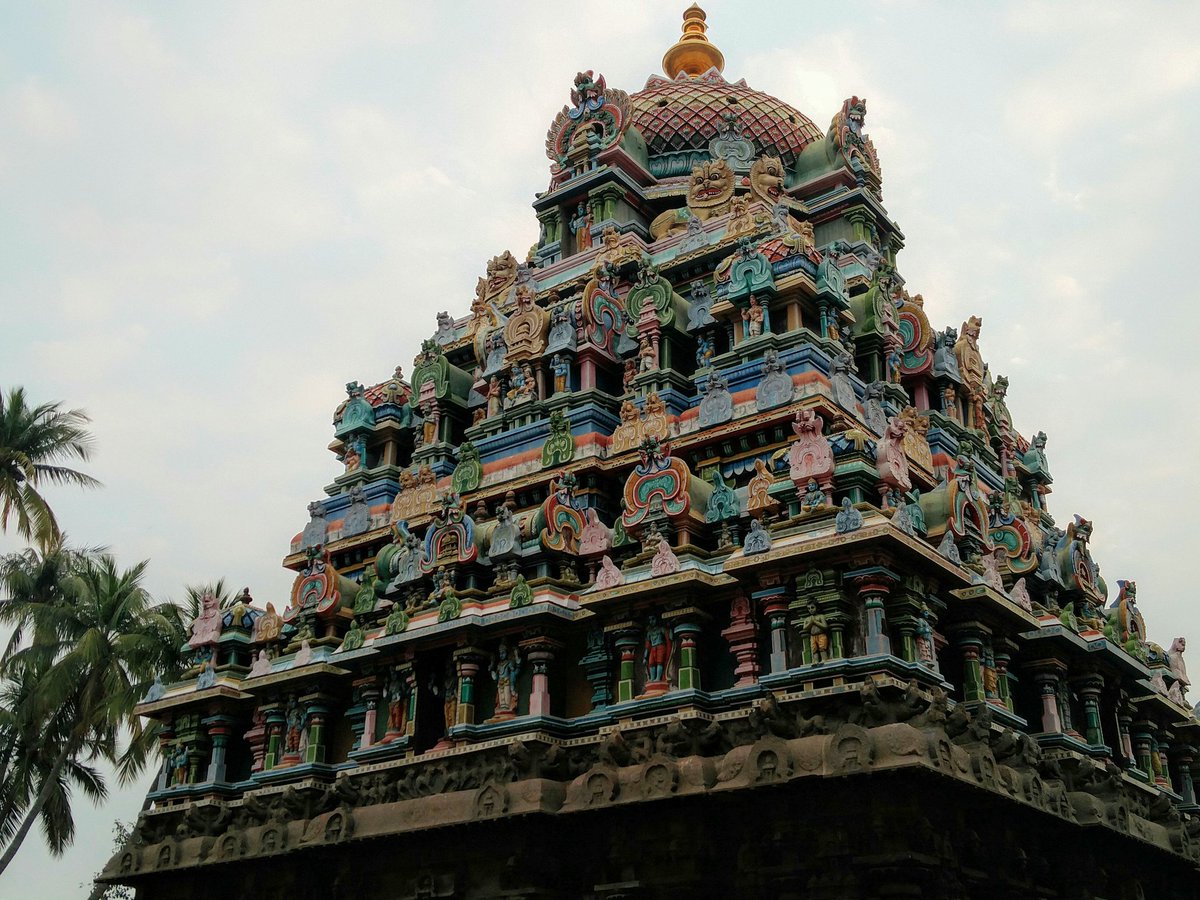 Closed it with a visit to Koodalazhagar again!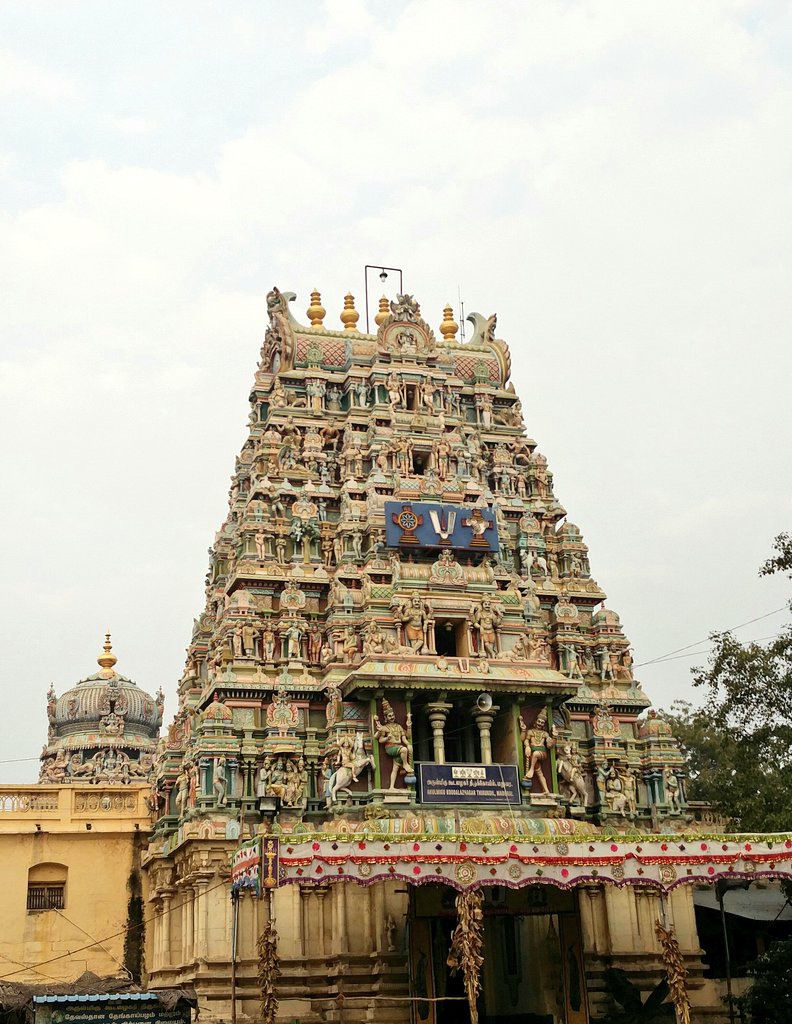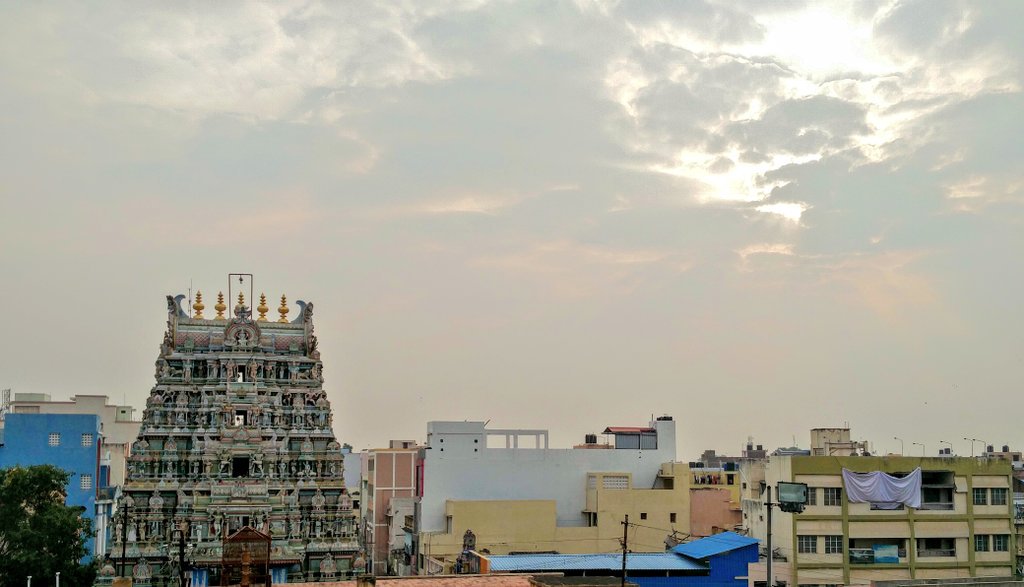 Images from Thirupparankundram temple enhanced.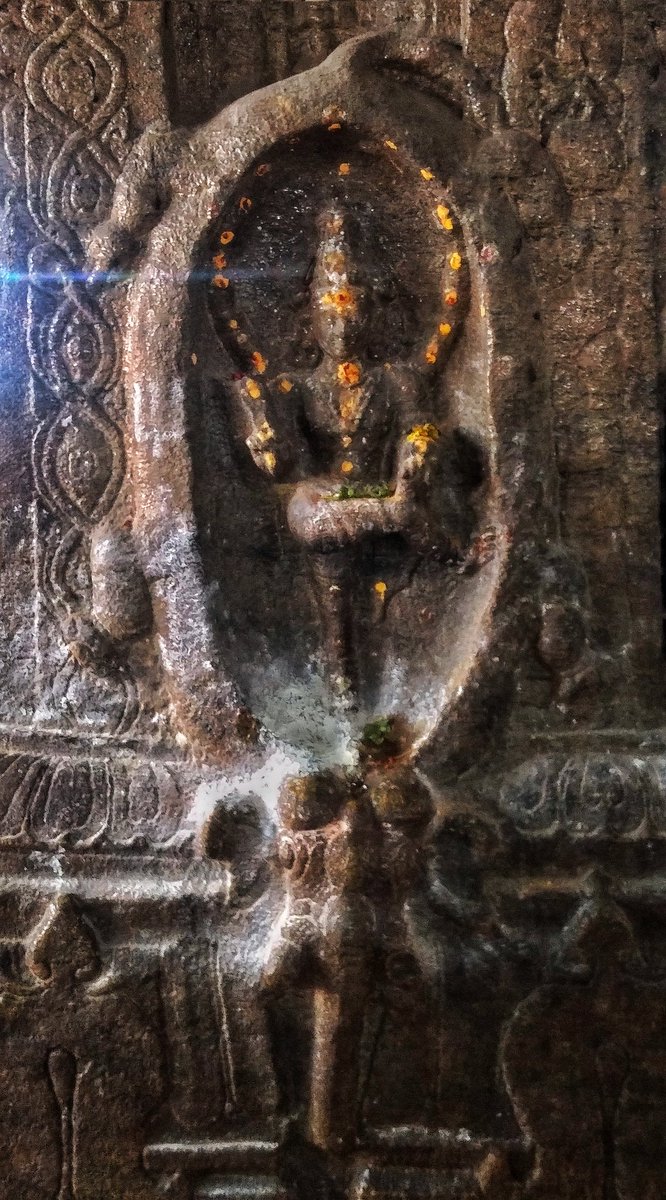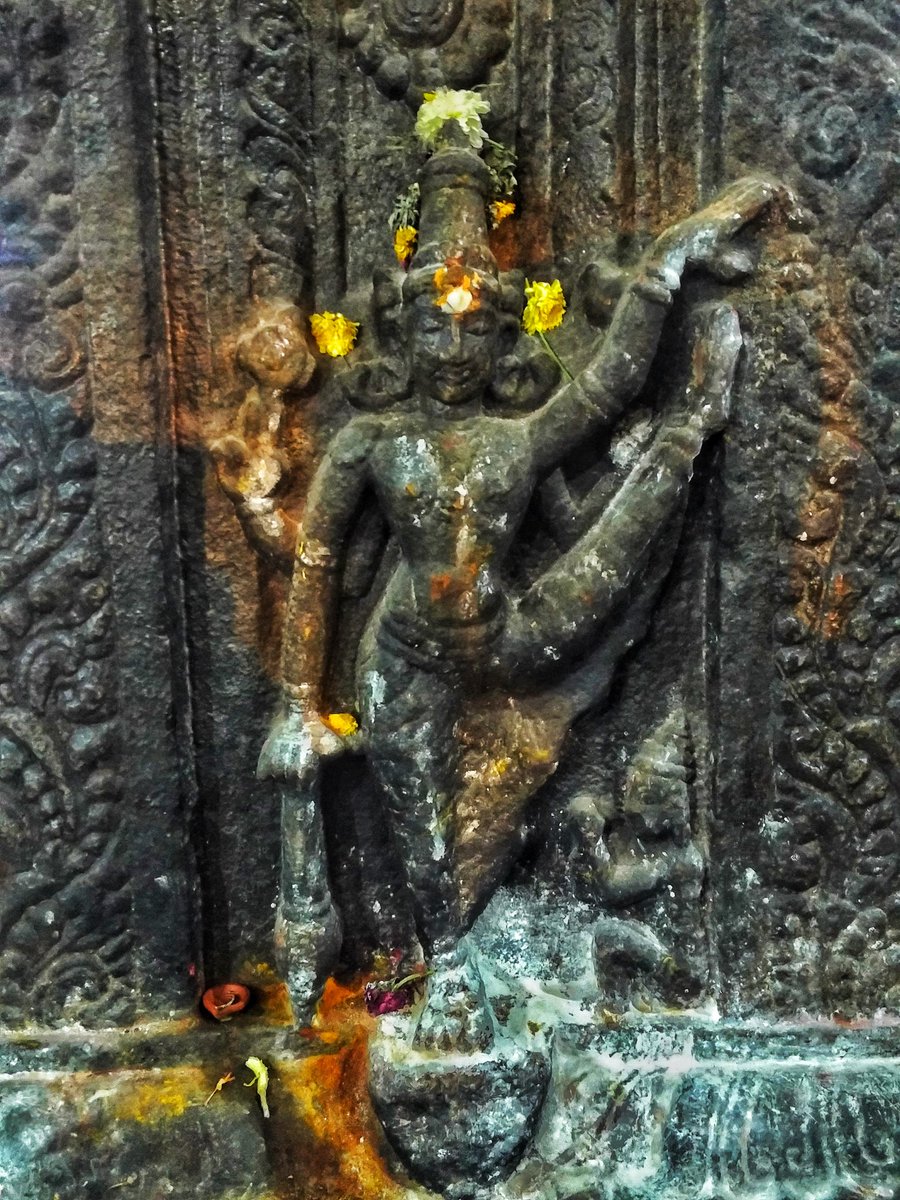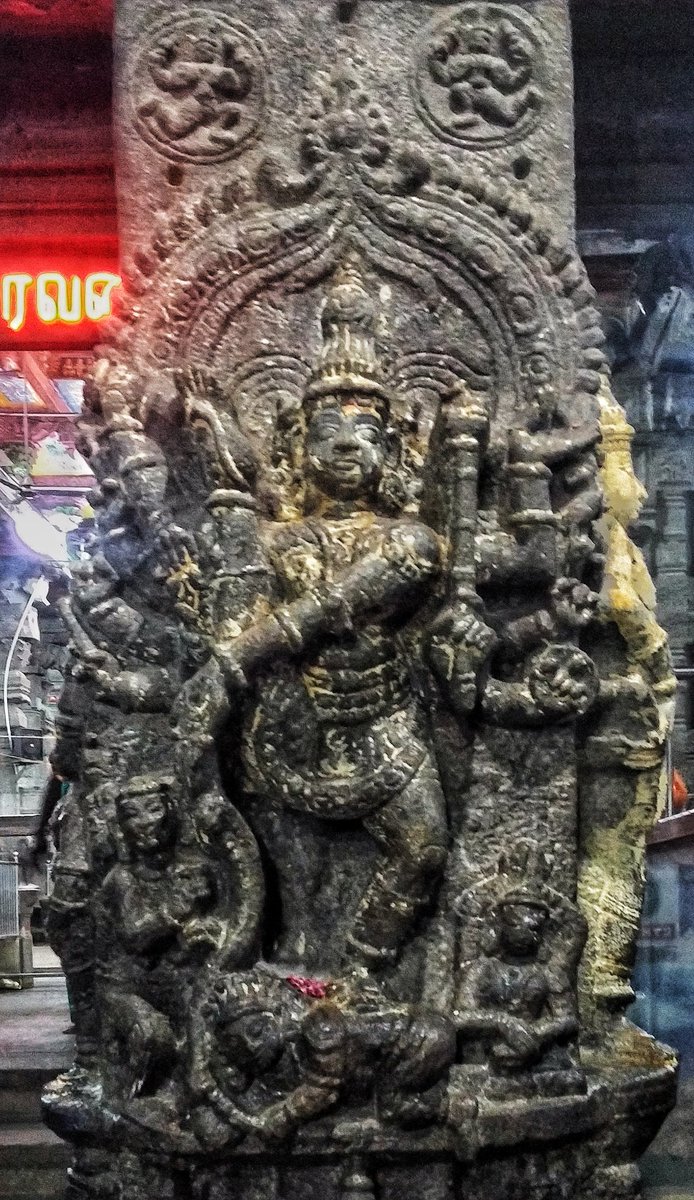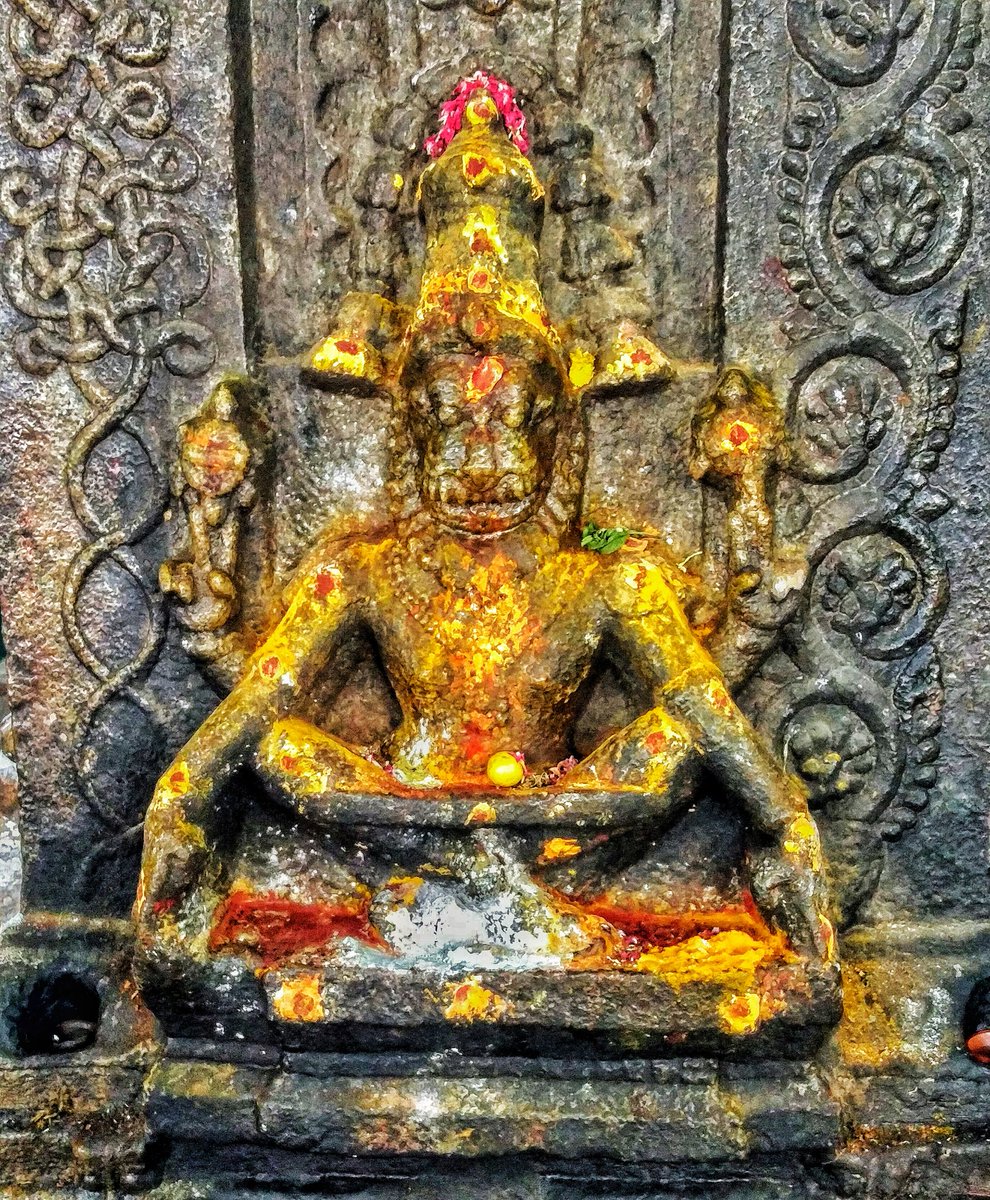 Two more!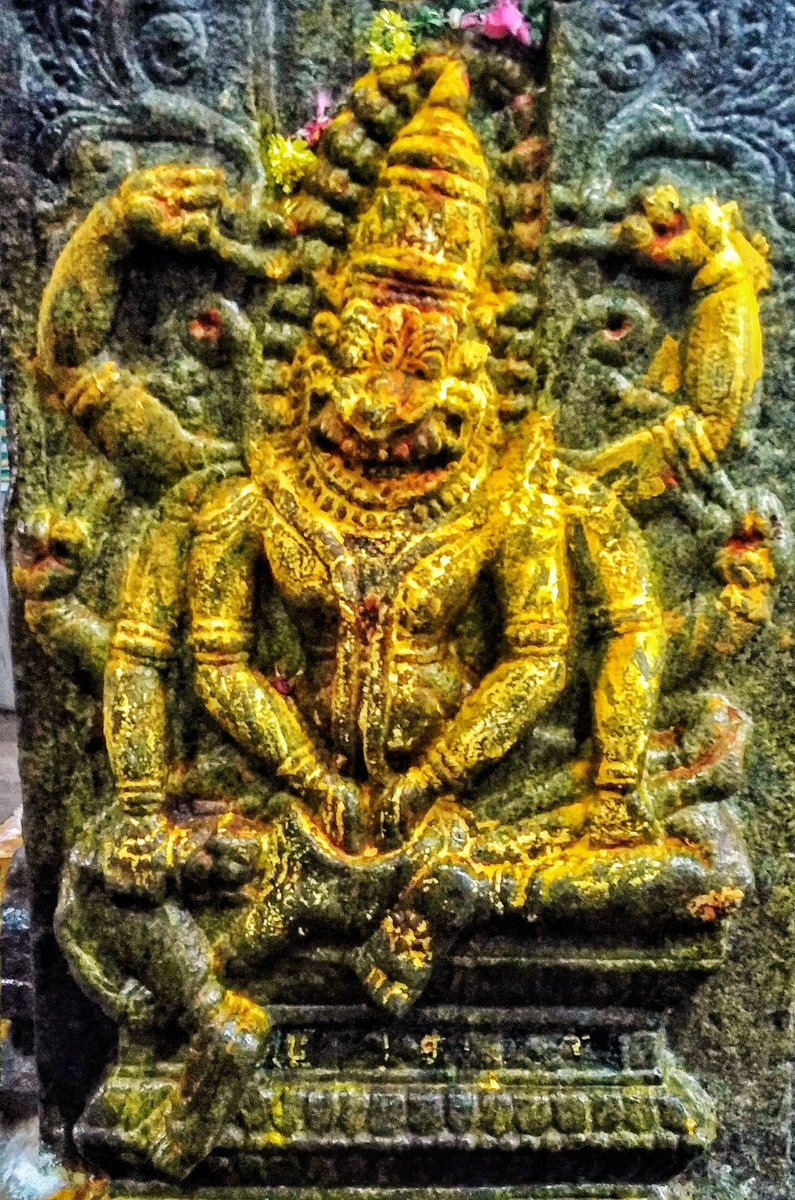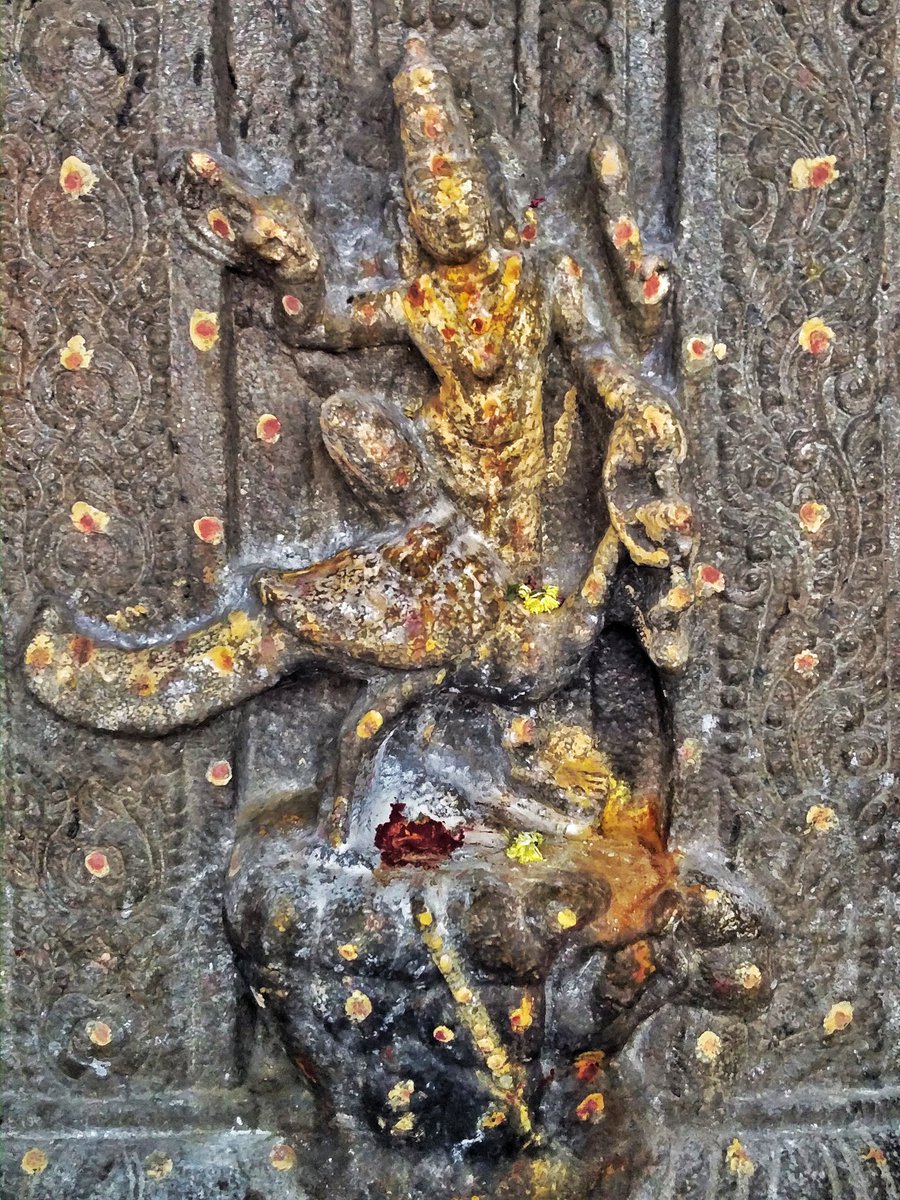 Final visit of this trip was to Sowmyanarayana Perumal Temple in Thirukoshtiyur.
The temple is known as the place where Ramanuja preached the holy ashtAkshara, Om Namo Narayanaya, to the town folk, despite being warned by his guru of dire consequences of revealing this mantra!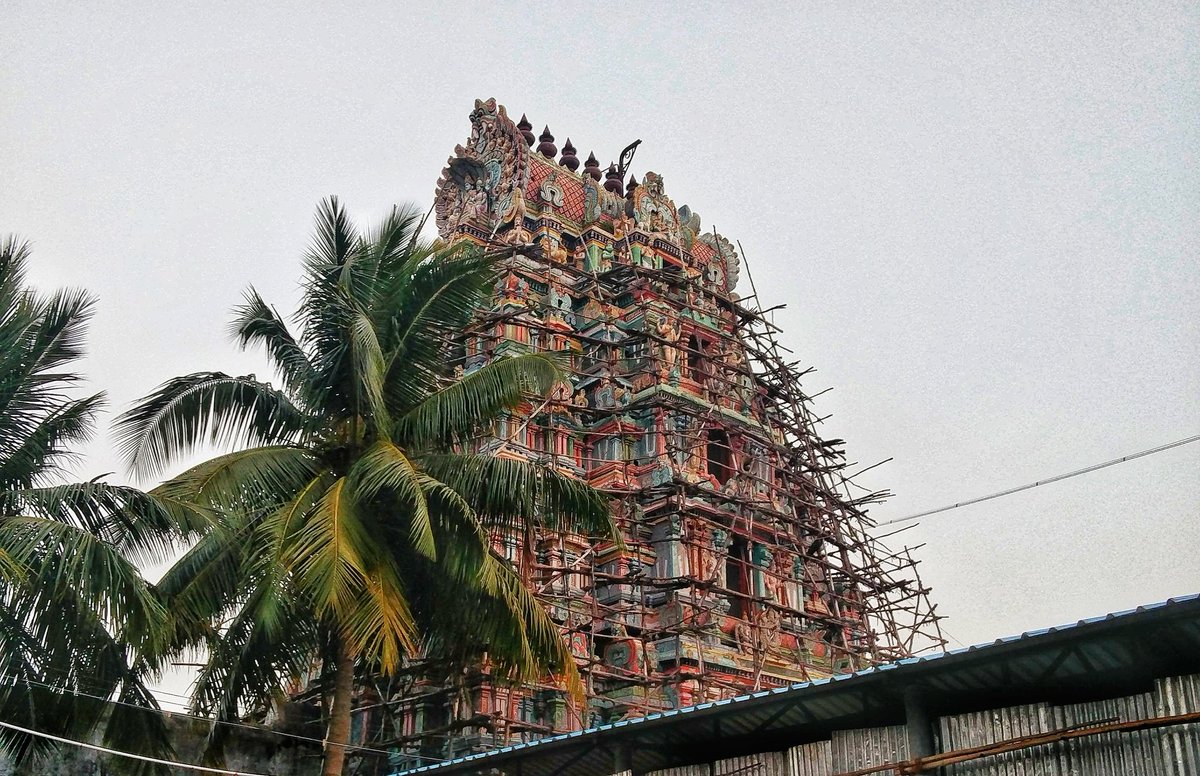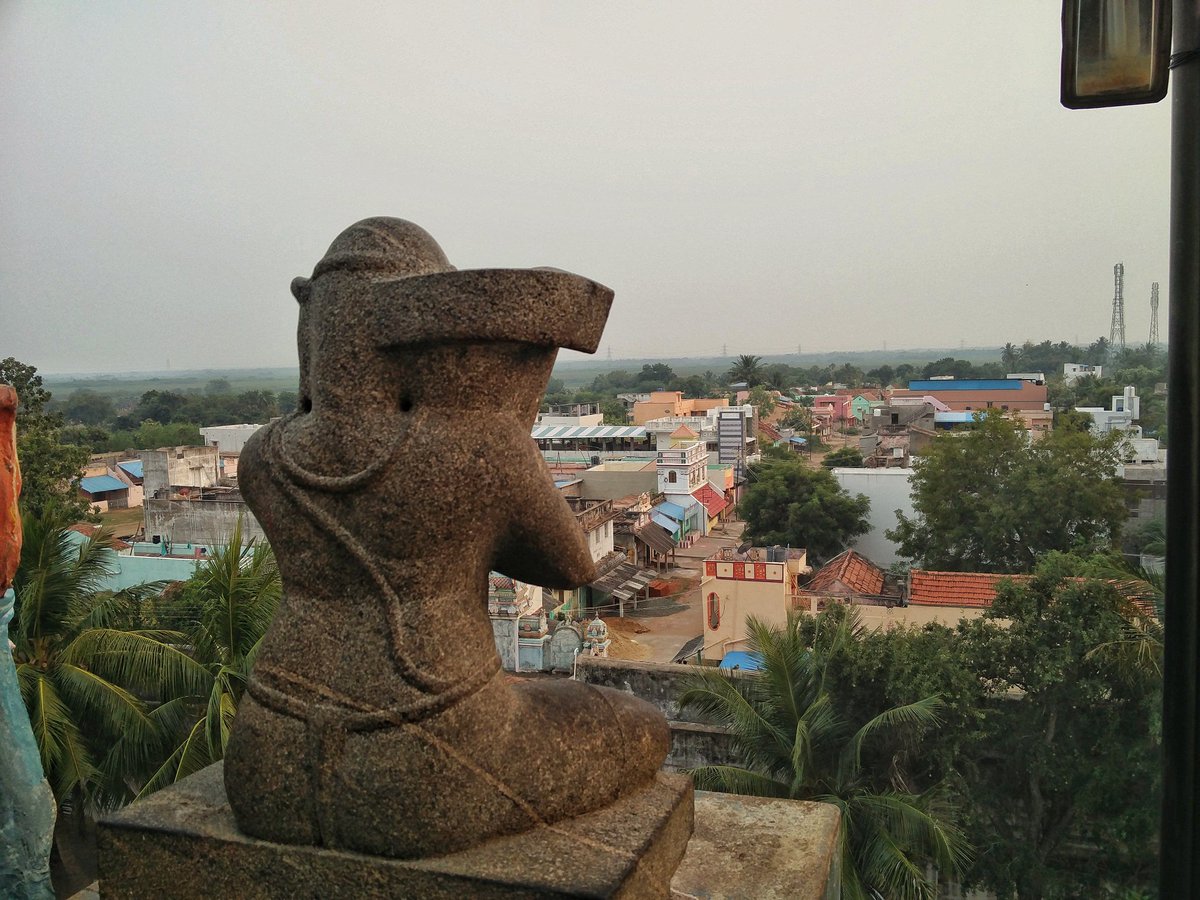 The temple has a five-tiered rajagopuram, the gateway tower and the Ashtanga Vimana, which is taller than the gopuram.
Currently it is undergoing renovation and restoration.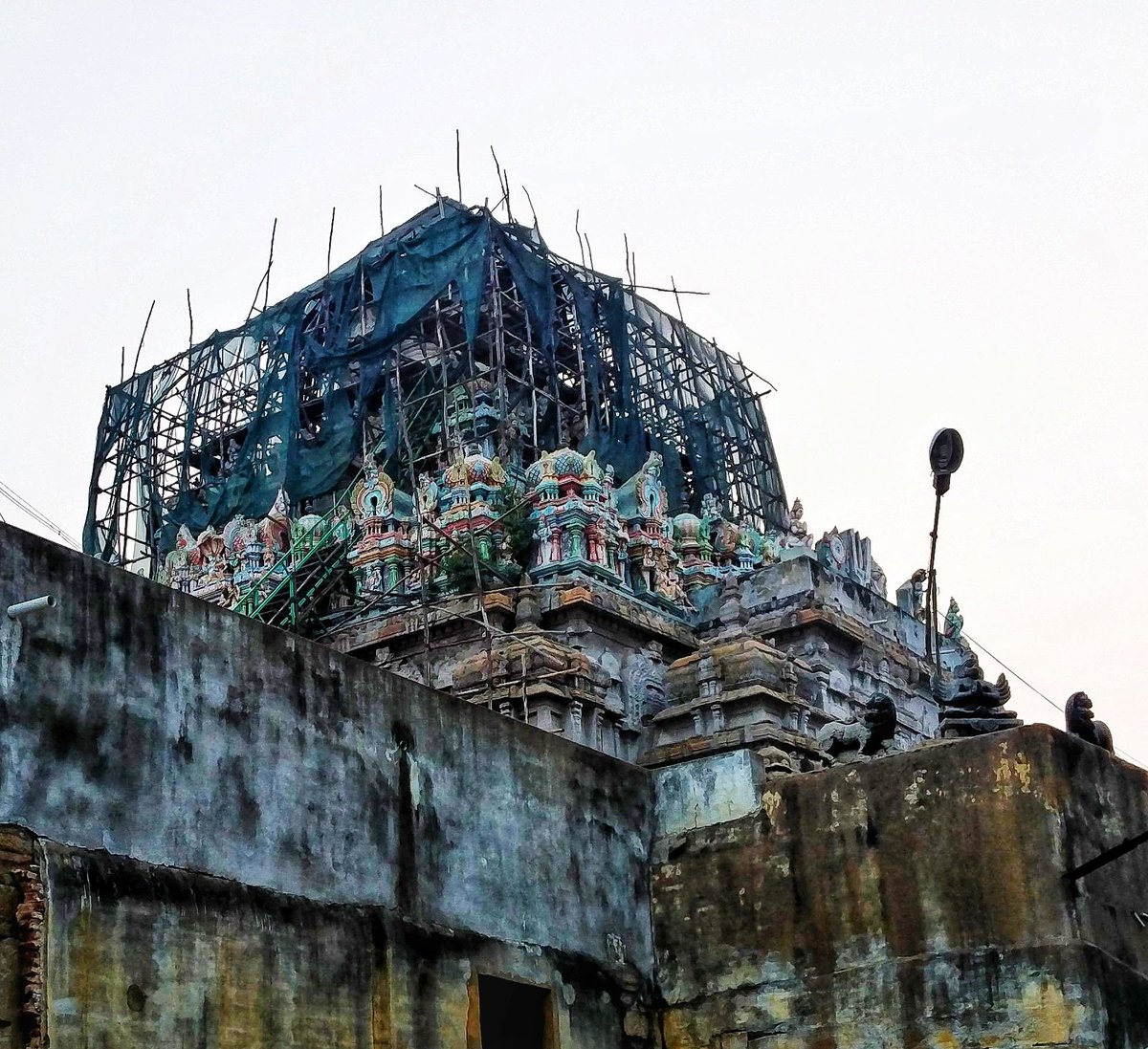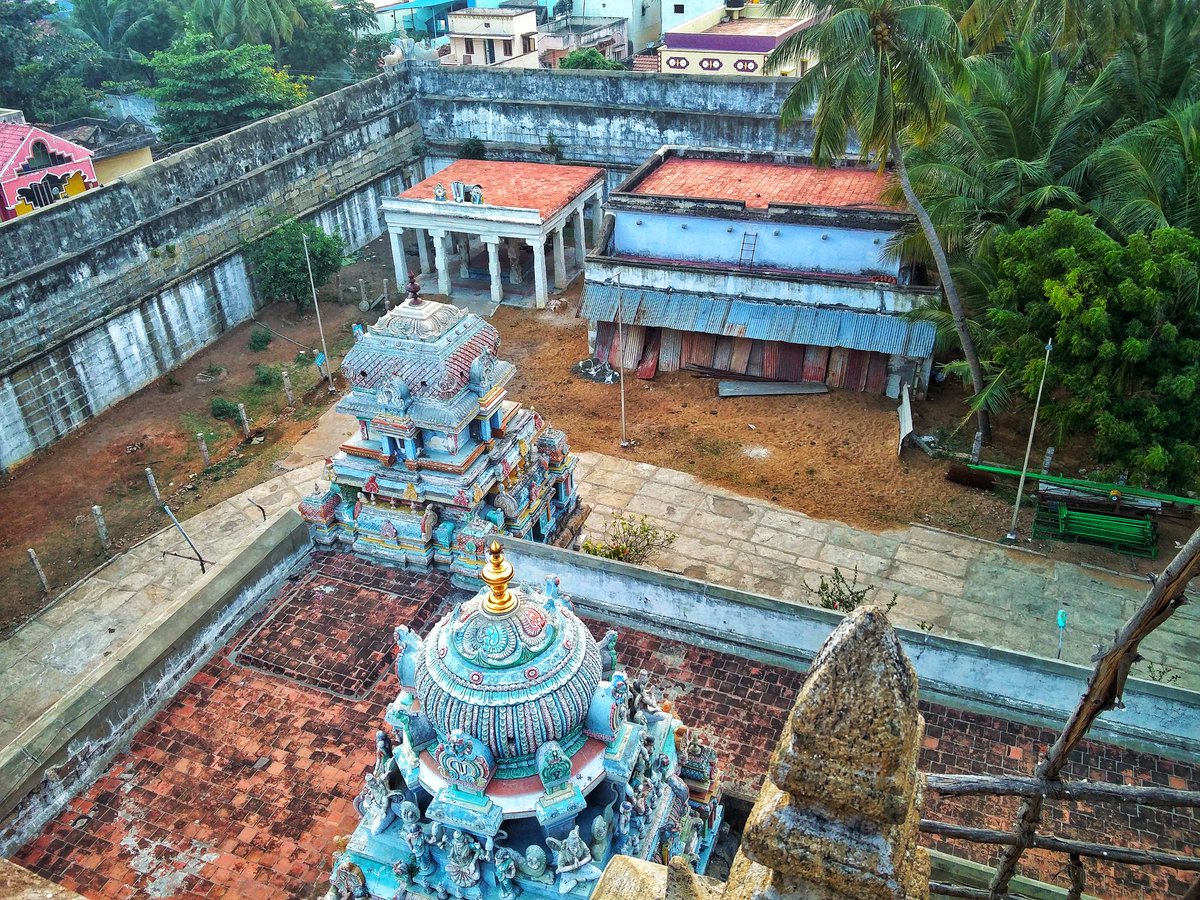 As always... My tryst with sunsets and sunrises continues! From atop the Vimana where we went up to see the tiered levels and the vigrahas.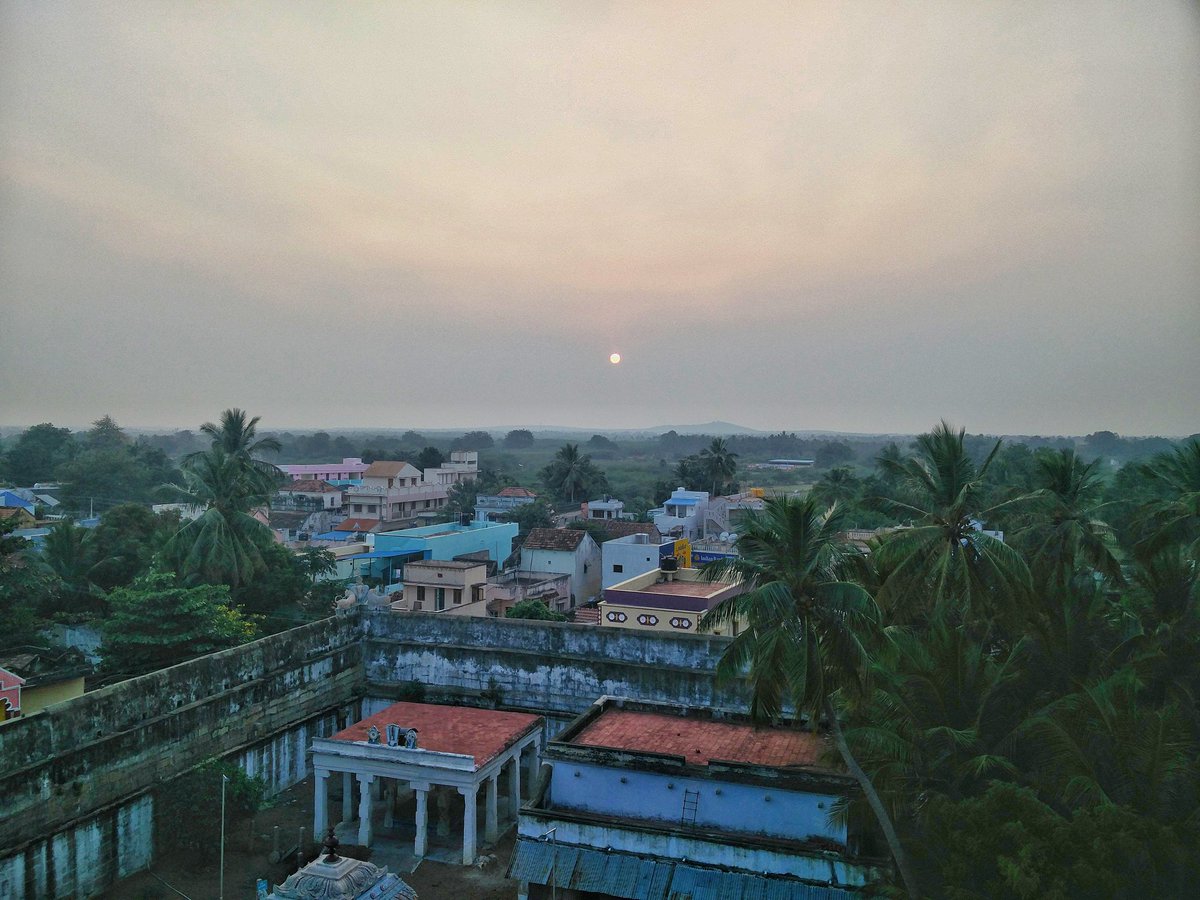 BTW, this is the house of Ramanuja's Guru - the temple maintains it.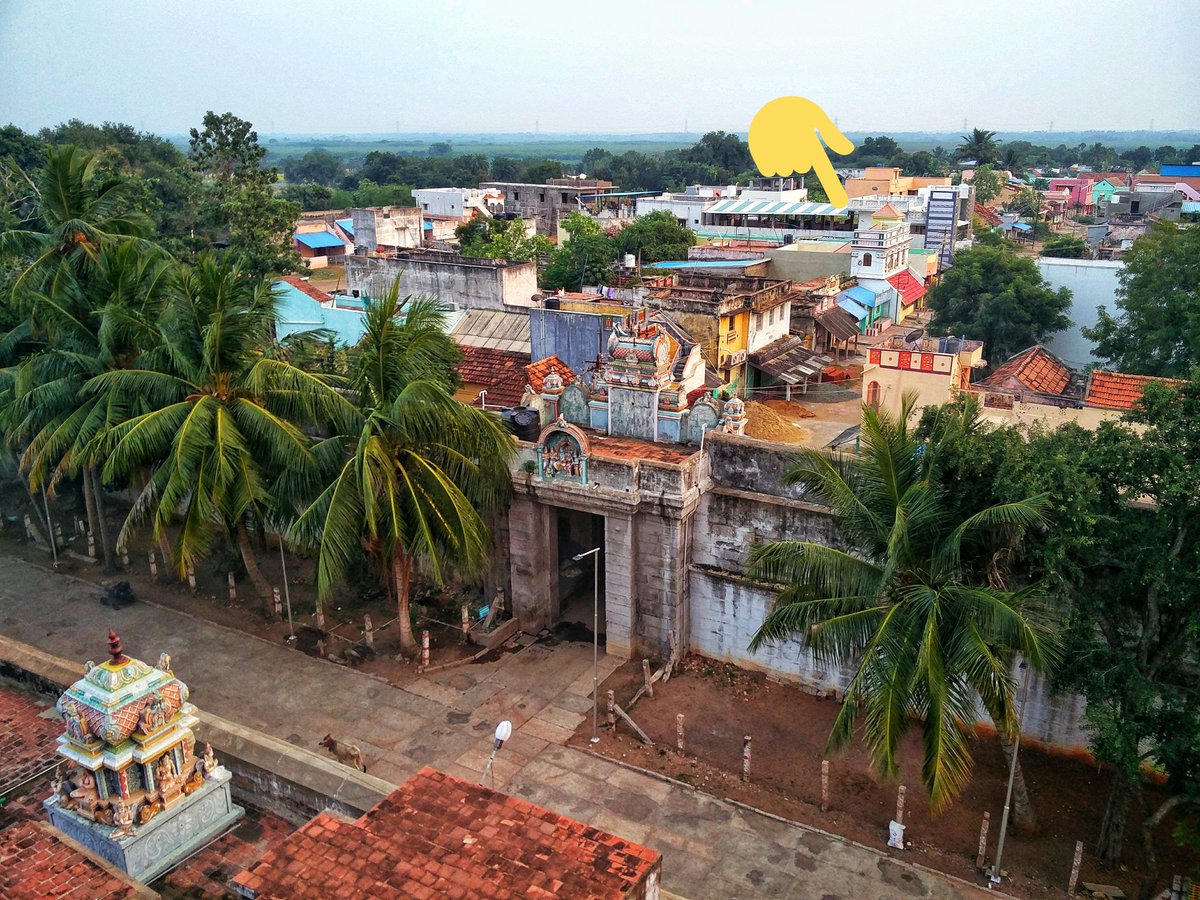 Temple 1: Pandava dootha Perumal!
The 25 foot jet black Perumal in this tiny but age old temple (8th century CE Pallava), which most people give a miss, is a must visit IMHO!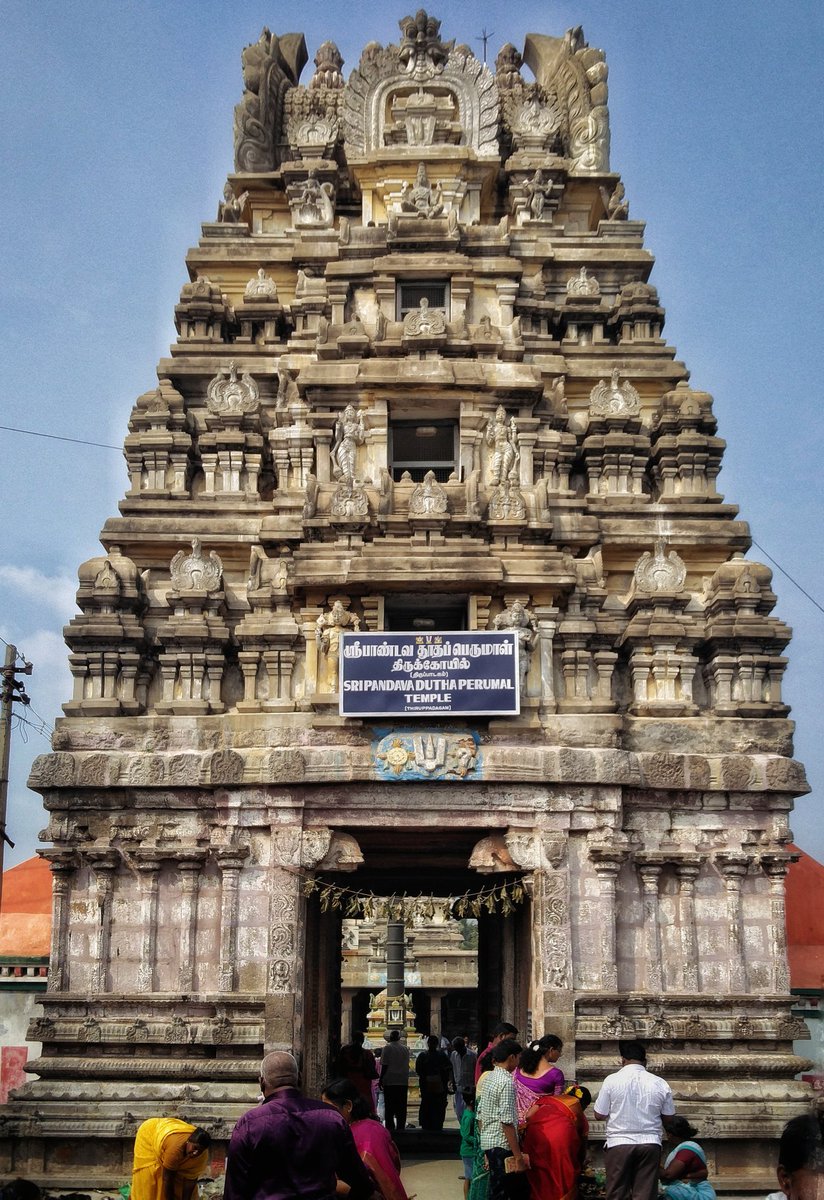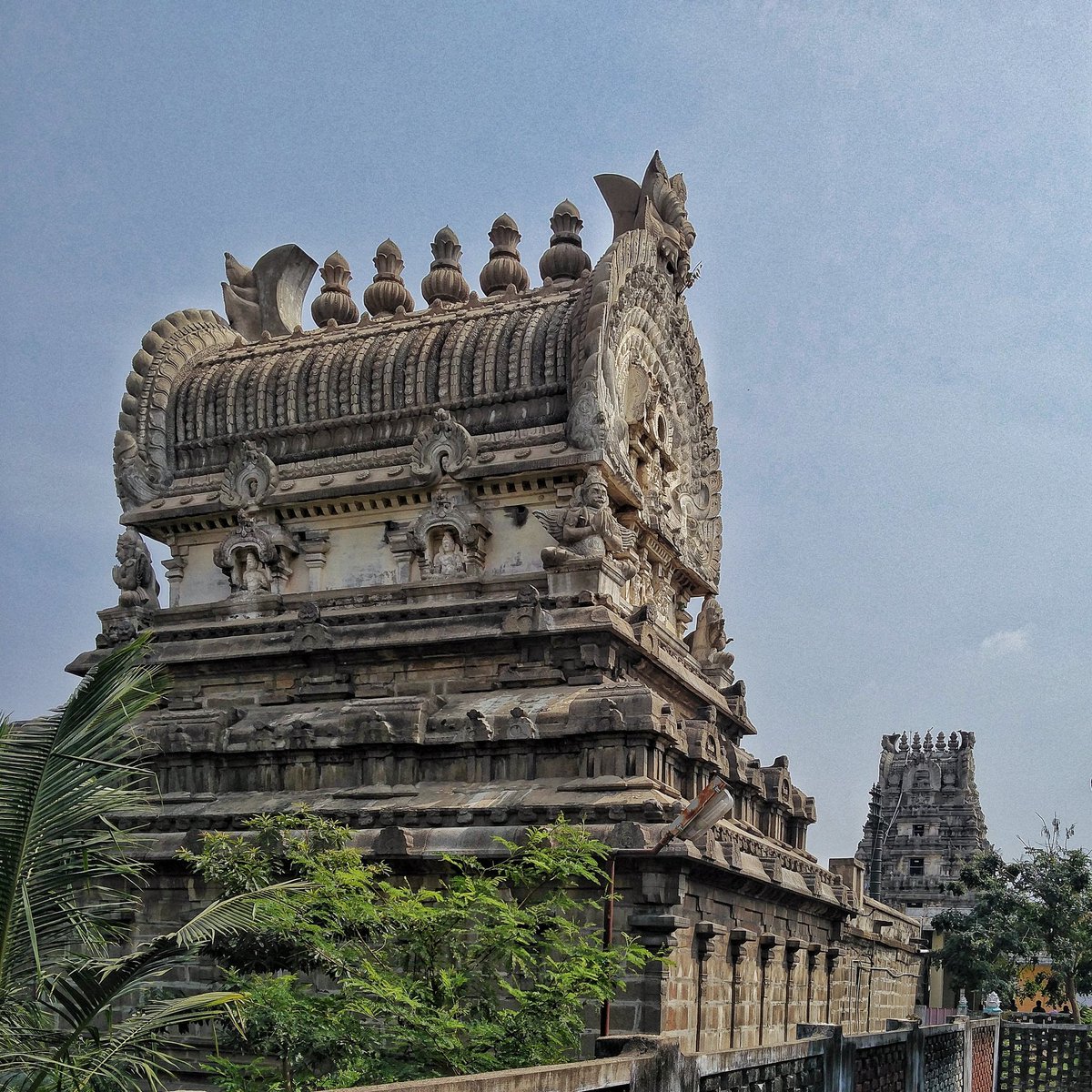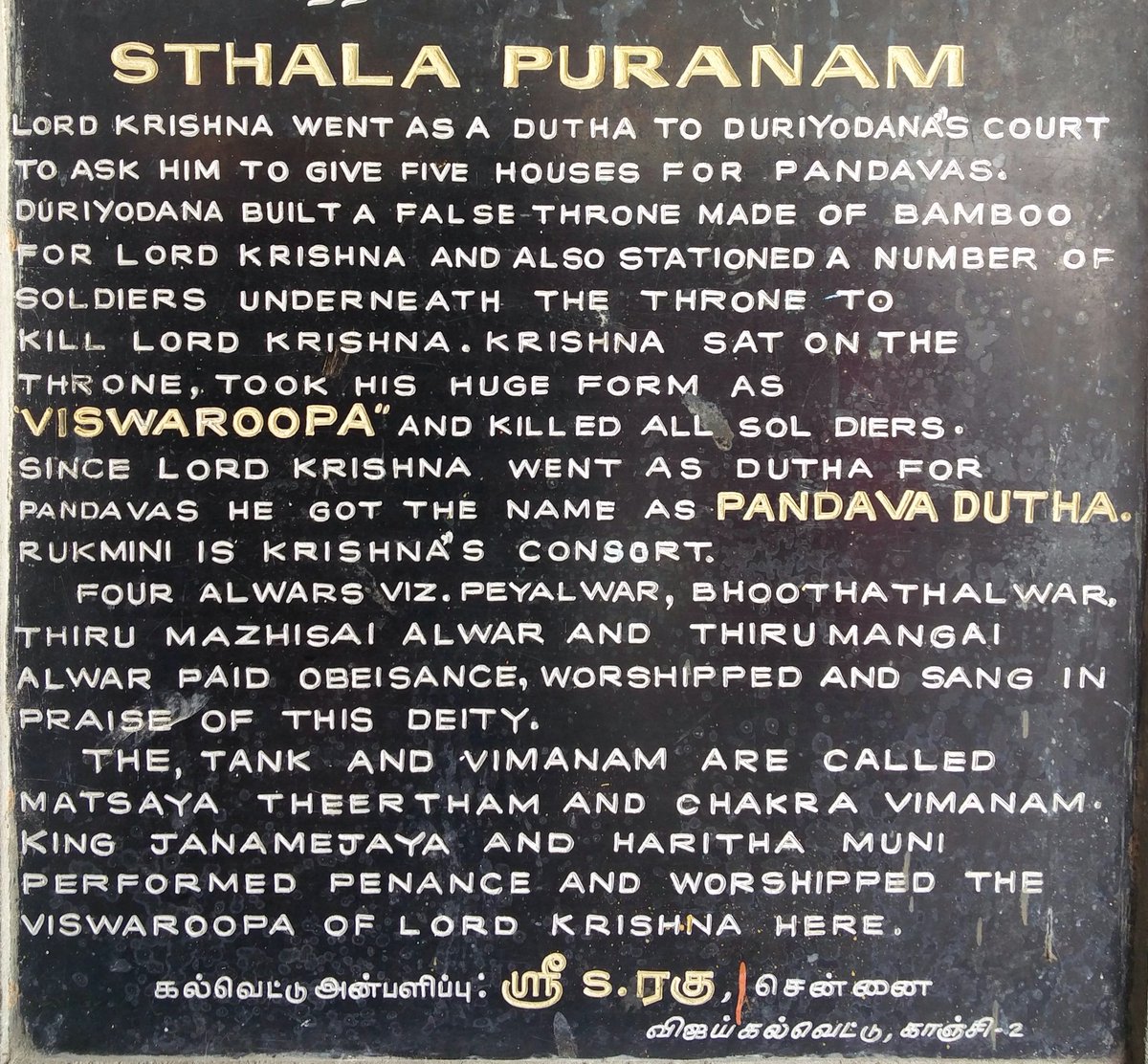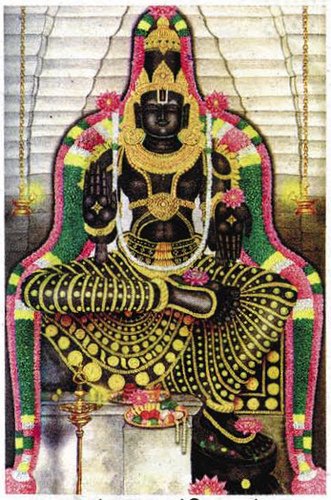 Temple 2: Varadaraja Perumal temple!
One of the largest temples in Kanchipuram. As with all Vishnu temples, the moolavar is grand. There are some fine murals (which are badly maintained though) & sculptures.
You can also google the lizard story. 😃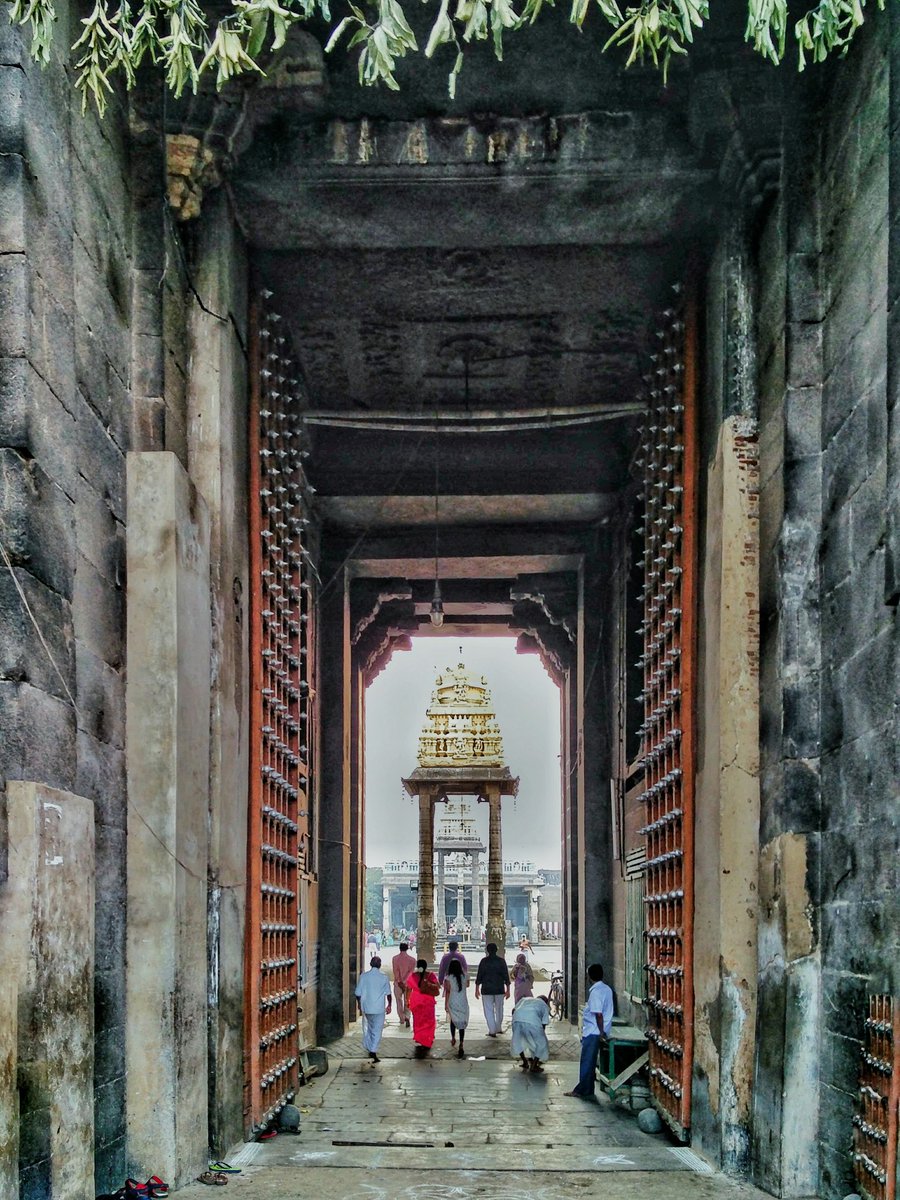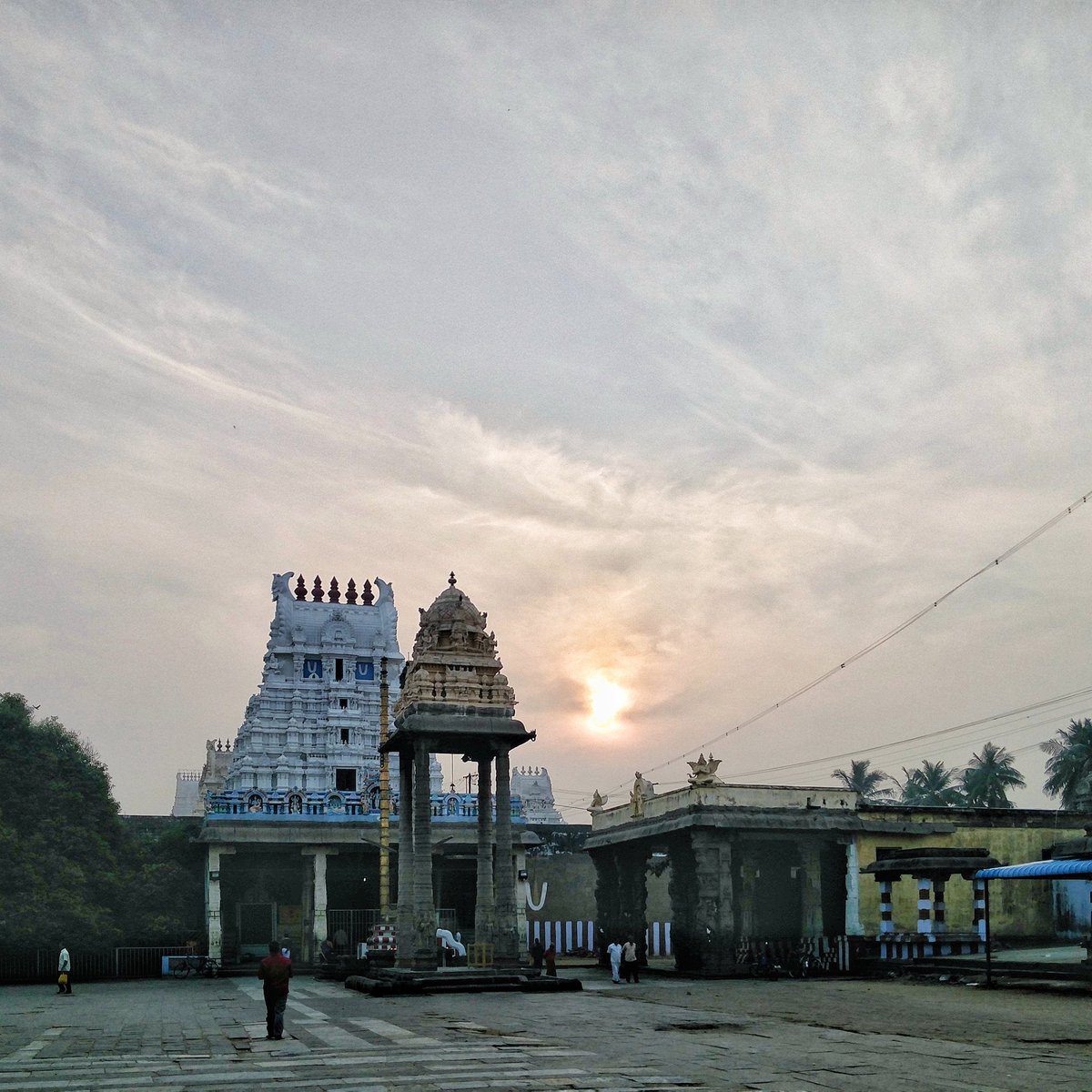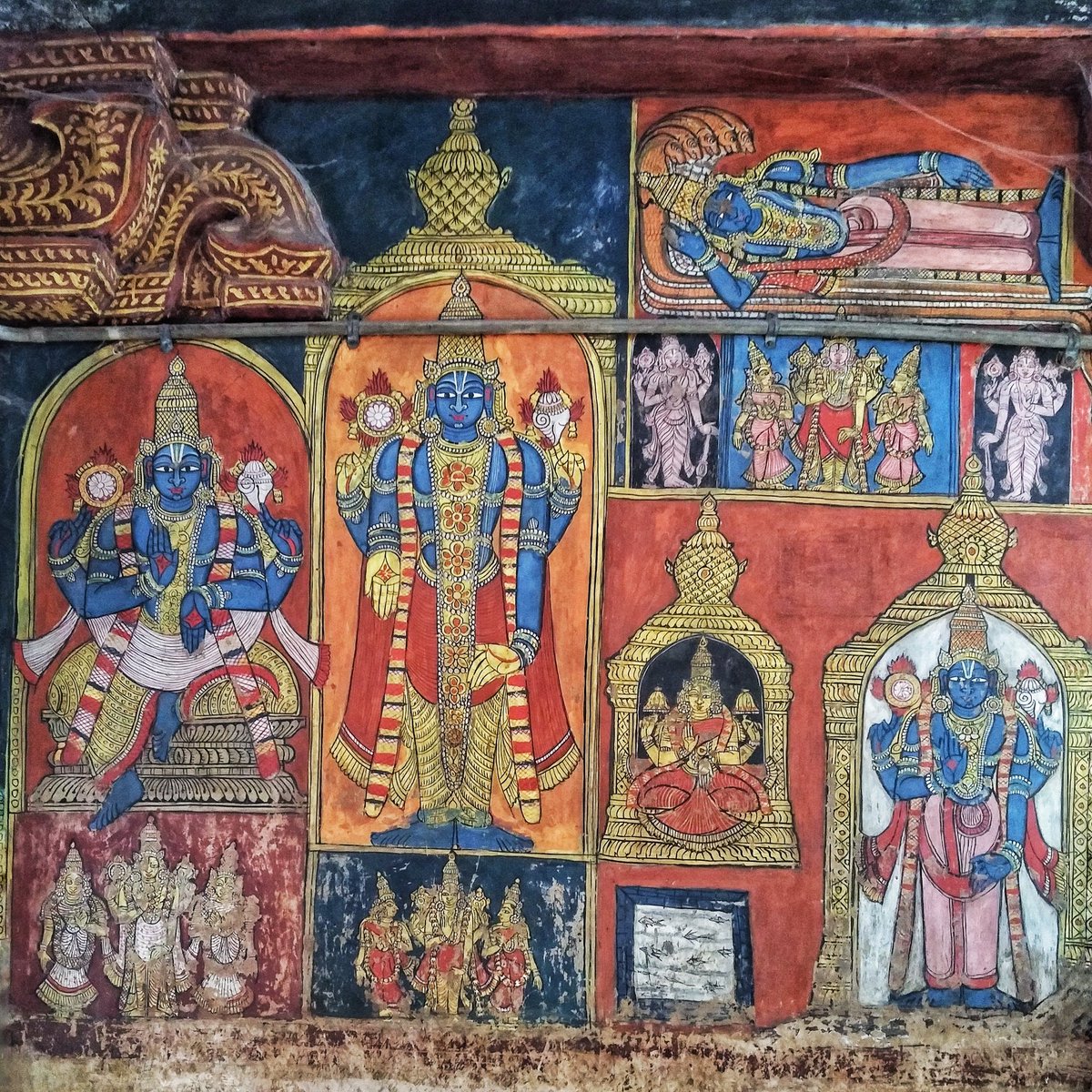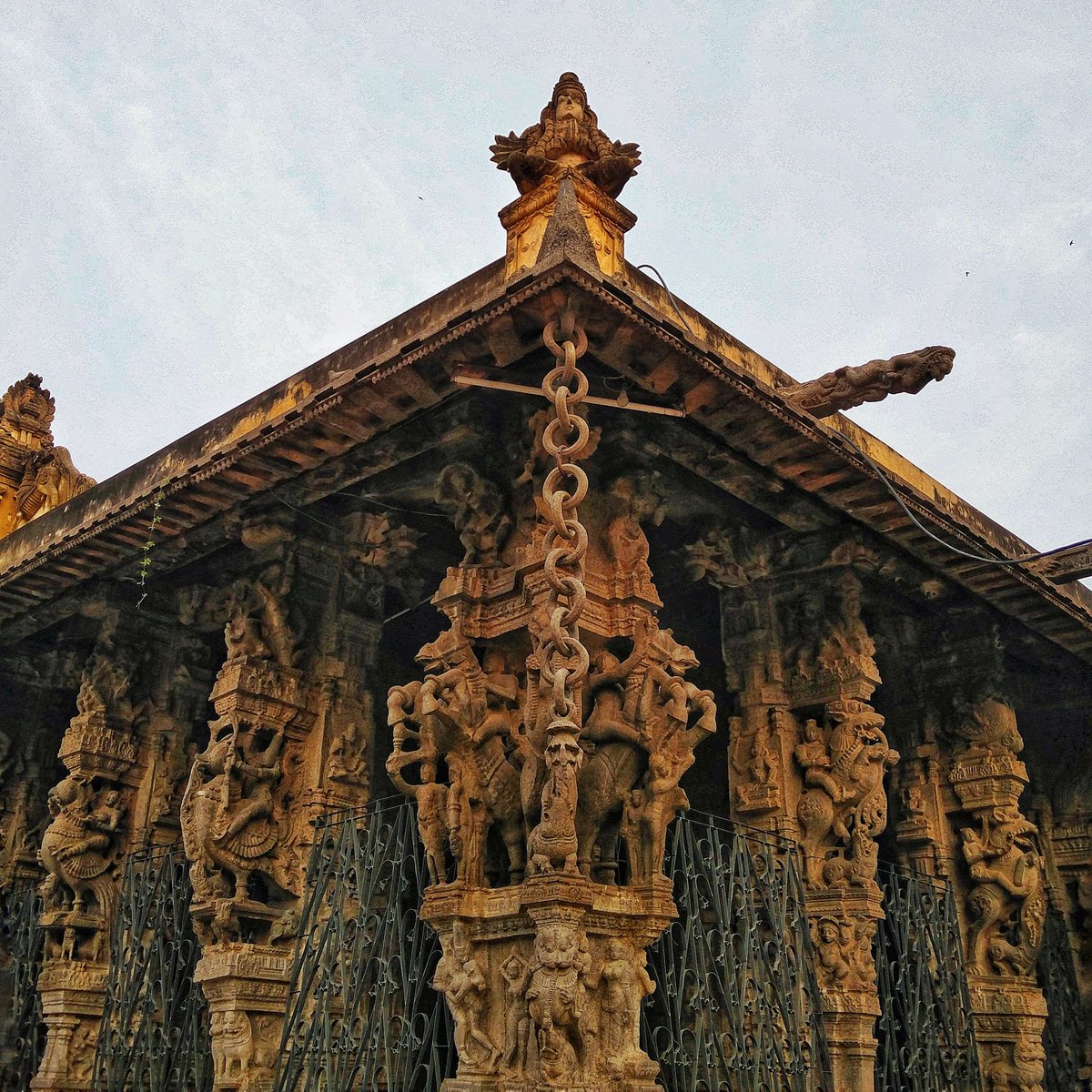 Kailasanathar.
Nuff said.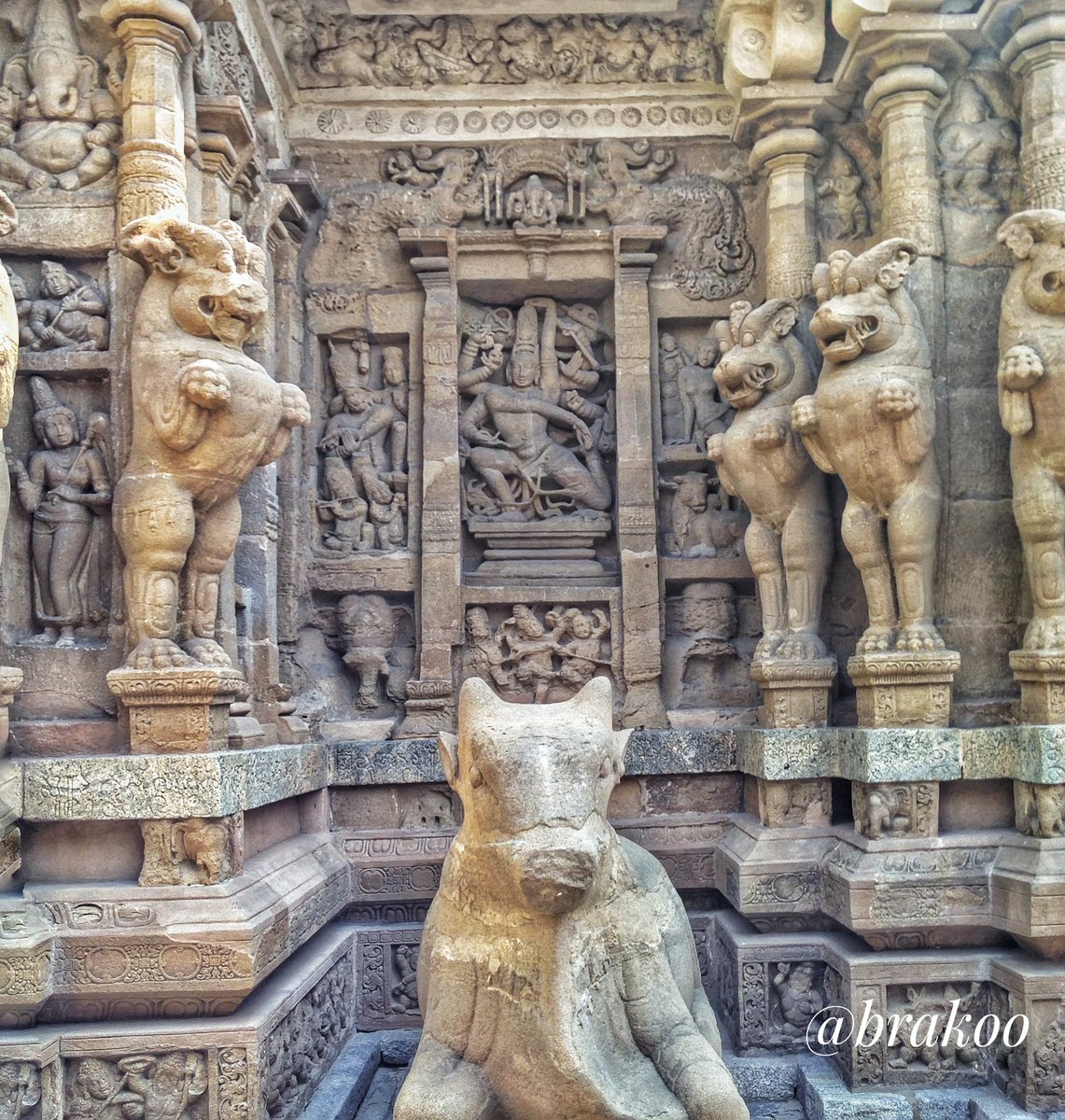 If ever time travel becomes reality, I am heading back to 705 Century CE.
The temple's just newly built and an Utsavam is on.
And the Lord, in full battle attire, is smiling down on us.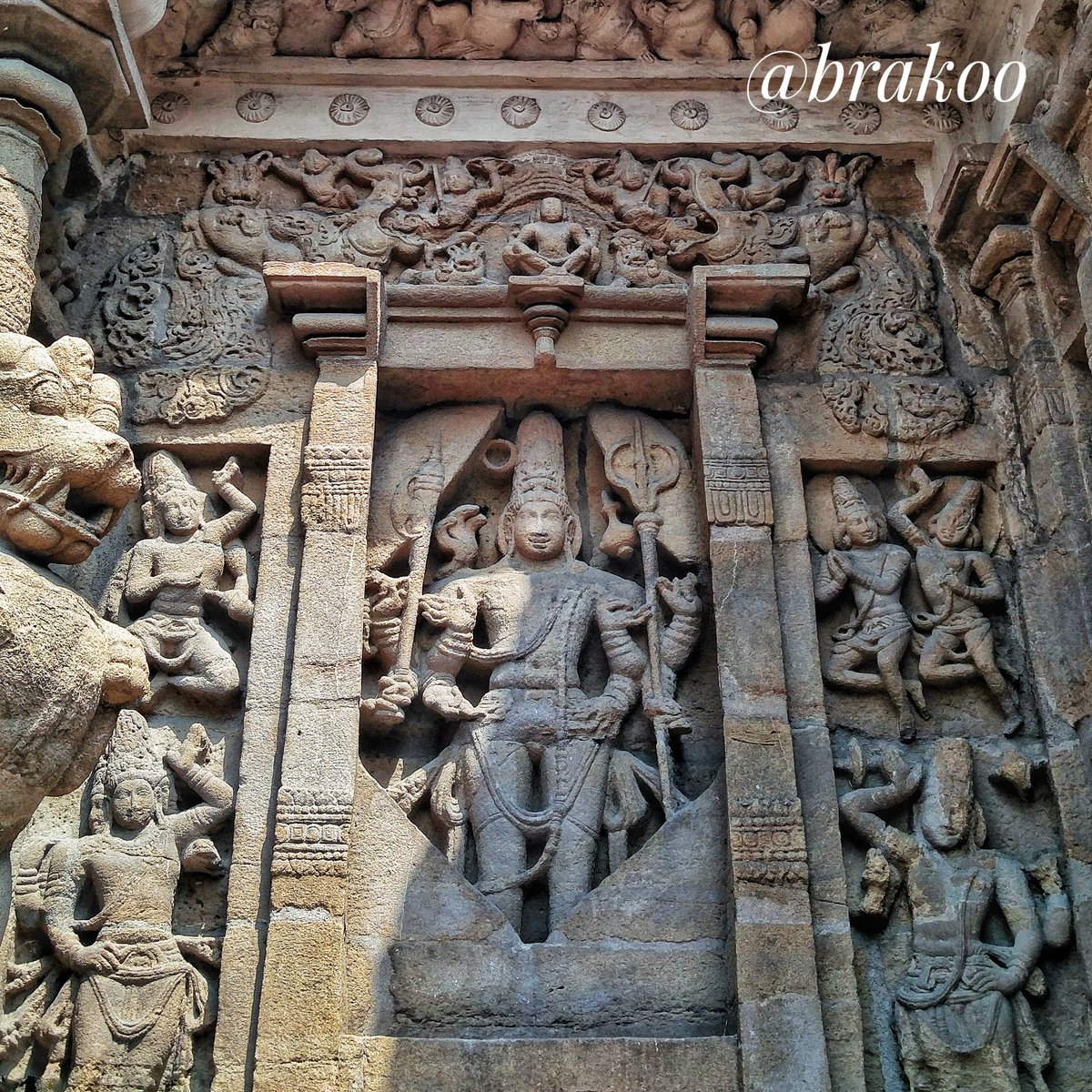 And just when you turn the corner to catch your breath, there He stands, with all that swag!
Bhikshatanamurti... Just look at those locks!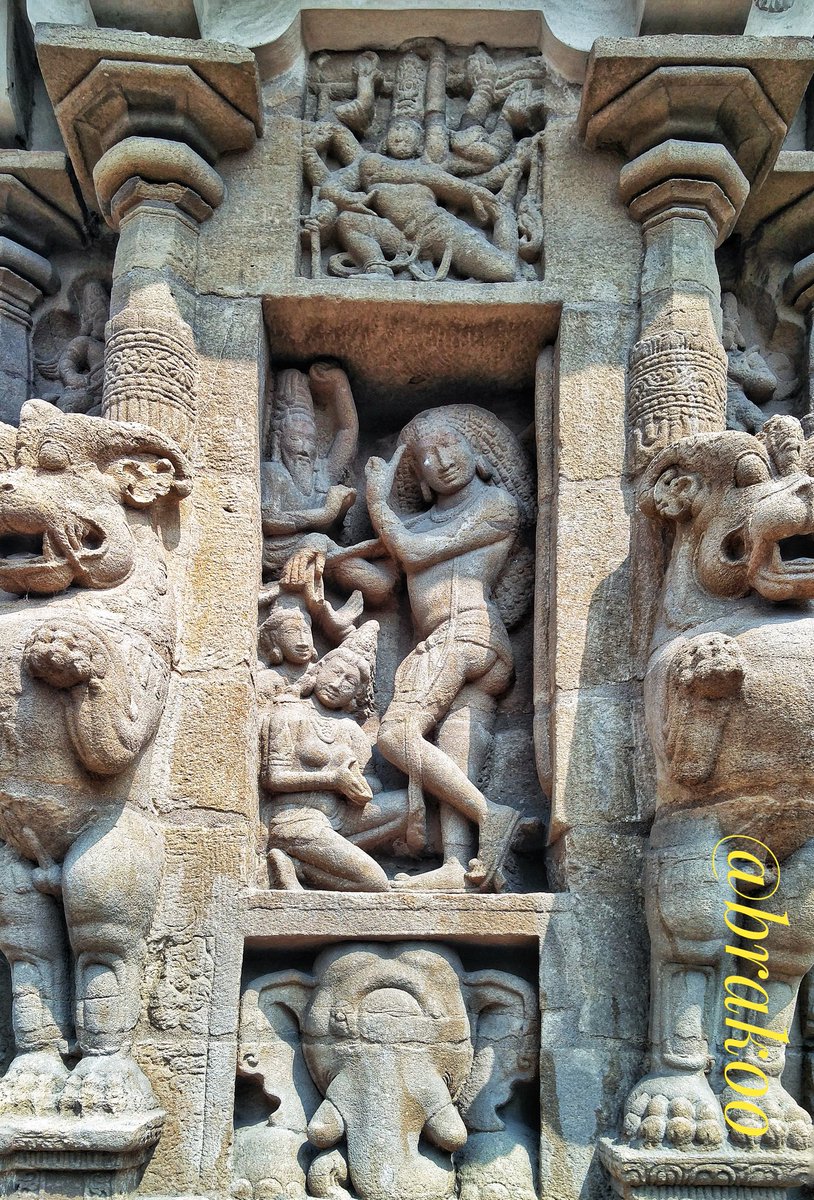 And just when you thought He couldn't get any cooler!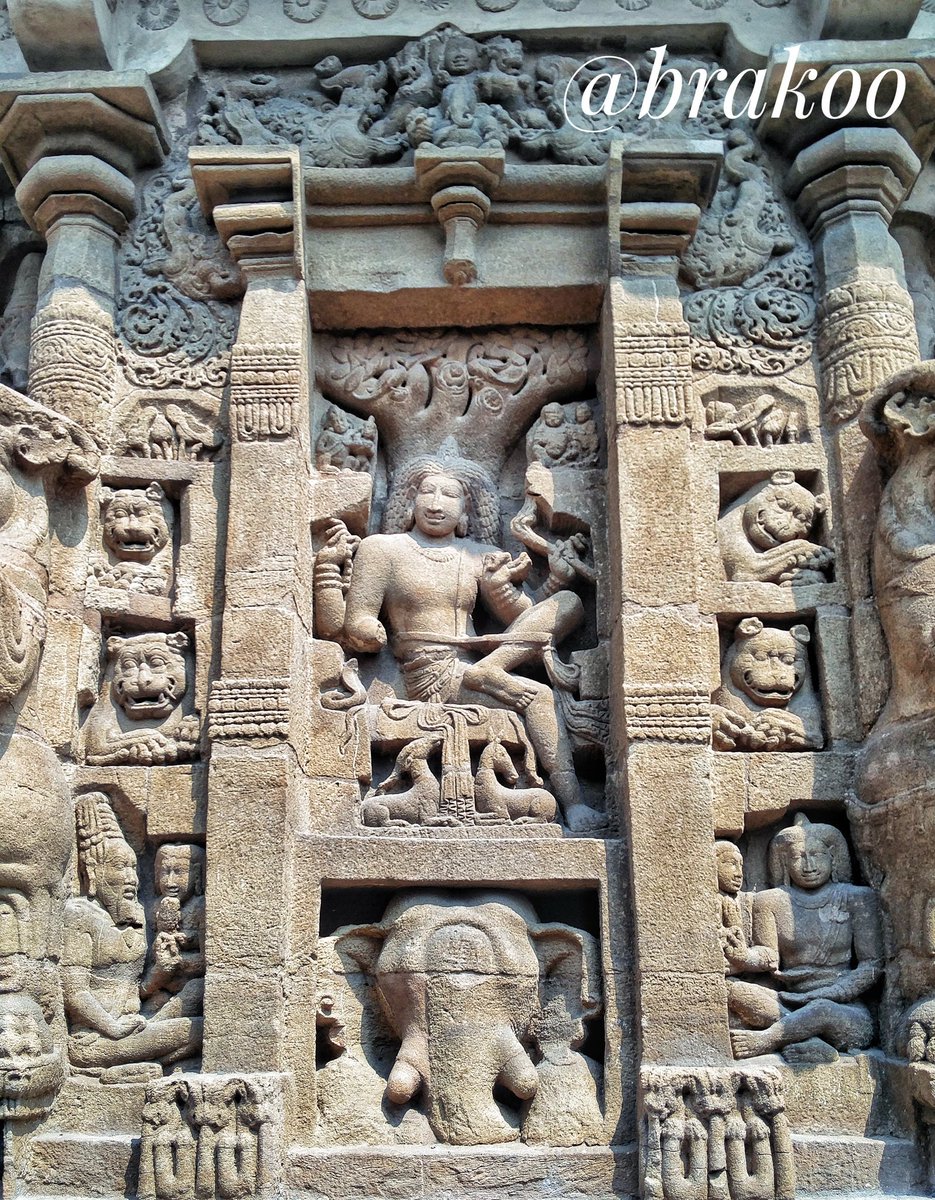 Come one, come all!
For even the Gods...
Have lined up to watch,
The Lord's Cosmic Dance!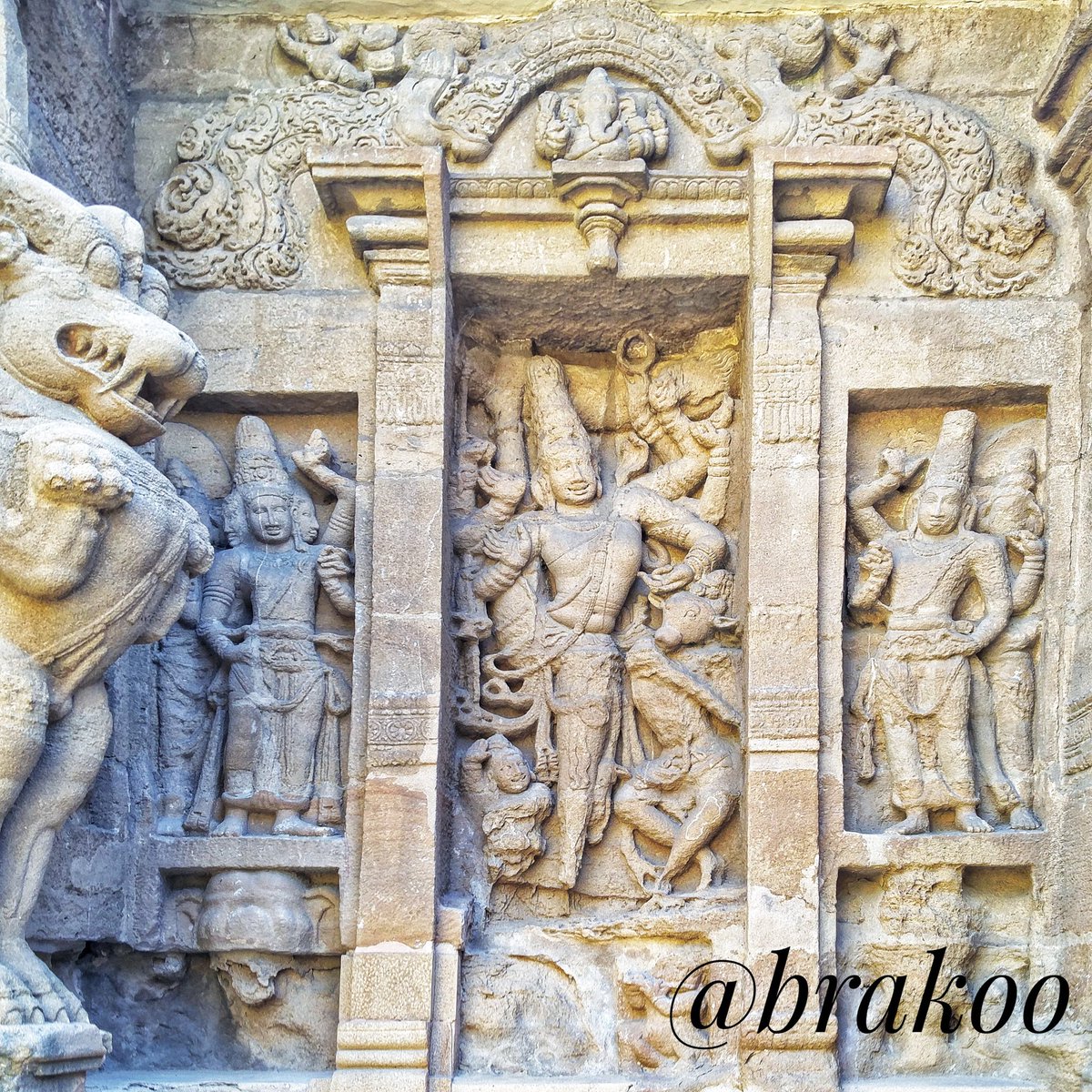 There are many many many more that I clicked. But I'll leave you with this last one from the wonder that is Kailasanathar temple and move on to other temples.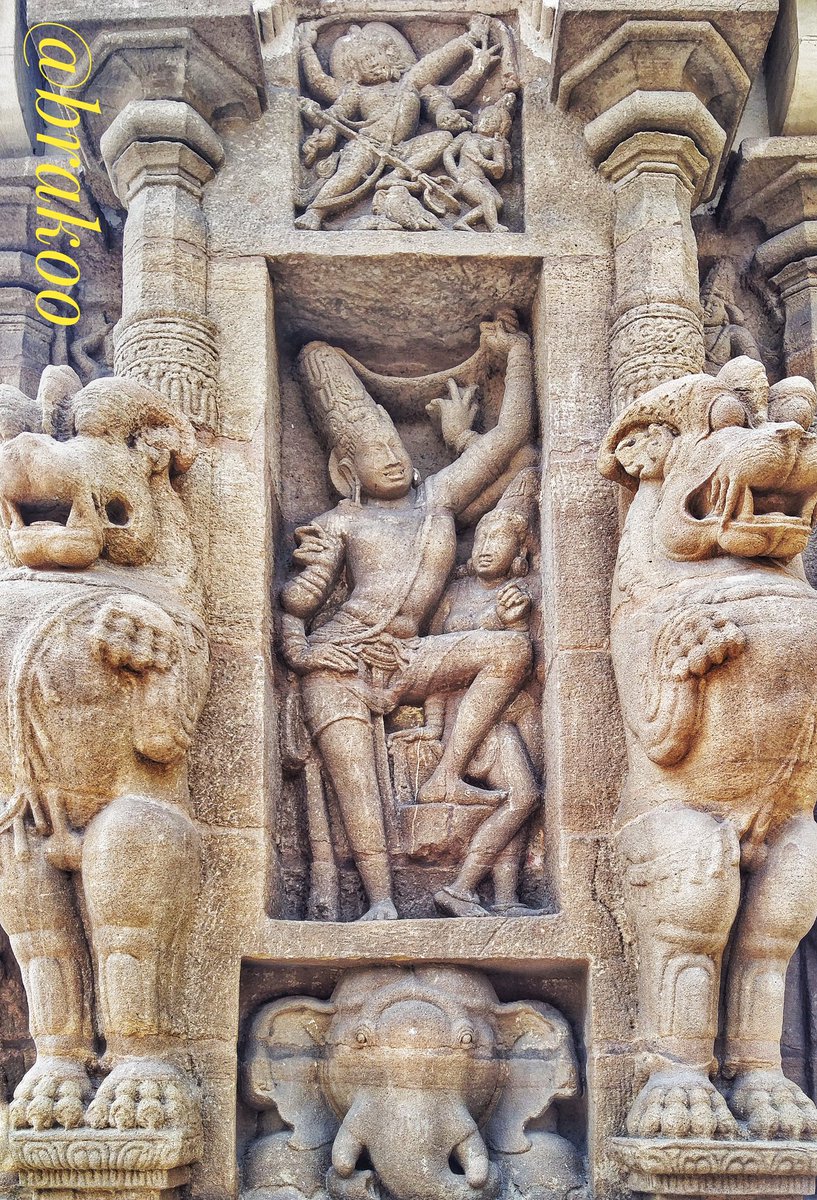 In the afternoon, as recommended by
@kshetragnya
, I reached Vaikuntha Perumal temple. Just like Kailasanathar, this too is an ASI protected monument.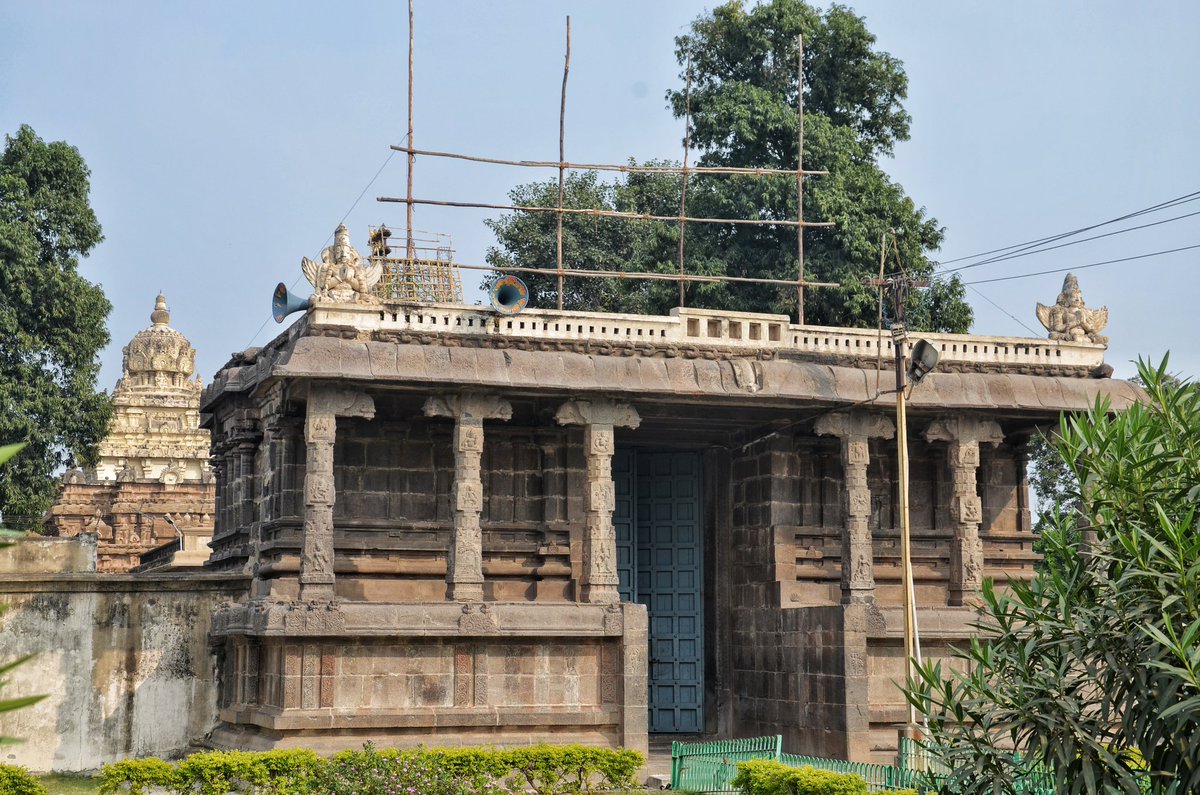 As luck would have it, the Bhattar was late and the crowd thin, so I could cover this magnificent 1400 year told temple at my own pace.
(Bhattar later told me, 1400 yo is the official number, we believe it is 3000 yo).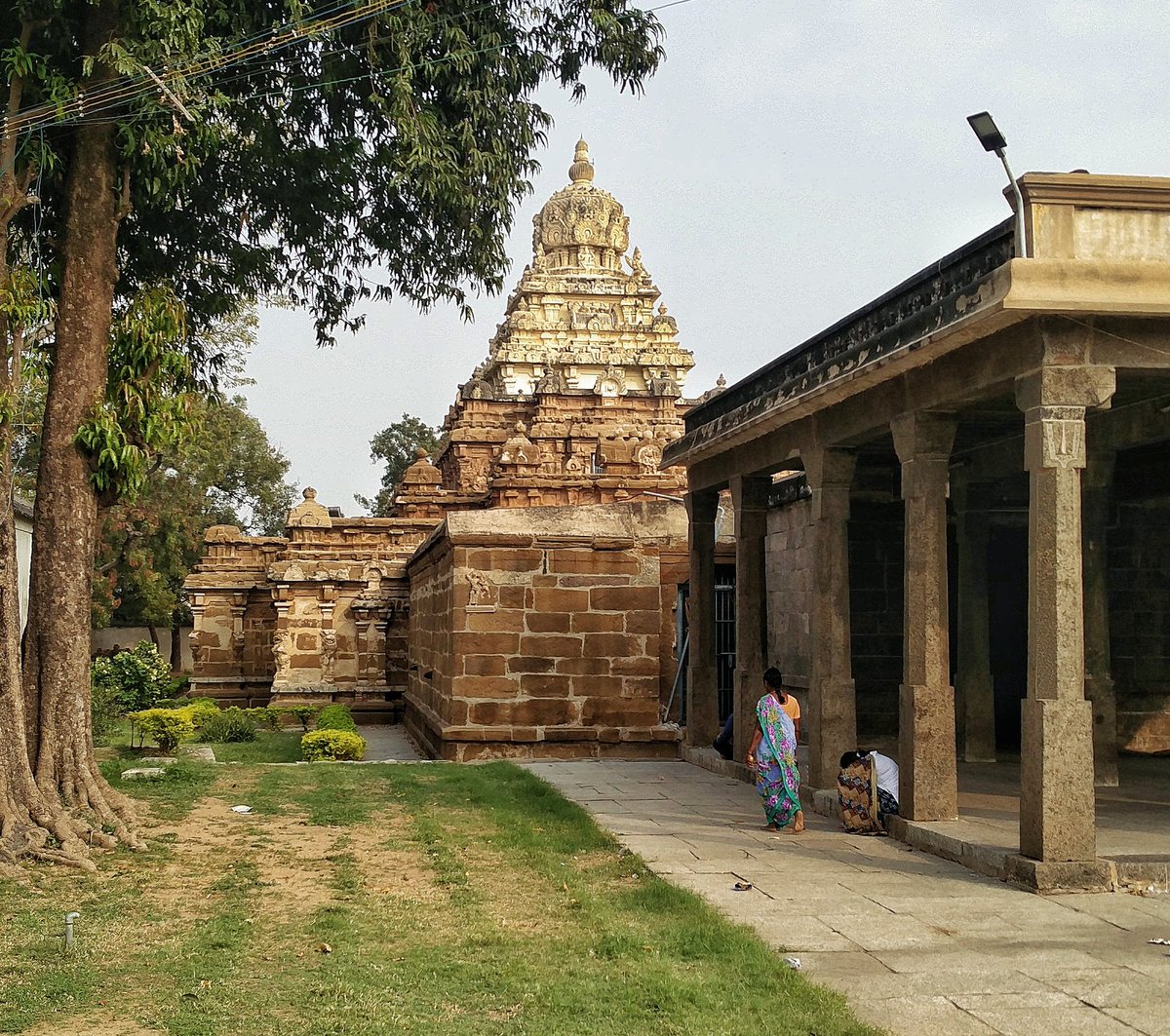 The walls of the temple itself is covered with stories from the Bhagavatham. But it's the corridor, behind the lion pillars that runs around the temple, that is fascinating.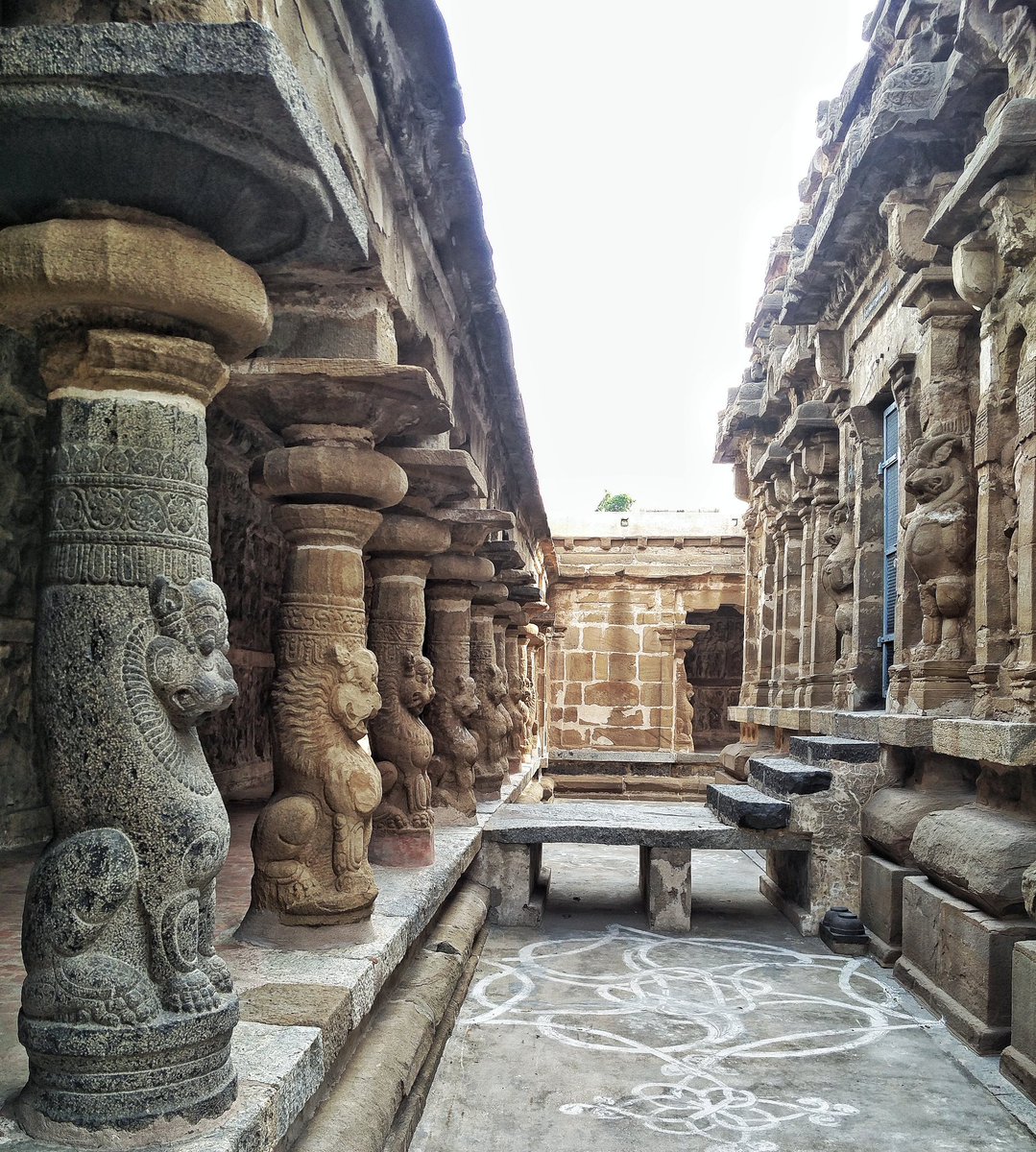 The corridors chronicle Pallava history - the kings, the wars, the temples they built, the feats they accomplished!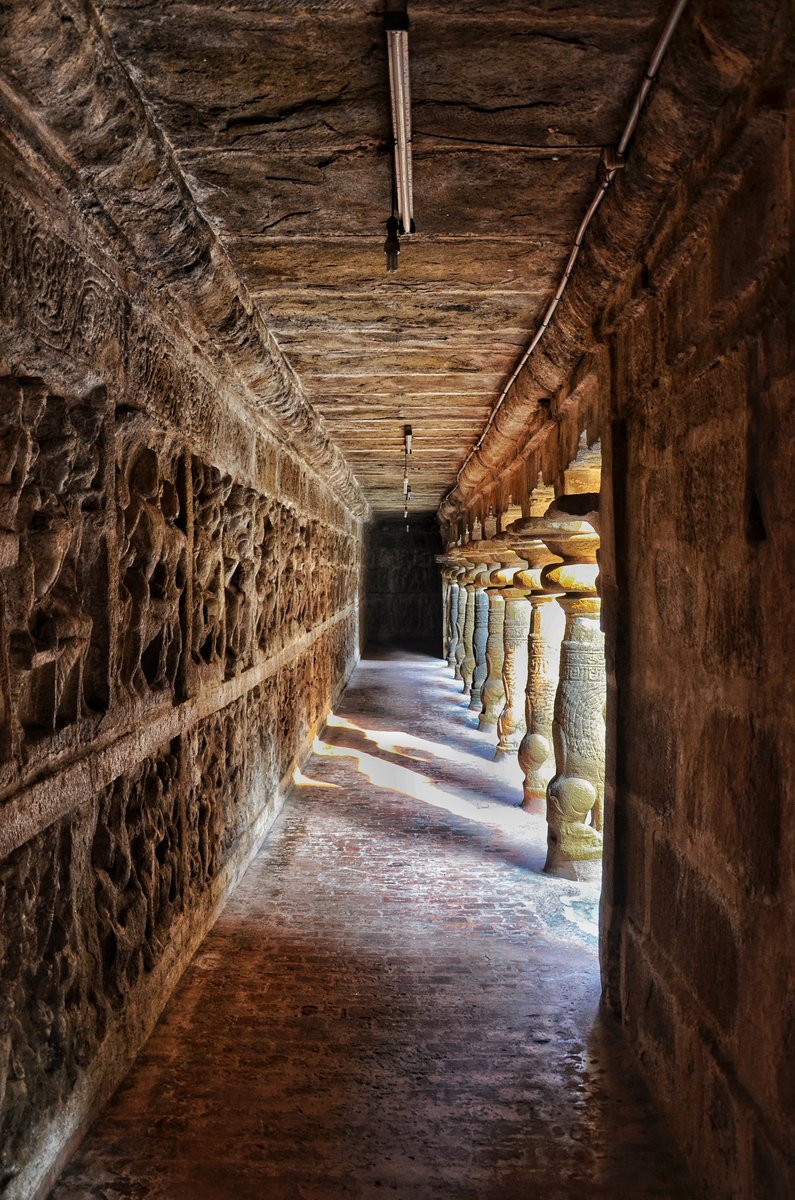 Like so... But this isn't what
@kshetragnya
asked me to look for! He told me to look for two specific panels!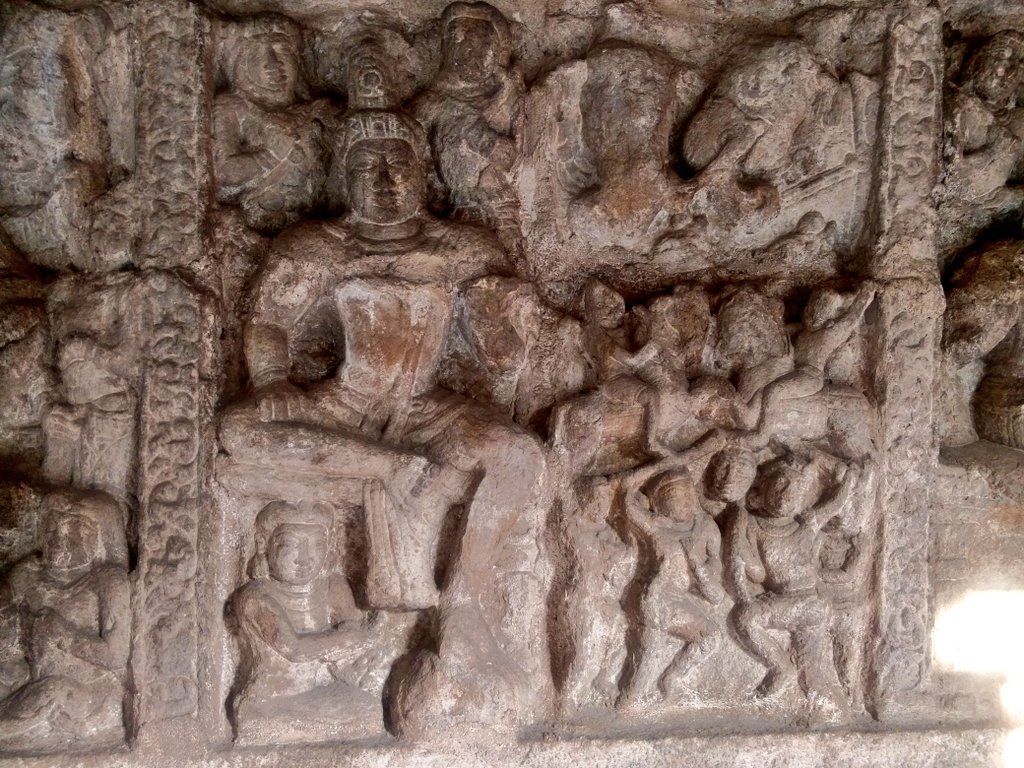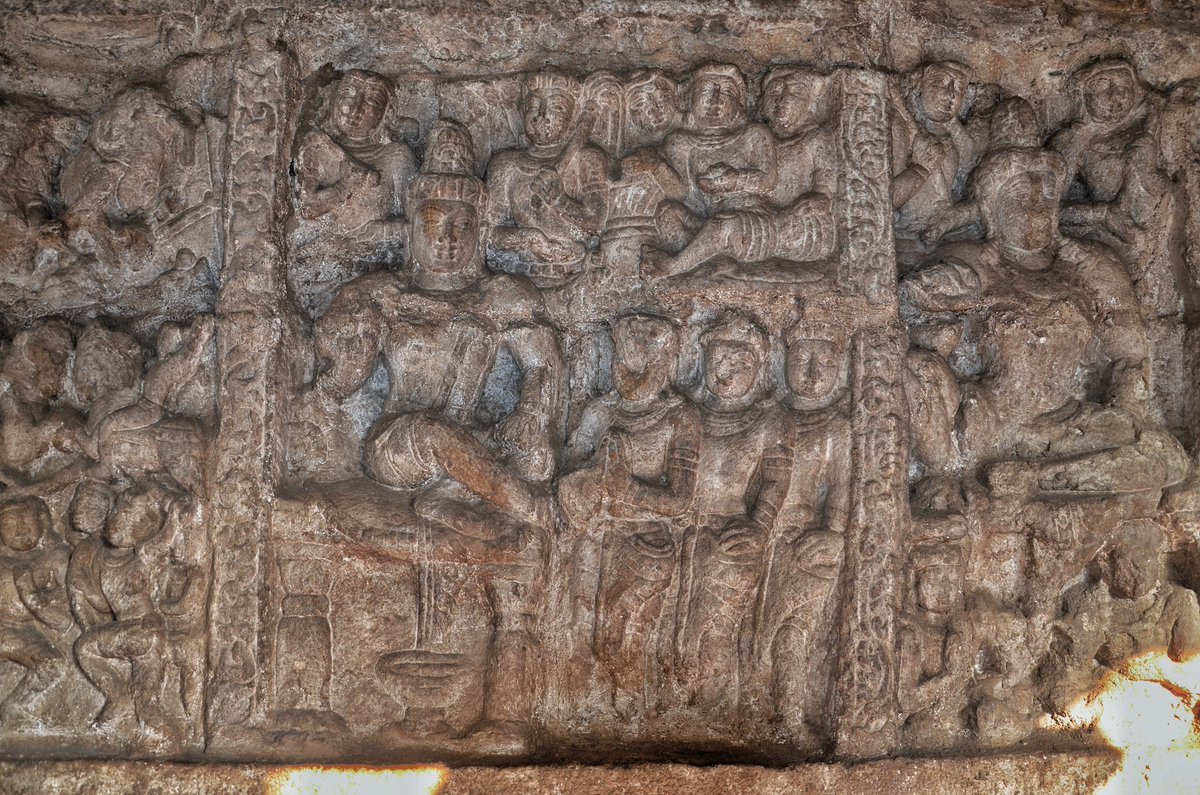 So I ran around & finally found them.
I remembered
@sanjeevsanyal
's book, the Ocean of Churn.
Not sure if it's the same one in the panel, but note the distinct Oriental features, including that beard!
Fascinating, huh?
So, our SE phariner,
@NarenMenon1
, there's hope for you.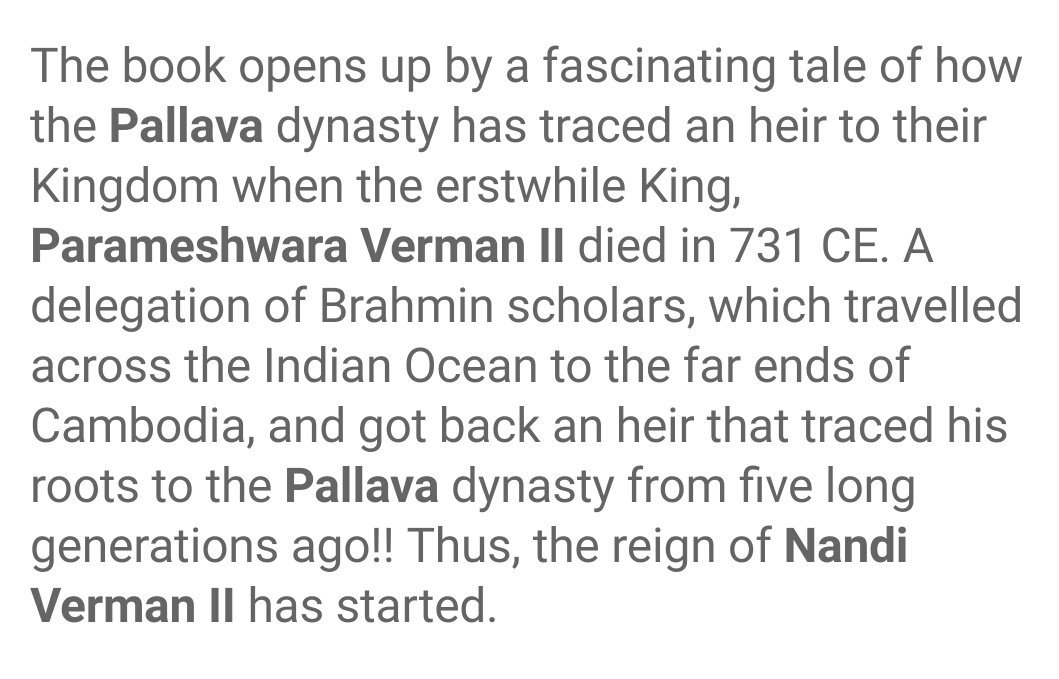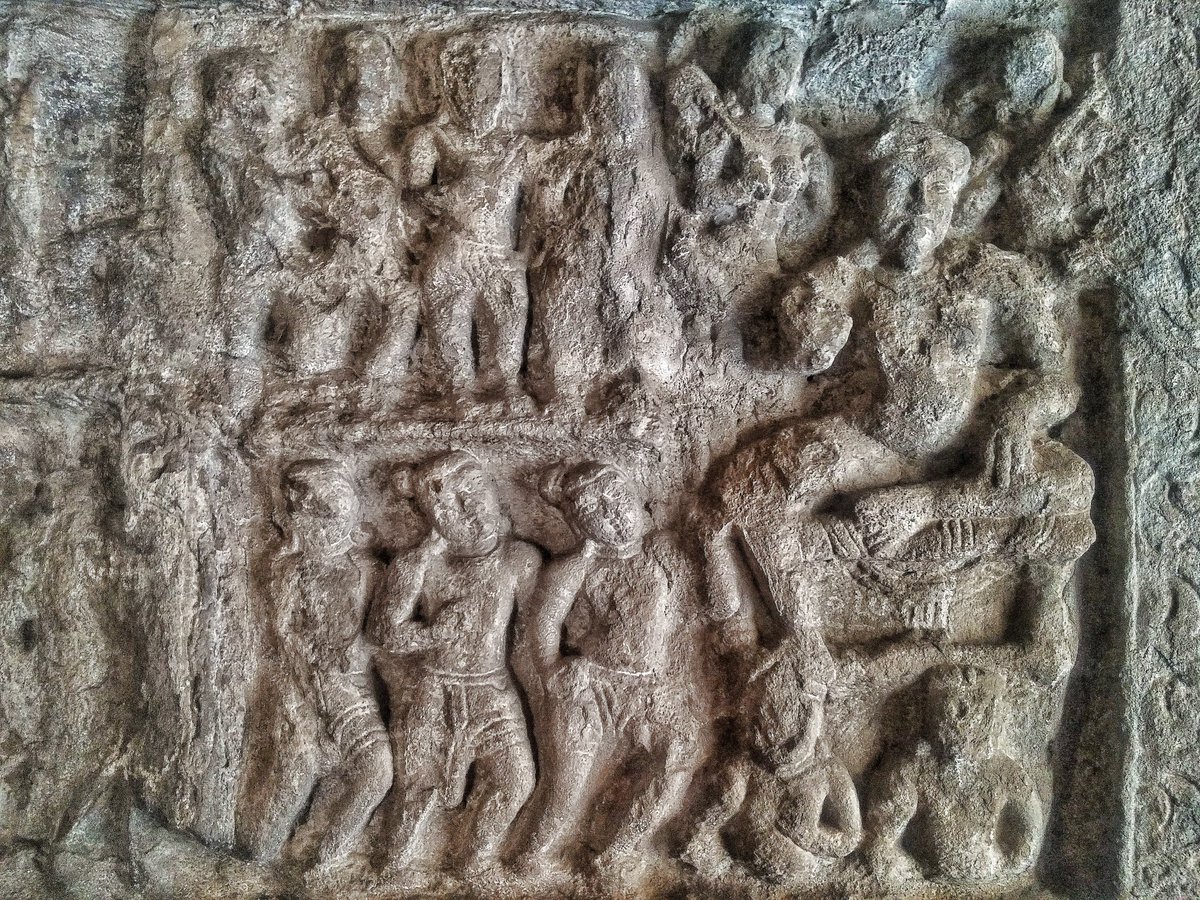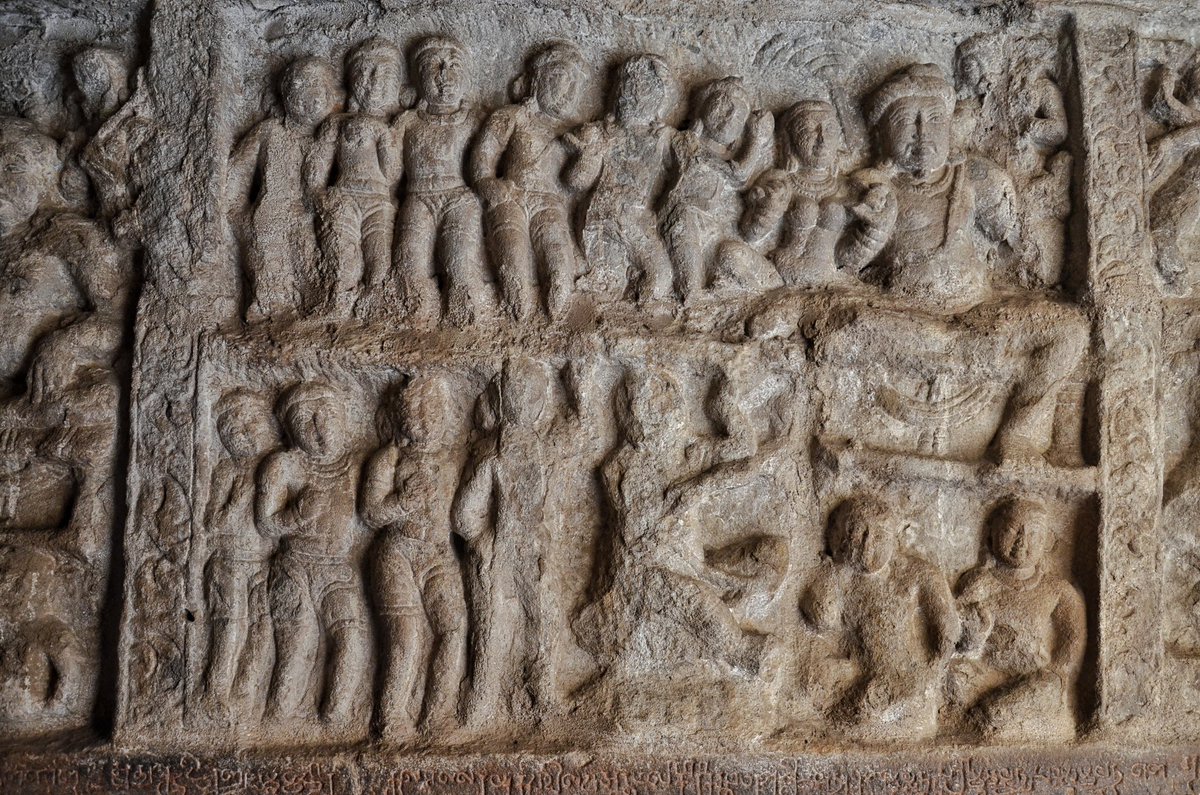 But, of course, oblivious to all this history, good people just come to pray & catch up with each other while waiting for the Bhattar.
There is more to this Vimana, just like Thirukoshtiyur & Koodalazhagar temples, it has levels & embodies the pancharatra.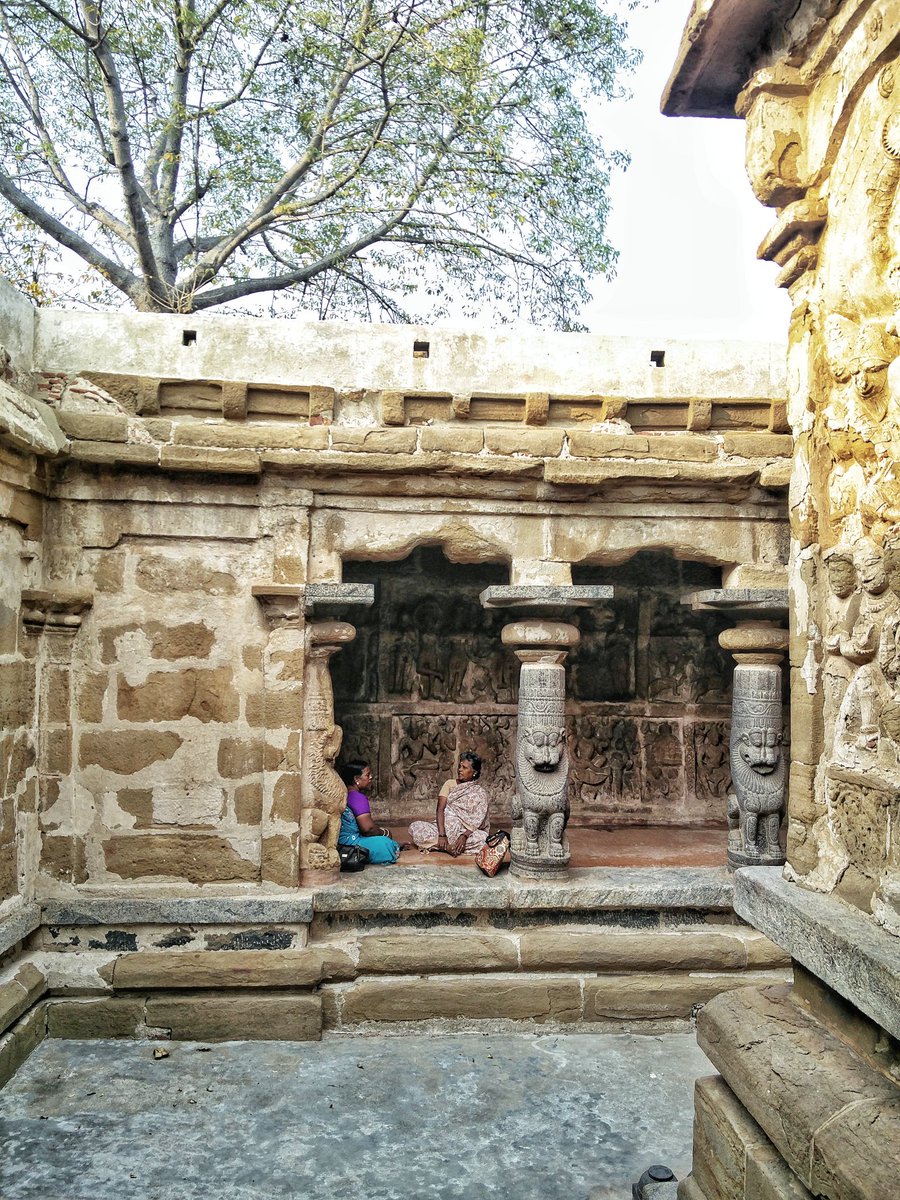 The sad part about this magnificent temple.
Peaceful encroachment.
As the Bhattar started his puja, the loudspeaker blared.
Blood boiled.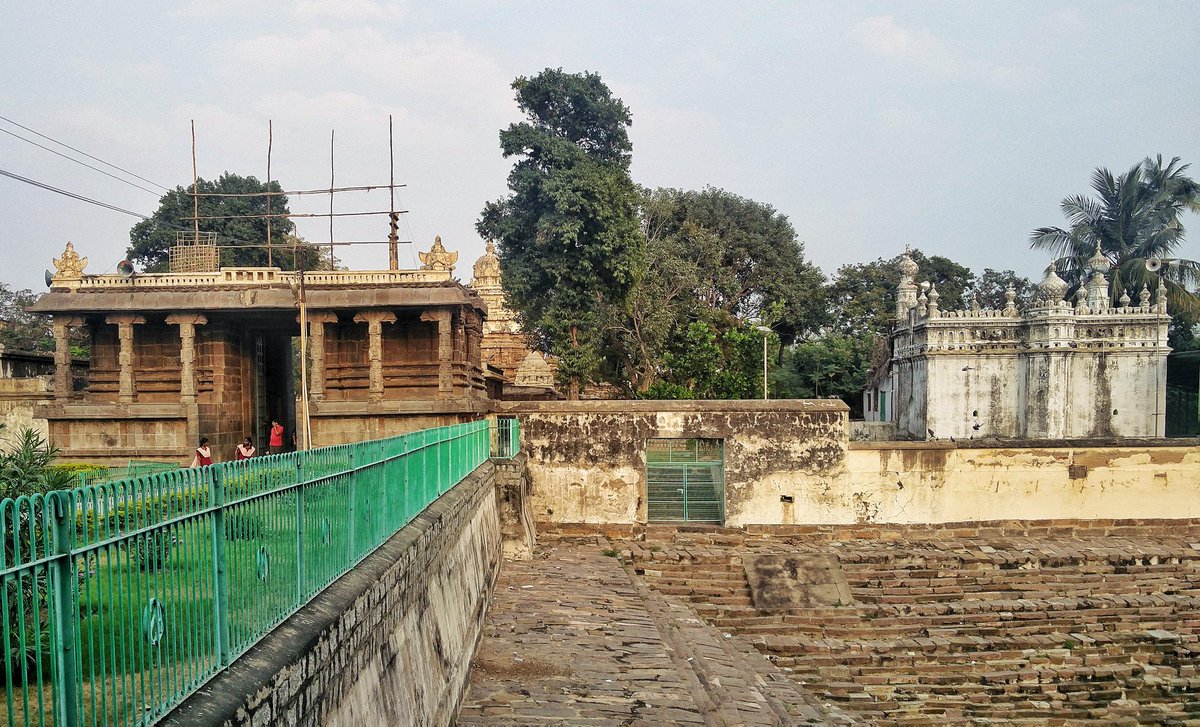 Tomorrow... Ekambaranathar.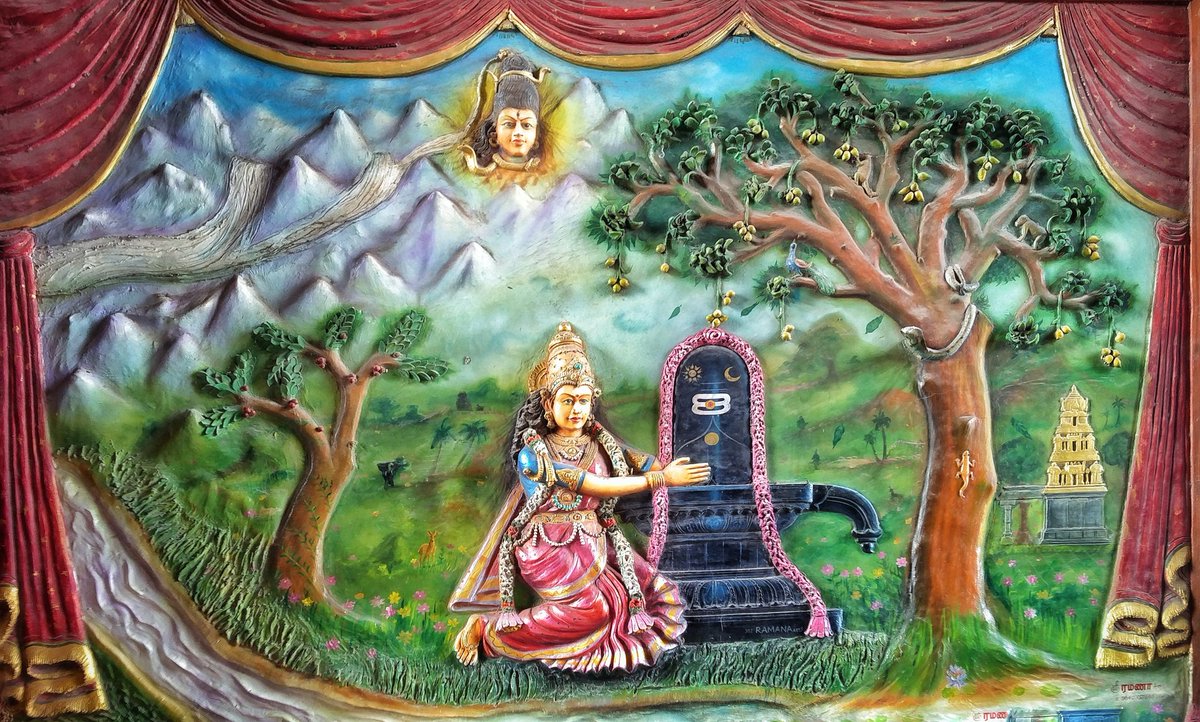 The Gopuram of Ekambaranathar temple! A sprawling temple... One of the largest I've seen.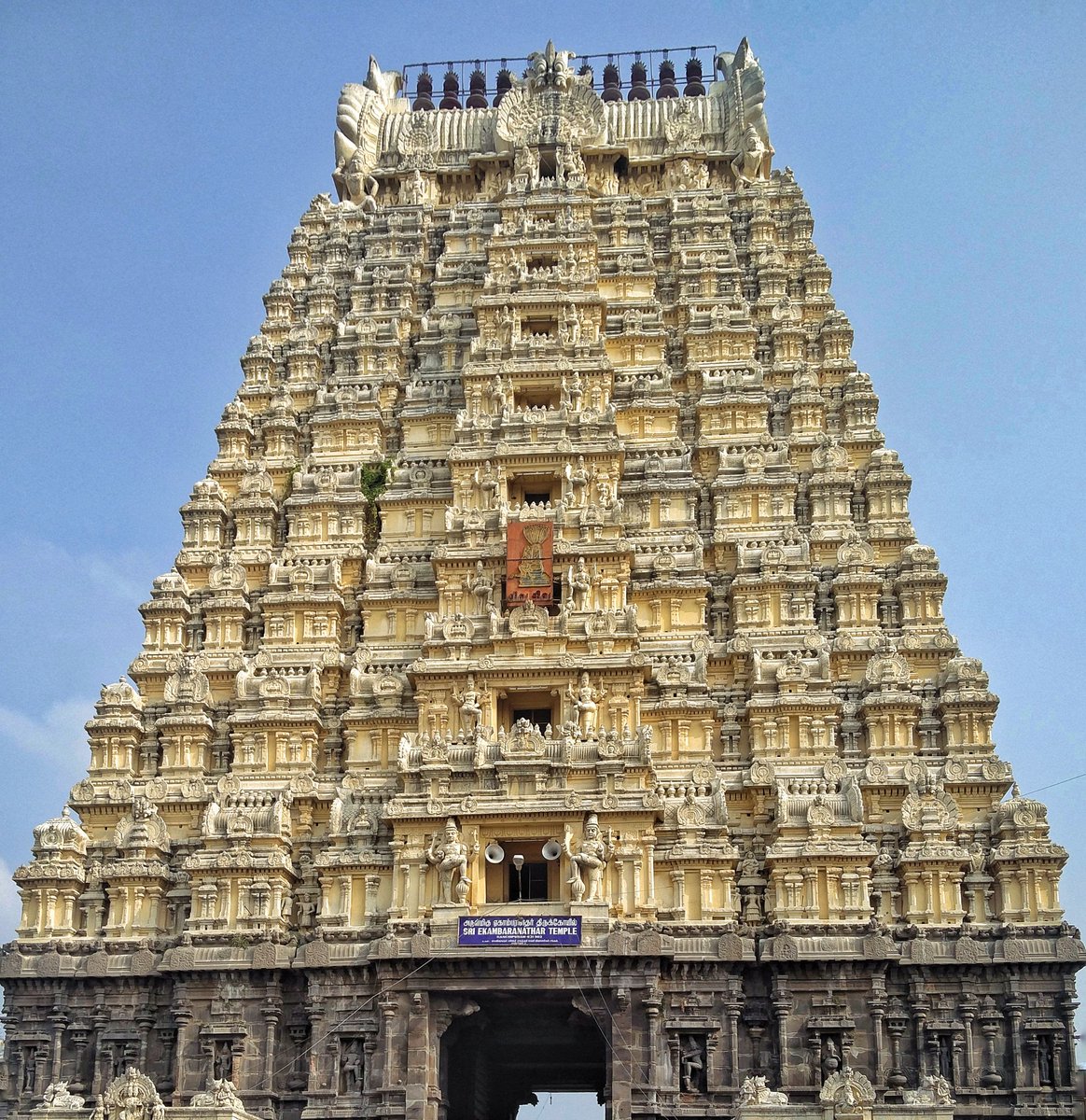 "He who melted in Her embrace"
The temple is all about how Bhagavan appeared and married Amman when she embraced the lingam she was worshipping to save it from overflowing River Vegavathi.
The lingam was under a mango tree. "The Lord of the mango tree"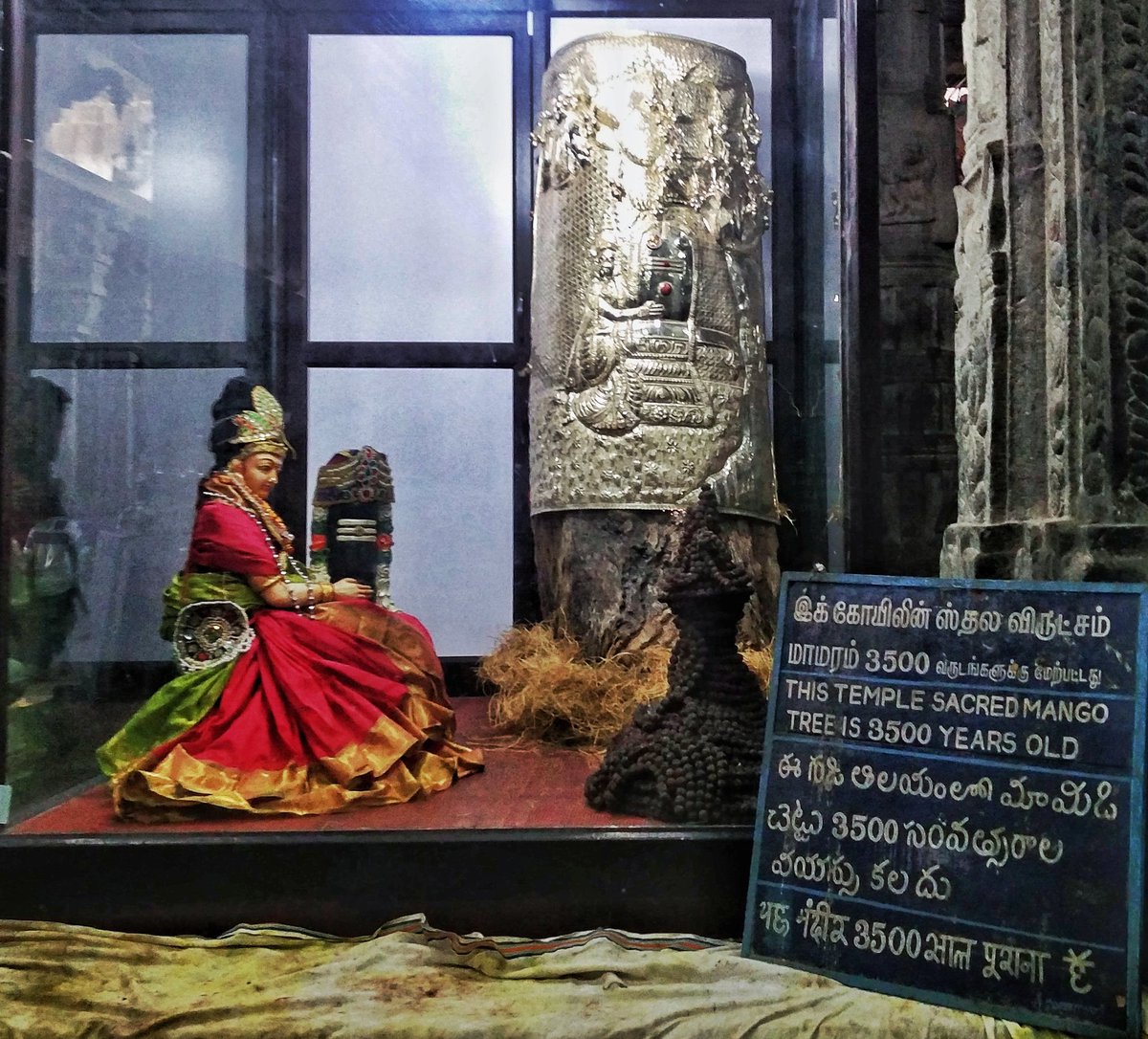 While I did not click too many pics of the Ekamranathar temple structure itself...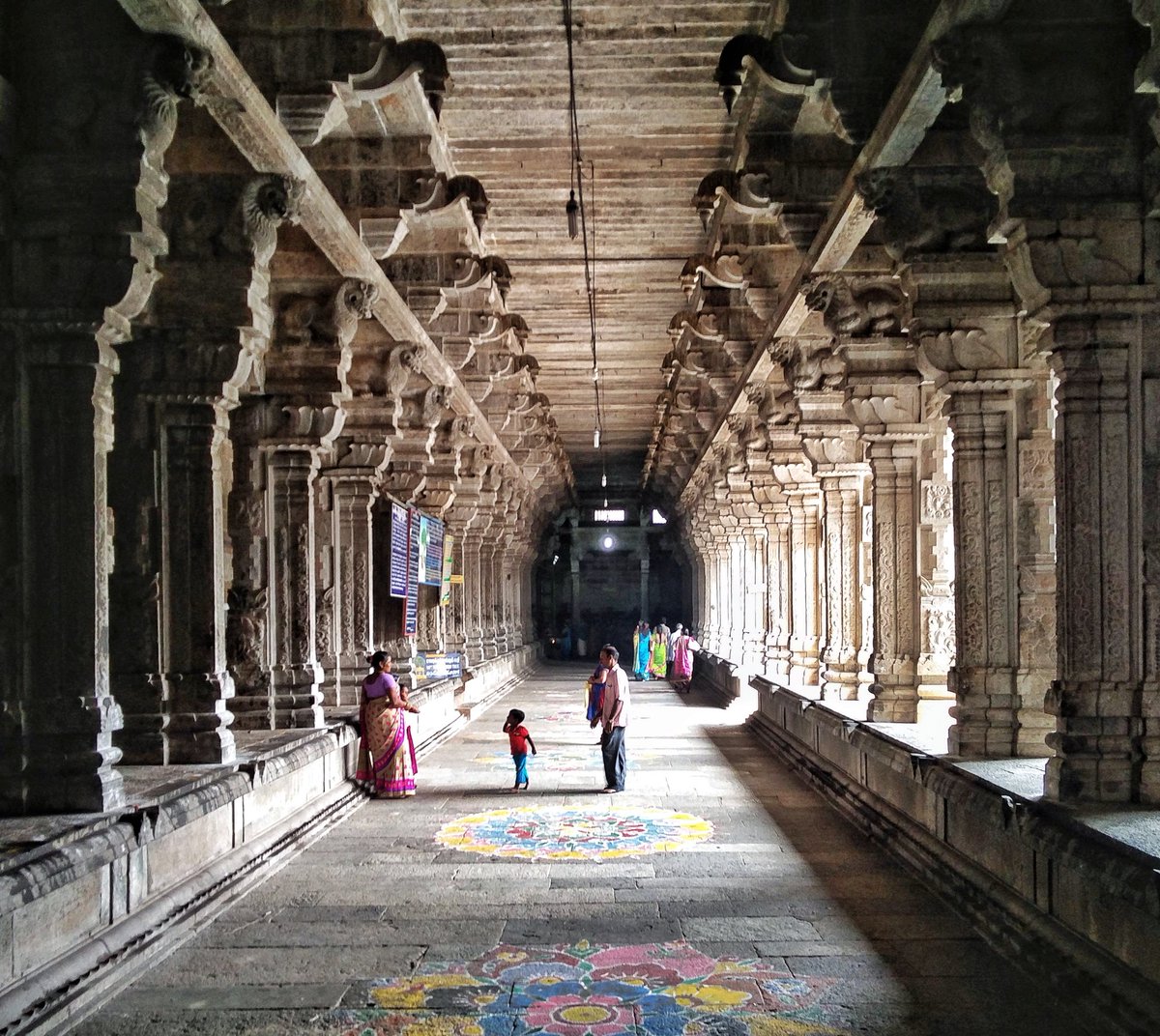 ... I did capture what was on the pillars...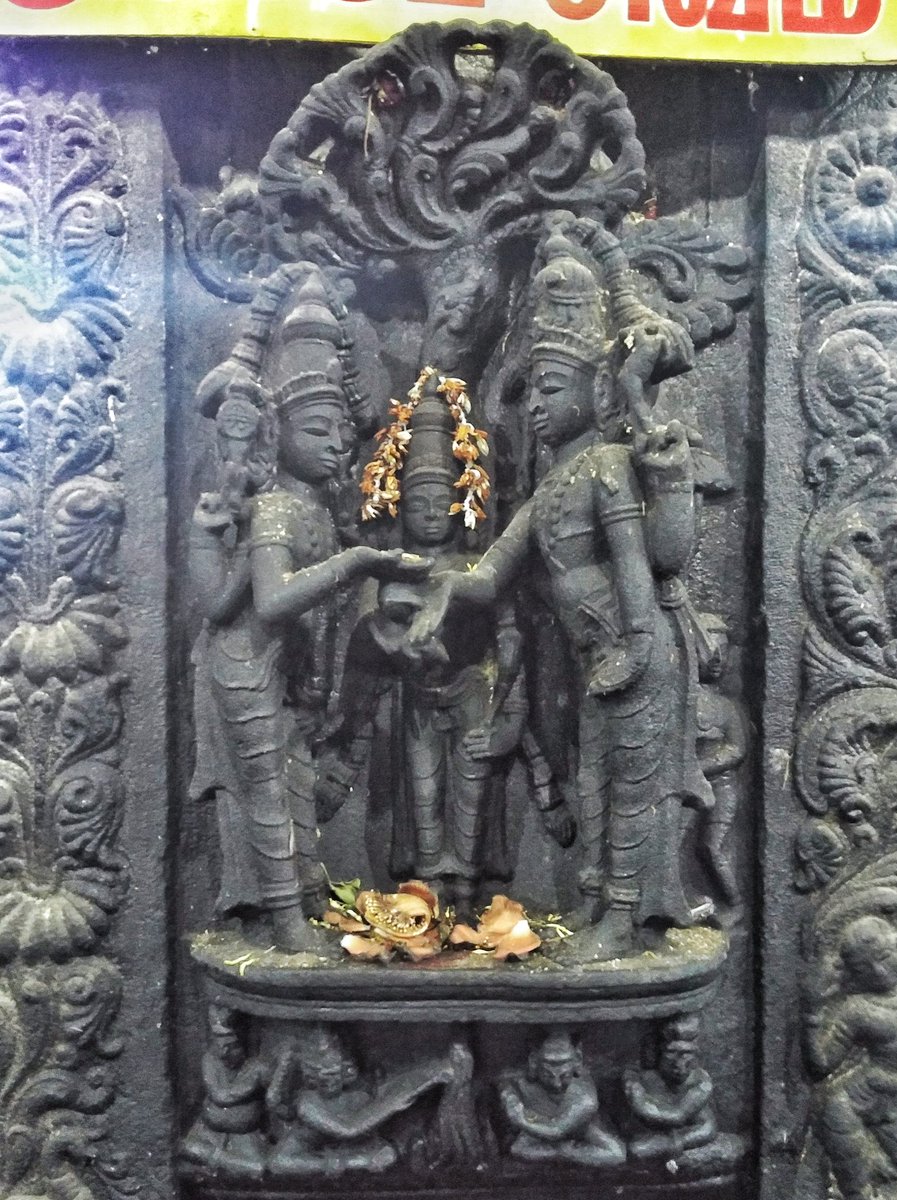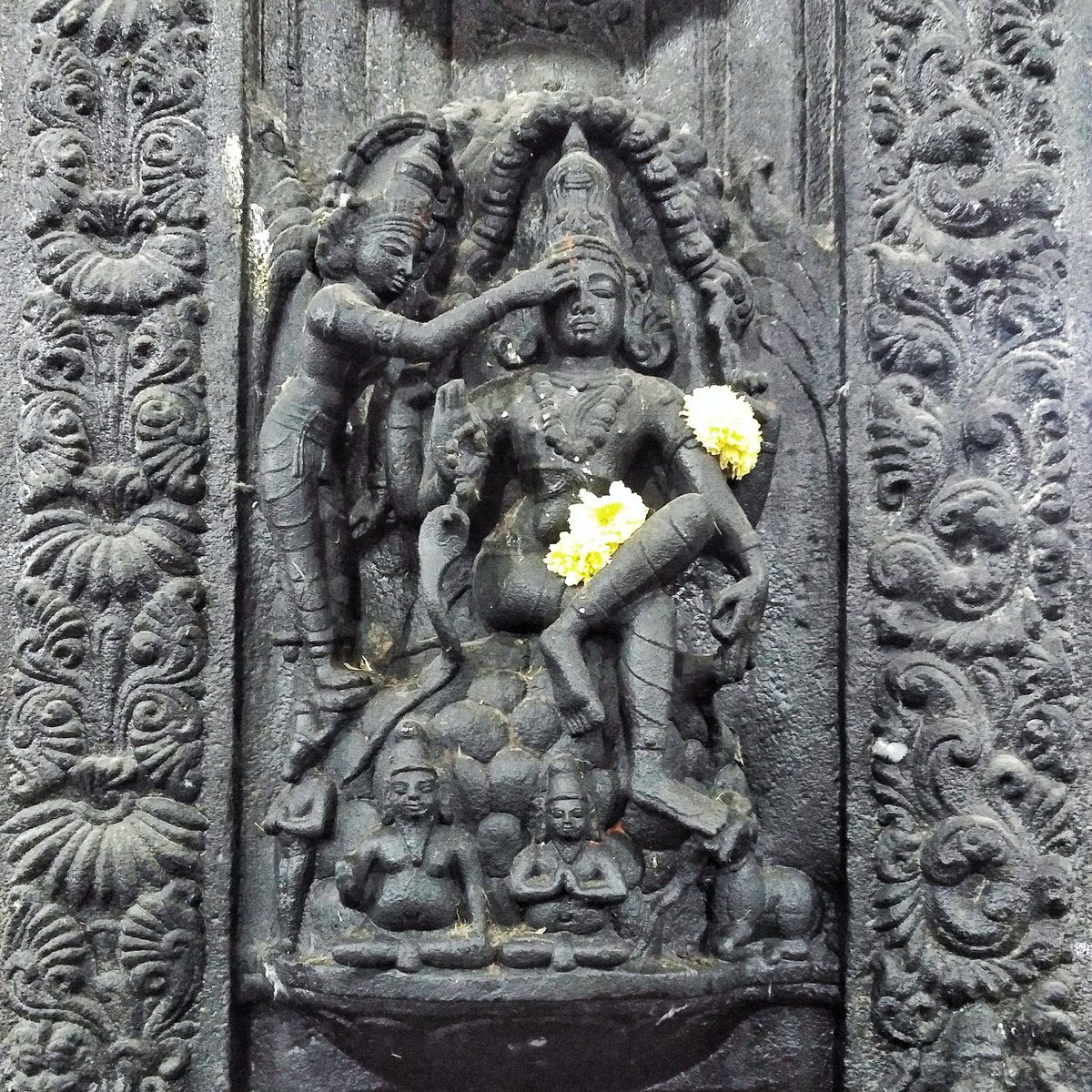 From Bhagavan in various forms...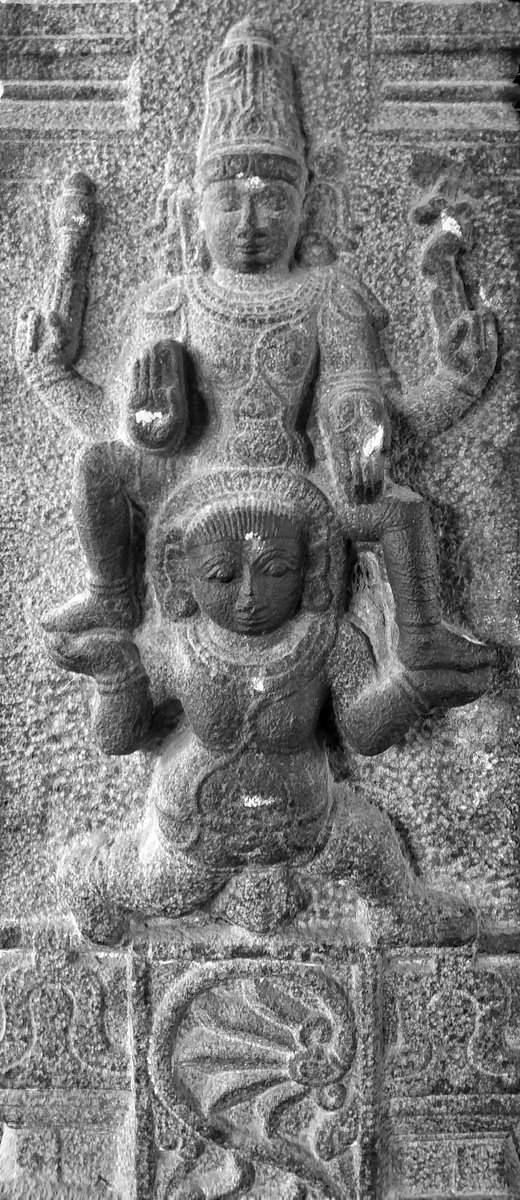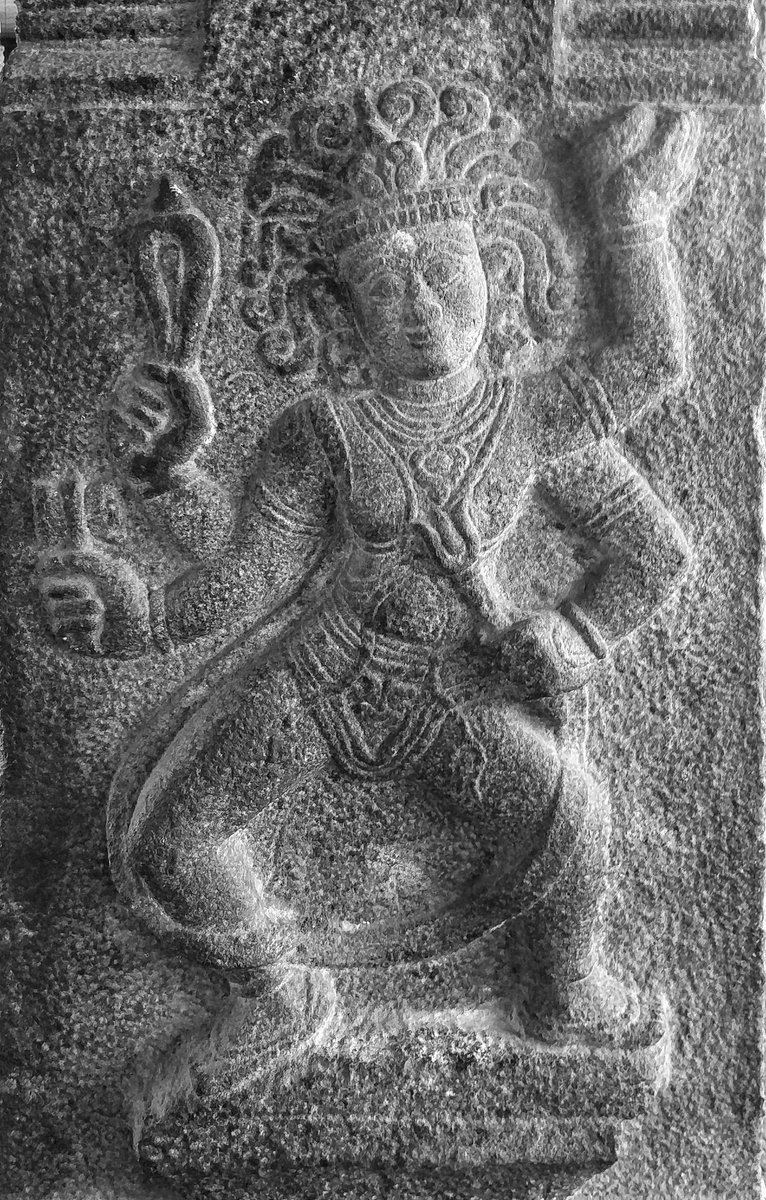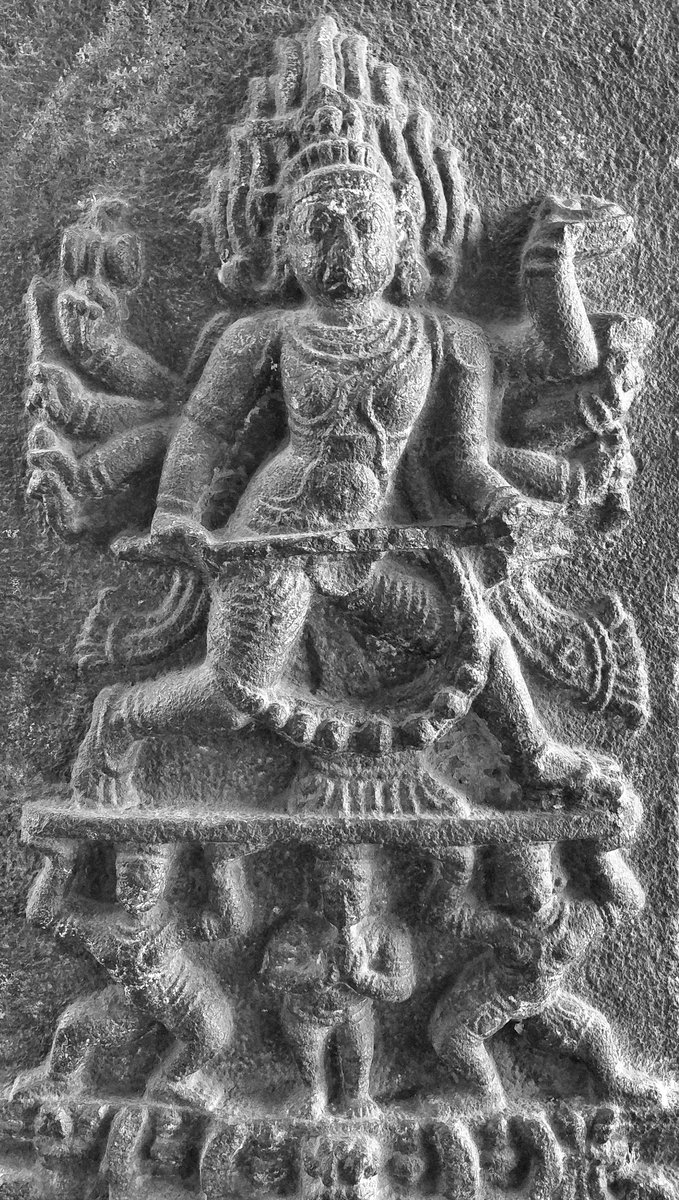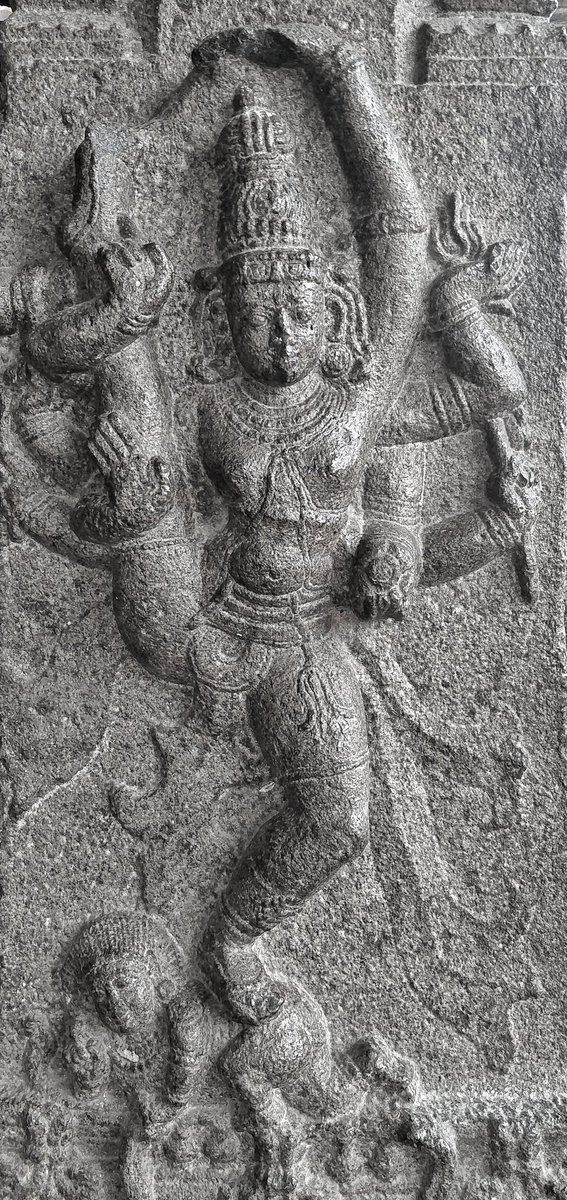 ... and Durga, Mahishasuramardini, Kalabhairava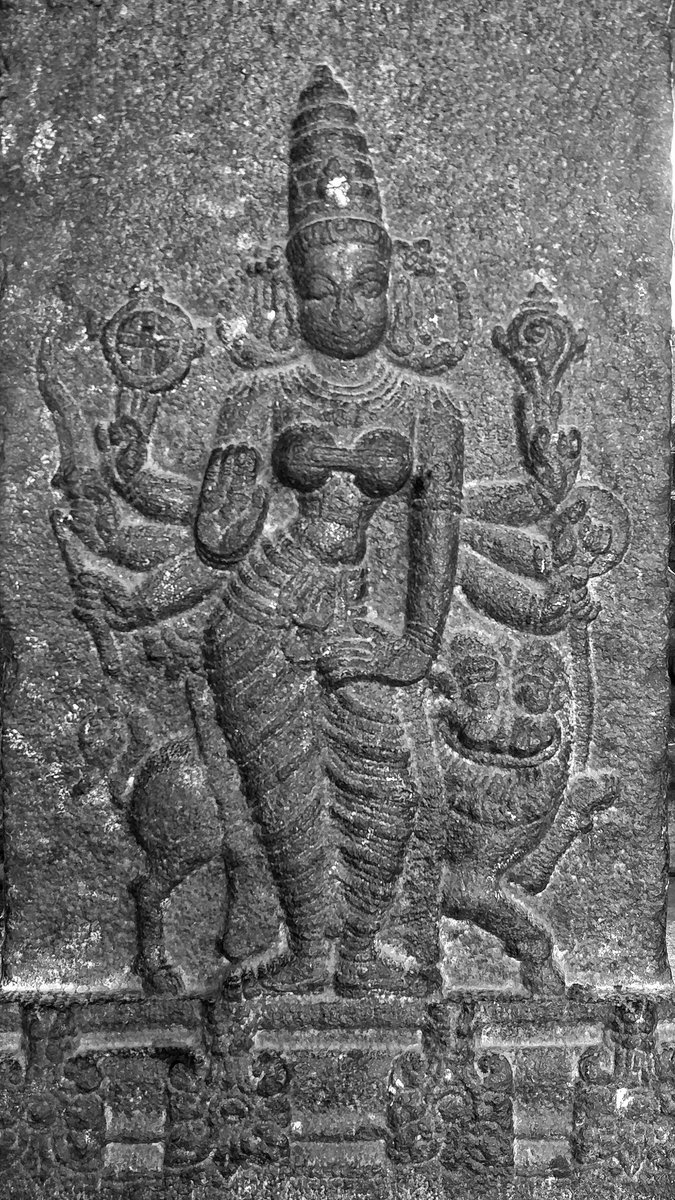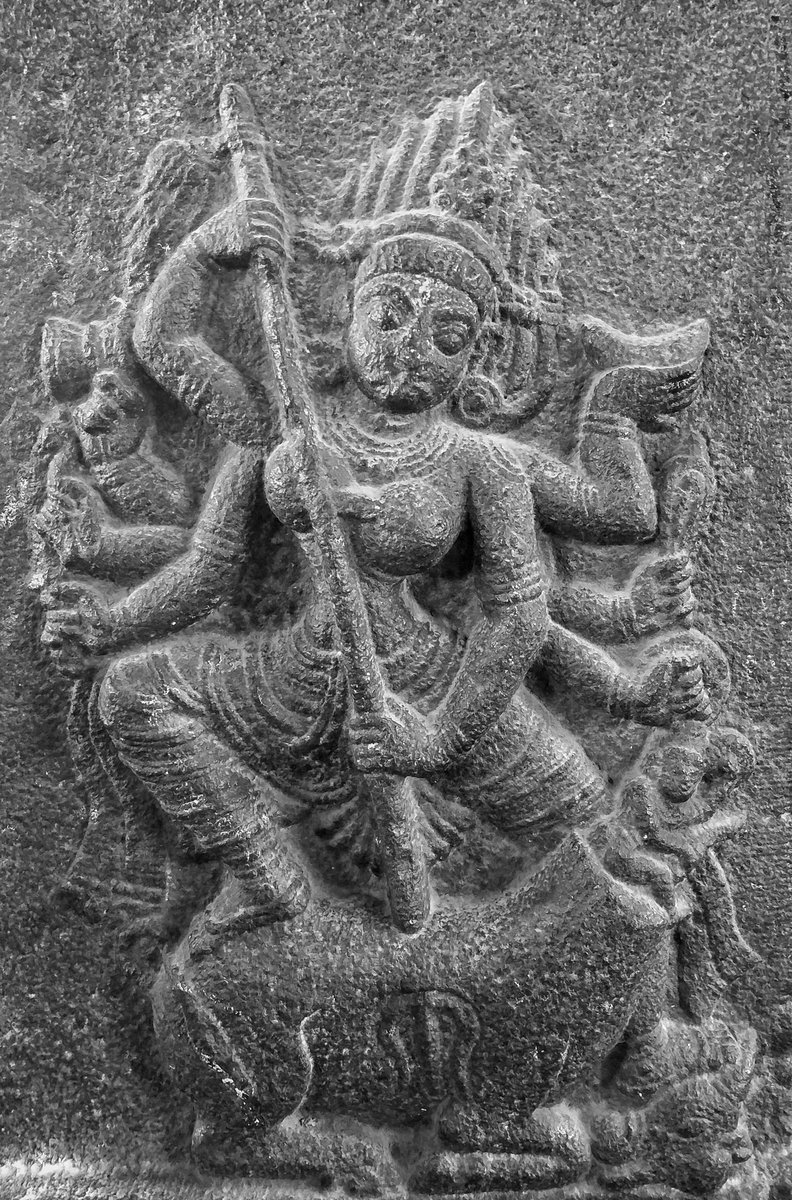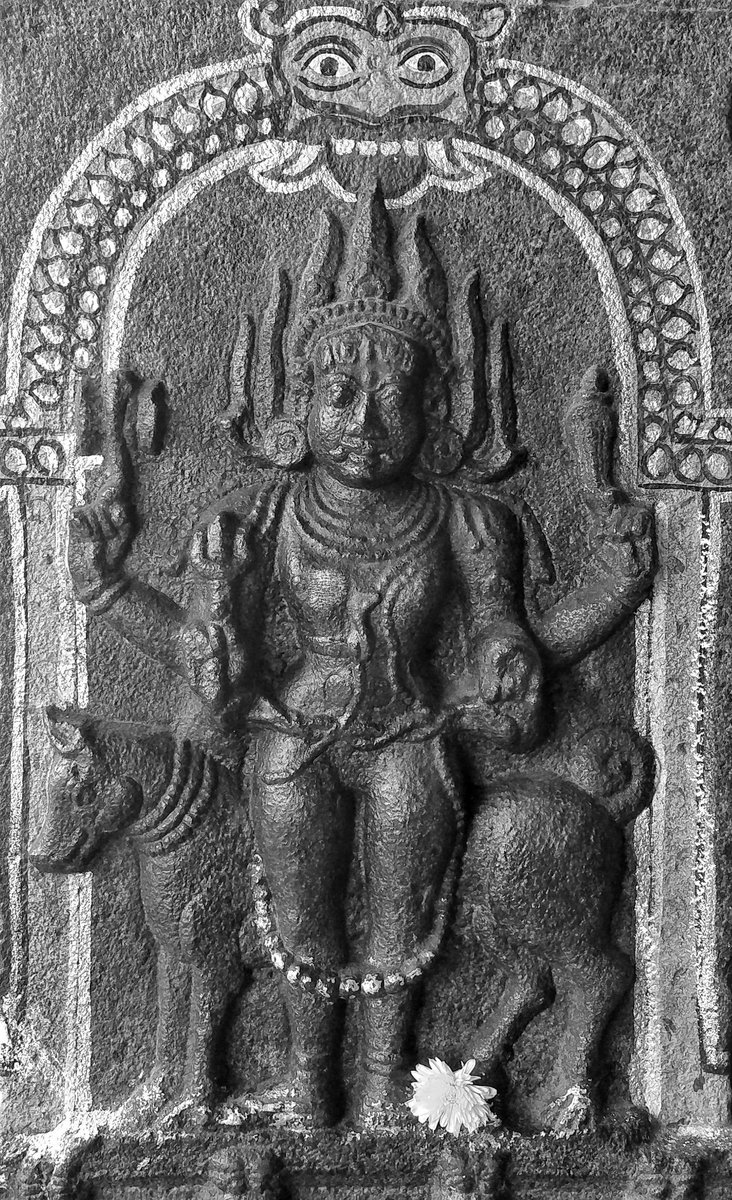 ... to 🤔🤔🤔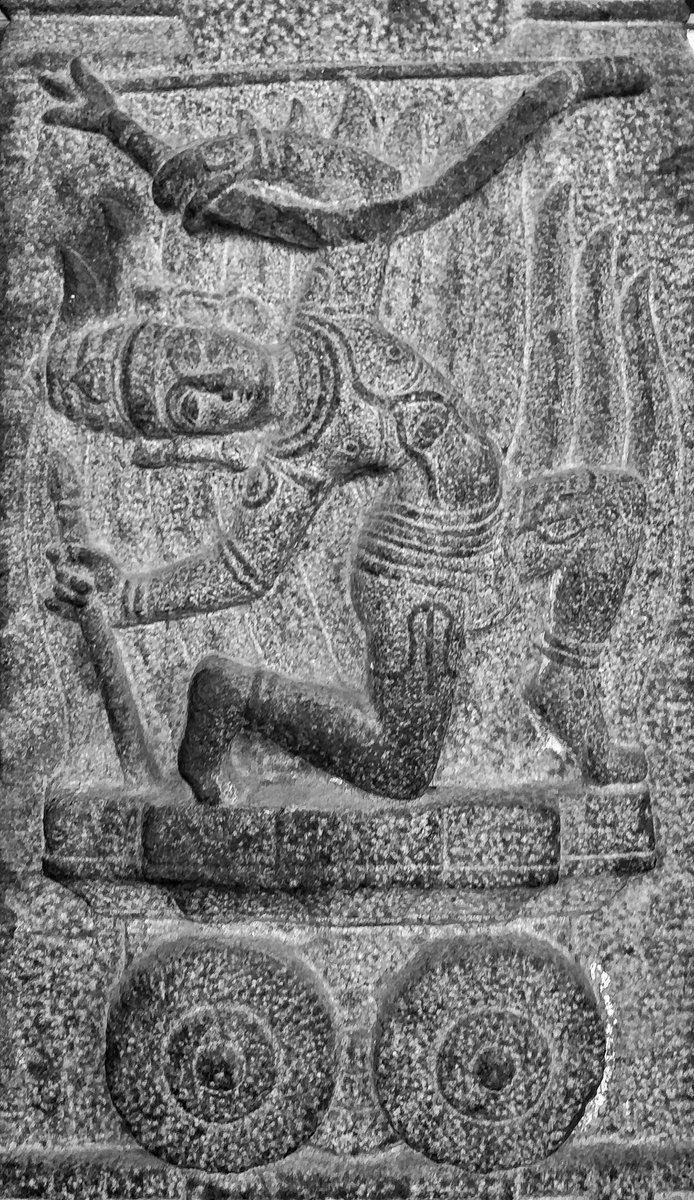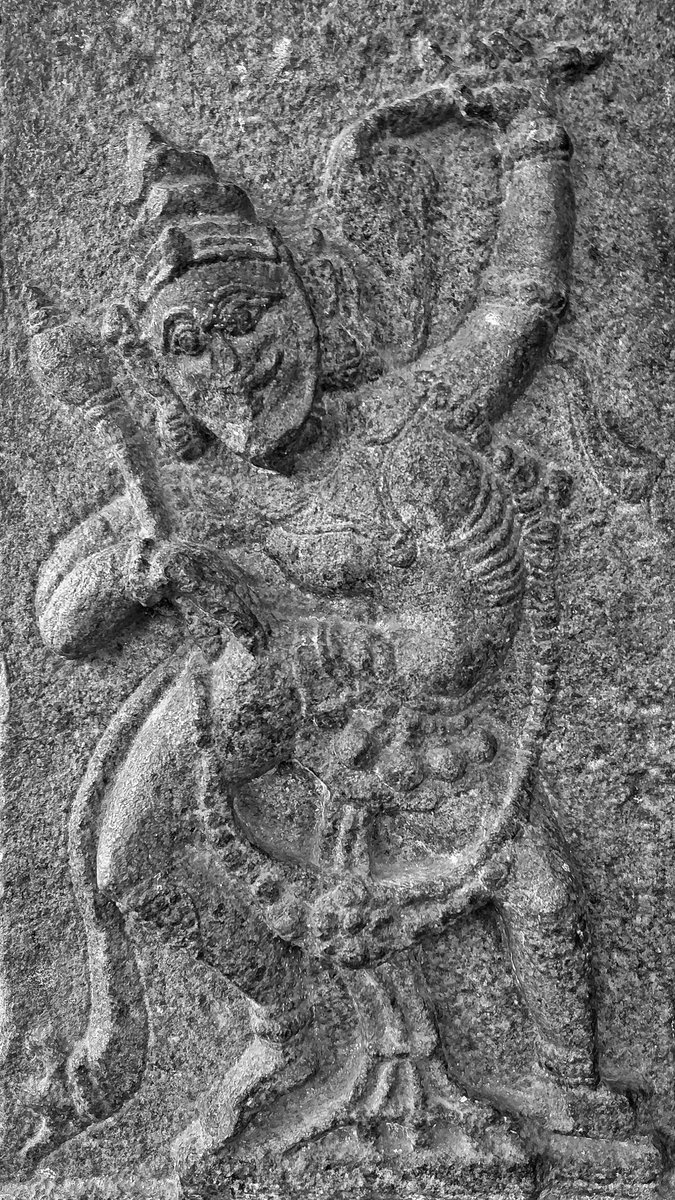 ... and 😍😍😍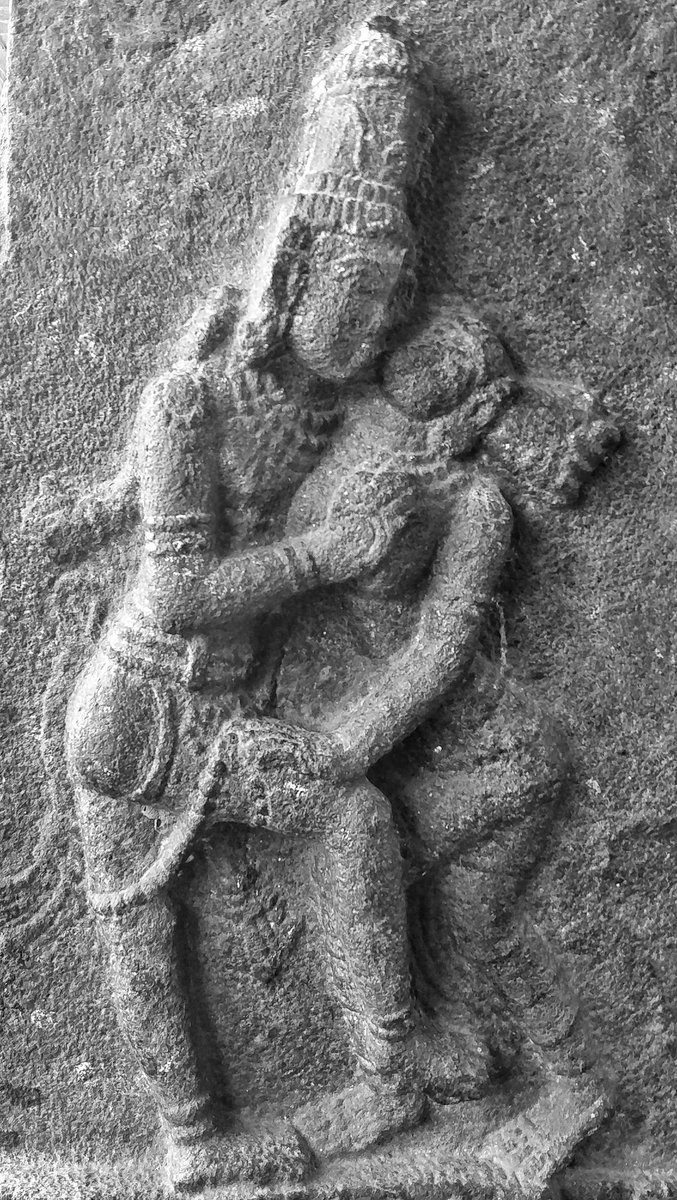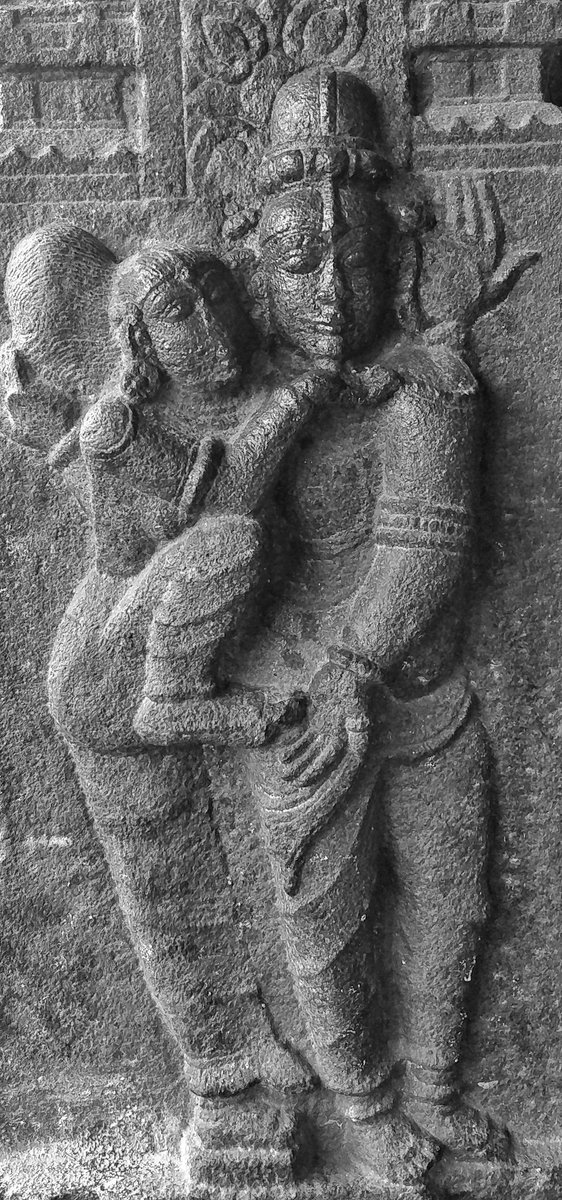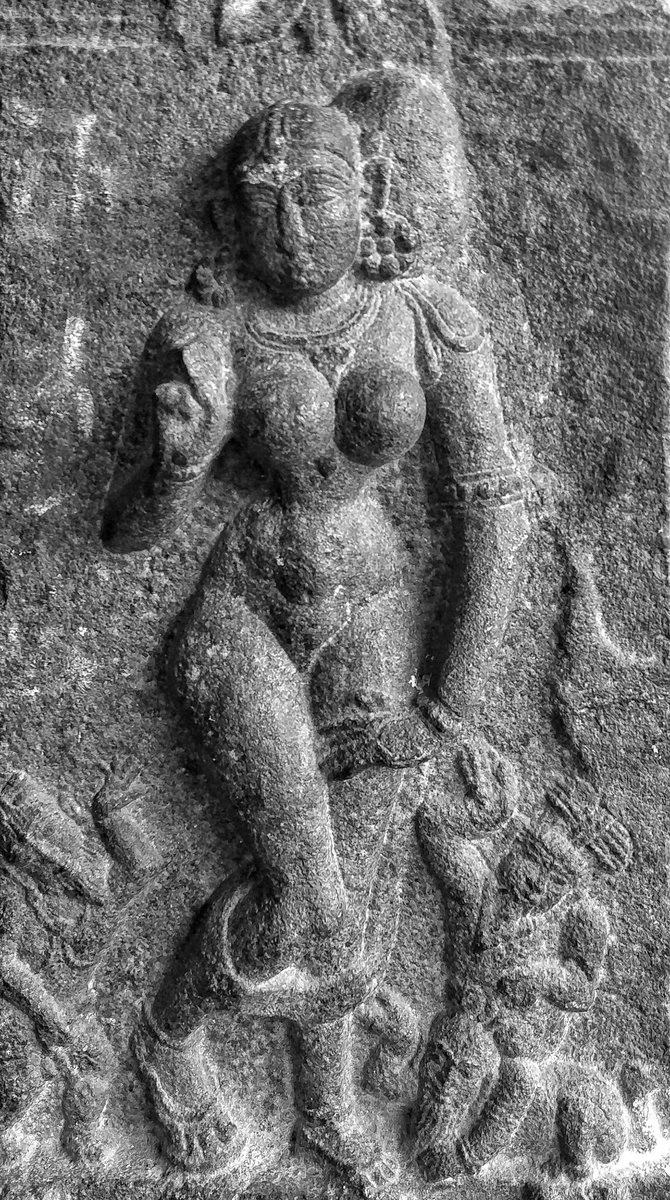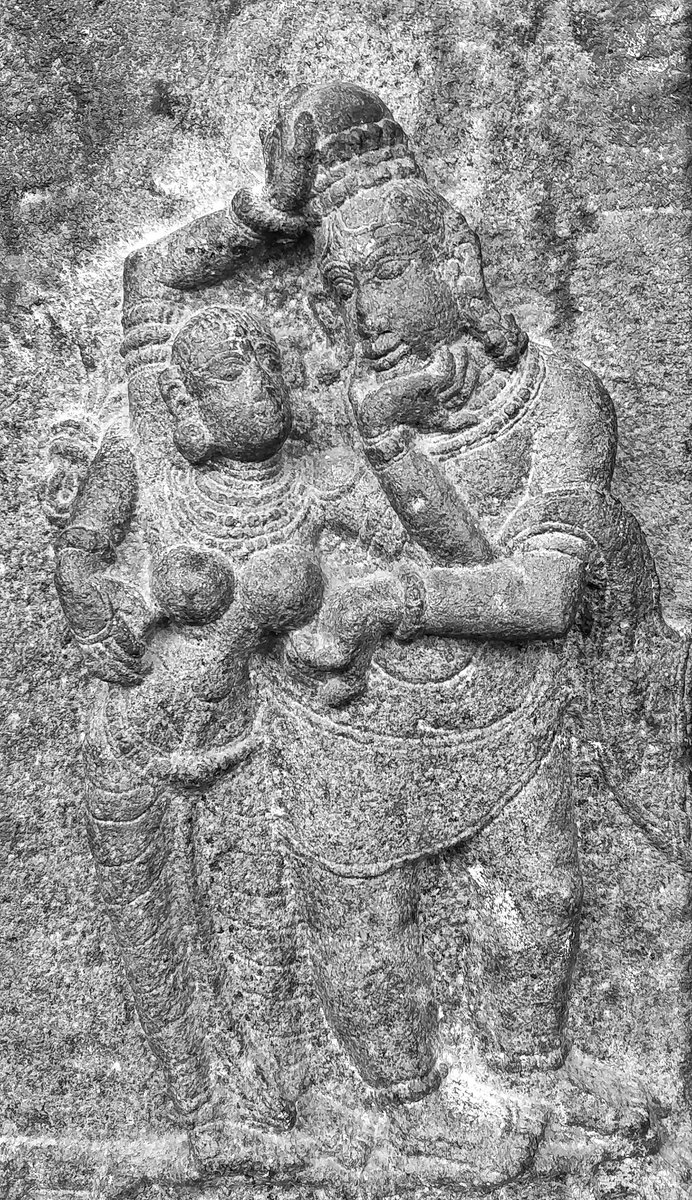 The point to note about our temples, is that successive dynasties always added to them.
While the temple is known to have been originally built by the Pallavas in 7th Century CE, it flourished under Cholas... And continued to be enhanced all the way up to Vijayanagara empire...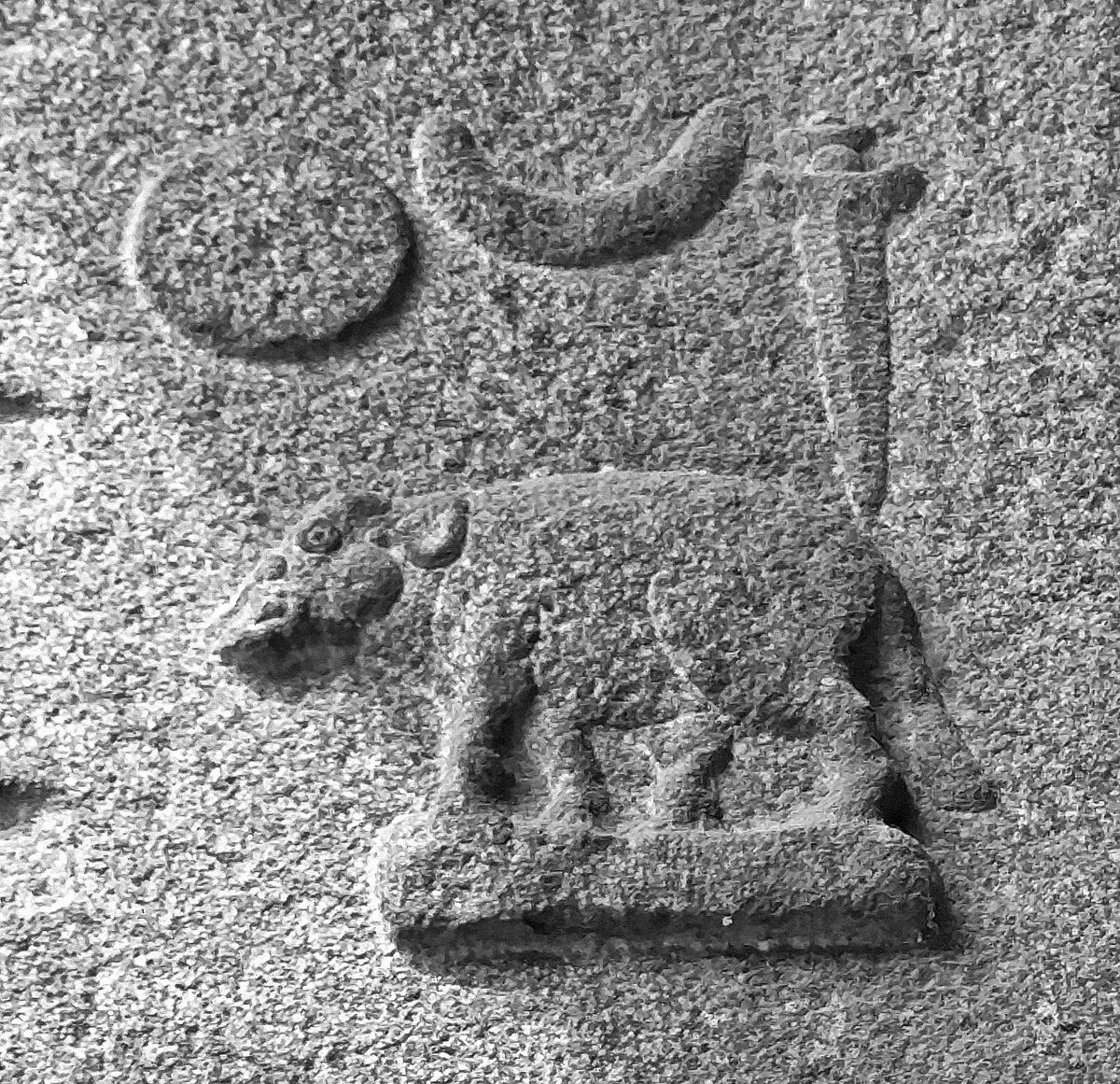 Two final posts to close this Kanchipuram trip!
Kamakshi Amman temple.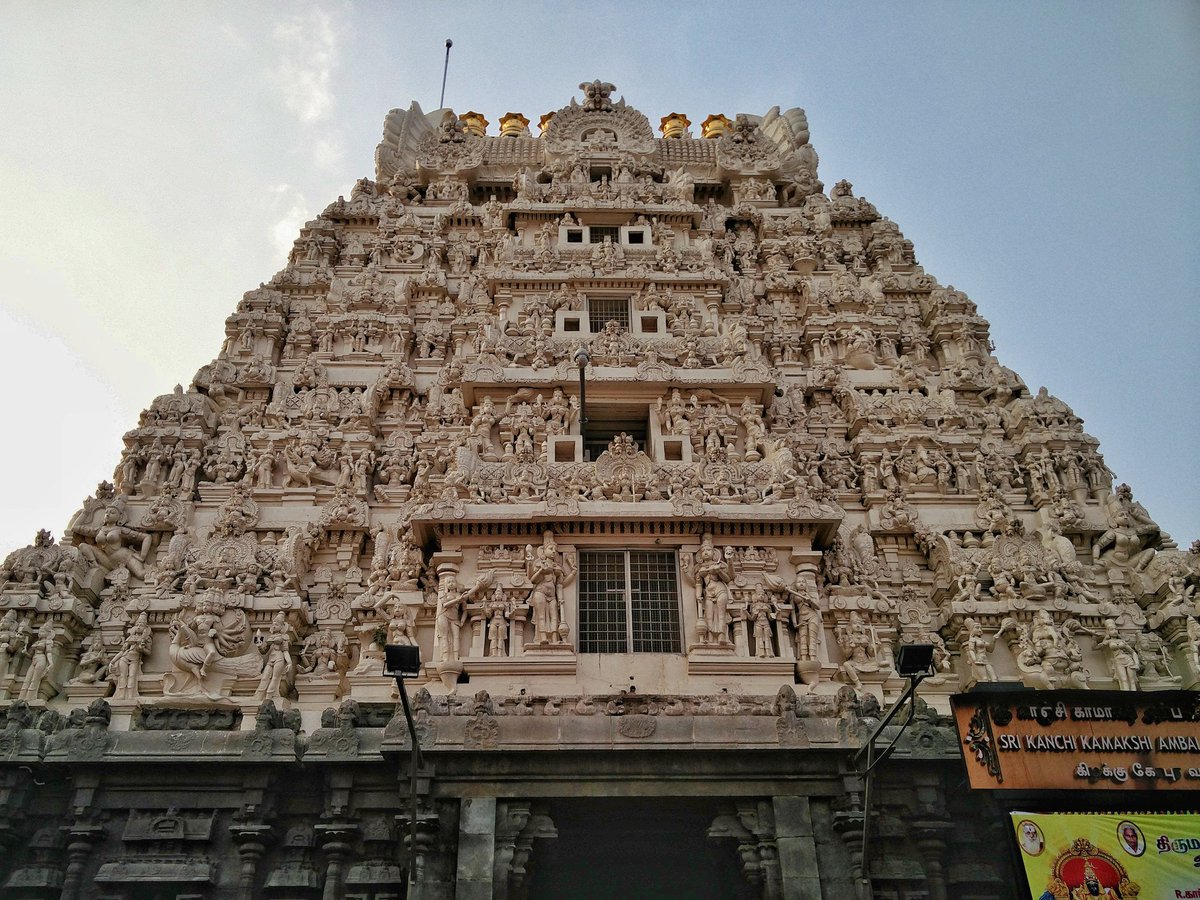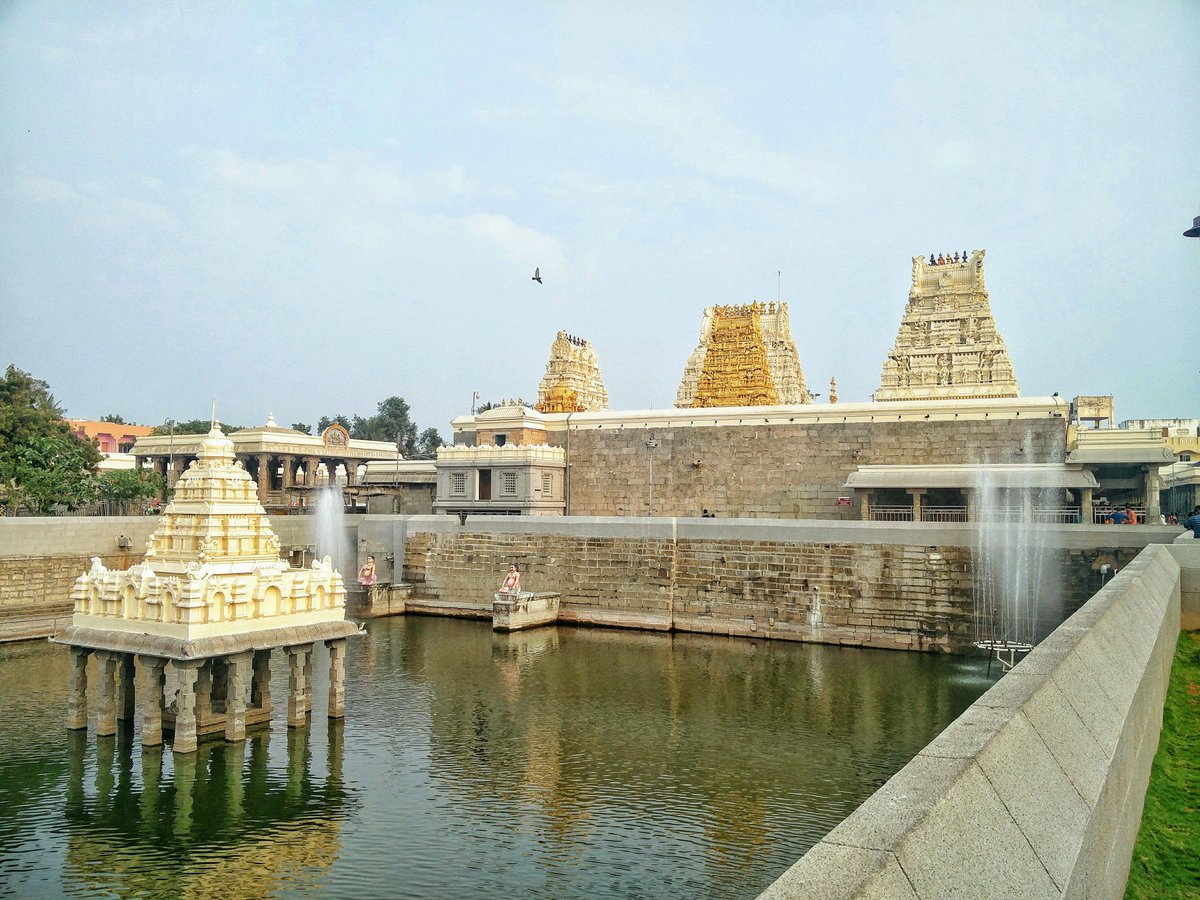 And last but not the least, ulagaLandaperumAL temple.
PerumAL is colossal! Glistening black rock with one foot firmly on Bali's head and the other leg up measuring the heavens.
Jaw dropping image that will stay with one till one passes on.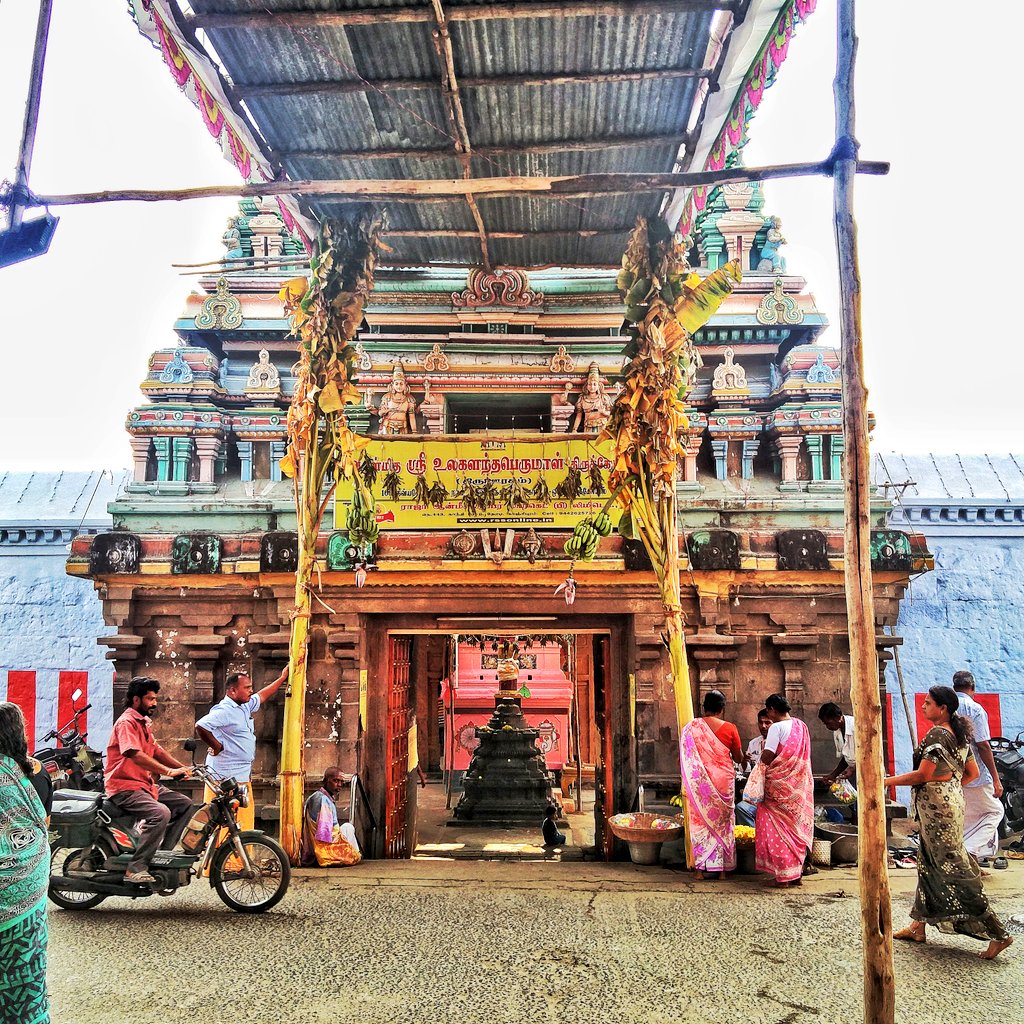 If all goes as per plan, then keep an eye out for Gangaikonda Chozhapuram, Darasuram and a whole set of Kumbakonam temple pics between this evening and tomorrow. 😊
Aligning to thread.

Pics later in the evening.

We were shown the way by the rays of Sūrya.
It was like MacKenna's Gold. For these was treasure within.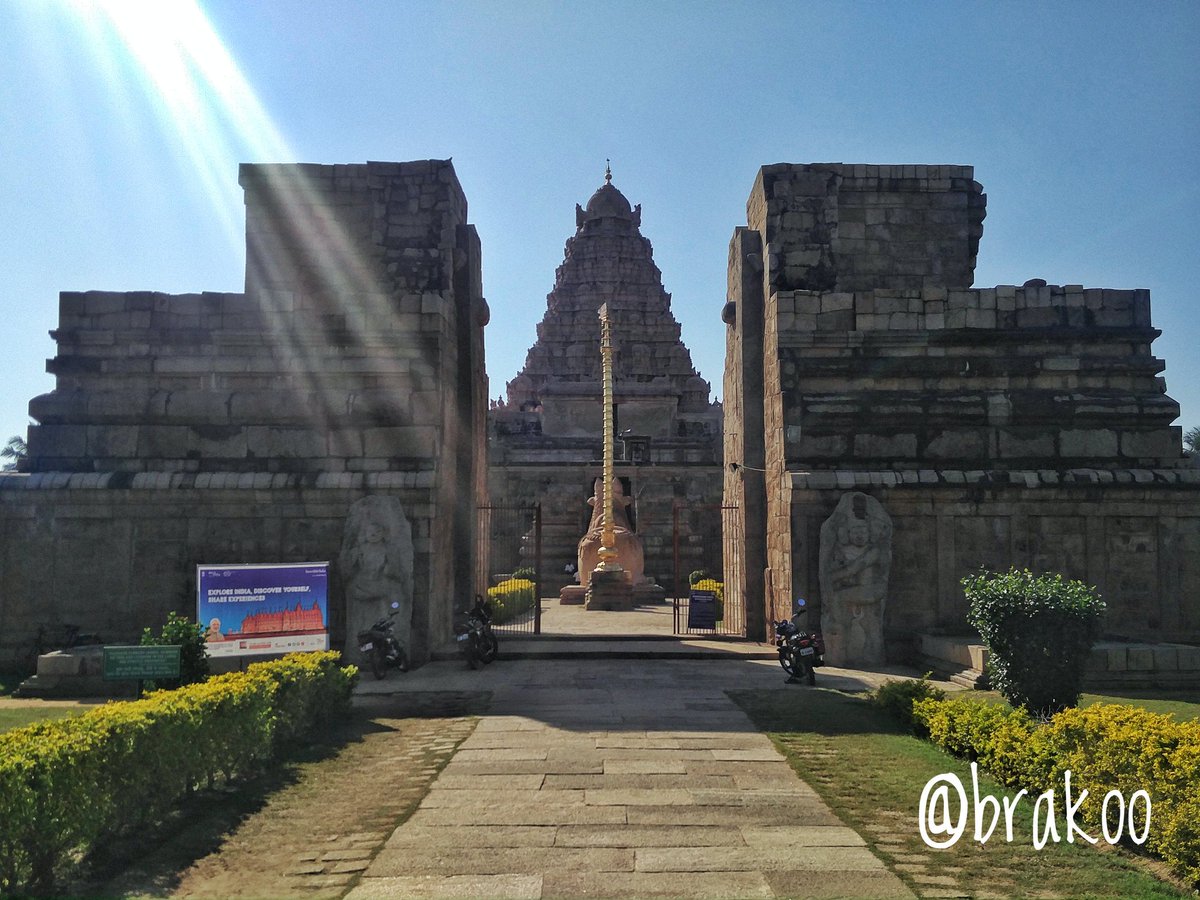 The temple built by Rajendra I (Raja Raja Chola's son) in the early 11th Century CE, is a shade shorter than the Tanjavur temple, but much more detailedly carved.
Bhagavan blessing Rajendra with a garland here.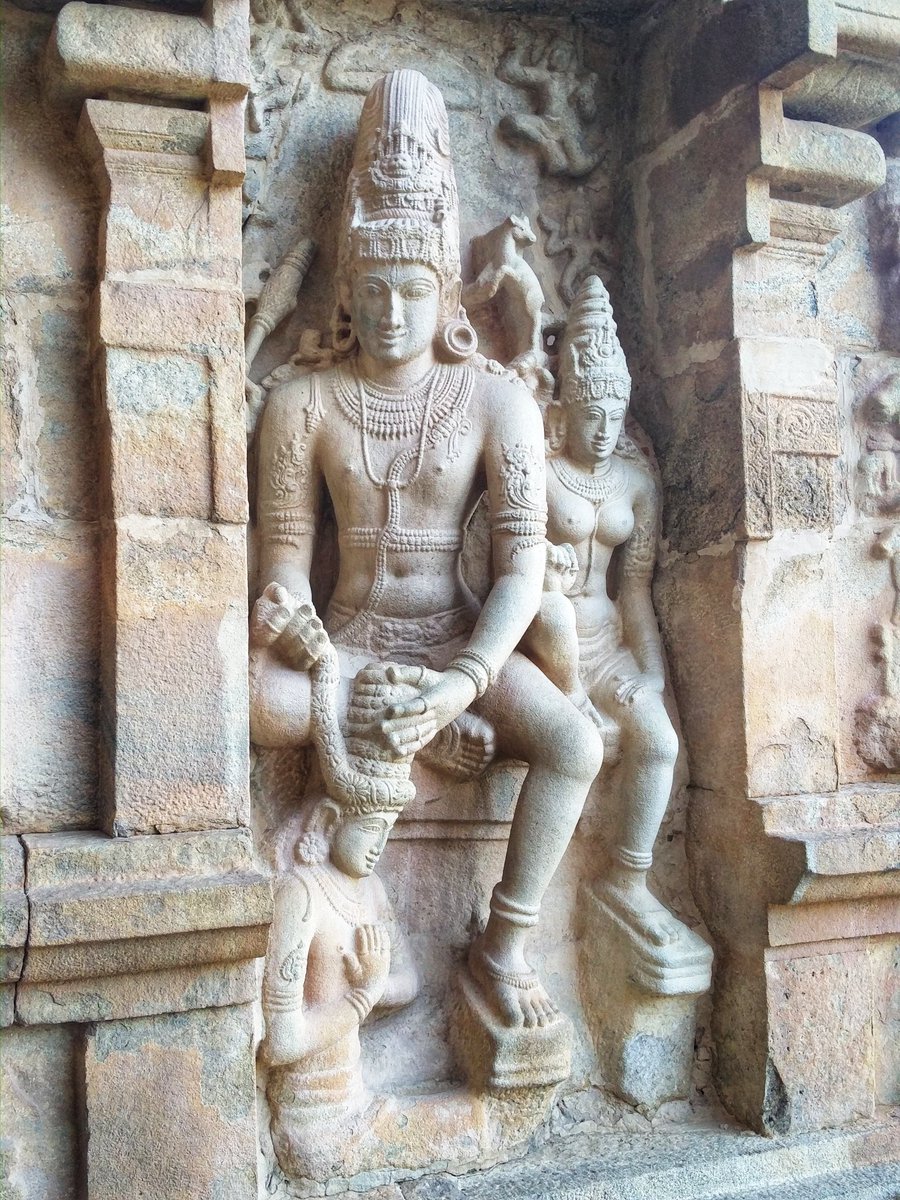 Vimanam.
😶🙏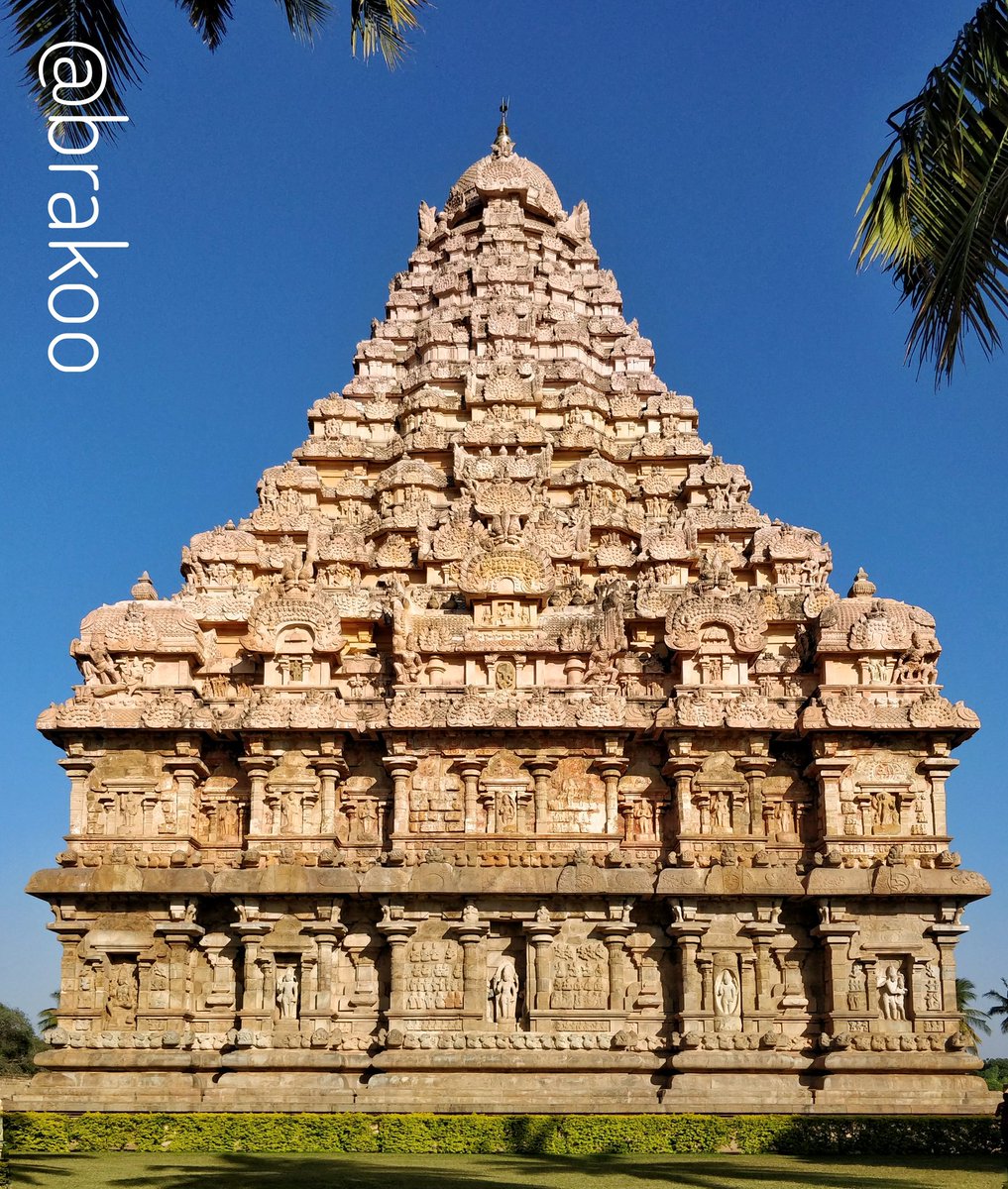 One never gets the scale of the structure until some chap stands next to those sculptures.
It isn't an easy temple to photograph, actually... You have to keep moving out and away all the time.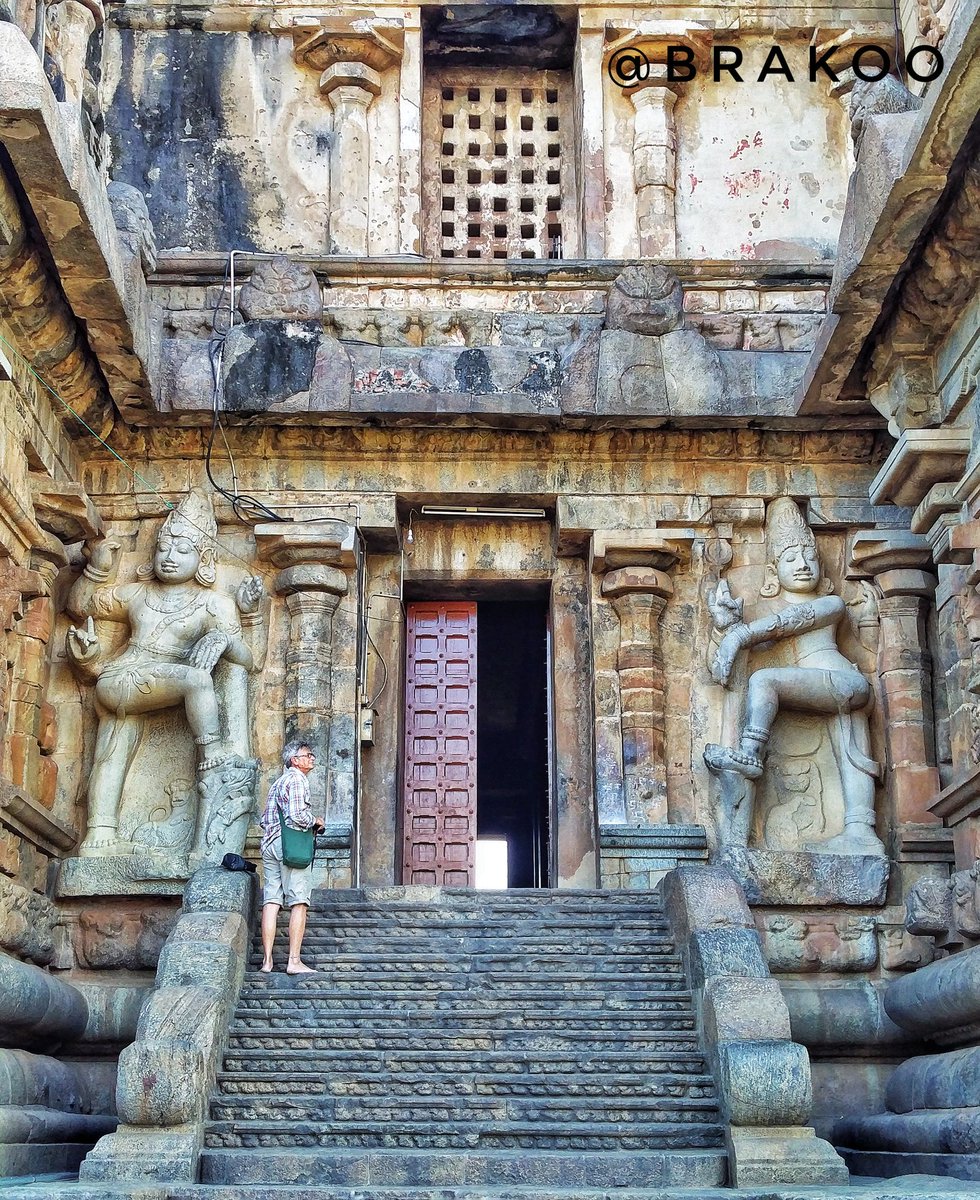 That sculptor must, surely, be in Kailāśa sitting at the feet of the One whose image he sculpted.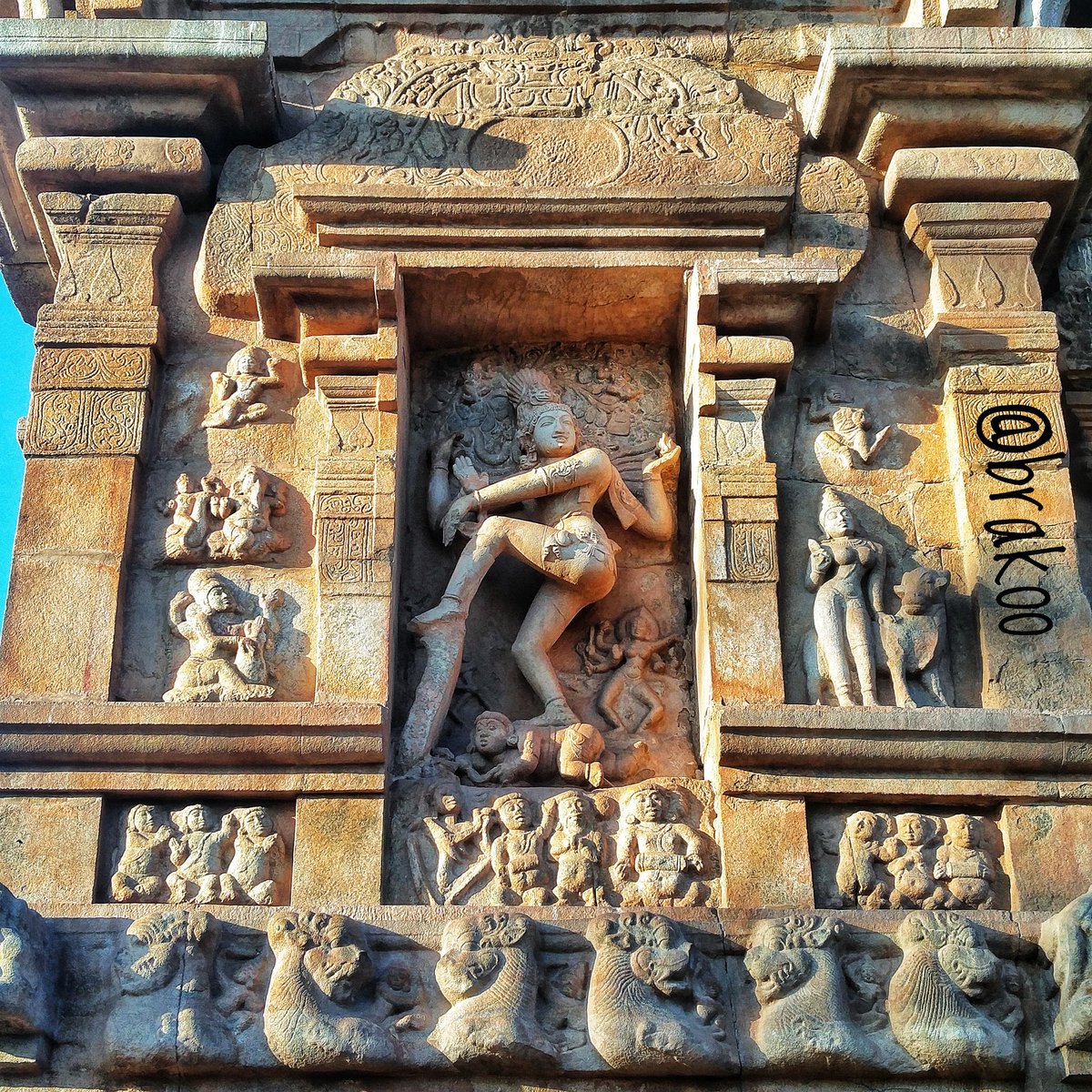 Or maybe he's in Vaikuṇṭha...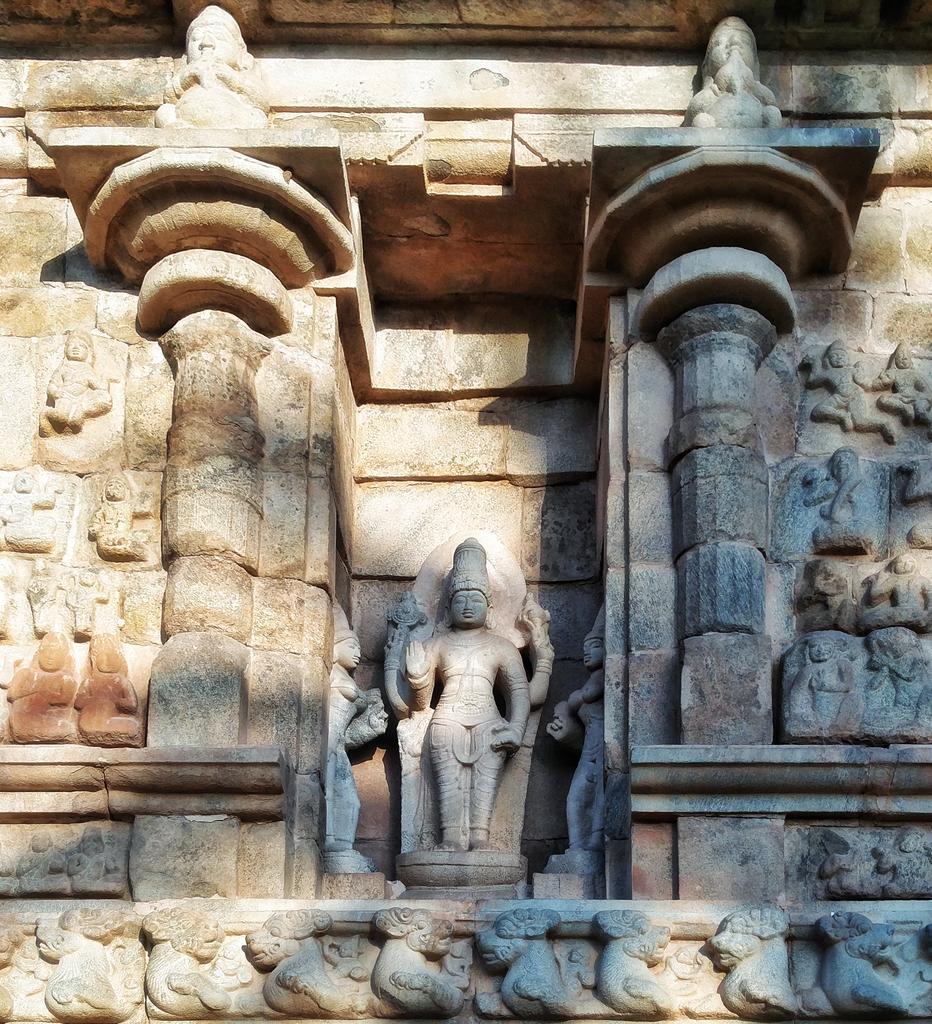 ...or Satyaloka.
Well either way, he's been there, done that!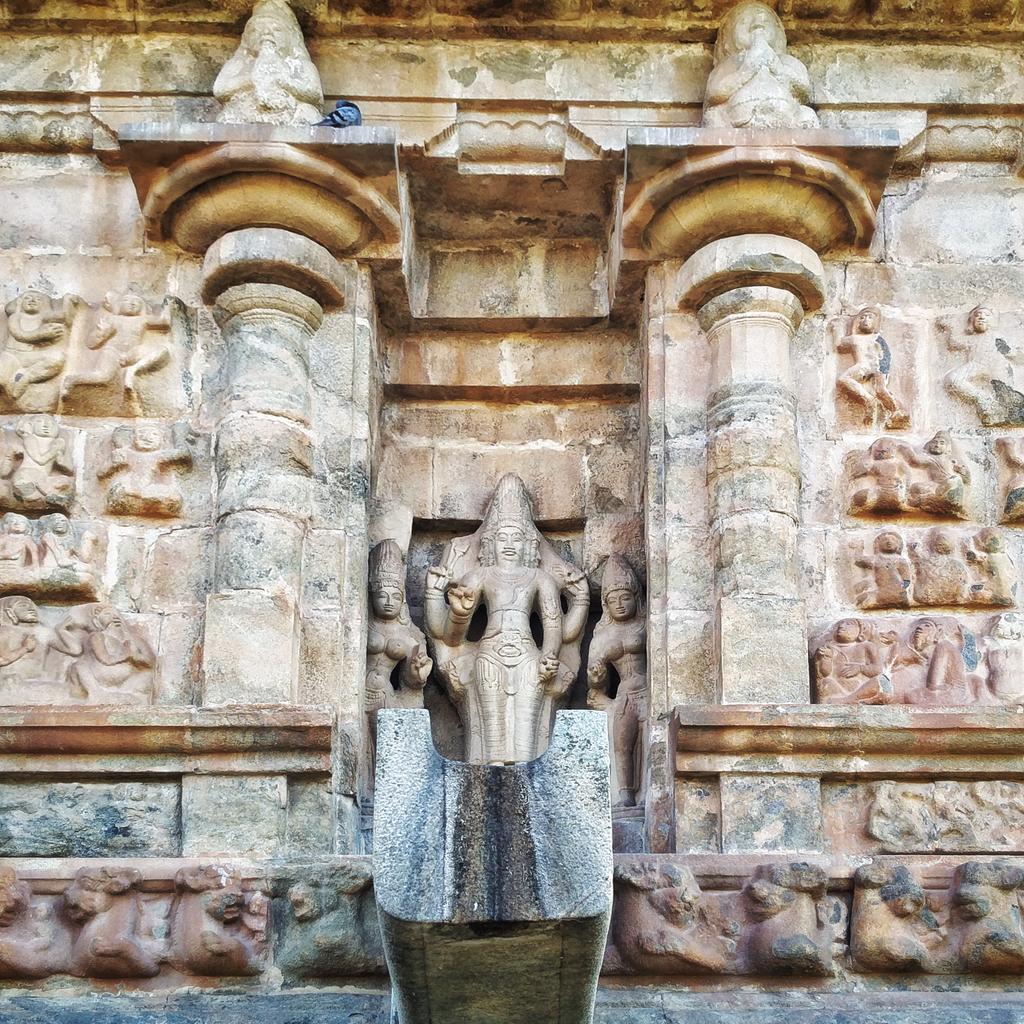 The one who reflects the rays of the sun, so that the hall within the temple is illuminated.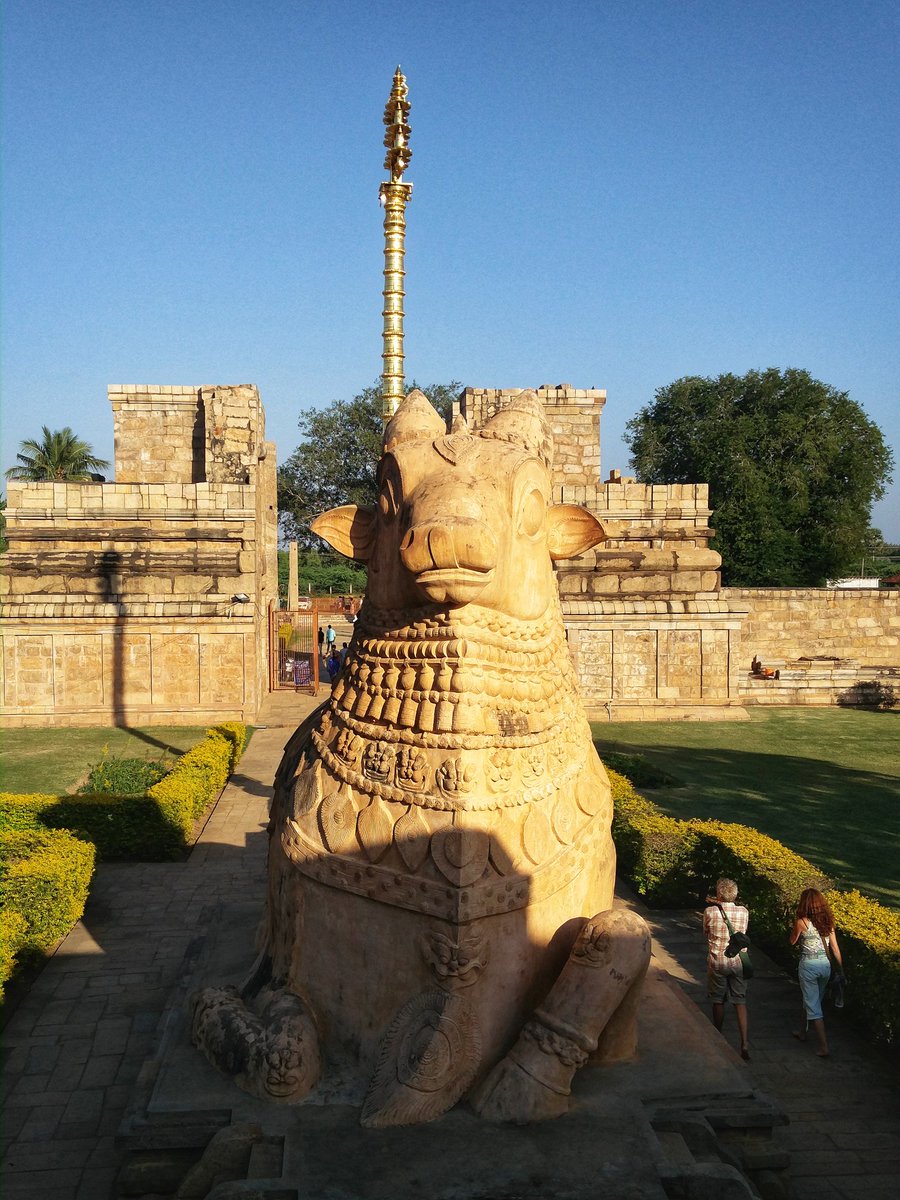 And the last one (for now) from the wonder that is Brihadeeswarar temple at Gangaikonda Chozhapuram.
I felt as reluctant as the little one at having to tear myself away from the temple & come back to Kumbakonam.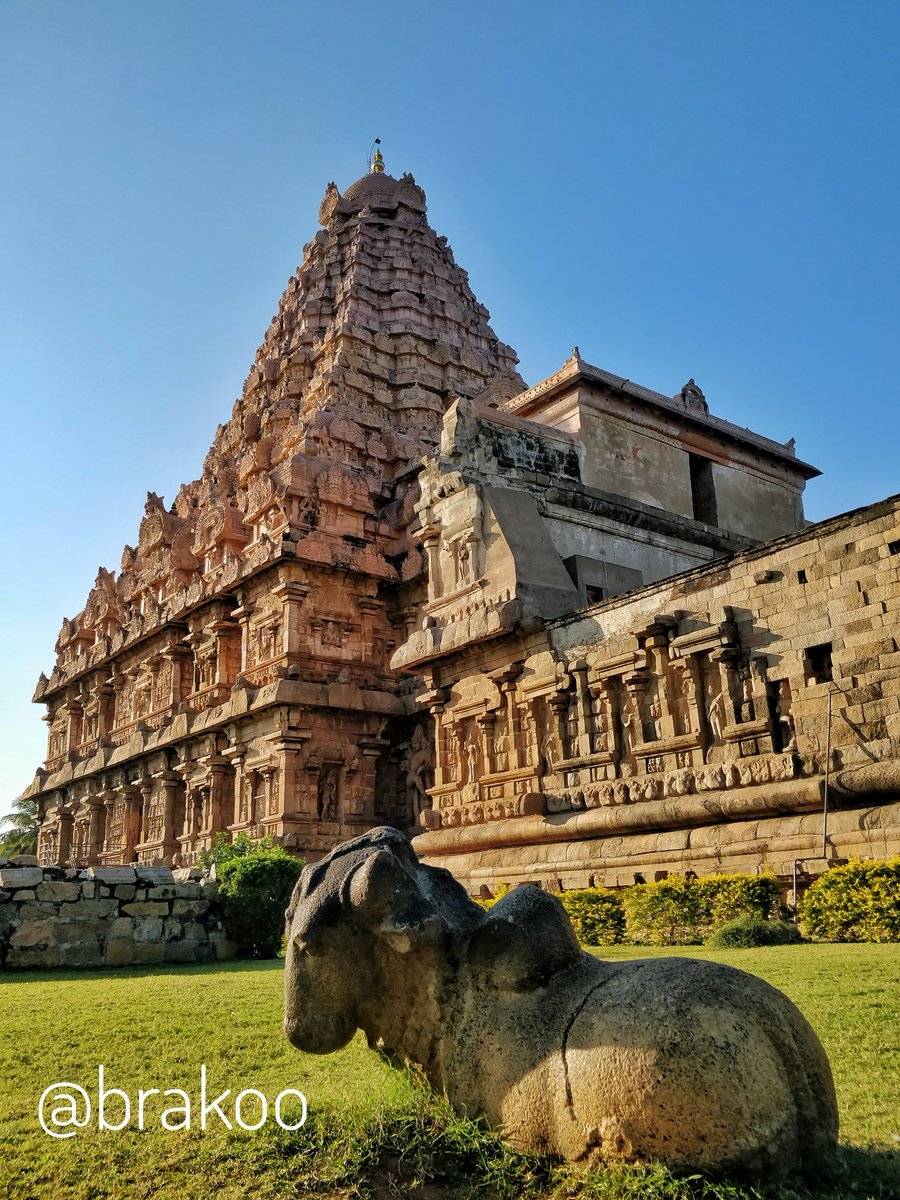 I can't breathe. Am so overwhelmed.

What happened to us? 😭

Bear with me for about 44 seconds... Post that, breathe it all in.

Ok. Let's step back.
If Tanjavur Brihadishwara temple is about architecture, then Darasuram Airavateeswarar temple is just pure art.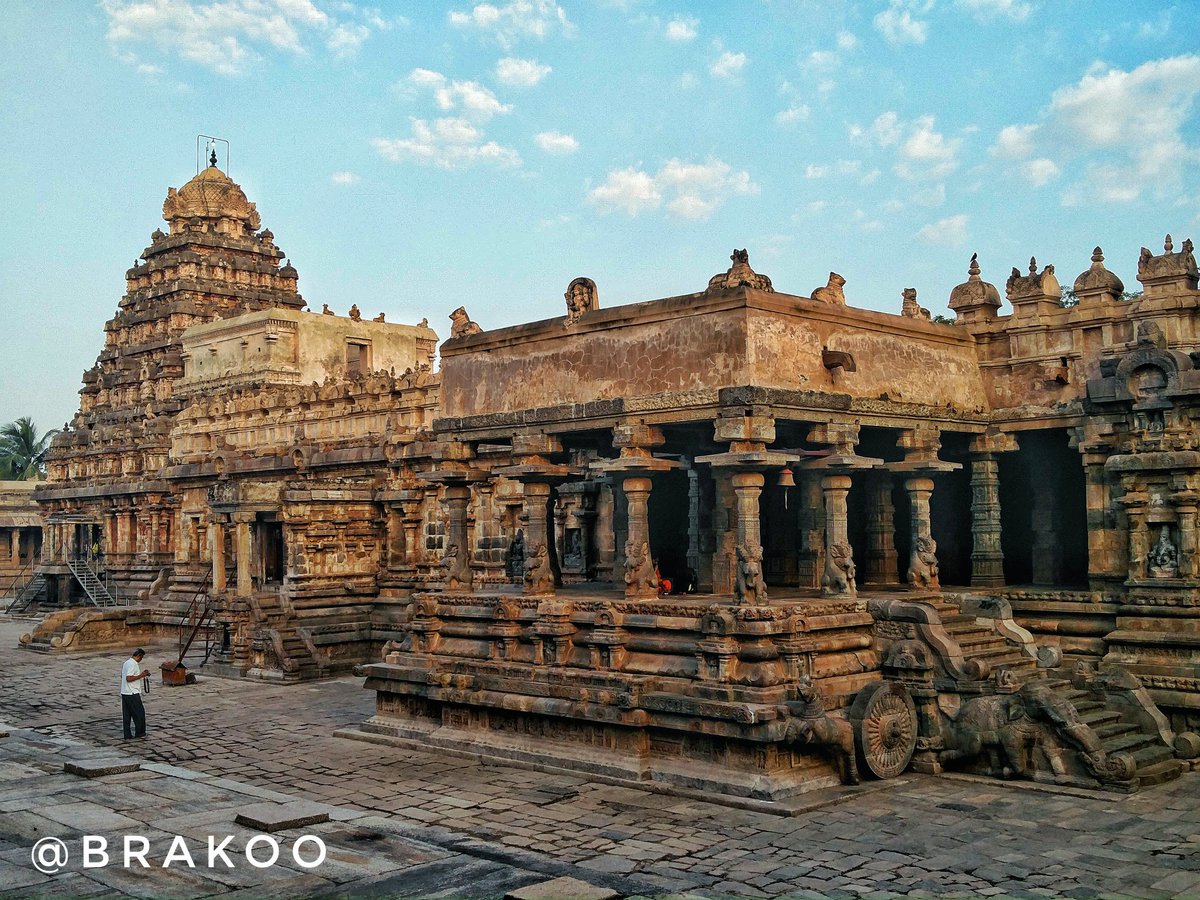 If the other two living Chola temples were about grandeur and an announcement to the world that Cholas had arrived, this one was about devotion.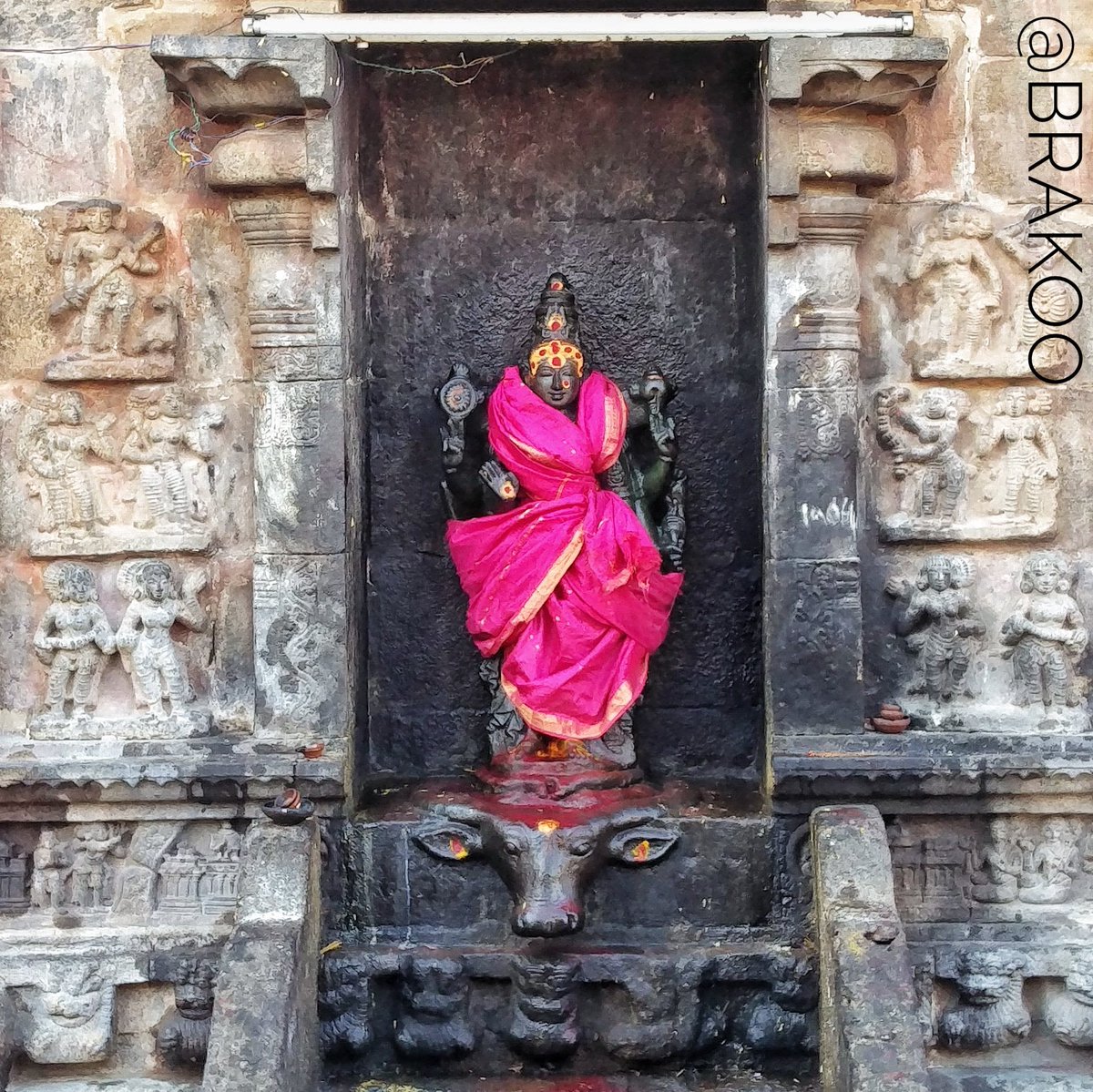 If it took 12 years to make, it will take you 12 years to see all of it.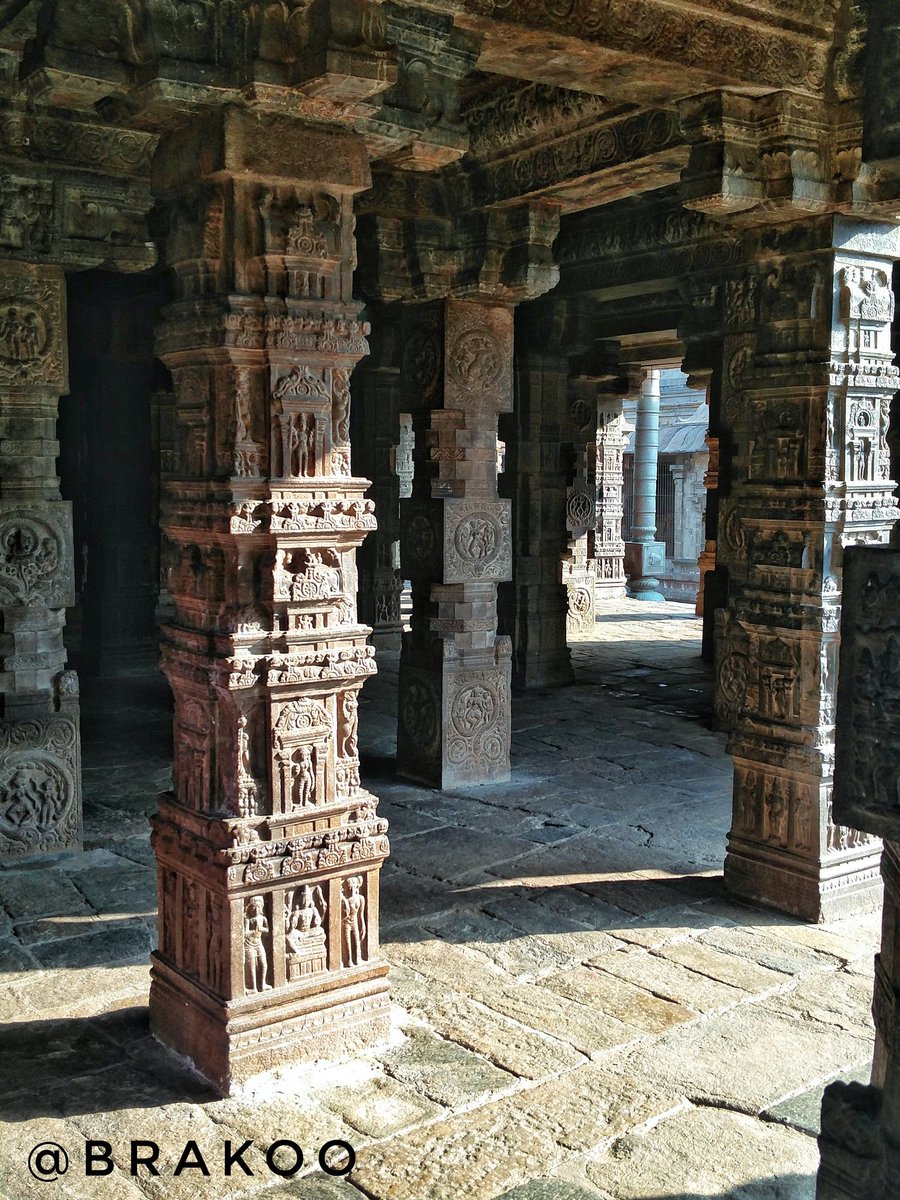 And discover its tiny little secrets...
1.
Bhima kills Hidimba while Hidimbā awaits
2.
Vālivadha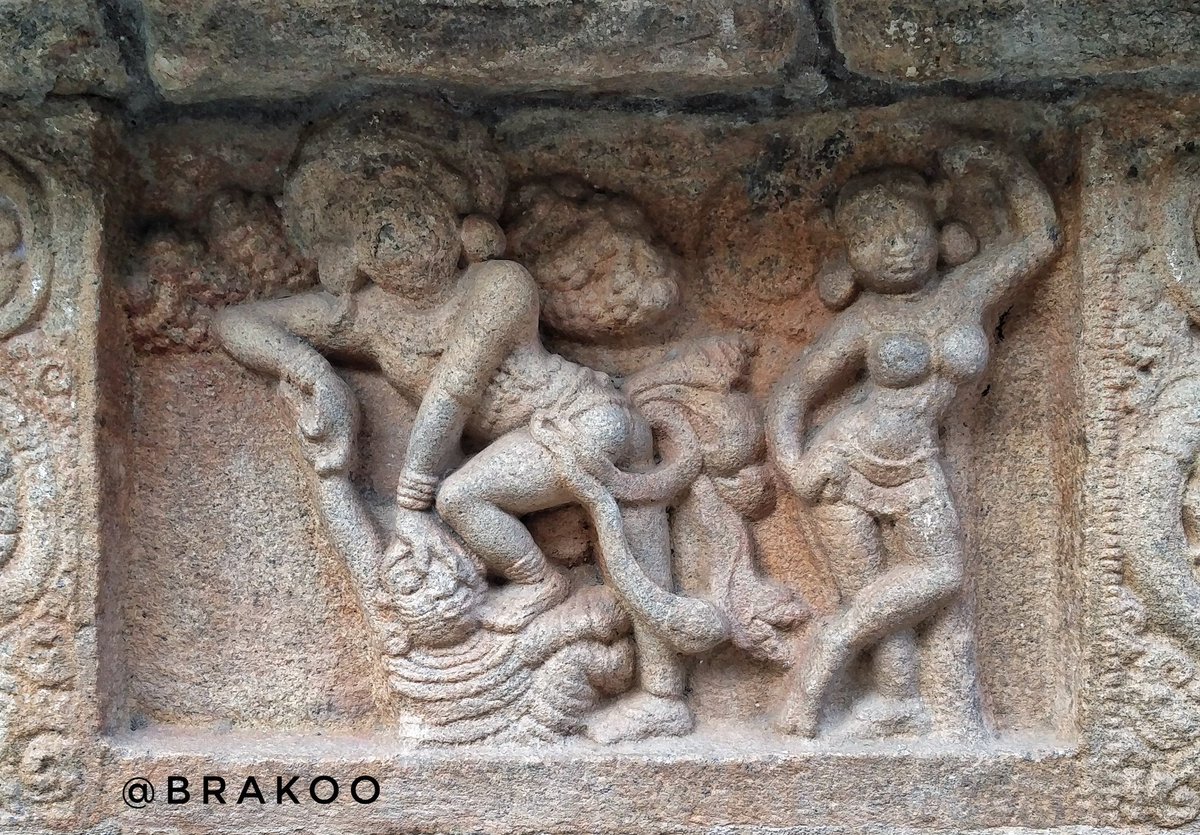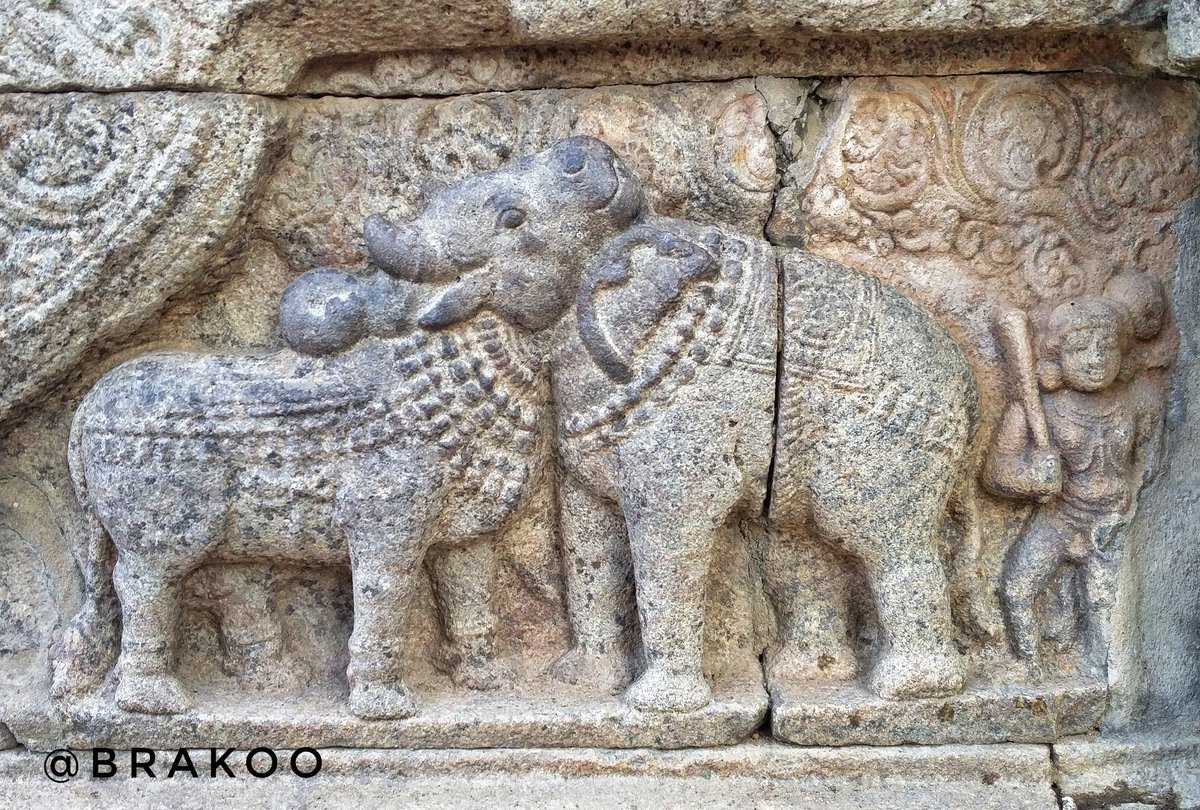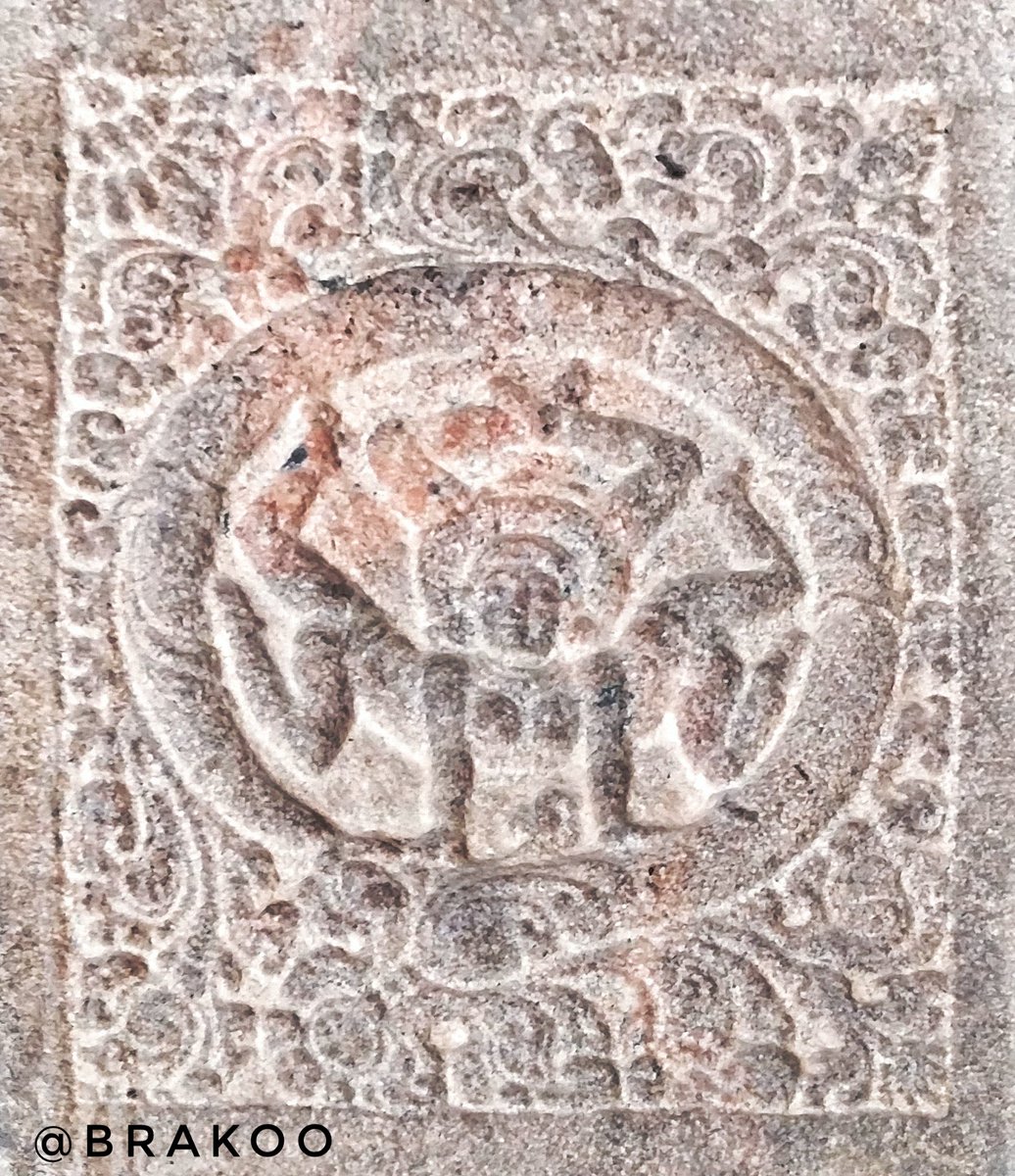 Oh! Our ancestors and their skill!
This temple will overwhelm you, overjoy you... It will exhaust you, drain you!
I shall return later with more. For neither you nor I have seen the end of it.
And like the boar and the swan, I doubt we ever will.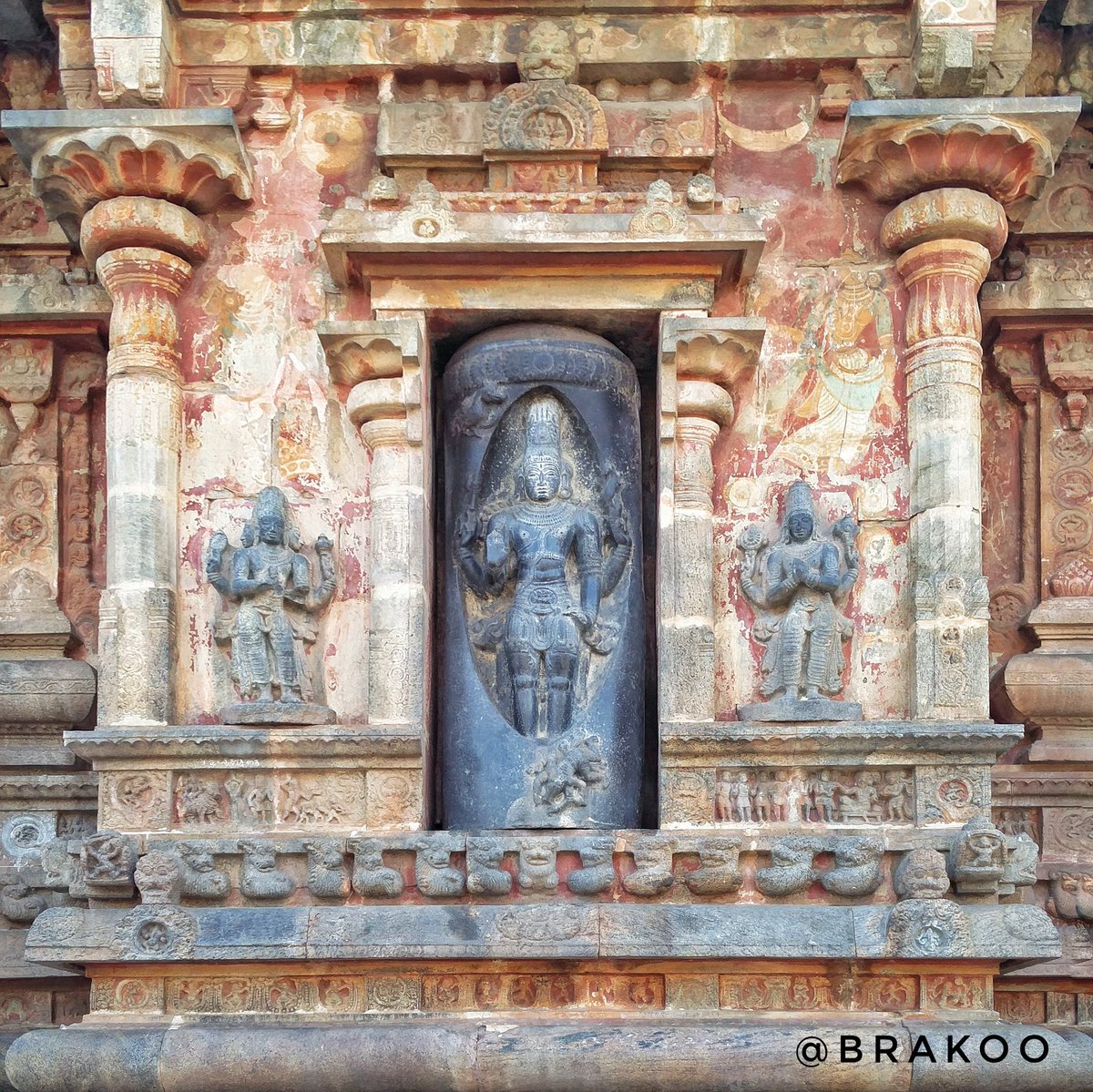 I never planned to go to Periya Kovil. Things just work out when you are spontaneous, I guess.
How often do you get to capture a flock of birds circling a Vimanam?
That too in Pradakshinam...
Before I carry on with more from any of the above temples, a moving video on the allure of Thanjavur.
Thanks,
@Gopanarya
, for guiding me to this video.
Coming back to Darasuram, a couple of unique representations!
1.
Ardhanarisvara with eight arms and three faces (R. Nagaswamy identifies the figure as Tantri Mahamaya).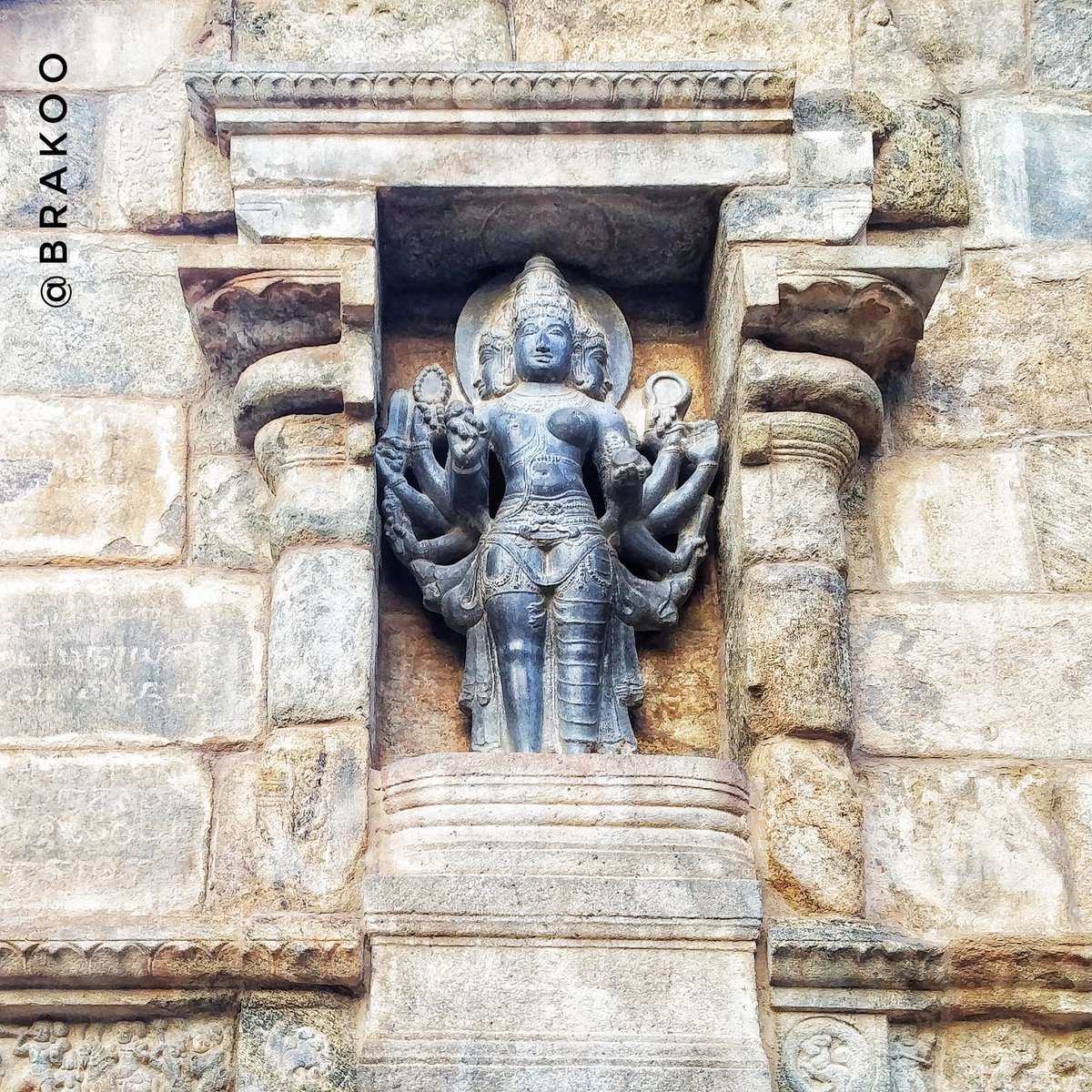 2.
A superb dancing Mārtanda Bhairava.
I am reminded of the Gāhaḍavāla sculpture of a bearded Mārtanda at the National Museum in Delhi.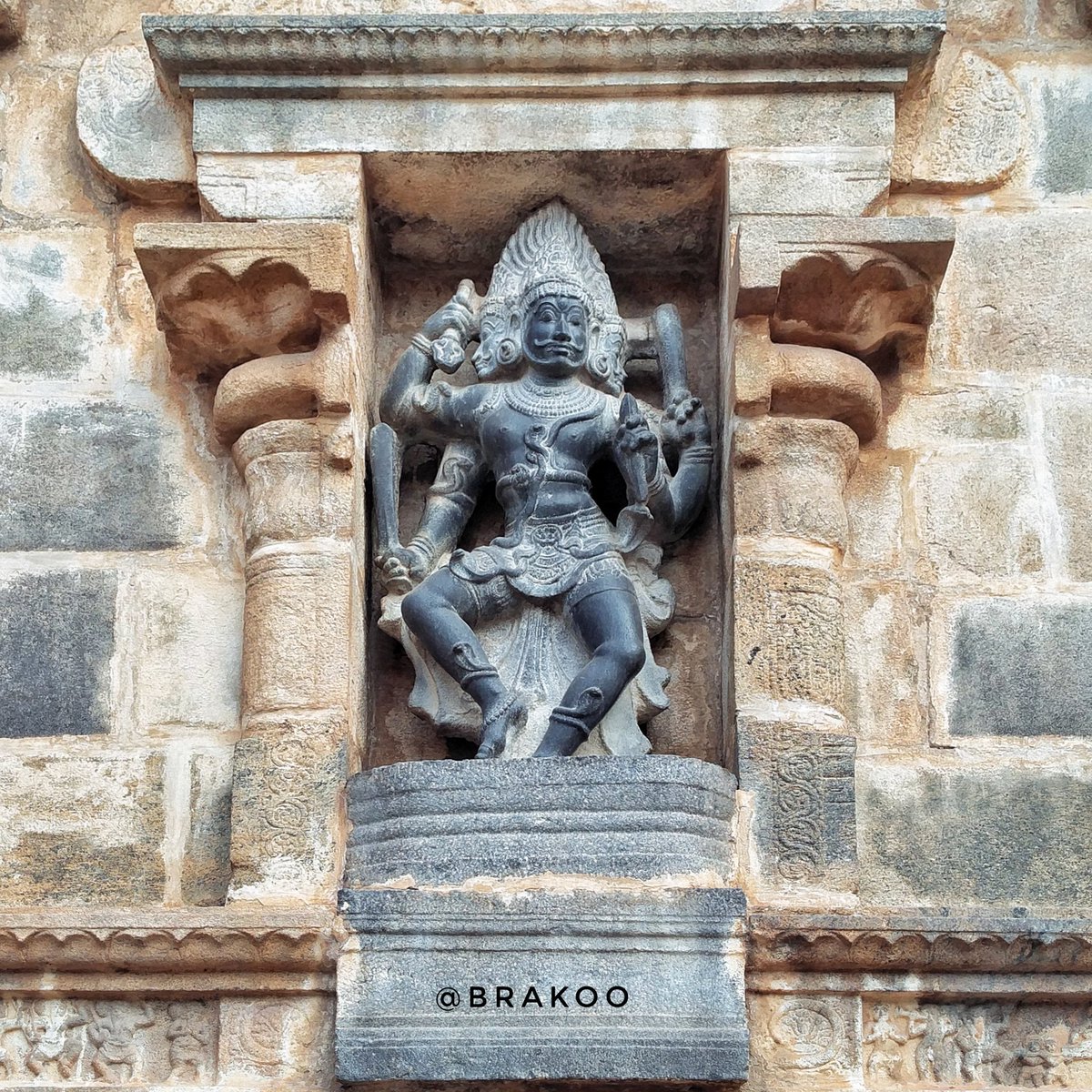 I mean this one. 👆👇
From Rigveda:
8 are the Sons of Aditi who from her body sprang to life
With 7 she went to meet the Gods, she cast Martanda far away
So with her 7 Sons Aditi went forth to meet the earlier age
She brought Martanda thitherward to spring to life & die again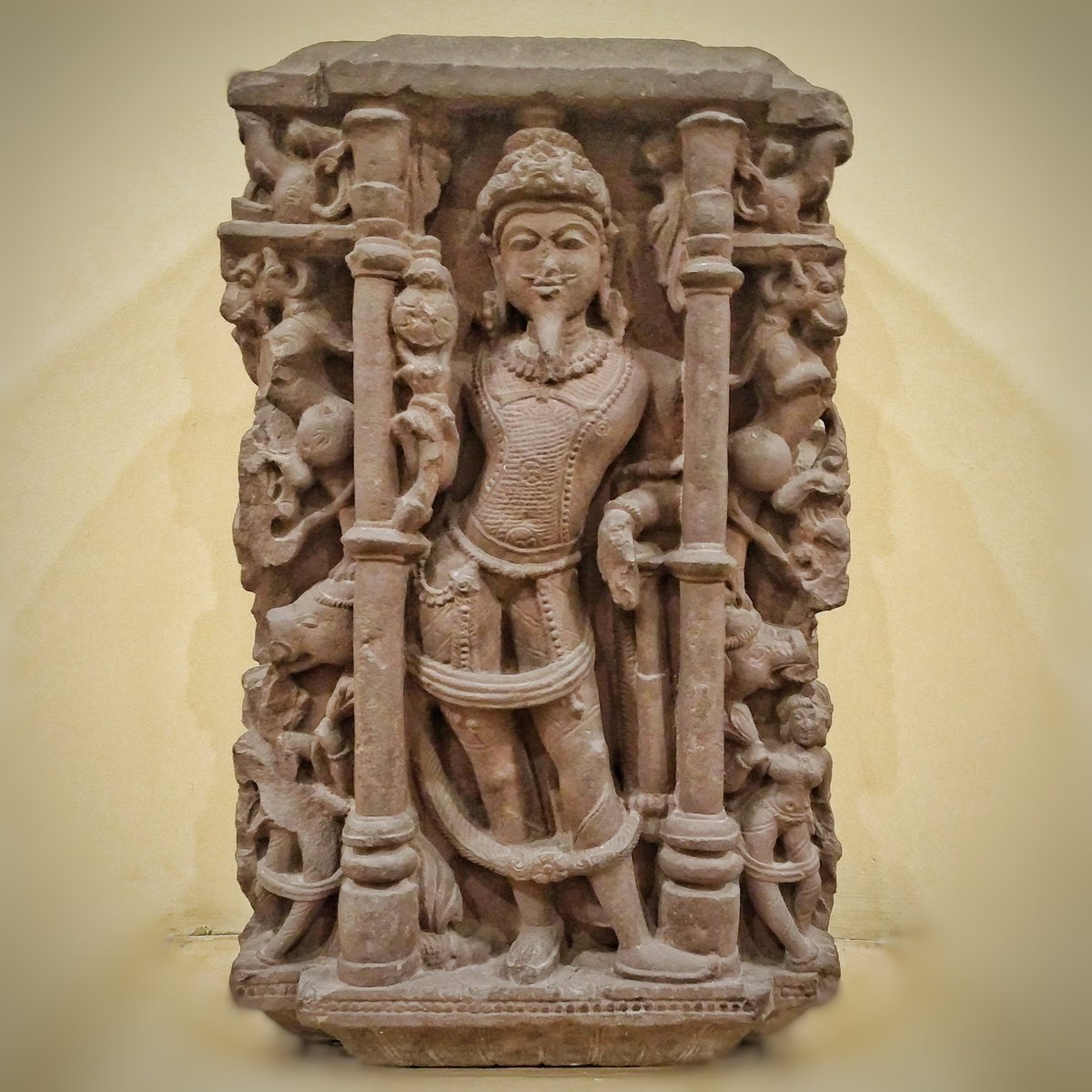 The temple is filled with panel after panel depicting scenes from the gazillion līla-s of our Gods.
Kāma firing his arrows on Śiva.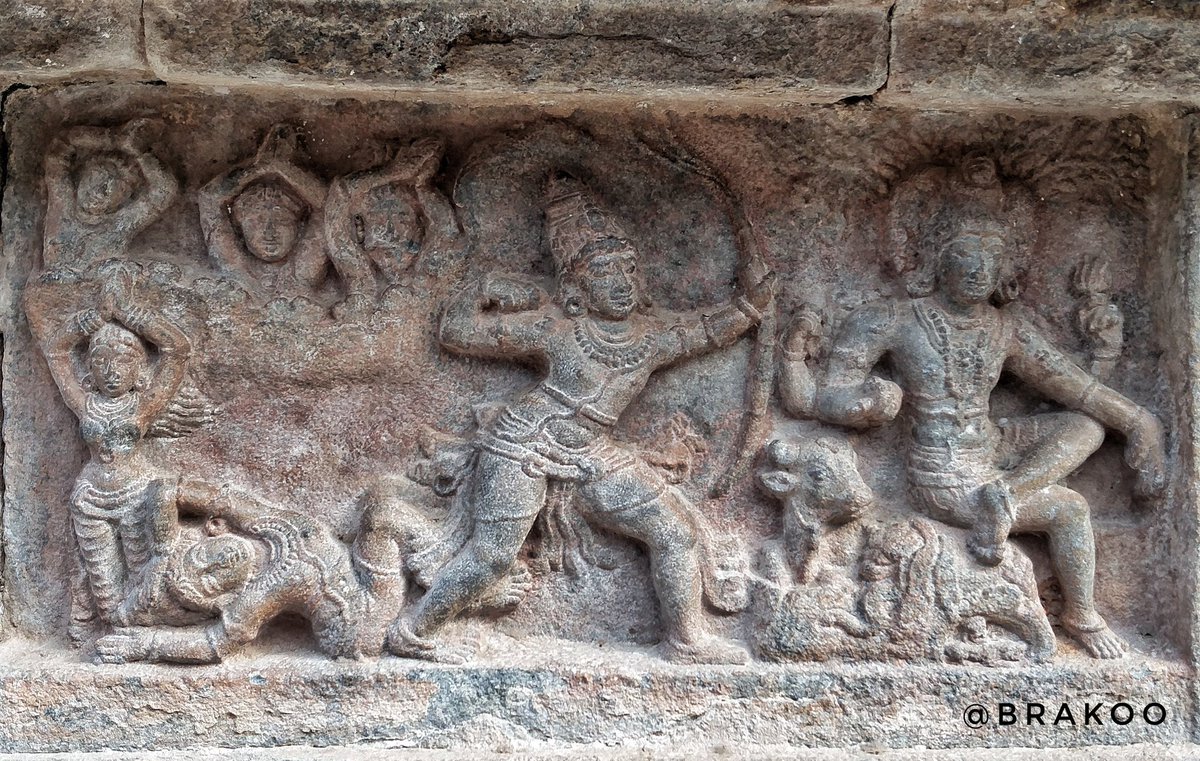 And who says sculptors can't have fun?
In a ram fight, the winner rejoices while the loser laments.
Airavateeswarar temple at Darasuram is, arguably, one of the best temples in the world.
The darshan of the lingam is even more spectacular!
It needs more visitors.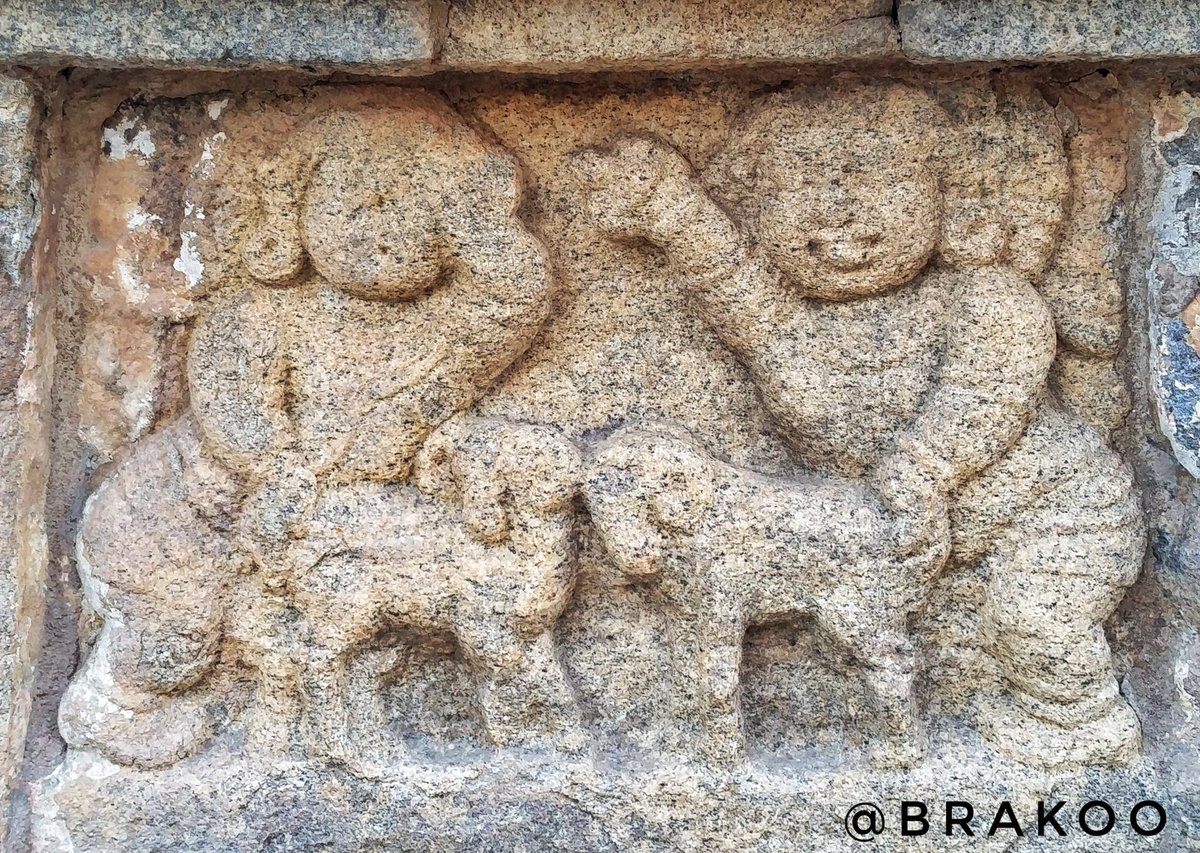 With the next 3-4 tweets, I'll close this trip's pics (unless I find something topical for that day).
In most south Indian temples, it is the Gopurams or entrance towers that get clicked 'coz they are spectacularly ornate & massive.
Tanjore temple has some of the best Gopurams!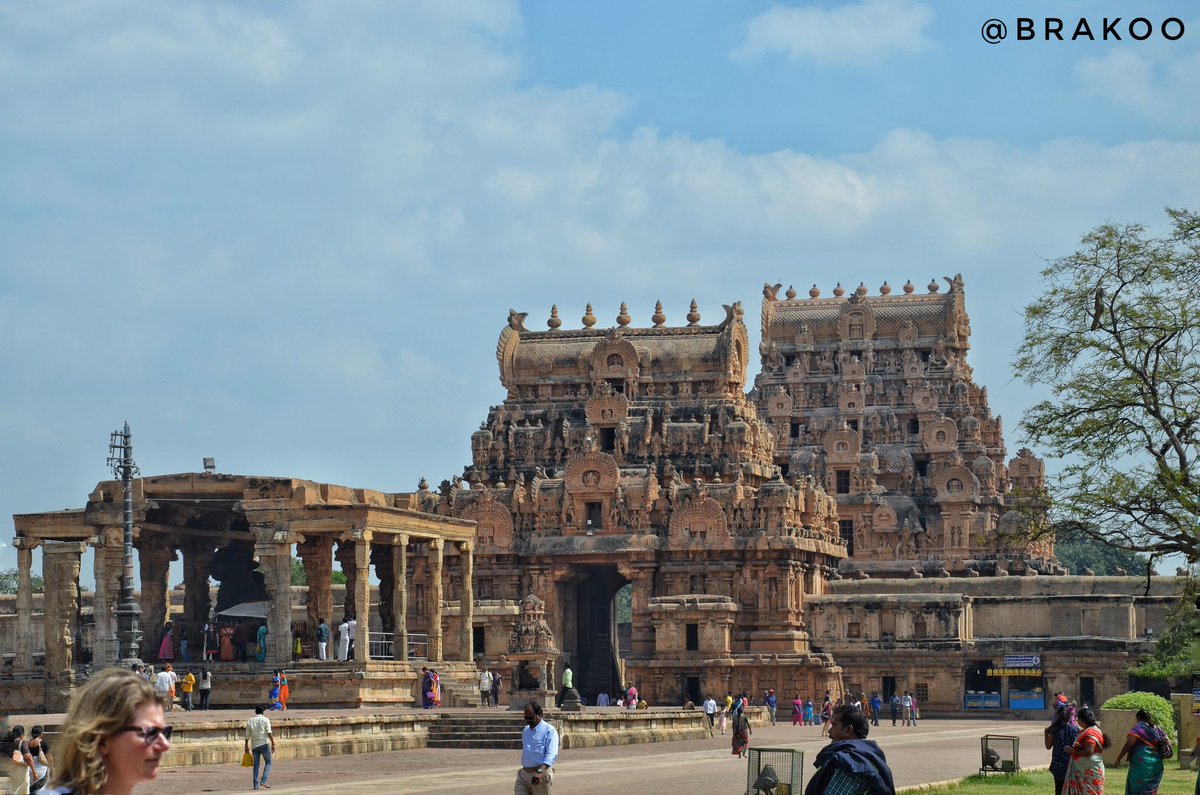 You rarely get to see the Vimanams or the Shikhara because they are quite low in height and rarely visible from any point in the temple complex.
But with the three great living Chola temples, it's different.
It's all about the Vimanam.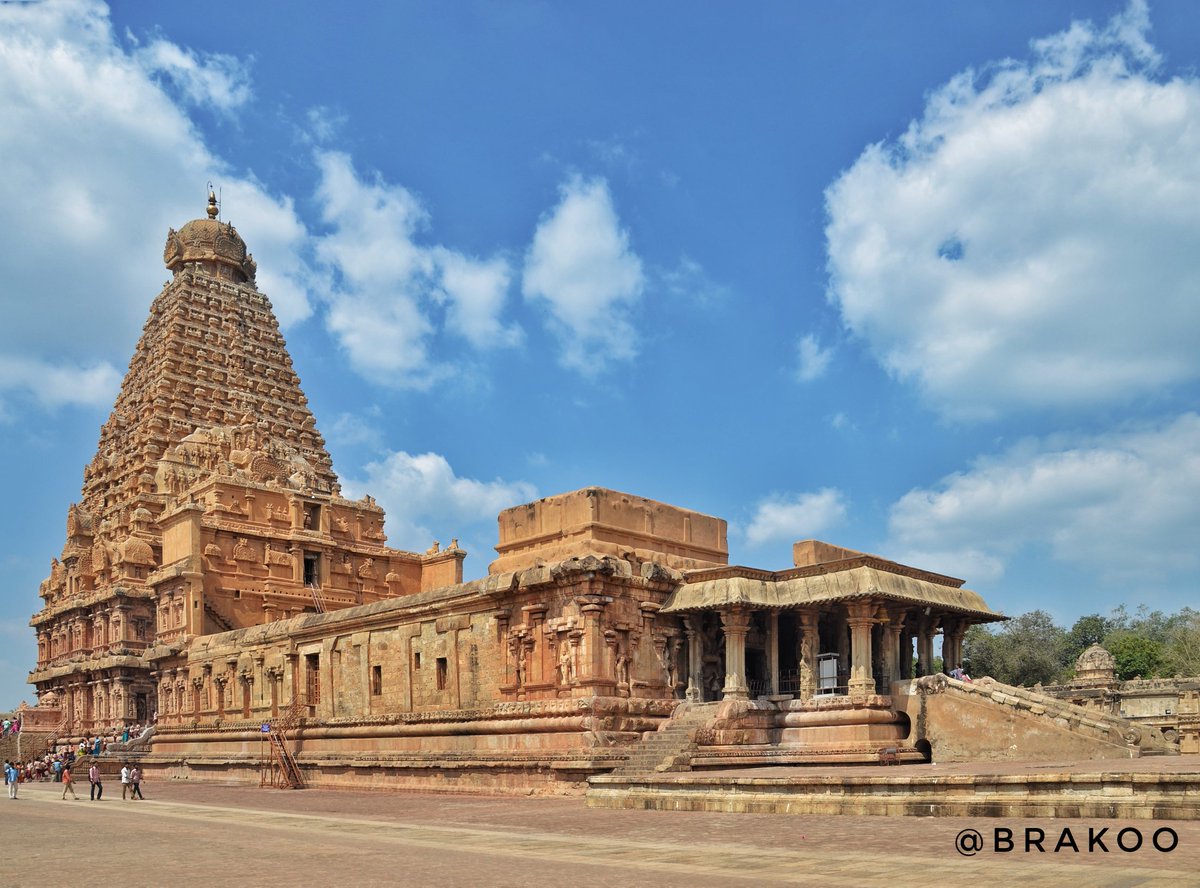 Try as you might, it is hard to miss, wouldn't you say?
I saw more gaping wide mouths in the hour and a half that I was there, than I'll ever see in a lifetime.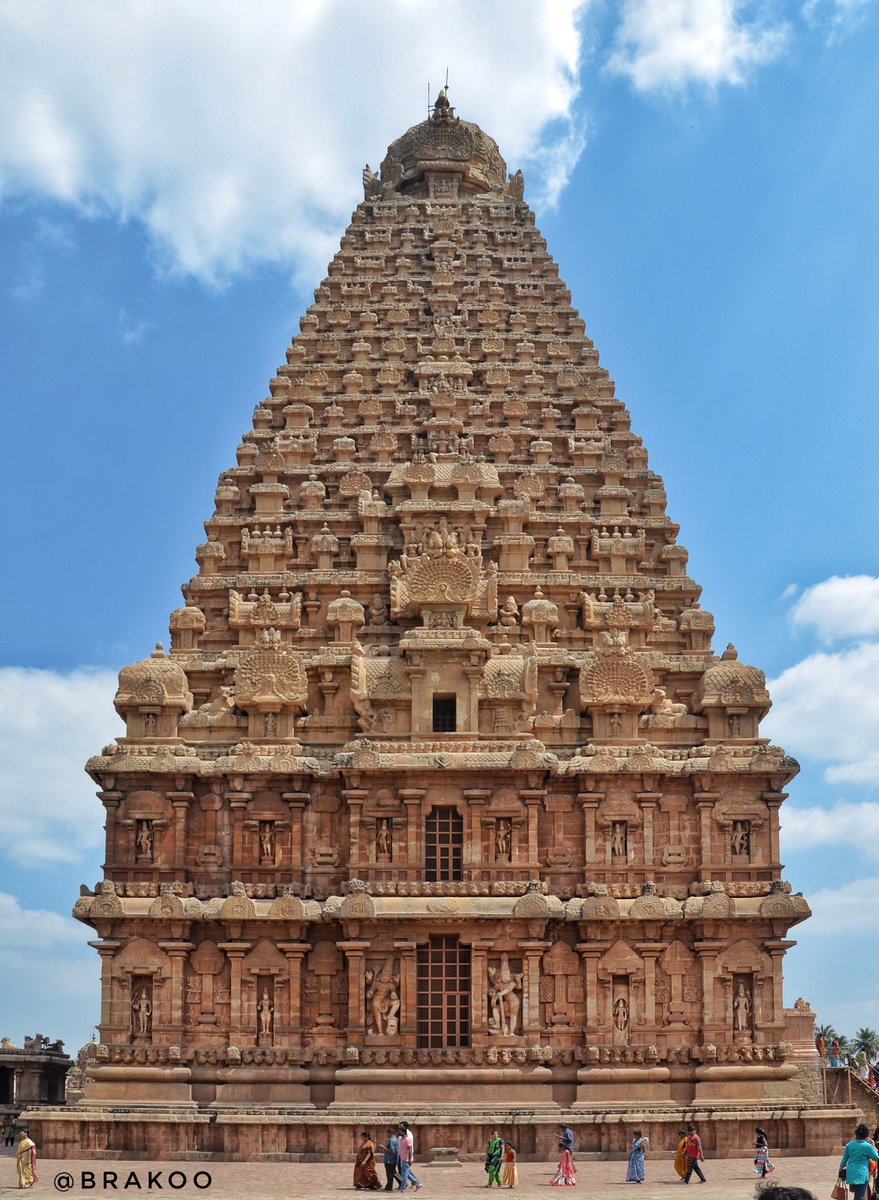 There are many sculptures & reliefs around this massive temple. The lingam is a must see. You can get to within 8-10 ft of it if you are persistent. Go there. Soak it in.
I wonder what the pigeon asked of Him.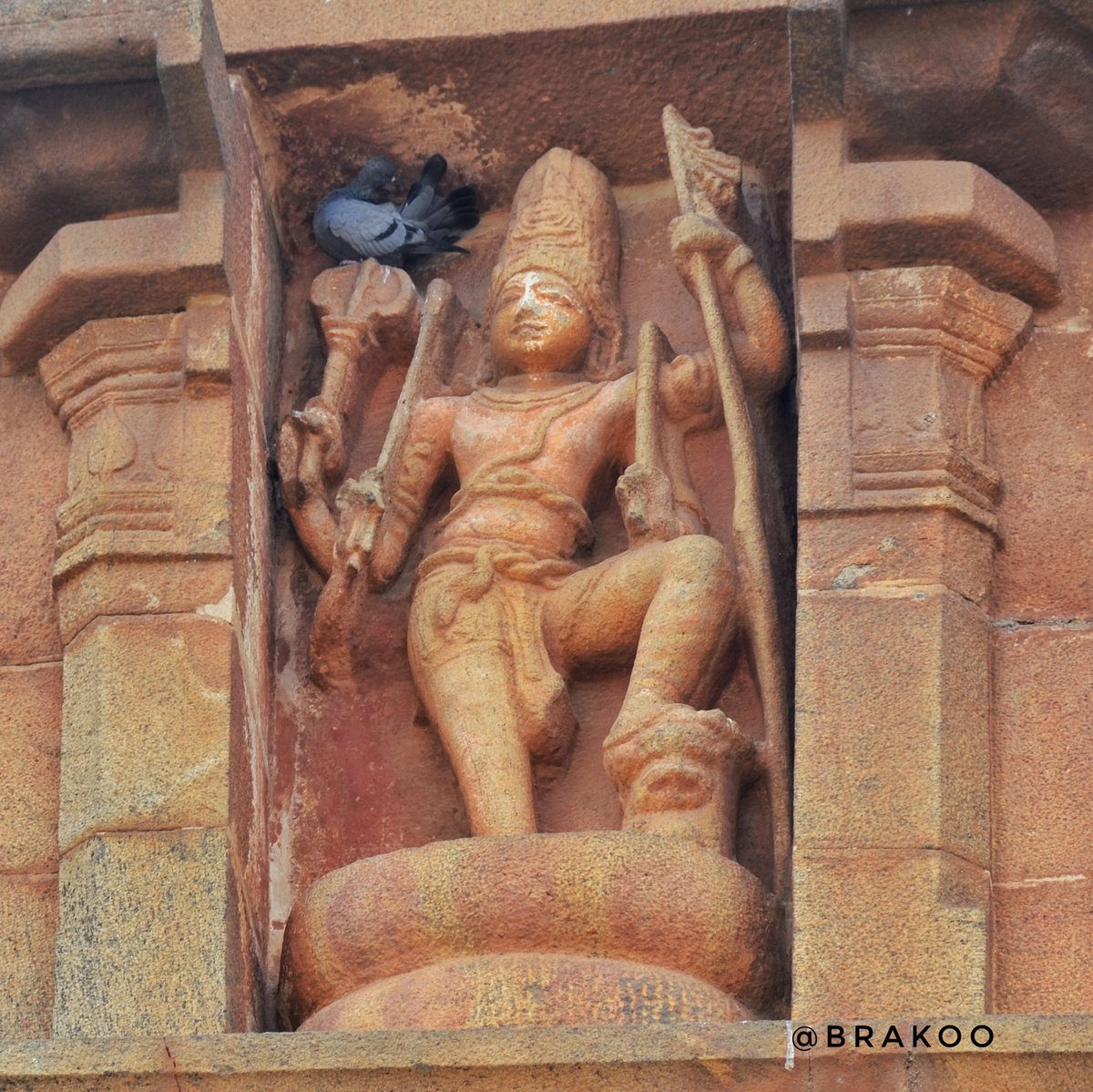 With a heavy heart, I bid adieu to what should be the very first monument that comes to mind when one thinks of Indian architecture.
Zoom into the lower part of the image to see the First Family of our Pantheon.
Hopefully I shall return again.